Mystery Riddles
The land of Mysteria was once kept safe from the forces of chaos by Great Tapestries, woven by the Pictomancers of old. Now, the tapestries are fraying and it's up to you to restore them and fend off the darkness threatening the land. You can take on this quest in one of two game modes - pic-a-pix or fill-a-pix - each of which offers 100 challenging levels! It's a double helping of puzzling fun!
Two different game modes, Picross and Fill-a-Pix
100 levels in each mode, 200 total!
Rich game world with 10 locations to explore
Game System Requirements:
OS:

Windows XP/Windows Vista/Windows 7/Windows 8

CPU:

1.0 GHz

RAM:

1024 MB

DirectX:

9.0

Hard Drive:

118 MB
Game Manager System Requirements:
Browser:

Internet Explorer 7 or later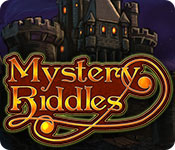 NEW299
The Big Fish Guarantee:
Quality tested and virus free.
No ads, no adware, no spyware.

Reviews at a Glance

Mystery Riddles
0
out of
5 (
0
Reviews
Review
)
Customer Reviews
Puzzeling Puzzles
WOW, I think I overloaded my brain on this perplexing Fill-A-Cross puzzle! It's different that's for sure. I'm not even going to pretend that I have this type of puzzle figured out, but I'm almost there:) Let's start with the Pic Cross game, that's a no brainer. I wasn't as thrilled with this mosaic game as with some of the more recent one's released. The reason for my lack of enthusiasm is more of an annoyance simply because I don't like the fact that the X'd or crossed out tiles fade out after being crossed. I have a learning disability and visuals help so that's probably only going to be my opinion, otherwise it's a good mosaic, pic cross, griddler game with the normal grid formation. Now for the perplexing Fill-A-Cross, it sounds so benign right? Well no, actually, although the tutorial is pretty thorough, you will be thrown to the wolves after just a few assisted games. The basic foundation of the game is to correctly choose the numerical patterns by filling in the surrounding and adjacent tiles with the correct amount as well as the correct color. An example would be the number 9 in red would have the solution of a 3 X 3 square. Once you fill in the correct tiles of one color you will switch to the next color and the first set of colors and numbers will fade, you cannot overlap, the red tiles can't be put on a tile in which a green tile should be and so forth. I know that reading all of the reviews is probably counter productive because it's nearly impossible to describe this game in writing, however, it's a really entertaining game for anyone who calls themselves a puzzle geek, and with 100 games of Fill-A-Cross and another 100 Pic-Cross games, you're surely going to be entertained for a long time, enjoy!
April 3, 2014
At Last! A Different Puzzler
BASED ON DEMO This terrific new game looks good, sounds good, and offers us two different ways to put a mosaic-like puzzle together. And a little bit of an excuse for a story is in there as well. We are not talking monumental graphics and great crashing excitement and special effects, but the art is pleasant and unobtrusive. The background drops fit the ?story?, which is told in brief, between sets of 10 puzzles, so it doesn?t really enter into the game. The two types of gameplay are first: mosaics-style pictographs, or whatever name you know them by. They are grids with a set of numbers at the beginning of each column and row, which define whether a tile is filled or empty. From the beginning these grids are 10x10, so there?s no chance for a serious practice run, but the tutorial does go through the moves thoroughly. This game thankfully gives you five hints and allows five mistakes from the outset. The second type of game is one I?ve not seen before, but I have seen one like it. Remember when you first got your Windows PC, and the only games on there were solitaire and Mine Sweeper? This puzzle is very like Mine Sweeper. Tiles on the grid have not only a number but also a colour, and the number indicates how many adjacent tiles are of that colour. The hardest thing about the game is getting used to the fact that the tile that is numbered is also included with reference to colour. Anyway, there is a very good tutorial that will set you straight on the rules. I found it a quite difficult game to play, though, right from the start, and I was grateful for the hints. These indicated ALL the tiles of the colour of the tile you select. Sorry, sounds convoluted. Just give it a try *grin*. There are 100 puzzles in each category, but it is the same story and backdrop in each. The final mosaic pictures (which actually look like the thing they are supposed to be!) are not the same though. A good challenging game, without being impossible, and a delightful much needed breath of fresh air in the ?other games? puzzles genre.
April 3, 2014
Loved it!
I absolutely loved this game -- it was like 2 games in 1. Bought & played last year on another site. No time limits, clear graphics, and enough of a challenge to make it interesting. Music was unobtrusive, like being in a yoga/meditation class. V. zen & relaxing game. Perfect for unwinding at the end of the day.
April 3, 2014
Very Difficult Game!
Game has two modes. I will review both based on 1 hour of play since I am still on the fence about buying. Fill-a-Pix I found this extremely difficult. It reminds me of the old-time Windows game Minefield. You need to figure out which squares are which color. Some squares will have a colored number which tells you how many squares should be that color. The tutorial was useful and clear. You get three hints, but I found them as confusing as useful. There was a lot of selecting required to change colors and I have not found an easy way to change from one color to another without X'ing out the square first. I think many will find this challenging. The other option works just like the Mosaic games we are used to. Nothing new here. I am very glad I knew how to play already since the Tutorial was confusing and some of it made no sense at all! There was no way to skip it.
April 3, 2014
Rare to Find!!
I try to collect all of these games I find because I don't find them often and love them. This had a nice big grid and numbers to work with! That to is unusual. You can't shut the tutorial off or even skip it so if you already know how to play it is irritating, Not enough to keep me from buying it or changing my rating. These are not so hard that you are frustrated and not so easy as to get bored. Very Well made.
April 3, 2014
2 games in one for picross and fill-a-pix fan!
I love Mosaic and Riddles series so I had to try this one. It's very well done and I like standard picross mode. I am very happy that this game introduces new kind of puzzles to us. They call it fill-a-pix. It's a bit different than picross, but very fun to play. I haven't decided yet which mode I like more.
April 4, 2014
Nice change in a pic-cross!
I am a huge fan of these types of games, and I love that this one has the Fill-a-Pix option! It's a nice change from the usual as I enjoy the pic-cross but they can be tedious after a while. And the Fill-a-Pix style is new to me so it provides me a new challenge. Fans of Gemsweeper will love this one!
April 3, 2014
Best Example of This Genre!
I love these games! This one has it all if you like this style of - I guess they call it Pict-o-gram - I've seen them called nonograms or world puzzles or griddlers and also Japanese number puzzles - but whatever they are this particular game is as good as they get. What makes this one so good is the extra effort put into each puzzle. Each one has individually colored tiles (which really elevates the final result - you can actually SEE what you have been working towards# and is titled at the end #Something missing from a whole bunch of the current batch of griddler games but really, how hard can that be to put in?) The puzzles are nice and big which is great - makes it easy on the eyes of some of us older puzzlers. One more thing - the music in this game is quite nice and varied. I enjoyed it more than most. The only criticism I had was there was no "skip" on the tutorial - really - by this time I don't need to be handheld through a bunch of tiny simple puzzles by force. Other than that, I highly recommend this game if this kind of puzzle is your cup of tea.
April 26, 2014
Glad to see this type of game!
This game is SO MUCH FUN! There are two types of games to play. The traditional "Griddlers" type and a fill pix type. The traditional griddlers are a little confusing at first because the squares come up different colors and when you destroy a square it fades out. Once you get used to it, you are good to go. I love the fact that they make an actual picture as opposed to a random design. The fill pix type was something new to me and VERY confusing. I admit that the tutorial was not the best. I had to hunt around to figure out how to do it. Once I figured it out, it was so much fun--a change from the traditional game. Once again, it forms an actual picture. I highly recommend this game.
April 9, 2014
Love Those Numbers!
If you love number grid puzzles, then this is the game for you. I totally love this game. I thought World Mosaic and Fantasy Mosaics were the only ones with the number grids. I am glad I found this one. The gameplay is slightly different from the others. It's a bright color game, and the puzzles, are not so easy. But hard puzzles are better for me anyway. There are plenty of different grids to play and you won't get bored. This is an excellent puzzle grids game.
September 20, 2014