Mystery Riddles
The land of Mysteria was once kept safe from the forces of chaos by Great Tapestries, woven by the Pictomancers of old. Now, the tapestries are fraying and it's up to you to restore them and fend off the darkness threatening the land. You can take on this quest in one of two game modes - pic-a-pix or fill-a-pix - each of which offers 100 challenging levels! It's a double helping of puzzling fun!
Two different game modes, Picross and Fill-a-Pix
100 levels in each mode, 200 total!
Rich game world with 10 locations to explore
Game System Requirements:
OS:

Windows XP/Windows Vista/Windows 7/Windows 8

CPU:

1.0 GHz

RAM:

1024 MB

DirectX:

9.0

Hard Drive:

118 MB
Game Manager System Requirements:
Browser:

Internet Explorer 7 or later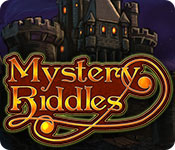 NEW299
The Big Fish Guarantee:
Quality tested and virus free.
No ads, no adware, no spyware.

Reviews at a Glance

Mystery Riddles
0
out of
5 (
0
Reviews
Review
)
Customer Reviews
Finally, more puzzles
I love these puzzle games. I particularly like this one as it's very colorful and also they tell you what the picture is. Some don't and I wonder, "What the heck is that?" I would really like to see more of these!! I enjoy using logic to figure which square are "in" or "out."
April 5, 2014
Good puzzles. Picross and then more.
I love picross, and here they know how to do it right. They indicate the column and row you are in, and also color code as to what tool you are using. Also counts the cells as you go through them, wich is VERY useful when you start doing 15x15... And then there are the other set of puzzles, about finding the color squares around a central one... and those are are MUCH TOUGHER... So, this is a keeper, and one with great replay value.
June 14, 2014
A Beautiful, Entertaining and Challenging Puzzle Game
Mystery Riddles is not usually the type of game that I review but griddler or pictocross type puzzles are some of my favorites. There have been some recent griddler type puzzles that I don?t particularly care for since they have a timer on them and quite frankly I had my fill of time management or working on deadlines before I retired ? lol. That being said, what I love about this game and some of the other great mosaic type games is NO TIMER, I play games to relax. I must admit that when I opened the game I was disappointed because there was no widescreen and I had black bars on the sides. However, after clicking around the home screen I finally found the options by clicking on the gears. I like things spelled out a bit more so I hope the developers take note and include a clear indication of where to change the options in the game. Once I found the options I was able to unclick fullscreen which then allowed the game to fill my laptop screen. Another thing that I found very annoying is that there is no way to skip the tutorial. Since I play these types of puzzle games all the time I know how they work so I would urge the developer to also include a skip tutorial option. The only reason I gave the game four stars rather than five is because of the comments above. I love Mystery Riddles and will buy it. I love the colorful grids and found the boards very easy to navigate with my mouse. I can see that I have hours of fun and challenge ahead with the game. I highly recommend Mystery Riddles and find that for me at least, it is the perfect game to play when I want a change from the HOPA genre. As always, I recommend that you try the demo to see if this is a game you will enjoy.
April 3, 2014
Almost great, but not quite.
I admit it - I'm addicted to picross. I buy almost all of them. And this one has a bonus - the Fill-a-Pix puzzles, which I'm not as good at. But it isn't going to be my favorite, nevertheless. First of all, it does have a loose storyline of sorts. Not necessary, but okay. Shrug. I really liked the soundtrack, which changed with each locale. After a while, the loops got a little old, but still not really annoying. The production quality was excellent. The puzzles are not as hair-pullingly hard as World Mosaics or World Riddles, but they do offer a fair challenge on the higher levels. They are well made, and solveable with logic, without ambiguities. They are, in fact, FUN. But the graphics leave a lot to be desired. Like Arizona Rose, the background is confusing, and I find myself making errors because I am unable to distinguish colored squares from the background at times. I also do not like the fadeout grid numbers on the busy background, because it is impossible to see them sometimes. I'd much prefer the numbers to be crossed off, or better, a plain background. And speaking of the grid numbers... On the higher levels, the shadow effect on the font makes it very hard to distinguish some of the numbers, which are fairly small on the 20 x 20 grids. Please, devs, don't do this to us! A lot of us have older eyes, and it is hard enough to see without all the distractions. Give us the backgrounds with the story, then go to plain, easy to see grids and numbers! I still recommend the game to anyone who likes picross, or even beginners. This one doesn't get tough fast, so you have plenty of practice on easier grids. :0)
April 8, 2014
Well-constructed
It's very important that this type of game be solvable by logic, not guessing. This game meets that requirement.
April 18, 2014
Great game with a couple of issues
This was, and presumably still is, a great game. I only had a couple of things that were bothersome. Depending on the color of the tiles being used, there were times when I thought a tile was already checked, when in reality I had smashed it and the background color made it appear to be a tile in the picture. When starting a new picture, the tiles are a tan color. Most of the tiles when checked turn white (with many exceptions to this). For some reason the devs decided that when you hover the mouse over a tile, the tile turns a shade of white almost the same as the tiles which you have already clicked. To make it more confusing, this hovering white is also similar to the tan of the unchecked tiles. This was the cause of several mistakes for me. I like the way that the numbers for the lines and columns change to red when the mouse is over that line or column, as it makes it easier to make sure you are on the correct line. The only problem is that after you are able to cross off one of the numbers, it remains there, but only in a slight shadow. This shadow is visible when the numbers are their normal yellow, but when they turn red, the crossed out numbers become virtually invisible, which once again caused several errors because I simply could not see the numbers. This is not an HOP, so we shouldn't have to work so hard just to see the numbers. I never use hints and try to finish without any mistakes, so when I do make a mistake, caused by one of the aforementioned issues, I find it quite annoying. These are problems that fish have been complaining about for a long time and would be so easy for the devs to fix, yet for some reason they choose not to. Did I mention that other than these issues, it's a very good game which I recommend highly.
November 21, 2014
If you really love nonograms...
I love this type of puzzle, usually called a nonogram. However, I found this one to be very hard on my eyes because of all the different colors. And it's difficult to see which squares have been x'd out or not. There's also a basic problem with some games of this type (in this game and in others) in that you should never have to "guess" -- there should always be a correct solution, logically and mathematically.
April 7, 2014
Just not a challenge.
I beg to differ with the other reviewers, but I found this game so terribly simple as to be boring. I admittedly have been playing both pic a pix and fill a pix online for 10+ years and am probably quite a bit more practiced at these than the general run of players. If you're not familiar with fill a pix and are in the beginner skill level of pic a pix, this might be enjoyable. I'm used to solving 100 x 100 full-color, beautiful, almost art-quality puzzles elsewhere, so this disappointed me.
April 13, 2014
I wanted to love this game
I love these kinds of puzzles, but there are a few problems that made me hate this game (which I bought, so have spent some time with.) First, in the Pic-a-Pix, the contrast between background and squares was so undefined that it was hard to see which were filled in and which were removed. Also, as the puzzles got larger, the fancy font for the numbers was almost unreadable. I play lots of these, so was quite unimpressed. I had never played fill-a-pix, so was enjoying them at the start. But as they became more difficult, there was no way to figure out if only one or two squares was off and the only option was to restart. I think there needs to be a way to skip puzzles that are just too difficult - after all, I paid for all of them, and because I am stuck on one, I can never access the rest. If those items were addressed, I would love this game.
December 12, 2014