Riddles of Fate: Into Oblivion
Exclusive
The kingdom of Riddlestone was renowned for its virtues and arts, but ever since the seven deadly sins came to town, the people's hearts have turned to darkness. Their rioting has plunged the city into chaos. Even the royal family is not above the suffering. The king is ill, his sons are behaving strangely, and his daughter has disappeared. The Queen has heard of your reputation and summoned you to help. Will you return Riddlestone to its former glory, or it will be swallowed forever by the darkness? Find out in the exciting hidden-object puzzle adventure Riddles of Fate: Into Oblivion!
Face the seven deadly sins
Rescue the royal family
For a more in depth experience, check out the Collector's Edition
Game System Requirements:
OS:

Windows XP/Windows Vista/Windows 7/Windows 8

CPU:

600 Mhz

RAM:

128 MB

DirectX:

6.0

Hard Drive:

730 MB
Game Manager System Requirements:
Browser:

Internet Explorer 7 or later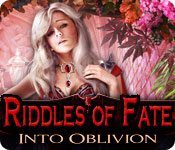 NEW299
The Big Fish Guarantee:
Quality tested and virus free.
No ads, no adware, no spyware.

Reviews at a Glance

Riddles of Fate: Into Oblivion
0
out of
5 (
0
Reviews
Review
)
Customer Reviews
Riddles of Fate: Into Oblivion
29
29
Excllent Game !
Really enjoyed this game. Wish I had purchased the CC edition. Beautiful story line, graphics and very long game.
January 19, 2015
i love this game!!! the palace, the queen, king....the whole thing!!!
i really love this game!! you have all the palace decor, you have the princes, the princess, the queen and king, what more could you want!! you really got to get this game.
June 3, 2014
basically good SE
I will be buying this with a free credit. The setting is nicely drawn and zero super horrifying but with enough Medieval elements to enchant those who like Renaissance stuff including the moral element of overcoming Greed. Some of the puzzles were so easy I could not believe that was what was called for and then the directions sometimes left us wondering what to do and we had to skip just to get further into the game...and the HObj were not as interactive as the best games, but had enough for interest. It is right on the line of B+ and A- and when I don't know what else to get, it will serve and I'll enjoy the game for the tougher puzzles that I had to skip.
April 4, 2014
Great Story and Great Fun!
BASED ON COMPLETED STANDARD EDITION GAME Riddles of Fate was always that one series by Elephant that failed to please me. All that has changed with this game! This game is a really enjoyable, unique twist on the age old tale of the Seven Sins. From beginning to end, I really enjoyed the story, and supported by good gameplay, this game was fantastic. What first attracted me to the game was the story. It was wonderful and kicked off with a bang from the moment it started. The Queen requests your help to defeat the Seven Deadly Sins that are trying to take over her kingdom and, one by one, you go around saving the members of the royal family and vanquishing the evil Sins. What really impressed me about this story was how logical it was and how it stuck well with the tale itself. Each sin makes its own appearance and is characterised as it should be (Sloth being lazy, Lust being charming, etc.). It was really well thought out and executed greatly. The Sins took the form of real people to destroy the town, which actually made a lot of sense. Elephant deserves a lot of credit for how well they did this story. It wasn't illogical and thrown all over the place like some fantasy games. Very good job. The content of the story is also great. It's very gripping and the story panned out well. There were quite a few really exciting twists in there. Some of the events in the game really shocked and surprised me in a good way. What really excited me was defeating the Seven Sins one by one. The demo builds up the excitement with some great things happening in it. The demo ends on an absolutely shocking cliffhanger and I had to play on. From there, I will admit the story did stall a little. Nothing interesting really happened in the middle parts of the game. It just focused on defeating a few of the Sins. During this period, I just focused on the gameplay. Towards the end, I saw a really exciting twist that just enthralled me and made me unable to stop playing. For a long time, the game tricked me in to thinking someone was involved. During this period, I was shocked. Had it been true, I would have never seen it coming, not in a million years. This was a BRILLIANT twist. Great job. The game ends conclusively with a happy ending. The ending itself is good, pretty much what you'd expect. Overall, this was a really great story. It had a great beginning, a somewhat lacking middle and a brilliant ending. To be honest, I actually really enjoyed the gameplay. It's a step up from the norm for Elephant Games, given that it's got plus objects this time. This is a first for Elephant and really goes to show they're starting to listen to the reviews of fans. Even though I enjoyed it, the gameplay is quite easy. The HOS could be solved in a matter of seconds and I could solve quite a few of the puzzles. In the demo period especially, I hardly needed the hint and only used it because the map was useless. Even though they were extremely easy, I loved doing the HOS. They were just the standard HOS with a few extra-step objects, but they were really fun! I absolutely loved the HOS. And the best part? There's just the right amount. There aren't too many to make them boring, it's just right. The puzzles are a mix of hard and easy, but quite a few of them are easy. Some I could solve in a clicks, others it was obvious what to do, and some were hard. It was a mixed bag. This is good in some ways because it caters to the abilities of all puzzlers, but expert puzzlers will be frustrated. That being said, I did enjoy attempting the puzzles. The fun factor in this game is really high. Good job to the developers. As I said, this game has + objects, which is a step up for this developer. These are objects you have to interact with to complete. Some take one extra object, others more. These objects are indicated by a + sign, hence their name. There were quite a few of these in the game. This was a great feature. Other than that, this is your standard HOPA. There's no fancy new features or animal helpers. Excluding a diary, it's got all the basic features (map, hint, etc.) To be honest, I was a bit disappointed that there was no diary. It made it slightly harder to remember some of the story events. One thing I feel obligated to comment on is the map. The map, as I've mentioned before, was absolutely USELESS. It was set out really poorly. I had no idea how to use it, and when I figured it out, I discovered it wasn't much help anyway. It tells you where you have an active task, not where your next task is. The hint acted as a portal of some description. If you clicked on it and your next task was in a different area, it gave you the option to teleport there. Much better than the map. The graphics are good, as usual. The scenes are drawn with quite a bit of detail and are very clear. The character designs are also good. They look a lot like real people. As with the last Riddles of Fate, everything is cartoon style. Overall, all the scenes were clear and had some good detail in them. Normally, I don't have an issue with voice-overs, but this is an exception. The game gives you the idea that it is set in Britain (with the town name and monarchy ruling system), so what's with the American voices? There were about 2 characters with British voices, while the rest were American. SERIOUSLY? If it's got a Queen and a King, and the town is called Riddlestone, it has to be all British voice-overs. The fact that it wasn't made the game less realistic. The US does NOT have a royal family. Very poor choice from the developer to use US voices for this one. Also, I found the voice of Gluttony to be really annoying. It was really rough and low and a bit off-putting. I almost skipped the dialogue. Developers should realise that poor voices decrease the quality of the game. FEATURES 3 modes of difficulty: Casual, Advanced and Hardcore. Differences are hint/skip charge times, sparkles, etc. I played Casual. Hint/Skip- both recharge at a reasonable speed for the difficulty. Hint is useful outside HOS. Map- The map, as I mentioned before, is absolutely USELESS. Really poorly set out. Only tells you where there are active tasks. + objects- These are objects you have to interact with to complete. There were quite a few in the game. A really nice feature. WHAT DO I MISS OUT ON IF I BUY THE SE? Bonus Chapter- not needed. The game finishes conclusively and ties up all loose ends. Absolutely 0 need for the BC. Built-in Strategy Guide- not needed as the game is quite easy. Would have been useful for some puzzles. Plus, if you do get stuck, the hint is really helpful. Collectibles- all of the royal family. Achievements Replay HOS/Puzzles Wallpaper Music Concept Art WHICH IS THE BETTER BUY? Definitely the SE. There's absolutely nothing in the CE that warrants spending the extra cash. Plus, the story ends conclusively and leaves no questions unanswered, so there is not really any point to the CE at all. Overall, this was a really enjoyable game. I loved playing it from beginning to end. It had a really wonderful story. This is one of Elephant's best in a while. I can't give it a five, but it earns a solid four star rating from me. I highly recommend it. ON THE GAME LENGTH The game length was standard. I don't time my gameplay, but I felt it was roughly 3 hours on Casual mode. This was with a few puzzles skipped. This is in my ideal game length
April 18, 2014
Good solid game
I enjoyed this crisp visuals a good length too.
April 10, 2014
The stage was set for greatness, but the simplicity of the puzzles let this game down
Lazy reuse of puzzle format really let this game down. And they were way too easy. The thing is that I want to be challenged, and this game, although beautiful and visual exciting - love Elephant Games - was sort of a rehash of so many other types of puzzle formats. the good thing was that it was long with many rooms to explore, so even though you moved quickly through the game, it still took a while. Unfortunately the games are beginning to become repetitive and too easy. this is a criticism of almost all games these days. Perhaps I have had enough and need another venue for adventure? Mystery Trackers Madame Fate is the quintessential peak of adventure, complexity and difficulty and to all other game developers, please take note, you are not doing yourself any justice by making things too easy - I want to think, strategise, explore, fiddle, unravel the mysteries, not have it all provided to me on a platter. AND when is someone going to rethink the objects board idea - give me a backpack to carry things in so I feel like I an on a real adventure - and need to dig into my backpack to acquire the necessary tools. So I cannot carry a pike, a fiery torch and a shield all at the same time -think, what has to be left so I can move forward? Remember that game eons ago called GreenMoon -not the greatest of games, but the notion was that as an explorer you could only carry so much before you had to put something down before picking another up. the Challenge was that you sometimes had to leave stuff on another planet, and try to remember that when you needed it again. Brought another complexity to the game and a touch of reality. So, summing up, increase the random complexity of games, use Madame Fate as an example and those tantalising doors to unravel as an example (have played each one 4 times and still get stuck), think like a real person, and provide only enough that one person can carry, AND please ditch those annoying morphing objects or cute animals - leave them for the easy games that younger and beginners can enjoy. I want to get straight into the thinking, sorting, strategising
April 18, 2014
I wanted to like it!
I played the game with the HINT and TELEPORT button. I simply could not stay interested in this game. I kept leaving it to do something better, like washing the dishes. I am sure that some people will like this game, it just was not for me.
December 3, 2014
Good game if you are looking for adventure.
Just as the first Riddles of Fate game this one lacks much in the way of Hidden Object scenes. It doesn't take away from the game but it makes the game more of an adventure game than a hidden object game. Still the story line was very interesting,having to fight the seven deadly sins who have taken over a kingdom. The artwork was beautiful as always and the game itself was very fun to play.
October 28, 2014
A surprisingly fun game!
Had a coupon I needed to use before expiring so I bought this based on decent reviews. I found myself enjoying it which actually surprised me. Lately I've been so disappointed in the "latest" to many of my favorite series. Way too much reliance on helper animals and way too cutesy. This wasn't a perfect game but I bumped it up to four stars (which I rarely give.....and only one or two fives ever earned) because it had some truly good puzzles. Almost great if you measure them by how long it takes me. I don't like puzzles my grandkids can master. Great hint system which I used to id where I needed to go next (lots of locations and you don't use your items right away....another plus. Hate so called linear games). Anyway, wanted to share....this is a "sleeper" gem. Try it. I did the SE and it was a long game. Would have been well worth the $$.
July 18, 2014
Another Winner!
Really had fun with this. The challenge factor was just right. I had to skip one mini game. Anytime I have to skip a mini game I consider the game as a whole a winner. Graphics, sound, voice overs were all excellent. I don't place a lot of importance in the story, as they're all pretty much the same. Having said this, the story was a little disjointed, as it jumped all over the place. Still a very good game. Just not 5 star quality for me. I've raised the bar quite high after playing more than a hundred games. You'll like this one, and it may be a 5 star game for you.
April 14, 2014
The Apple logo is a trademark of Apple Computer, Inc.