Riddles of Fate: Into Oblivion
Exclusive
The kingdom of Riddlestone was renowned for its virtues and arts, but ever since the seven deadly sins came to town, the people's hearts have turned to darkness. Their rioting has plunged the city into chaos. Even the royal family is not above the suffering. The king is ill, his sons are behaving strangely, and his daughter has disappeared. The Queen has heard of your reputation and summoned you to help. Will you return Riddlestone to its former glory, or it will be swallowed forever by the darkness? Find out in the exciting hidden-object puzzle adventure Riddles of Fate: Into Oblivion!
Face the seven deadly sins
Rescue the royal family
For a more in depth experience, check out the Collector's Edition
Game System Requirements:
OS:

Windows XP/Windows Vista/Windows 7/Windows 8

CPU:

600 Mhz

RAM:

128 MB

DirectX:

6.0

Hard Drive:

730 MB
Game Manager System Requirements:
Browser:

Internet Explorer 7 or later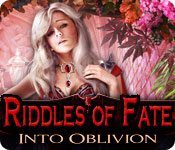 NEW299
The Big Fish Guarantee:
Quality tested and virus free.
No ads, no adware, no spyware.

Reviews at a Glance

Riddles of Fate: Into Oblivion
0
out of
5 (
0
Reviews
Review
)
Customer Reviews
Riddles of Fate: Into Oblivion
29
29
a game with a nice length to it!!!
played casual, low sound. hints teleport you to where you need to go and as soon as they recharge they can tell what you need to do. they don't take long. neither do the skips in the mini games. the games are fairly common to other games. sequel...why not? the game itself is you trying to figure out why a town has suddenly become prisoners of the seven deadly sins. the royal family has been struck with the problem and you need to fix them.
April 13, 2014
Really good game
At times I grew frustrated that the game was not always linear. Eventually I found that the convoluted journey was what appealed to me most. It did not seem like the average fare. Considering I used a free game coupon; I could not be happier.
April 12, 2014
This Will No Doubt Fade Into Oblivion
I thought this game had a familiar feel, then I realized I had beta tested it. That was quite a while ago, so those who describe this game as somewhat older are correct, relatively speaking. The town of Riddlestone, the Rockwood dynasty, the seven deadly sins, etc. Queen Olivia's daughter (or should I say "daw-tah" per the supposedly British accents) has been kidnapped. Everything is well drawn and the game has it's own style, although I found the style hard to describe. The game is both very colorful and very dark at the same time. I thought the voices and sound effects were fairly good. The game play and plot is on the simplistic side, suggesting this is aimed at younger (but not too young) schools of fish. The collectables (crowns) are nearly impossible to miss without tripping over them, and yet there are not too many of them. They are not particularly compelling. There are also collectable members of the royal Rockwood family (six, I think). This does not have either an especially interesting story or new features that would make it stand out. Neither does it have that immersive quality that pulls you in. My recommendation would be get the SE, or better yet leave this riddle unanswered.
April 9, 2014
Short game
I didn't really think liked this game based on the trial but had a discount an wanted to buy a game. I usually decide to buy based on other reviewers comments about length. Comments about this games length were good so I purchased.I started where the 1 hour trial left off and finished the game in about an hour, so maybe 2 hours total. Thats disappointing I was expecting it to last a little longer. Other than that it was just ok not my favorite.
April 15, 2014
lips don't move
I'll reluctantly recommend this game. There was nothing special about it. 2014
April 22, 2014
Big Mistake
I purchased after finishing the demo, because (a) I enjoyed the demo and thought it would be a good game, and (b) I forgot that this dev has been steadily going downhill from their former pinnacle of excellence. Unfortunately, the remainder of the game after the demo is tortuously boring, convoluted, baffling, and just plain silly. I am not anxious to finish it, but maybe taking a break for a few days will help.
April 11, 2014
Not a patch on Wild hunt
I bought this as a multi buy with wild hunt and Momento. I thought wild hunt was great and was very pleased until I played this one. The whole game took me 3.5 hours. The story was very poor the puzzles went from very easy to silly. Some of the stuff made no sense such as you have a torch in your hand but you cant see in a dark place, nor can you light a candle ??? I do like a bit of get something and then go back and open something else but this was too much and too far back. The whole thing seemed as if it was thrown together and quiet frankly I would have been happy to leave the family to there fate rather than finish the game.
November 5, 2014
Basic Mediocre HO Game with a Promising but Weak Storyline
A basic game with basic challenges. Nothing too taxing although there were a couple of difficult 'figure outs' along the way. Although I played the CE version, it wasn't worth the extra investment. There were only a few HO games and the puzzles were elementary at best which reduced this game to one step above boring. Gave it a 2 but it was a bit of a stretch. The one strength of the game was numerous locations with numerous 'actions' for each location. Some back and forth but overall, it was a fairly linear game.
June 14, 2014
Honestly Cannot Understand All of the Positive Reviews
Some Elephant games have been excellent, well thought-out, and creative (e.g. the Surface series). This is NOT one of them. My biggest issue (and I'm not the only one who noted this# is the inaccurate age representation. The mother looked like a teenager #and had an adult daughter# but was married to a king who appeared to be at least 70 years old #e.g., like he could be her grandfather rather than husband#. Many of the voices did not seem to match the age, either, which detracted from their realism. Also, the men were in general represented as either old or fat, but all of the women were young and beautiful. Other games/developers are better at comparatively more accurate age and appearance representations, and it really does detract from the overall gameplay for me when such unpleasant stereoptypes are indulged in this manner. I don't expect completely realistic characters, but the characters in this game were simply NOT depicted remotely realistically. I actually found them a bit disturbing. As for the rest: the HOS are good, but everything else is pretty poor. The graphics are disappointing, and the execution of the storyline is even worse. How they managed to mess up such a promising premise - the 7 deadly sins - I have NO idea. What makes me sad about seeing such high reviews for a shoddy game is that I don't know when to trust other highly-rated games I'm considering purchasing...AND then, the games that really DO deserve 5 stars get lost in the shuffle. My first review #for the CE# was rejected, so I had to go for a milder critique this time. I was just following guidelines and being honest, but that doesn't always seem to be welcomed in reviews. NOTE that my review is based on both the Demo #SE# and the Beta test #CE). BOTTOM LINE: I just couldn't bring myself to drop even a free coupon on this game.
April 6, 2014
The Apple logo is a trademark of Apple Computer, Inc.