Tales of Empire: Rome
Caught in the middle of a fiery dispute between Jupiter, Juno, Neptune and Mars, you must use your match-3 skills to diffuse the war and uncover a proud Roman city! Collect resources, construct monumental buildings, and grow a thriving economy. Win exciting bonus games to decrease construction costs, and collect trophies along the way! Bring life to a magnificent, prosperous land and ensure its protection by the gods in Tales of Empire: Rome!
Fantastic bonus games and extras
Divine blessings, trophy room and more!
Be surprised by the "big boom" of bonus rockets!
Game System Requirements:
OS:

Windows XP/Windows Vista/Windows 7/Windows 8

CPU:

2.0 GHz

RAM:

1024 MB

DirectX:

9.1

Hard Drive:

144 MB
Game Manager System Requirements:
Browser:

Internet Explorer 7 or later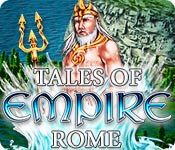 NEW299
The Big Fish Guarantee:
Quality tested and virus free.
No ads, no adware, no spyware.

Reviews at a Glance

Tales of Empire: Rome
0
out of
5 (
0
Reviews
Review
)
Customer Reviews
Tales of Empire: Rome
18
18
Great Game for the kiddies!
Not the kind of Match 3 Game I'm use to. I like a challenge and there's none in this game. The graphics are very poor and I don't like to click my mouse to move an object. I like the game to flow with the movement of my mouse. This game is more for a child to enhance their hand eye coordination. If I'm to recommend this game it would be for the very first timer, or a child.
April 16, 2014
would probably buy if it worked
I had the same problem as Shihtzumum - I bought the well and could not get the picture off the screen. Returned to main menu but it was still there, could find no way to exit. Finally had to use task manager which took several tries, because it kept popping back to the game. I would buy this if they fixed it as I enjoy this type of game. Agree board & tokens could be a little larger but didn't seem to deter from playing.
April 7, 2014
How did BF let this out of the can
Found this game to be slow in response and to be more like games developed a long time ago. Biggest complaint...I bought the wood pkg and the wood box popped up and wouldn't go away. The next play screen came up, but with the wood box still up, you couldn't see the game screen. There was no way to close, no X in corner and clicking outside the box still would not close. Do not waste your time!
April 7, 2014
Could have been good!
This game would have been a buy for me if the screen didn't move. I only played a few minutes before I started getting dizzy and sick to my stomach from the movement. Get rid of the moving and it will be a good game.
April 7, 2014
Frustration Factor
After I bought my first building, the box remained. Could not get it to go away. Jerky graphics. Just doesn't measure up.
April 8, 2014
Just painful to play!
This game reminded me of the Trial of The God's series, and I loved the storyline. I was ready to buy, then gameplay started, I'm glad I finished the demo before I did. Even if my body isn't lol. My eyes hurt, and were watering. My Carpal Tunnel and Arthritis hurt too by the end of the Demo. 1. The graphic are horrible and as I mentioned, it was what had my eyes watering, after just the 1st M3 board. It strained my eyes, and while I do wear glasses, no game has ever been a problem that it bothered them so severely. The tiles are too tiny, the colors are all too vivid and bold, they clash and the objects on them blend together in a sea of more red, gold and Blue so bad, it's hard to see the matches. There is a star button to turn of some off the most intrusive sparkles I've ever seen all over the M3 board (and I LOVE my HOG sparkles!) and while it does get rid of the "bling" (The character's word, not mine.. "I just love all this Bling!" Umm.. that doesn't exactly fit the vocabulary of the time period. lol) it does not get rid of the green sparkles that show you where your next match is unfortunately. That pops up too quickly for me as well, totally unfocused my eyes every 2 seconds. I can (usually) find my own matches just fine by myself, thank you. Although, in this game I needed help, just not in this form, UGH! 2. The game mechanics aren't much better. I had to click multiple times for anything to register. I had this problem in all aspects of the game, except the comic like story scenes. The mini-games in the first level had you clean a vase, and the worst STD (spot the difference) I've ever played! Both ended up with me finishing fast.. yet, they still would not end! I love STDs, but they were microscopic and the instructions did not tell you that you can only click on the photo on the right. The vase cleaning looked easy.. but somewhere a tiny spot was stuck, after the whole thing was clean in a second. Both ended up going over the timer. Hovering over the buy button for the buildings, had the requirements screen pop-up right away, but I had to click on buy too several times as well. The cursor also had moments of floating and being slow. I've never had this problem before, and own over 1700 games from BFG. 3. As said the Mini Games are (besides the response issues) too easy! The first is a jigsaw, I love to see them in game too, but that one I finished in 4 seconds. 4. There are bugs in the game, this IS after checking for an update.. there wasn't one. The first building I bought, the pop-up for it was stuck in the middle of the screen, going to the next M3 level. The Roman God explaining to me what the backgrounds meant was lost, as I couldn't see the M3 board as the pop-up screen covered it. Had to Ctrl-Alt-Delete to get out and reopen it. The other 3 buildings did not get "stuck". 5. Is there a un-timed option or not?! You are given the choice of timed or untimed in the options, but checking the untimed box didn't work. It still was timed, and not counting up. I felt rushed and stressed out from it and everything else on top of it! This game needs to be taken down and redone, with major fixes. Because it could be a great game... but it's the first to be so bad it literally made me cry and left my hand and arm sore from frustratingly clicking for the reasons listed. I cannot recommend this game. Besides timed only ones, I have rarely felt this negative about games in Genres I like. I buy a lot of games on BFG. This however, will not be one of them. It's (literally) painfully bad. Try if you must, but only if you have perfect vision, a giant screen, plus a bottle of eye drops and pain reliever on hand!
May 13, 2014
Graphics from the Roman era
Only played five minutes of the demo. The graphics are so poor this could have been released fifteen yers ago.
April 7, 2014
Nauseating game !!!!!!
Could have, would have, might have given this game more than 30 minutes, it's lucky I bothered to struggle along for that length of time. Absolutely the most visually sickening feel to this game. From the get go the constant movement is like being in a tiny boat in a upchucking stormy sea combined with being on a roller coaster. Come on game designer(s) get real, how do you expect anyone to play for any real length of time isn't that the whole idea of a game???? YUK YUK YUK
April 11, 2014