Mystery of Unicorn Castle: The Beastmaster
Exclusive
The Beastmaster, Lord of all Beasts, kidnapped a young girl by the name of Sophie. You must use your skills to emerge victorious in this battle and save the girl. Make your way past the ingenious traps of the Castle and overcome the beasts to restore the Unicorn for a victory over the forces of evil! Can you solve the Mystery of Unicorn Castle - The Beastmaster? Interesting location and unusual puzzles will keep you on the edge of your seat!
Game System Requirements:
OS:

Windows XP/Windows Vista/Windows 7/Windows 8

CPU:

1.0 GHz

RAM:

1024 MB

DirectX:

9.0

Hard Drive:

551 MB
Game Manager System Requirements:
Browser:

Internet Explorer 7 or later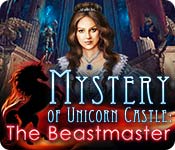 NEW299
The Big Fish Guarantee:
Quality tested and virus free.
No ads, no adware, no spyware.

Reviews at a Glance

Mystery of Unicorn Castle: The Beastmaster
0
out of
5 (
0
Reviews
Review
)
Customer Reviews
Mystery of Unicorn Castle: The Beastmaster
12
12
Unicorns vs. Giant Rats
Don't let the title fool ya, plenty of dark forces in this game of good vs. evil. As you search for Sophie within the dark and mysterious wall of Unicorn Castle, you will be given Karmic Choices which will affect the outcome of the game at some point. You will get this opportunity as you speak to the spirits of the castle, do you help these restless spirits or shrug your shoulders and tell them you're too busy? You will also get to choose how you react towards scorpions and piranhas, do you take the gentle approach or squash those ugly creatures? (I chose the opposite from CE to see the difference!) Another cool feature this game has is with the hint button, if you use the hint button, you will need to catch a plasma ball when it appears in order to use another hint. The hidden object scenes are interactive list finds, you find a pan of water, put the pan on the burner, find an egg, place the egg into the pan to get a boiled egg! If you randomly click on a HOS, magic ruins will appear that require you to trace the symbol to unlock the scene again. There are a lot of mini games, none of which are difficult such as placing the correct number of wires leading to light bulbs in order to light them up. Sit back and relax, choose a side, good/evil moral/sinful/ right/wrong unicorn/rats and enjoy!
April 6, 2014
fantastic eery creepy game!
What a great game. Graphics are absolutely great and immediately set the mood for this game. A lot of nice things in this game that are new and different, you have to make choices that influence the game play, and at least play the game twice before you know all the twists and turns. Very cool. The storyline is very good and pulls you right in from the start. Good music too that enhances the creepy feel of the game. HOS and puzzles are very good fun. The game is long, I played abour 6-7 hours and loved every second of it! I'm sure you will too if you like the scary games!
April 8, 2014
HUMUNGOUS RATS AND FOG KEEP APPEARING
My review of the CE Version: An adventure game with plenty of objects to find and use. Only a few HOPs though. The graphics are crisp and special effects are outstanding. Hint works wonderfully and gives you clear direction. Wisps will flow through the air while the hint is recharging; catch them and immediately refill the hint. KARMIC: I really liked the karmic choices - you have two choices of dealing with a puzzle and whichever you chose has implications in future game play. So you have to think of what the consequences could be. Note that both objects which you can chose will disappear from inventory, even though you can use only one. There are a number of achievements to accomplish, but they have counterparts. So you have to think of how to accomplish all of them so that you can get the achievement for meeting all of them. For example: you get an achievement for helping the blacksmith and you get one for not helping him. So you have to figure out how to help and not help him. Find 45 hidden pumpkins, which are usually hidden in plain sight. Puzzles are easy to figure out - you just have to find what you need to finish them (and that may be several scenes away). HOS are mildly crowded, but detailed, so you can find things even when the hues are similar. An entertaining game
April 6, 2014
a game everyone will enjoy
this game has style i really love a game that has style
April 29, 2014
I really enjoyed playing this game.
The game was really long and the story line was interesting. The map was helpful to travel back and forth between locations. The game is a bit on the darker side so colors were not that bright. This made finding HO a bit challenging. All in all, I enjoyed playing the game.
August 21, 2014
Great game
The graphics are great and there are multiple things to do in each location which are the best feature. Plus the HOPs are interactive and there is the added bonus where the player has to make a "karmic choice" which effects the game play.
April 6, 2014
The Killer Shrews come to Bigfish
nahh, not shrews but giant rats. All I could think of when I saw the antagonistic beasties was the B film from the '50's, "The Killer Shrews". The graphics are good, the story starts out spooky, but tends to drag as the game continues. The plot is typical: cute, innocent l'il girl gets abducted by giant rat sent by evil warlock bent of his own mad desire for immortality. You play the detective who must save the girl and marvel at the sorcery around him. Trite. There is quite a bit of back and forth between locations which can be aggravating as well as some of the hidden object scenes are graphically dark-- hard to make some items with out random clicking. The plusses: Nice graphics with cut scenes. I never listen to the sound, so have no opinion. Many levels of difficulty for those who really like a challenge. There is an interactive map. The inventory bar is lockable. I don't want call the following the "down side", because this is not a terrible game. It is your typical fantasy, hidden object game with a hero, a victim, and the bad guy. Ho-hum. It is an easy enough play and ok if all one wants to do is while away some time. I know a game is for me when the demo runs out and I think, "dang it!". This game didn't do that for me. It's simply ok. I wonder when developers will give games the full hour demo? I might have a different opinion if it had not ended at 48 minutes...
April 6, 2014
Still Searching For A Unicorn To Make Sense Of This
My hopes were raised in the opening scene that I might finally play game set in the present-day. There was actually a modern-ish cell phone and we were riding on a motor scooter. However, it quickly went downhill (heh) and we ended up in an old cemetery, a dilapidated castle, an abandoned blacksmith's workshop and a broken down stagecoach. Not sure what the developers were thinking here with the story, if they were at all. Maybe the discussion went something like this: "Let's create a game called The Beastmaster, and let's include lots of over sized rats running around. Now, we also have to appeal to all the people who are put off by the rats, so we'll add a unicorn. People like unicorns. There, that does it." No, it doesn't. I could never get into this game because I was not sure what was going on. Maybe it gets better. I'll probably never find out unless I have a credit to use. Anyone seen a unicorn?
April 9, 2014
Little girl in danger! Immortality! (... again.)
Boring story line. Many running all over the map with every little thing. I often did not know why I do it. Unresolved things: what happened to the rats? What was karma? Waste of money.
April 15, 2014
The beast Master
Thirty minutes was more than enough for me. RATS, not scarey, just disgusting.
April 6, 2014
The Apple logo is a trademark of Apple Computer, Inc.