Northern Tale 3
Northern Tale 3 continues the legend of brave King Ragnar and his family. Peace came to the lands of the Vikings. The cruel witch Gesta and her henchmen were defeated and no longer pose a threat, but there are rumors of a new evil on the rise. All four sorcerer-kings of the neighboring kingdoms have disappeared and their lands are plagued by a monstrous creature. An ancient Ether Dragon has cursed the kings and turned them into fierce elementals. In order to stop the evil from spreading, Ragnar will have to free them from the curse and defeat the Dragon himself!
Travel along 50 artfully crafted levels
Unlock over 60 achievements!
Try 3 differnt modes of play.
Game System Requirements:
OS:

Windows XP/Windows Vista/Windows 7/Windows 8

CPU:

1.0 GHz

RAM:

512 MB

DirectX:

9.0

Hard Drive:

574 MB
Game Manager System Requirements:
Browser:

Internet Explorer 7 or later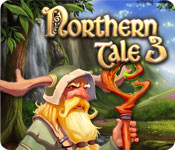 NEW299
The Big Fish Guarantee:
Quality tested and virus free.
No ads, no adware, no spyware.

Reviews at a Glance

Northern Tale 3
0
out of
5 (
0
Reviews
Review
)
Customer Reviews
Another Fantastic Northern Tale!
Northern Tales 3 is one of the most entertaining Time Management game out there. I love the different ideas the developers come up with in each game, in this game we are able to hitch a ride on eagles to soar to the top of mountains and gather the resources available there. This game has 3 available modes to choose, Normal, Multi Click, (let's you multi-task Vikings) and No Timer. You also have the option of turning off the characters voices if the repetitiveness bothers you but quite honestly it isn't annoying in my opinion. There are 45 levels in different terrain such as snowy landscapes or volcanic landscape to break up the monotony and a fun fact about Vikings is displayed before each new game. The goal of this TM game is to gather resources needed such as gold or food, and to clear the paths and repair bridges in order to reach other resources. You can rebuild farms to produce food, mines to collect gold or even upgrade the Viking base camp to support more Viking workers. There are specific goals to reach in each level and these goals must be met within a set time in order to achieve all 3 stars, but you can replay the level as many times as you want. Each level has a bonus bar at the bottom and you want to use the bonuses as soon as they are ready, such as Freezing time, Extra Resources, Extra Viking worker (20 seconds) and my favorite, Faster Vikings. The graphics are very well done, the goals aren't frustrating, and there is some strategy that needs to be applied which keeps the game entertaining, enjoy!
April 8, 2014
Another Irresistible Viking Adventure
BASED ON FULL DEMO This and the Adelantado Trilogy are my all time favourite types of TM game. This game is much like the previous Northern Tales, so if you loved them as much as I did you are in for another Nordic treat. We still have our brave and sturdy Vikings, rushing against time to rescue the cursed kings of the neighbouring kingdoms. There are few obvious signs of change. It looks and feels and sounds very similar. But there is no voiceover narrator ? and of course there are new foes to overcome, new buildings, and some great new tricks. Like travelling by eagle (you?ll see). Everything else you?d like is the same. Like: *The 3 modes of play ? normal, multi-click, no timer. I played normal for the first level, and was already in trouble, having run out of time. This is because, not only are you timed, but you cannot queue. In multi-click mode, I reached level 12, and was still operating in daylight. (One of the cool things about this game, even if you play timed, you can still continue after you run out of time). Multi-click allows you to queue up the tasks you set for your Vikings. Saves heaps of time and irritable waiting! *45 levels, with 5 bonus levels which you can only play if you complete the main game. *Top scores and Awards are kept in main menu. *You can repeat any level you?ve tried before. *The option to switch off the voices, the music, the sounds. *Thor?s hammer, the ?power ups?, and some of your favourite characters, like the druids, are all here as well. I liked the way some sources of resources (*groan*) require you to spend time to collect them, while others must be picked up and your buildings can add to resources independently. And how you can exchange resources with the merchants. Keeping track of what you have and what is coming is a real challenge. One thing made the early part of the game especially tricky, it occurs in the mountains and the snow did in fact make it harder. Don?t know whether I approve of it or not. It is a fun little game, and worth scores of hours fun for a novice like me.
April 8, 2014
NORTHERN TALE JUST KEEPS GETTING BETTER :)
Played this game all the way through and definitely doesn't disappoint. The mechanic is a new addition and just like the druds' and excorcists' huts plays a major part in this wonderful series, if you want the bridges to open and you will build his hut asap. Also something I noticed more so in this sequel tunnels are well hidden so if you do get stuck LOOK FOR THE TUNNELS! I had to restart a few levels because of this but that's ok. Brothers of Earth and Fire are also new and you will see what they do when you play. Fast paced, lots of tasks to do, graphics and storyline are good and our gorgeous big chubby elephant Rollo is of course there to save the day a few times. I love this series as I do the Viking Saga series, must be a viking thing :) Gamers who have enjoyed the 2 previous series will enjoy this for sure and replay value is good, have played it through 3 times and love it more each time. So, as I always say in my reviews. Try, buy and enjoy :) because you will enjoy :) LOVE MY VIKINGS XXXX
April 8, 2014
absolutely fabulous
I knew about half way through that it far surpassed the other 2. and I LOVED them! I admit I hurried through because I just kept getting more and more amazed! it truly is great! now I will go back and really play!
April 9, 2014
Another great Viking Tale!
As a lover of TM games, I was really happy to see Northern Tales 3 as game of the day. I was also apprehensive as so many sequels don't live up to their predecessors. Not so with this game. Yes, it is similar to the 2 previous games; yes, you do clear paths and destroy power stones; and yes, the 'facts' about Vikings are repetitive. But, I found the game fun and challenging #I play 'timed' and do not use the ability to click multiple activities#. I had to restart a number of levels in order to beat the clock. I find the graphics entertaining as well. There are little rabbits or creatures among the land scape, eagles soaring, and moving streams. It always amazes me when I really look at the graphics and imagine the amount of work that went into the development of these games #and all games# from conception to development to testing to release. I don't think people stop and realize just how much work does go into developing the games. Bottom line, I love the game. Congratulations to the developers! Looking forward to Northern Tales 4!!
April 9, 2014
best 1 yet
lots of new things in this one the giant rocks take less food and gold giant spiders and different kind of ghost the yeti take lots less food and gold caves and tunnels weddings and so much more have fun I have if you liked the first 2 you will really like this one I like it the best don't bother with the trail just buy you will be glad you wont be losing
April 8, 2014
True to the past
Northern Tale 3 is much like the previous two Northern Tale games. If you liked them, you will find enough similar elements to like this one too. The game plays like the previous games and, to me, was very much like a continuation of the story.
April 9, 2014
Fun 3
whom liked the first and second will love that one as well !!! the only thing throwing me off a bit are the birds, other then that... awesome !!!! Thank you for making a number 3 !!!! If you have not played the first or second.... you should..... it is awesome !!
April 8, 2014
Another Favourite!
I have been waiting for another of these. I like that each new game offers a few new little graphics to watch, or maybe I just see more. I play Casual just so I can enjoy the view. Bought this after five minutes of trial! I like the familiarity of the series, but love the new characters. Would like to see more of the characters directly involved in the plot get involved in the action. For example, Ragnar's daughters could be doing something, as they became powerful in the first or second game. Can't be more specific about plot suggestions without spoiling it. Makes me want to go back and replay the others!
April 8, 2014
Yay! Another sequel!
I like this franchise and really enjoyed playing the latest installment. It has three modes of play, single click, multi-click, and relaxed. I prefer multi-click. The graphics are bright and clear, just like the previous games. Music is fine, sound effects good. Story was fun, but no spoilers. You'll just have to play to find out. I managed to attain gold stars on about 2/3 of the levels on the first try, but I play a lot of this game type. That other third, though, really took some thought and persistence. Good game!
April 8, 2014