Fantasy Quest
Calamity has struck a peaceful fairy kingdom and it's up to you to set things right in this enchanting match-3 fantasy adventure. An evil sorcerer has sucked all the magic out of Fantasyland, leaving it polluted and the magical inhabitants trapped. If you can't clean up the landscape and bring back the magic, this could be the end for our fairy friends! Are you ready?

You don't have to do it alone! Four magic friends are here to help: the Wind Fairy, Fire Fairy, Lightning Fairy and Clover Fairy. With your puzzle-solving skills and their fantastic powers, there's no obstacle you can't overcome.
Enjoy 120 levels of fantasy-inspired match-3 fun!
Switch between three different match-3 game modes
Explore twelve different enchanting locations
Collect fanciful power-ups and use them wisely
Game System Requirements:
OS:

Windows XP/Windows Vista/Windows 7/Windows 8

CPU:

1.0 GHz

RAM:

512 MB

DirectX:

9.0

Hard Drive:

43 MB
Game Manager System Requirements:
Browser:

Internet Explorer 7 or later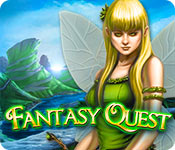 NEW299
The Big Fish Guarantee:
Quality tested and virus free.
No ads, no adware, no spyware.

Reviews at a Glance

Fantasy Quest
0
out of
5 (
0
Reviews
Review
)
Customer Reviews
Save the Fairies!
I absolutely loved this match 3 game although I will admit it's a really easy game. A calamity has occurred, an evil sorcerer has sucked the magic out of the kingdom leaving the air polluted and as a result the fairies are ill and motionless! The object of each level is to "free" a certain number of fairies by making matches of whatever gems are shown under the bubbles with the trapped fairy. There are 3 different types of matches you can choose at the start of each level. The first is the classic swapping of tiles to make a match of 3 or more. The second method is making a chain of 3 or more by clicking and dragging adjacent tiles. The third method is clicking on groups of 3 or more. The level is completed by making matches over all yellow cells on the board. Each level will have different colored pearls that can be used as bonuses by making matches under the pearls until they fall off the bottom of the board. The white pearl represents the Wind Fairy which will clear a single cell. The red pearl represents the Fire Fairy which replaces all of the objects on the cells with different gems. The purple pearl represents the Lightning Fairy which zaps several random cells at once. The green pearl represents the Clover Fairy which tosses several explosive clovers onto the board. If you match 5 or more purple gems, a bomb will appear on the board and can be used anytime. There will also be the normal blocked tiles such as stone tiles which need several matches or a bonus bomb etc. to clear. If you don't like fantasy themed games, pass on this one because it's all about the bright colors and fluttering fairies, otherwise enjoy!
April 8, 2014
Relaxing is more what I would call this game
I think relaxing and fun is the correct word used to describe this game. After a LONG hard day I like to sit down to a game that will relax both mind, body, and spirit. This game does exactly that and more. The game play is your usual match three however, there is challenge in the game. There are captured fairies that you must release by removing stones that match their... I guess you would call them locking stones. Some of the stones are locked within gold squares. These must be unlocked before you can release the stone. There are precious pearls that are yours to keep, but first you must clear their way to the bottom of the column they appear in. There are also puzzle games between each level. I used to make this type of puzzle game, so I appreciate seeing them in a modern day game. :-) The music chosen for this game is absolutely perfect! Close your eyes for a moment and you feel as if you are transported into their world, and have tinkling fairy's all around you. This is sooo relaxing. A perfect game for me. Give it a try. You might find that you'll enjoy it too.
April 8, 2014
Fairy fantastic
Just loved this game. Great story line I like the fact that it is about the Eco system. We need to bring more attention to our own failing Ecosystem.
April 8, 2014
Fun and Cheaper than tranquilzers
Ok, when I'm in the mood for mental stimulation, I'm not going to reach for the M3's in my Game Manager. When I'm in need of a relaxing, soothing, no grey matter required click-a-thon, though, this sweet little game fills the bill brilliantly! Now, granted, the story-line is sorely lacking in originality, but everything works as it should, there are three choices of M3 gameplay, the sound effects are spot on with the volume being adjustable so it was never annoying, and there is no waiting for one group of tiles to pop and fall before sliding the next bunch. And...there was no timer! Yippee! All of the familiar powerups and road blocks are there, and the powerups are introduced early on, which makes the gameplay pleasantly easy for those of us who enjoy M3s as a low-pressure form of relaxation. The Fairy theme is maintained thoughout, making this a very girly game and quite suitable for the Princess set as well as fantasy loving old hens like Yours Truly. I got about half way through my hour's trial and decided the game was well worth spending a coupon to own. If you are an M3 fan, give the trial a spin and see if it works for you.
April 10, 2014
An easy and fun M3
Fantasy Quest is a fairly easy to play M3 with lots of sound effects and some odd power ups which I have not tried. Initially I was a bit put off with some of the rules of play but after a few levels and rereading the rules I figured out how to play this game and have fun with it. There is a timer, but it only factors into the points given at each level and the points mean nothing, so it is essentially an untimed game. Nothing difficult, just fun.
April 9, 2014
a relaxing M3.
i played in an easy level and had no trouble finishing the game. 12 levels with 10 sub-levels. 120 in total. not hard at all!!!!! sometimes a little forward thought is needed.
April 12, 2014
Good for kids, mindless fun for adults
A simpering story line about fairies which can be completely ignored. The Match-3 allows you to pick swap, connect or group mode. It is similar to Atlantic Quest II in that you have to not only clear the board, but make matches that pop the bubbles surrounding the board in order to finish the game. Increasing levels include dropping things and blowing up sections of the board. Like some of the other games - a match of 5 only counts if a straight line and not if you have an angle even when the second still clears all five off the board. If you are looking for a non-stress Match 3 and can ignore insipid fairies, it is not all that bad a choice. If you like "ponies" the colors will make you happy. Certainly I have played worse and more aggravating games.
April 8, 2014
Free the Fairies
This M3 game revolves around the story of saving fairies from their polluted environment as they are stuck due to an evil magician who has polluted the air. There is a choice of swap, chain or group M3 in this game. There appear to be at least 10 "lands" to save with 10 levels within each land. In between each land you have to rearrange the picture of that land to truly release all the fairies. The M3 board does not seem to change much, there are a few variations but so far none challenging. We are given the opportunity to win "power ups" in the form of pearls that we must drop to the bottom of the board in order to use. They do the normal power up thing: blow up, switch, take out one color etc. in addition, if you match 5 or more gems you get a bomb that will blow up an area. I did not ever need to use any of the power ups. As an adult, I can't really recommend this game, unless you are bored to tears or just want to mindlessly decompress. This is a good M3 for kids. For those who do not like timed games--rejoice--for there is no timer (that I could see) that stops your game. There is a timer only for getting better "scores". If you have young ones at home I think they would llke this game.
April 8, 2014
Not as good as Bumblebee Jewel
The game opens with no screens to show who the developers were, but the general appearance is so like Bumblebee Jewel they must be from the same studio. A nice feature is that you can choose between swap, chain or block, and even change your mind in the middle of a level, but I'll stick to the Bumblebees.
April 10, 2014
It was okay.
As match 3 type of games go this was pretty run of the mill. It was not horrible. But I was kind of bored. Basically you are cleaning up an evil wizard's pollution and saving fairies that have fallen ill. That is the basic story-line. The music is okay, although after a bit it got annoying, but you can adjust the music volume and the sound volume. The colors are bright enough. Visually it is appealing. you can opt out of full screen and opt out of the custom cursor. The challenge level seems to be easy. I only have the demo to go by, so maybe it does get more difficult. I personally will not recommend it, try the demo, maybe you will disagree.
April 10, 2014
The Apple logo is a trademark of Apple Computer, Inc.