Another Case Solved
Detective Puzzle Game of Prohibited Candies!
Become a famous detective and get to the bottom of a curious candy conspiracy in
Another Case Solved
!
Start your detective work with:
SUGAR-COATED CRIME SCENES!
CUSTOMIZE YOUR DETECTIVE AND OFFICE!
AWESOME TOOLS AND SKILLS TO FIGHT CRIME!
Game System Requirements:
OS:

Windows XP/Windows Vista/Windows 7/Windows 8

CPU:

1.0 GHz

RAM:

512 MB

DirectX:

9.0

Hard Drive:

102 MB
Game Manager System Requirements:
Browser:

Internet Explorer 7 or later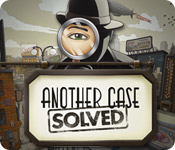 Top In-Game Purchases
1.

Delivery Truck

$ 2.99

2.

Subscription

$ 1.99

3.

15 Candies

$ 1.99

4.

50 Candies

$ 4.99

5.

150 Candies

$ 9.99
Game Club members
SAVE 30% on
in-game items.
The Big Fish Guarantee:
Quality tested and virus free.
No ads, no adware, no spyware.

Reviews at a Glance

Another Case Solved
0
out of
5 (
0
Reviews
Review
)
Customer Reviews
Another Case Solved
33
33
Headless horseman
This had a good amount of everything. Not all searching but a good story plot.
May 27, 2014
Got very hooked on this...
This game has a lot of everything...the sound maybe not great, but the story line is followed all the way through all levels. You have to match 3, map search, design your own character, and work space, and eliminate suspects. Be ready to play small match games to earn enough to solve the big case files.
July 17, 2014
Confectionary Prohibition
This is a F2P game based on a Private Detective sleuth who must start small and hopefully make it big in a town that has made sugary sweets illegal! You create a profile, starting with either Ray Spade or Agatha Beckett. You have several options to choose hairstyle, and facial features, basic features are free and upgrades cost either money or candy to purchase. You can earn stars which are used to learn new private detective skills, and you earn money and candy which are used to purchase furniture, decorations and helpful tools, each level grants access to more features. Some items take a while to be delivered and this process can be sped up with your ever elusive candy. The cases start small by finding cases in the newspaper and you will play a click and drag match 3 type game by making large matches in specific amounts of items such as footprints, magnifying glasses, questions and even donuts. You will earn pictures of suspects which are lined up for questioning and you must narrow down the suspects by asking 3 of several questions provided such as man, woman, wears glasses, has freckles etc. then you choose the correct suspect, each case gets more difficult. You must solve enough of the smaller cases in order to get the major cases. Most of the mini games are based on clues given to deduce the answer. I loved the concept, however, for me personally, the game had too much repetitiveness at times, but you might just love it, enjoy!
May 27, 2014
Not A Bad Little Game.....Just Not For Me
Storyline: You are a fairly new Private Investigator solving a myriad of cases. Graphics: Again, ok. Nothing bright, cheery. Everything is rather dull and monochromatic. Sound: At first, I thought I had the wrong language chosen in "Options", but then figured out that WHEN there was talking going on it was actually just a garbled mess that we aren't meant to understand. Instead, we follow along with the written words. The music is fairly repetitive but definitely appropriate for a detective story. Game Play: This is part match 3 (M3) gaming. However, in such a way that you make strings of various objects (for example, footprints) to get map sections, or donuts to get symbols, or magnifying glasses to get fingerprints. All this is designed to help you make the final decision based on examining a piece of property, asking questions, ruling out people/areas. I know it sounds very confusing, but it's really not. By solving various crimes, you earn money and candy. You use the money/candy to buy items that will help you solve crimes or decorate your office. You can also use the money to update your personal look, as you create yours at the very beginning with minimal choices. The tutorial is amazing. One of the best I've ever seen. It walks you through each and every part of the game play there is - and there is a lot. Is this a game for Glam-ma? Not this one, I'm afraid. It's so very simplistic as to be boring. Yet, on the other hand, certain areas are still confusing to me. I'm just not that into detective stories in the present day. Maybe that's MY problem. This Glam-ma thinks beginners will love this game, Intermediates and Experts - not so much. I don't think there is enough of a challenge for the more experienced player. Having said that, however, please, please, do try this free game. I think you will enjoy it. And you have nothing to lose just by trying it. This review is based on the unbiased opinion of this Glam-ma, and only this Glam-ma. Therefore, if you find this review helpful, please click on the "yes" button below. If not, there is also a "no" button. But, seriously? Would you give your Glam-ma a "no"? Kidding. Happy Gaming.
May 27, 2014
Good Hidden Object Game
I had fun playing this at first, but got a little boring after a while.
May 27, 2014
Instructions were not that good
I downloaded this game to play and found out that it was a free game. I played for awhile, and I got to the first real mystery to solve, and I could not get the 10 questions marks that you have to get. The instructions were not that clear on how what to do. I do not recommend this game.
May 27, 2014
Very Original
IN BRIEF FIRST IMPRESSIONS It looks very cartoony, I know. In this case, that?s a plus. This is a fun little game with a combination of gameplay I?ve not seen before, with a light-hearted ?story? frame that keeps everything very simple. I love the way this game looks. It is cute in a non-pretty way. Different from anything we are used to. I like the voiceovers speaking some gobbledy gook language, although I don?t understand why they do. I hate the ?music?. Unbelievably repetitious in the way that only time management games can do ? and this is not one of those. I?ve been trying really hard to resist the siren call of these so-called Free To Play games on principle, but they are slowly eroding my will power. It is clear to me that the very best game ideas are being channelled into this genre of games. In this case, we live in a city where candy has been criminalised, and we are a detective building our agency from the ground up, starting with cat rescue cases. To play, we must interview suspects, which is done by playing a puzzle game that reminds me of Azkend. You must link adjoining symbols in a grid to eliminate them and accumulate enough of each type to ?interview? witnesses. This in turn produces individual object tiles ? for example, photos or maps ? that we need to solve the case. Once we have passed this test, we will get to choose 3 questions from a predetermined set to help eliminate suspects. For example, Woman or man? Once all bar the villain are eliminated, you can choose to solve the case by announcing the guilty party. Some cases are searching for missing things such as a cat or a donut shop. This involves some similar gameplay but also a series of 3 clues as to its whereabouts. For example, more than 3 tiles from the post office. Solving small cases unlocks more serious investigations. As you progress, time limits and/or move limits increase the difficulty. You do not get to choose the direction your progress takes, or any aspect of the game as far as I could see, except dressing up your avatar and your office. Which you do by spending $$ and candies on it. And of course, there is the provision for buying time or moves to speed up your progress. I don?t know how far you?d get without money in this one. I found I was failing to meet the moves criteria almost at once. But perhaps with a little practice... COMBINED IMPACT Will I play it? I don?t know. But it is worth a look at if you like puzzles and/or detective stories. It is refreshingly different.
May 27, 2014
Too much clicking!
The game is a cross between a match 3 and a Guess Who game with the purpose of investigating cases whilst other elements are thrown in such as searching maps and houses and upgrading your office space. The biggest annoyance is the amount of clicking - clicking to skip dialogue, clicking to advance unskippable dialogue, clicking search areas. As someone uninterested in storyline, it would have been better if all dialogue could be skipped. The match 3 element involves dragging a line across the same symbols and is quite entertaining on the whole. Making a match of 5 symbols creates a bonus symbol. However, on one case some of the bonus symbols weren't showing up, even when making the right number of matches. Overall the game seems pretty fun but not sure if it will last long on my computer before it gets too repetitive or the clicking becomes too irritating.
May 27, 2014
it was ok
the game was ok it's free and if you don't like it you're not wasting your money has a few problem guess nothing comes easy from big fish
May 27, 2014
Innovation
I was a little bit diasappointed that it was no hidden object game, but it was kind of new. Almost like a Match-3, but a little different. You have to investigate on cases. It is humoristic. You can create your own personnage. I dislike the fact that you have to change the resolution of your screen on your own (like Midnight Castle). And that you cannot play the game from a computer to another (like Awakening Kindoms and Dark Manor). But in general, it is a good, innovating game.
May 27, 2014