Another Case Solved
Detective Puzzle Game of Prohibited Candies!
Become a famous detective and get to the bottom of a curious candy conspiracy in
Another Case Solved
!
Start your detective work with:
SUGAR-COATED CRIME SCENES!
CUSTOMIZE YOUR DETECTIVE AND OFFICE!
AWESOME TOOLS AND SKILLS TO FIGHT CRIME!
Game System Requirements:
OS:

Windows XP/Windows Vista/Windows 7/Windows 8

CPU:

1.0 GHz

RAM:

512 MB

DirectX:

9.0

Hard Drive:

102 MB
Game Manager System Requirements:
Browser:

Internet Explorer 7 or later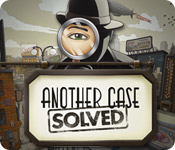 Top In-Game Purchases
1.

Delivery Truck

$ 2.99

2.

Subscription

$ 1.99

3.

15 Candies

$ 1.99

4.

50 Candies

$ 4.99

5.

150 Candies

$ 9.99
Game Club members
SAVE 30% on
in-game items.
The Big Fish Guarantee:
Quality tested and virus free.
No ads, no adware, no spyware.

Reviews at a Glance

Another Case Solved
0
out of
5 (
0
Reviews
Review
)
Customer Reviews
Another Case Solved
37
37
Very Original
IN BRIEF FIRST IMPRESSIONS It looks very cartoony, I know. In this case, that?s a plus. This is a fun little game with a combination of gameplay I?ve not seen before, with a light-hearted ?story? frame that keeps everything very simple. I love the way this game looks. It is cute in a non-pretty way. Different from anything we are used to. I like the voiceovers speaking some gobbledy gook language, although I don?t understand why they do. I hate the ?music?. Unbelievably repetitious in the way that only time management games can do ? and this is not one of those. I?ve been trying really hard to resist the siren call of these so-called Free To Play games on principle, but they are slowly eroding my will power. It is clear to me that the very best game ideas are being channelled into this genre of games. In this case, we live in a city where candy has been criminalised, and we are a detective building our agency from the ground up, starting with cat rescue cases. To play, we must interview suspects, which is done by playing a puzzle game that reminds me of Azkend. You must link adjoining symbols in a grid to eliminate them and accumulate enough of each type to ?interview? witnesses. This in turn produces individual object tiles ? for example, photos or maps ? that we need to solve the case. Once we have passed this test, we will get to choose 3 questions from a predetermined set to help eliminate suspects. For example, Woman or man? Once all bar the villain are eliminated, you can choose to solve the case by announcing the guilty party. Some cases are searching for missing things such as a cat or a donut shop. This involves some similar gameplay but also a series of 3 clues as to its whereabouts. For example, more than 3 tiles from the post office. Solving small cases unlocks more serious investigations. As you progress, time limits and/or move limits increase the difficulty. You do not get to choose the direction your progress takes, or any aspect of the game as far as I could see, except dressing up your avatar and your office. Which you do by spending $$ and candies on it. And of course, there is the provision for buying time or moves to speed up your progress. I don?t know how far you?d get without money in this one. I found I was failing to meet the moves criteria almost at once. But perhaps with a little practice... COMBINED IMPACT Will I play it? I don?t know. But it is worth a look at if you like puzzles and/or detective stories. It is refreshingly different.
May 27, 2014
Too much clicking!
The game is a cross between a match 3 and a Guess Who game with the purpose of investigating cases whilst other elements are thrown in such as searching maps and houses and upgrading your office space. The biggest annoyance is the amount of clicking - clicking to skip dialogue, clicking to advance unskippable dialogue, clicking search areas. As someone uninterested in storyline, it would have been better if all dialogue could be skipped. The match 3 element involves dragging a line across the same symbols and is quite entertaining on the whole. Making a match of 5 symbols creates a bonus symbol. However, on one case some of the bonus symbols weren't showing up, even when making the right number of matches. Overall the game seems pretty fun but not sure if it will last long on my computer before it gets too repetitive or the clicking becomes too irritating.
May 27, 2014
Too Busy; Click, Click, Click
I played this game to level 3 and that was enough for me. It's too busy for my tastes. There were a lot of pop-ups (tutorials?), pointless (IMO) animation showing the detective driving back to the office after each case that one can skip (click), and dialogues with potential clients to click through. I don't care for reading dialogues as I just want to play. The same information could have been given in a brief outline prior to each case without all the clicking. Mostly the game allows no downtime/breathing room. After each click, something popped up immediately for me to do NOW. It was exhausting. I prefer to explore on my own in my own time.
July 13, 2014
it was ok
the game was ok it's free and if you don't like it you're not wasting your money has a few problem guess nothing comes easy from big fish
May 27, 2014
Innovation
I was a little bit diasappointed that it was no hidden object game, but it was kind of new. Almost like a Match-3, but a little different. You have to investigate on cases. It is humoristic. You can create your own personnage. I dislike the fact that you have to change the resolution of your screen on your own (like Midnight Castle). And that you cannot play the game from a computer to another (like Awakening Kindoms and Dark Manor). But in general, it is a good, innovating game.
May 27, 2014
Aggravating and disappointing
This game has its fun moments, but overall there are too many annoyances. I don't like how the game seems to have a gradual level of difficulty, then I reach level 6 and all of a sudden, it's too hard to get anything done. A game should get harder as you progress, sure, but this felt too abrupt! I don't like how I can't really tell the difference between the Tools and Equipment sections so I can't figure out a strategy for my playing. There are a few other things that picked at me, but they are minor ones. This free to play game is just not worth playing unless Big Fish overhauls it.
May 30, 2014
Glad it was free
Some of the free download games have been fun and enjoyable, but this one failed to come close. I recommend muting all sounds as the conversations are just garble, garble. I've played this for a few days and it's already seeming redundant. I normally like Match 3 games but this one seems often repetitive and because of that ,boring as well. There is no real storyline to it, just completing cases and improving your abilities as a private investigator. Glad I didn't spend any money on it as it would be a waste. This game is aimed more towards kids with the limited storyline and boring and simple gameplay. Not one for adults who like more of a challenge and a bit of variety.
May 29, 2014
low standard
Low standard game with awful graphics and probably the longest, worst, and most boring tutorial ever.
June 4, 2014
ugh!
The tutorial is grueling, so long, The matchs require no skill and don't change. I can't even really figure out what this game wants to be. Sooooo boring, prob. the worse match 3 I have played in along time. Maybe kids under the age of 8 might like it.
July 9, 2014
Nothing good to say
Don't waste time with this. Couldn't find anything fun or worth recommending.
May 27, 2014