Another Case Solved
Detective Puzzle Game of Prohibited Candies!
Become a famous detective and get to the bottom of a curious candy conspiracy in
Another Case Solved
!
Start your detective work with:
SUGAR-COATED CRIME SCENES!
CUSTOMIZE YOUR DETECTIVE AND OFFICE!
AWESOME TOOLS AND SKILLS TO FIGHT CRIME!
Game System Requirements:
OS:

Windows XP/Windows Vista/Windows 7/Windows 8

CPU:

1.0 GHz

RAM:

512 MB

DirectX:

9.0

Hard Drive:

102 MB
Game Manager System Requirements:
Browser:

Internet Explorer 7 or later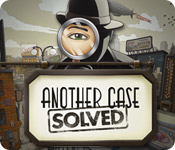 Top In-Game Purchases
1.

Delivery Truck

$ 2.99

2.

Subscription

$ 1.99

3.

15 Candies

$ 1.99

4.

50 Candies

$ 4.99

5.

150 Candies

$ 9.99
Game Club members
SAVE 30% on
in-game items.
The Big Fish Guarantee:
Quality tested and virus free.
No ads, no adware, no spyware.

Reviews at a Glance

Another Case Solved
0
out of
5 (
0
Reviews
Review
)
Customer Reviews
Another Case Solved
34
34
Best detective game there is!
A sugar-coated detective game full of fun puzzles and an engaging storyline. You play as private investigator in a city where sugar and candy are prohibited, and crime is on the rise. You start with small cases like finding a lost cat but end up with robberies, missing children and even more serious cases. There are tons of dialog and lots of jokes. As for gameplay, there are four types of mini-games: - match-3 puzzles where you collect clues and evidence and interview witnesses; - guess-who style suspect interrogation where you have to find the right person; - "hot and cold" crime scene investigation where your intuition meter guides you to the hidden object - searching the city where you compare different hints to find the right building in the city There are also two main game modes. Newspaper cases which are fast, fun and based only on match-3 puzzles, and major cases where you follow the storyline and have to complete all the mini-games (puzzles, suspects, city, crime scene). On top of that, you can unlock secret cases if you're observant enought! The game is easy to learn, but hard to master. Despite the simple mechanics it can offer a challenge and will appeal to both casual gamers and more hardcore gamers alike. There is also a lot of options for character customization. You can also furnish your office with items that have real impact on the game. You can even change small detail, like the color of the walls in your office. And last but not least, the game has a lot of gameplay. I play it everyday and still didn't finish it. It has like 30 or 40 hours of pure gameplay! To sum up, I really love Another Case Solved and recommend it to everymone!
May 23, 2014
I love this thing!
I've been playing this game on my iPod for the last 2 months and am thrilled to have it on the computer with a larger picture. I love that you have to actually solve the cases which is unusual (even for a mystery game). I love that you can completely customize how your character looks and the decor of your office. I love the cartoon-y look to the game but I do find the music way too repetitive, which is why I knocked down the score. I know a lot of people don't like the "freemium" games but I've never felt the urge to spend real money on this game. As you level up you'll earn lots of game cash & candy (especially if you can get 3 stars on the cases on the first try.
May 27, 2014
Great!
I love this game. Although it's a "free to play" game, I have yet to find an instance where I *need* to pay, or where the game blocks me from continuing unless I buy power-ups or something like that. The premise of the game is that you are a detective solving the town's crimes while the cops are busy. The crimes are mostly humorous in nature, and often involve finding people's cats. To find clues and solve crimes, you play a drag-and-select style match-3 game where you try to make lines of items. If you remove five pieces (or more) at once, you get the type of clue for that piece. There is also a game much like the board game "Guess Who?" where you find out who is the suspect/the person of interest by asking yes or no questions about their appearance. The third game is a deduction game using a map. When you level up, you use the stars you earn to purchase better tools or powers. You can use the money you earn from cases to buy power-ups, as well as decorate your office and your character. All in all, this is a really fun puzzle game with some cute and quirky humor to it.
May 27, 2014
Good Little Game
I've had this game downloaded on my tablet for a while now, and its one of my favorite games to play. Its a little slow starting out but its story lines and puzzles keep it entertaining. Its way more involved than just a match 3 puzzle or even a hidden object game. My biggest complaint about this game is it does have its redundancy issues, it can get tedious to play the mini cases after so long. Other than that, its terrific!
May 27, 2014
Does it convert from ios ?
I love this game on my iphone. It translates fairly well onto PC, but is much better on a touch screen. It gets a lot harder the more cases you solve. It starts off with fairly easy match 3, and evolves into a tricky test of strategy when you start needing to use the right tools to achieve 3 stars on the major cases.
May 27, 2014
TOTALLY ADDICTING - Does not cost to play
I thought oh another pay to play game, great. I tried it after seeing reviews and I am so glad I did. This has so many different elements and is so addicting AND it is FREE! I am so glad I did not pass over this great game. I am patient so I can wait instead of paying to play ASAP.
June 10, 2014
Sweet with no cavities
This clever puzzler gets better the more you play. It has considerable depth for a match 3 game. You get to question suspects, find hidden locations in the city and locate missing items. There's different strategies and tactics you can use. If you enjoy mysteries, give this one a try!
May 30, 2014
So Glad I Tried It
I'm surprised to see so many reviews panning this fun and quirky game. While I usually despise a tutorial you can't opt out of, the one for this game is really very necessary, and it's important to pay attention to what you're being told rather than try to get through it as quickly as possible so you can get on with things. (Yes, I am VERY guilty of this most of the time.) After playing for a few hours, I realized I had missed some crucial info, so I started another game on my laptop and paid attention this time. Now things are much easier and clearer and I'm having a blast. Others have described this game very well and very succinctly, so I'll skip that part and just say I highly recommend this. As a free game, it's super fun and I haven't been tempted in the slightest to make a purchase. So far there hasn't really been a need, and while my purchasing power takes awhile to build up, I find it's more fun if you have challenges rather than just having everything handed to you. As in life. :)
June 5, 2014
The kind of game I was looking for.
I was playing Criminal Case & Detective Tales on Facebook & wondering if Bigfish had anything like them; where instead of spending an entire game solving a single case, you work on a string of cases that sometimes are & sometimes aren't related. The answer was "yes, & it just arrived today, in fact." Only instead of a hidden object crime drama, it's a match 3 with a Guess Who mini game. Cons: *Tutorial is overly long & condescendingly holds your hand through the first half hour. *Facebook-style time limitations. Only instead of energy, it's waiting for cases to be delivered. *Not much to the story; a step-up from the slapdash, perfunctory cases in Crime Solitaire, but I was really hoping for a Dark Comedy atmosphere with murder mysteries & witty recurring characters. Pros: *Not a lot of Bigfish games let you customize your character at all. The only other one I can think of is Bu$h Wh@cker 2. *Unlockables, upgradables, skill trees, customization. *Clever use of match 3 with varying scales of challenge. If you don't work your brain, you'll be replaying levels. *Nice variety of side games that make sense in the context of the story, as opposed to just slapping around magical steampunk contraptions.
May 29, 2014
Nice one!
So have just begun with this one and really enjoying myself so far. Very nice game play, quite challenging I might say and overall tempting to keep on playing. Can't say much more now but looks like a new addiction for me (I do love sweets). Have been offered some very nice sale offers, although it's a bit too soon for me to use them so hopefully will be offered again in the future as I very much may want to use them if I keep enjoying myself this way. Game looks easy but really very sophisticated and challenging. Nice one!
May 28, 2014