Legends of Solitaire: Curse of the Dragons
Long ago, Solitaire Kingdom was cursed by an ancient, evil spell! To lift the curse once and for all and return the kingdom to its former glory, you must embark on a great quest and defeat the dragons! Gather companions, trade coins for goods at the blacksmith's workshop, and claim rightful victory against these ferocious beasts!
Exciting storyline will keep you guessing!
Trade coins for items to help you on your quest!
Multiple characters to choose from
Game System Requirements:
OS:

Windows XP/Windows Vista/Windows 7/Windows 8

CPU:

1.0 GHz

RAM:

256 MB

DirectX:

9.0

Hard Drive:

116 MB
Game Manager System Requirements:
Browser:

Internet Explorer 7 or later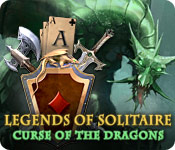 NEW299
The Big Fish Guarantee:
Quality tested and virus free.
No ads, no adware, no spyware.

Reviews at a Glance

Legends of Solitaire: Curse of the Dragons
0
out of
5 (
0
Reviews
Review
)
Customer Reviews
Legends of Solitaire: Curse of the Dragons
20
20
House Of Cards
Great solitaire game, I wish the cards had better graphics. There are three different card styles to chose from for both the front and back of the cards. You then choose either Hollow Spirit or Merimas Brownlock to guide you. They gather hearts during the game and when fully charged they have the ability to remove one card. Before the start of each level you are given goals to achieve such as making a combo, filling the dragon bar or earning 5 stars. There are bonus cards available, bag of gold, jester wild card, swords, axes etc. There is also a Dragon card which will set a card on fire and that card can't be used until the fire goes out. There are achievements to earn and the gold you earn can be spent in the store to purchase bonus cards, axes, swords, spells, potions and even an extra undo card. Some of the cards will be blocked by locks until you get the key card, vines until you get a sword card, some blocked by ice until you get an axe, and even stone until you get a mace card. To play this game you simply use cards from the board to play a card higher or a card lower onto the foundation card until all the cards on the board have been used. If you cannot use any cards on the board you must draw another card on deck. You can play this game in casual, normal or hard settings and there are mini games available of Freeplay, TriPeaks. and Random games as well, enjoy!
April 9, 2014
Well Crafted. Fun. Highly Recommend.
This is a well crafted solitaire game. The artwork is very good. The music is also good. The voiceover telling the story sounds a bit like Morgan Freeman :-) There's a book that tells the story (you can skip), a map that shows your progress. Usual blocks on cards, weapons/wild cards/power ups that you purchase and some that appear in game free. Lots of options- difficulty, card fronts, card backs. Other versions of solitaire offered- Tri-peaks & Free Play The only drawbacks to this game are: ***Lack of drama/excitement. It seems a bit tame in the story telling dept. ***Lack of clarity in choosing weapons to buy for your arsenal. You can buy a Sword in the Store, but you get one free (via card in deck) while playing. It isn't clear if the Sword card that goes into your arsenal for free is permanent or if it is only good for a few whacks? and you have to purchase the permanent Sword in the Store. I am enjoying this game enough that I'm willing to keep exploring it and learning how to choose, purchase and use the weapons. If there's ever a version 2 of this game, the Devs need to make this clearer. This is an immediate purchase for me and I'll be playing straight through to the end and using this for a long time. Great value.
April 9, 2014
A Fine Addition to the Solitaire Genre!
This is every bit as good, and in some respects, better than the excellent 'Seven Seas Soliatire' which is a favourite of many. Superb graphics and sound effects which fit the theme of the game very well. Ambient music is quite appropriate, but can be turned off. This is a 'play one card higher or lower than the upturned deck card' type solitaire. There are 10 hands to each level, and you are tasked to obtain a predetermined set of 3 objectives to complete the level. e.g. Earn 1000 gold coins Collect 5 stars Fill the Dragon Bar - Gold is earned as you play, and there are also 'gold' cards which add to the total. - You gain 3 stars for getting a 'perfect' hand, 2 or 1 stars for finishing the hand with a few more cards left. - The 'Dragon Bar' is filled as you play, and after the 10 hands in each level are played, you aim to get an accumulated amount to fill the 'Dragon Bar. in order to get the star. There are the usual 'blocked' cards which have to be dealt with. e.g. vine-covered cards need a sword card to clear them, and stone-covered cards need a mace card to break them. There is also a 'dragon' card which sets a face-up card on fire. This can't be played until the fire goes out. In addition, there are power-up cards which become available when you fill a 'friendly companion' in the bottom left of the playing field. The card faces are beautifully rendered and the artwork is superb. There are achievements to be earned also. So, I thoroughly recommend this game which should appeal to all solitaire fans, and is a very worthy addition to the genre.
April 9, 2014
Fantasy TriPeaks Game
I just had to try this game after reading many of the reviews and have to agree that for story line,game play and visual affects, this game is good.After 20 minutes I had to have it. There is timed and untimed for whatever you like. There are also mini games that you can play. I truly suggest this game for anyone who enjoys reading a good story and likes solitaire.
April 12, 2014
Beautiful and entertaining
This is brought to you by the same developer who created Legends of Solitaire: The Lost Cards; if you liked that game, you will certainly like this one as well. There are three levels of play including casual, normal, and hard. Good voiceovers, pleasing graphics, and interesting gameplay make this a winner for me. I hope you enjoy it as much as I do. :-)
April 9, 2014
Excellent solitaire
Good story line, nice power-ups and a must buy for solitaire lovers. Easy to see cards, backgrounds are lovely to look at and suit the story. Similar to The Chronicles Of Emerland.
April 9, 2014
A Fantastic Addition to Solitaire Games - Love It
This game is awesome!! The artwork is amazing. I also love the storyline and the music :) You get to choose different travelling companions and you can also choose the card faces that you want. There are 3 different game modes to play, plus there are also mini games. A high level of detail has gone into this game. This is challenging, enjoyable and addictive! I highly recommend this game if you enjoy a good solitaire game :)
April 11, 2014
Very, Very Enjoyable Game!
This review is based on the finished game. I was surprised to see a few negative reviews of this solitaire game, as I thoroughly enjoyed it! Perhaps that?s because I?ve always been a big fan of Tolkien?s trilogy and the trilogy of movies made from it. The artwork and music are DEFINITELY derived from the movies. In fact, one of the cards looks so much like Legolas the elf that I wondered if they had to get permission to use the image. The music, which is unobtrusive and often quite pleasing, sometimes strays from the movie?s themes JUST enough to avoid copyright infringement but lends the same atmosphere, which I enjoyed. As well, the narrator?s voice is deep and gravelly, telling the story in as stylized a fashion as any fantasy lover could desire. Yes, the artwork is somewhat sketchy and two-dimensional but I didn?t find that detrimental to the fun of the game. The standard 3 modes of play are available. The play is simple fun; you empty the screen by placing a card that is either one card higher or lower than the upward-facing foundation card. There are several helps and obstacles presented during play. One little detail I enjoyed was that sometimes the cards are placed sideways or at angles, making it fun to look at while keeping you on your toes to pay attention to what cards are available for you to play. For those unfamiliar with this type of game, the first chapter includes a tutorial which points out the helps and obstacles for you. The game itself consists of 40 chapters of 10 ?hands?; each chapter becoming a little more difficult. Every chapter begins with a narration (skippable) of the continuing storyline, along with your goals for the chapter. These requirements increase as you play, consisting at last of how much gold you must amass, how many cards must be taken in a row (called a combo), how many ?Perfects? you must achieve (meaning removing every card from the screen), how many stars to amass, and an overall goal of filling the ?Dragon Bar.? How this last is achieved is never actually explained however as you play each hand the bar fills itself, and I never encountered a chapter in which the dragon bar did NOT entirely fill. A small help I enjoyed was that if you overlook a card that you might have played and draw a new card from the foundation deck, the overlooked card will wiggle to show you the lost opportunity, so if you have an ?Undo? in your inventory you can correct your mistake. There are 20 ?achievements? you can amass, though they don?t affect the play ? they just record things like how many perfects you achieved, how many times you used a certain tool, and so forth. THE STORE The gold coins you amass may be used in the ?store? which, other than during the first chapter, is only accessible at the map screen. Here you can purchase power-ups to help you along in the game. POWER UPS There are 12 power ups available, some of which have effects such as uncovering face-down cards, improving companion recharge time or providing an extra ?undo?. Three of these are kept permanently in your inventory and can be used in every screen however two of them; the fire-extinguishing Amber Potion and the Skeleton Key can only be used once PER CHAPTER, and must be re-purchased from the store at the beginning of each chapter if you wish to do so. As well, you can NOT own more than one of each power up at any time. Occasionally one of the foundation cards will be a ?wild card? which will randomly become a card numbered between 2 and 9. You can only hold up to six wild cards at any time however if you need some you can purchase them with your collected gold. COMPANIONS At the beginning of the game you?re offered your choice of either a male or female companion whose ?power? is to remove a random card from the screen. I played games with both and found NO difference between them. As the play continues you are gradually joined by three additional ?companions?; each of whom offers a different skill, such as throwing a useful card on the foundation deck. Interestingly, halfway through the game one of your companions leaves and is immediately replaced by a different species of character that offers the same benefit to you, which struck me as odd. Once their power is used, the companions recharge via the suits of the cards you play. OBSTACLES At the beginning of each hand, cards might be blocked by a stone wall, a sheet of ice, an overgrowth of plants, a wall of fire, or a padlock. These must be overcome by the appropriate power up. There is an additional obstacle card that appears intermittently called the Dragon, which sets fire to a card. With only one exception, this card cannot be used until the fire is extinguished by use of the Amber Potion or simply goes out by itself. It takes the play of a number of other cards before any fire goes out by itself but eventually this will happen. SUGGESTIONS I would like to offer to the developers two suggestions that might make the game more enjoyable. First, when you?re on a card screen there is no indication of which chapter and hand you?re playing. It would be very useful to see this, as sometimes my strategy changes depending on how close to the tenth screen I am. Secondly, if you fail at a chapter and must begin it again, you can NOT return to the store to buy more fire potions or padlock keys. Yes, making the game harder is probably the goal but how about offering it at least in the casual mode? Overall, I enjoyed the game very, very much and recommend it highly.
April 21, 2014
Love this game
I am usually into TM games first and foremost but Legends of Solitaire, captured my attention! Love how there is a story-line attached; the graphics are crisp and beautiful and it's clear that there's attention to detail from go to whoa. No hesitation in recommending this game!LOVE IT It's certainly a keeper!:) Don't want to give spoilers but... yay. great game.
April 9, 2014
Adds a little more to solitaire.....
Even though I already have a couple of solitaire games I am considering this one because I am interested in seeing how the story plays out - they only update the story line in between chapters. The game play is good because you can choose the level of play you like. This game has three levels of play and I choose the easiest. There are two helpers to choose from and I just choose the first selection a female wood fairy or such, the second is an elderly male wizard. Would like to try both too see what the difference is. If you like solitaire, I didn't see any down side to this game. I did get tired of the music but it was easy enough to mute and most games I usually play without the distraction of the music,
April 9, 2014
The Apple logo is a trademark of Apple Computer, Inc.