Violett
When Violett's parents drag her away from the city to an old, spooky house in the middle of nowhere, she is certain her life is over. With no friends and nothing to do, Violett imagines a boring life in the countryside spent watching from the window of her bedroom as one day bleeds into the next. Never would she expect that a curious light coming from a nearby mouse hole would lure her into a magnificent and dangerous world where frogs sing opera, garden gnomes are emissaries from another dimension, and the power of telekinesis is old news! Fight the evil Spider Queen as you roam the beautiful, psychedelic world, inspired by Alice in Wonderland, Sandman, Dali and more!
Fall down the "rabbit hole" into a magical world!
Use paranormal forces to manipulate objects
Fight the evil Spider Queen!
Game System Requirements:
OS:

Windows XP/Windows Vista/Windows 7/Windows 8

CPU:

2.0 GHz

RAM:

2048 MB

DirectX:

9.0

Hard Drive:

1073 MB
Game Manager System Requirements:
Browser:

Internet Explorer 7 or later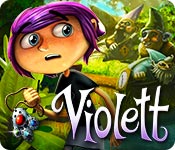 NEW299
The Big Fish Guarantee:
Quality tested and virus free.
No ads, no adware, no spyware.

Reviews at a Glance

Violett
0
out of
5 (
0
Reviews
Review
)
Customer Reviews
Wow! What a treat! How clever!
When, very curious about what others had to say, after playing, and pondering on this such amazingly different and refreshing game, for the full demo hour, I felt the sudden urge to search through the criticism that was left today and I was taken aback by all the the negativity expressed by the few that had already given up on it!! It was undeserved as far as I am concerned, but I am aware that we all have different needs of course. I had to jump in right away though, to help raise the level of the approving stars at once, as someone comes up with something amazing and different, intelligent, cute as could be, (but hard as well I agree, and why not?) meant to exercise our grey matter like few others games I have ever played here (but not impossible to solve with some wit and patience), and gets the boot!. So, there are no hints, or so few: that is because we are supposed to use our brain! Isn't it what the games are for? Good, with little help, harder to cheat and the game shall be solved with patience and common sense, which so many games do not offer, as this one does! This is refreshing for a change as too many games, lately, offer so little challenge or too much help, so much so that one is tempted to give up before even trying, especially when the plots resemble each other too much! If a game does not challenge me enough, tests my brain's pride personally and trigger my desire to beat it, I may press on the hint button myself just to get it over with. We just finished the demo, my 6 years old granddaughter and I, so far: And we will buying it, that I can promise!! We both want to beat this game in the worse way, this has never happened before, we have never been this compelled brainwise by any game, snobbed by it, ticked off by it, because at times it gets the better of us, all to the credit of the developper! First I played it for 30 minutes by myself, quite frustrated at times, I have to admit, but not frustrated as wanting to quit, on the contrary, frustrated as wanting to beat it at any cost! The game pressed on all my challenge buttons, incredibly so, I could feel my brain cells tingling as I felt an urge to beat this worthy adversary and continue on, could not wait to pass to the next scene because I knew that, by then, I would have truly earned it!! After 30 mns, I gave up because i wanted to leave 30 mns for my granddaughter to try it as I feel the money is better spent when we both like a GAME so I waited for my 6 years old pal's return from school and we tackled it together this time. I started it again from the beginning for her. Her brain functions differently than most: in school, she learns things on her own, using different methods than her teacher and arriving at the same result thru improvisation of her own so I could not wait to test her with this and I had a feeling, with her in toe, that we would somewhat conquer the first 2 or 3 scenes in the 30 mns we had left. I was not wrong! I spent 20 mns just trying to tilt the bottle without succeeding when i was alone and she did it in a snap (OR 2)! I had read the comments of the other person who liked the game along with us, and he spend 30 mns trying to get the fly to go into the bottle. My granddaughter did it in 5! It would have taken me 30 mns or more as well,that is what I mean about a brain that functions differently than most! She is very smart, but yet she is also a child and had a blast making Violett tumble down the stairs over and over again, she was laughing so hard it was a pleasure! I recommend this game to anyone that wishes to be challenged, amused by a different kind of cleverness, it is not a child's game but a fun and bizarre adventure for all ages testing one's potential and ressources in overcoming obstacles.
April 9, 2014
Frustration Level HIGH!
Remember the days of Room Escape games? Where you had to solve a series of puzzles in order to exit a lock room or car? well this is a warning: this game is not for everyone. For gamers who enjoy the traditional HOPA or adventure gamei you will probably not be a great fan of this paticular genre. It is by far very different from the Drawn series but has a more simplistic style, yet is far more challenging that the classic HOPA games. I have always been a fan of these type of games, and honestly I enjoy the rare opportunity to sweat through a game that tests my patience and compels me to use my brain once in a while. Pushing through with intense focus and determination, while avoiding the urge to pull out my hair, I find that having completed a task offers me a sense of accomplishment. Having played the demo, I was able to only get through two scenes and now I yearn to continue and having said that, I probably will be balked at by many for giving this game 5 stars. What can I say, I enjoyed the simplicity and yet the intricate puzzles involved and I anticipate that I will be amongst the minority who do enjoy this genre as much as I do. Our story is about Violett, a young girl who has been dragged by her folks to the countryside where she now lives out a lonely childhood existence. One day, while sulking in her bedroom, she notices something shining in the mousehold and upon close inspection, Violett suddenly is thrown into a different world inside another dimension where adventure, and danger awaits her and you. Inspired by many popular stories, Violett needs to use her wits to escape the clutches of the evil Queen Spider and find her way back home. With graphics is somewhat crude, more in an anime style but less sophisticated. Cartoon artwork makes the game appear more surreal rather than just plain childish. Once I got to the main menu, confusion struck and I still could not find a profile name section. Violett offers no levels of difficulty but the choice of helpful hint is offered as an option. Like I said, confusion sets in from the start and there are no instructions or texts to read or any legible voice-overs that offer direction, but rather a variety of comical sound effects that make the entire game appear a bit insane. There are some helpful hints during gameplay like small drawings and arrows and nods of heads that will offer some sort of direction. You do have a diary and there are pages to pick up along the way. You hint system only offers four pictures for every scene but basically you are on your own and you really need to figure things out, hence the word Puzzle Game. There are collectables, collecting small colored balls and some inventory items. I will be honest and tell you guys that I have not yet decyphered the use of the small colored balls or the the gadget that looks like a whistle. As there are no instructions, I really am just getting the feel of the game and already my frustration level is high. You will understand what I mean when you try to figure out how to get the fly into the bottle in the second scene. That took me over 30 minutes to solve that one puzzle without using any visual hint but finallu I had to succumb to pressing for all four hints in order to solve that one puzzle. (to be honest, even with hints I had the most difficult time with it). I wish I could tell you more about game mechanics, so far I found it extremely frustrating and challenging as well as a bit bizzarre but nevertheless, I am loving it so far. I do welcome a walkthough as the hints are not as helpfull as I like them to be. And if anyone has figured out what those darn balls are about, I welcome the help. I think for those who do enjoy these types of puzzles, Violett will deffinitely keep you busy.
April 9, 2014
Hard to resist
I really like this game. I enjoy a good challenge. It requires that you take a deep breath (there is no time clock), look around you for solutions (knowing that they are there) and enjoy the adventure. If you are looking for a game that tells you what to do, this is not the game you want.
April 13, 2014
Delightful, Fun, Refreshing, a little Bizarre
No, I have not finished this game and I am sure it will take me a very long time. It reminds me a little of those wonderful puzzle doors in Ravenhearst except you Violett are the tool that can be used to make the puzzle reveal it's wonders. I know I will want to finish this game even if it takes me years and it might. It looks like a perfect game to complete a scene or two then leave it and come back again the next day; treat it as one door or puzzle at a time. If you are not amused at once and have a low tolerance for frustration you could cheat and cook or do whatever, while the next hint recharges as it is quite slow. You might burn some meals! Once I got the hang of it I was vastly amused and I hate to see an imaginative game like this sink with two stars because the game is not holding you hand and guiding the way. Light the darkened path with your brain, yes, you can do it and this is wonderful after the recent batch of games that have you endlessly sticking obviously shaped items into difficult locks! This is the whole point of gaming not just to be spoon fed in a fantasy environment and you are dealing with a lover of Dark Parables and Moonfell Wood but many new games could be played by a five year old and as an adult I have become very bored with them. Violett is just the ticket! Quirky, imaginative and fun!
April 10, 2014
I loved it
When I saw all the negative reviews I was a bit wary at first. After the first scene I was hooked. It's not for the faint-hearted that's for sure! I'm not going to go on about the graphics etc, others have done all that and much better than I could have but I found the pictures clear and not to dark so my less than youthful eyes were happy, lol. I enjoy a challenge and hate having my hand held throughout a game so this was just perfect. To the developers, keep them coming, but maybe next time a bit more of a story line would entice a few more people to persevere with it. I will be buying this game and most definitely recommend it.
April 14, 2014
Refreshing game
Reminded me a bit of "The tiny bang story". A creative difficult game that puts a smile on your face.
May 21, 2014
BUYING THIS GAME.
Bright, different and a mind-boggling challenge (for me). Am not familiar with this type game, but am a fan now. The second time I let the bottle escape from the jaws, I was hooked. Love the HO and adventure games, but this one got me.
April 10, 2014
Very different, challenging, and frustrating. Loved it!
I've gotten spoiled by games that lead you through the steps with maps and sparkles. This game woke me up and made me think! Even though it was frustrating, it was a great challenge and I loved it!
April 11, 2014
Beautifully designed and refreshingly different
It does take a bit of time and perseverance to start with, but it's worth it and the movement and graphics are great. It's good to have a truly challenging game for a change - so many these days are predictable, relatively easy and look the same.
April 11, 2014
Loved it.
Really makes you think. A nice change from standard HO or adventure games.
April 10, 2014