Violett
When Violett's parents drag her away from the city to an old, spooky house in the middle of nowhere, she is certain her life is over. With no friends and nothing to do, Violett imagines a boring life in the countryside spent watching from the window of her bedroom as one day bleeds into the next. Never would she expect that a curious light coming from a nearby mouse hole would lure her into a magnificent and dangerous world where frogs sing opera, garden gnomes are emissaries from another dimension, and the power of telekinesis is old news! Fight the evil Spider Queen as you roam the beautiful, psychedelic world, inspired by Alice in Wonderland, Sandman, Dali and more!
Fall down the "rabbit hole" into a magical world!
Use paranormal forces to manipulate objects
Fight the evil Spider Queen!
Game System Requirements:
OS:

Windows XP/Windows Vista/Windows 7/Windows 8

CPU:

2.0 GHz

RAM:

2048 MB

DirectX:

9.0

Hard Drive:

1073 MB
Game Manager System Requirements:
Browser:

Internet Explorer 7 or later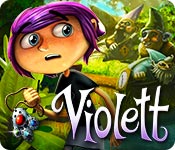 NEW299
The Big Fish Guarantee:
Quality tested and virus free.
No ads, no adware, no spyware.

Reviews at a Glance

Violett
0
out of
5 (
0
Reviews
Review
)
Customer Reviews
Good game, but not for majority
A little girl, obviously moving with its parents to the county side, and she is not amused. But unlike Alice with the rabbit hole, her eys are falling onto a mysterious mouse hole. She steps in and find her self trapped in a cage. This and everything else is a story, you have to find out for yourselve - because nothing is explained. Point, click, drag (with) the mouse and see, if and if yes what will happen. There is a hint available, but unless the hint in our know hopas, this one will only give you a visual clue - for one action there will be up to four clues, each will tell (or better: show) you a bit more. Graphics are very good, in parts even like paintings from Escher or Dali. Because of the game play I recommend this game - but only for puzzlers, for people which like brain teasers and prefer to play without being led through a game by hints and obviously tasks. It is special (a little bit like Journey: The Heart of Gaia, but not so colorful), but more a rare pearl - not everyone likes pearls.
April 10, 2014
A game that makes you think
I am so glad that a game has come out that makes you think. Although I enjoy the hidden object and games where you have to solve puzzles this one makes you really use your brain to get through. I enjoy the challenge of the game.
April 16, 2014
An enigma wrapped in a Polish eggroll
A bizarre and challenging game with very little direction as to what the heck you're supposed to do or where to go. Very different from anything else out there. Have no idea what the little ball finds were supposed to be used for...maybe you find out later in the game. I may buy it later on a day when I've had several glasses of wine, and throw caution to the wind!!
April 9, 2014
Finally... An Pure Adventure Game
This is actually a great game. It is a pure adventure game. There aren't any "glitches" or problems with the game. It's NOT a HOG. It's a point and click adventure game, and a pretty difficult one at that. This game worked fine for me both on Windows 7 and on a touch screen (Windows 8). There is not a tutorial because none is needed. It is all about thinking and poking around and trying different things. The controls are different than your usual ERS type HOPA. There's a great video on you tube. Adventure gamers will enjoy this game. A lot of patience and creative thinking are needed for this one :)
April 10, 2014
5 Star Interactive Cat Game!
I stopped playing this game on the fourth scene to get my video camera/phone so I could take some amazing video of my cat trying desperately to "catch" the beavershark that was swimming shark style in a vat of water on the bottom section of my computer. There were also hanging mice hooks that he would try to catch at the top of the screen and when the beavershark would dive under the water my cat would try to reach under the monitor to catch him! I play hundreds of games and none have fascinated him this much and certainly not for 15 minutes. As for the actual people version of this game let me state that the graphics are superb, they are crystal clear, and crisp, I haven't seen graphics this well done in a long time! The instructions however are very minimal and the only bail out you can hope for is the 4 stage hint button. Even the hint button isn't that great, it shows you step 1-4 as a simple sketch and if you already figured out step 1-2 you still have to see these steps in sequence. The first scene is soooo confusing trying to figure out what to do with the paper clip, so I used the hints to figure out that I needed to put the paperclip between the broken wires to short them out to cause a fire which would allow Violet to escape. Now on to the second scene, I have the hang of this game surely, nope not at all! Try as I may I couldn't get that bottle to tip and almost gave up. Again the hint button and I knew I was on the right path so I tried again this time holding on to the spoon longer, tipped the bottle and then figured out I had to tip the bottle and click on the biting fish at lightning speed. Scene three was even more confusing, nothing but a room full of staircases and doors that lead to another door on the other side! There are a bunch of hidden compartments with colored pearls and one with a ring. By this time I figured out that each scene has several pearls to collect and some of the items you click on go into your inventory bag. By the time I got to the fourth scene I realized that the game isn't going to get any more exciting and if I constantly have to use the hint button to figure out what to do next, or, fry my brain trying to figure out what I'm supposed to do, then in my opinion it's just not worth it! I take that back, my cat was thoroughly entertained and I was thoroughly entertained watching him:)
April 9, 2014
The Weirdest Little Game!
BASED ON DEMO FIRST IMPRESSIONS A story told by comic book images alone, a heroine with purple hair and a surly attitude, (good) Dali graphics, strange eerie noises and no help anywhere. No goals, no task lists, no puzzle parameters. No map, no cute companion. Even the diary is not accessible within the game! What am I doing here? I have absolutely no idea. The only reason I have any notion as to story is because I read the advertising blurb before playing the demo. This game is so totally out there, I cannot hope to do more than give you some impressions. SIGHTS & SOUNDS Liked the graphics. Very good anime-style (I am old and behind the times, so forgive me if that is the wrong term for it), fantastical, but clear, delicately drawn and detailed. The sounds include no voiceovers, no narrators, no character comments beyond a ?nyup? and a shaking of the head. The music is pleasant enough, although a tad repetitious, and there are some cool sound effects. WHAT?S HAPPENING? Well, I was hoping you?d tell me! Holidays seem to be boring to our cute little purple heroine, until she spots a shiny object in a mouse hole. Now, me, I?d not be rushing to stick my hand into a rodent hole, but she?s young enough to feel no fear ? which is just as well, because the minute she grabs hold of the amulet she is sucked into some kind of vortex that lands her in a surreal world in which she is the same size as a toothbrush. I don?t know what adventures lay in store for her, because I couldn?t play well enough to find out more than a few bits and pieces. GAMEPLAY This is where I come undone. I just haven?t got the knack for these sort of games, but I have some friends more advanced in adventure gameplay than me (yes, you know who you are) who I am sure would tell me this is not an overly-difficult adventure game, just a little quirky. Forget looking for any kind of structured puzzles, mini-games or HOPs. The puzzle is every step you take, the mini-game is the movements you must make with your cursor to make the objects you need available. It?s this last that gets me. I just can?t make my cursor swing back and forth or whatever in the correct way to achieve anything. Another minor (*says with an almost straight face*) difficulty for me is I don?t think outside the square very well, and this game doesn?t have a square! Each location (I only managed to get to 3) has exactly 4 hints available in the form of mini-drawings of what you need to do next, and that?s about it. No skip of any kind of course, because there?s ?no? puzzles. And that little shake of the head when you do something wrong. COMBINED IMPACT A quirky little game for seasoned full-fledged adventure players. Perhaps too, for those expert and even intermediate HOPA players desperate for something truly new. But I can?t play it, I don?t have the skills or the patience, and as I think my tastes are fairly mainstream, this game will not appeal to many fishies. Probably a very good game of its type, that I cannot recommend, unless you fit one of the above categories. Oh, and somebody? Anybody! Would you please get me out of the bathroom, it?s creepy in here! I?m starting to feel like lunch!
April 9, 2014
Better if in English and without sliding
I'm an old school player that never seems to find a game meeting my expectations of the old Sierra series from 95. Unfortunately, new sound and video capabilities have only dulled the programmers' imaginations. While Violett is excellently new and different, I had a hard time with the sliding thing. You don't just click, you have to slide a lot of items. And you have to guess where to slide to. The old fashioned adventure games had their annoying moments of figuring out what illogical move to do next at times, but at least all you had to do was click with your guess. This sliding annoyance made the game worse imo and dropped it a star. The written English was good, but the talking was annoying. I don't really know what language it was in, it was too annoying to pay attention to. This also dropped it a star. The graphics were great. The sounds were great. The storyline wasn't obvious. I don't really care for storyline in modern games. Let's face it, they're rather pointless for just about any casual game out there nowadays (do you really care WHY you're killing the zombies?) But in an adventure game, it is vital. I can guess the story, but that's it really. You have to have an objective to strive for, in an adventure game, and the story is to provide that. I never knew what my objective was. I give it three stars.
April 9, 2014
More of a Brain Teaser then a Story
I have to say that this game is more about just figuring out complex brain teasers then anything to do with a story. The game gives you very little background to go on, and no tutorial to speak of other than one small note at the start. So far it seems to me your trying to escape, and navigate through the game solving rather odd puzzles along the way. I would only recommend this game for people who just want some brain teasing puzzles to work on that do not have traditional solutions, and will take some trail and error to figure out. Graphics,however, are amazingly well done.
April 9, 2014
Not sure - yet
I think this game is so different from the games we're normally presented with that we get into a gaming comfort rut. I stopped the trial after 12 minutes but I'll go back when I'm not so tired (just got in from work) and give it another go. You never know, I may find that cork! I like the graphics - it made a change from the dark and gloomy to have lovely bright colours and clear drawings. I didn't like that there was no tutorial. This game is very different and a tutorial would have been a good idea, just to help people get going and not give up on it too early. If you love games that challenge your way of thinking then this is the game for you. If you like a little more direction and structure in your games then I would suggest you avoid this one.
April 9, 2014
What is Going On????/
There's really no introduction or cut scene to explain what's going on. You're in a car, at an old decrepit house, obviously unhappy and down the rabbit hole - but no explanations. One difficulty, hint is useless, again no explanation or clue what to do. No tutorial. Just nothing. How can you enjoy a game that has nothing? Just a character that you're supposed to do something with but you have no clue what. Glam-ma hates to do this because I like to give every game a benefit of a doubt. But, this isn't even worth the free trial time. I did not even finish the free trial because it was just aggravating me. Glam-ma says run away from this game.
April 9, 2014