Violett
When Violett's parents drag her away from the city to an old, spooky house in the middle of nowhere, she is certain her life is over. With no friends and nothing to do, Violett imagines a boring life in the countryside spent watching from the window of her bedroom as one day bleeds into the next. Never would she expect that a curious light coming from a nearby mouse hole would lure her into a magnificent and dangerous world where frogs sing opera, garden gnomes are emissaries from another dimension, and the power of telekinesis is old news! Fight the evil Spider Queen as you roam the beautiful, psychedelic world, inspired by Alice in Wonderland, Sandman, Dali and more!
Fall down the "rabbit hole" into a magical world!
Use paranormal forces to manipulate objects
Fight the evil Spider Queen!
Game System Requirements:
OS:

Windows XP/Windows Vista/Windows 7/Windows 8

CPU:

2.0 GHz

RAM:

2048 MB

DirectX:

9.0

Hard Drive:

1073 MB
Game Manager System Requirements:
Browser:

Internet Explorer 7 or later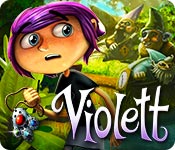 NEW299
The Big Fish Guarantee:
Quality tested and virus free.
No ads, no adware, no spyware.

Reviews at a Glance

Violett
0
out of
5 (
0
Reviews
Review
)
Customer Reviews
Too strange.
I don't mind a challenging game but this was too strange and lacked any obvious answers as to what to do. The only instructions are some diagrams when you press the ? button. I managed to struggle through a couple of screens before realising that I was just clicking on everything to see if anything happened and that's not how I like to play. Graphics were ok and the music was bearable but gameplay for me is somewhat lacking. I think this one could have been good if there were more instructions at the start (how to lift the pencil sharpener for one) Give it a try, you may understand the cryptograms better than me.
April 9, 2014
Interesting graphics, fuzzy control
(based on the trial) I liked the graphics and I don't mind to have to find out for myself what to do. I would like, though, to have some basic tutorial on the controls. Because the controls (which means, waggeling with your mouse) are waaaay to fuzzy - even after I knew what to do it took me ages. For example the mouse and cat dropping matchsticks: I don't know how many times I tried to "wave" the dropped sticks to the shore untile I succeeded with one. Only to find out I needed more! That's the point I gave up.
April 12, 2014
How do you rate this???
this game is confusing to rate. it is challenging, but the rating factor is geared to your liking it rather than the amount of challenge in the game. this game has a lot of challenge, but only because there is limited explanation of what to do or how to do it. it is more unique than most games, so that's a plus. there is a high level of interaction, also a plus...but since you have little or no instruction, you end up running around like a chicken with it's head cut off. i ended up having my daughter look up the walk through for the game so i could get a little help...otherwise i'd never figure it out. it is fun, because it is so unique. i like finding out what comes next in any game. but because of the lack of instructions, i can't give it a very high fun factor rating...it's never fun to not know what you're doing. the graphics were wonderful. kinda like a disney thing in places. i did buy the game as i have the walk through...without it, not a chance. i'm at odds as to whether to recommend it...
April 9, 2014
Bad Trip for Me
This game looked different & thought it might be fun. After 7 minutes of the trial I gave up in frustration. There is no tutorial, the hints are very vague & the actions very difficult for me to accomplish. All & all a bad trip for me. Perhaps you will have better luck. I would suggest doing the free trial before deciding to purchase.
April 9, 2014
Violett makes me Blue!
Some weird language and less than helpful hints makes this game impossible to play. I spent 11 minutes trying before I gave up in utter frustration and by the looks of the message boards I was not alone. I will not be wasting another minute of my time or a credit out of my account on this one.
April 9, 2014
Feedback For Developer - Review Based On Demo
VISUAL/SOUND QUALITY: I really liked the graphics Definitely cartoonish. I thought they were just excellent. There are no voices just noises which was what I was expecting as I do get it's suppose to be a "quirky" game. I also really liked the music. No problem here. LEVEL OF CHALLENGE: I see this is one of them large file "adventure" games with no instructions and no tutorial. There's also no HOS, puzzles or mini games at least for the 40 minutes I played. I do like to figure out on my own but yes I'll definitely admit to using a walk through for a few games to get me through a part or two in the game. I have played a few of these large file games that have little to no instruction as the hint system is just "question marks" in the scene having to figure out on my own what to do and inventory combine by trial and error. Also usually when the cursor turns into a hand can pick up something or sometimes have to trigger something else in the game before it can be picked up. Well I usually don't have much problem with that. This game however I did have to consult a walk through on the internet to figure out how to navigate the game and well have to move computer mouse up/down back forth SEVERAL times over a certain spot in the location and in a certain way as things have to be done just so in this game then the hand will finally pick up something. My problem was I couldn't make my mouse/cursor move the exact way it's suppose to. The hint system in this game is 4 per scene and just brings up a picture and then have to wait a few minutes for the next picture. I would of found this helpful however I couldn't move my mouse/cursor exactly as I was suppose to. FUN FACTOR: Sorry but the game play dreadful for me.Way too "quirky" for me. I did honestly try to like it. I did stick with it for 40 minutes and did manage to get Violett here out of the cage and on to the next scene but this type of game play is just way too much madness for me. I just had enough and had to pull the plug on this. I'm sure I would of rated this game higher if the game play was like other large file games I've played and enjoyed while not easy for me but this is definitely a no go for me. Patience is definitely required here unless of course a person plays a lot of these and have enjoyed them. Sorry but my patience meter doesn't run this high. I do however look forward to your next game offering unless of course all of your games play like this! The game play is what ruined this game for me.
April 9, 2014
have potencial. if you can with the hand....
I like this kind of game, is similar to "the tiny world" and "Shaban" but in the first couple of minutes, i were already very frustrated "trying" to make the commands (the hand) do something on the screen. Had to go to the walkthrough and see how exactly this game works. i dont like to play in that way, I like to figure out by myself and have a good experience all together. Decided not to play anymore. This game made me feel a little stupid.. :(
April 9, 2014
Good exercise in frustration
I found this game very frustrating because even when you do the correct thing the game doesn't respond. I went to the forum for help but just found the same frustration and I actually got farther than some. I was able to get out of the cage and remove the cork, I even got the fly to drink the honey a few times but it never went into the jug so I gave up and deleted the trial of the game. The hint is a four part picture but you still have to figure out what to do from the pictures and only gives for one task so if you were trying to find out different information it is useless. I know the story having read the game page but it doesn't tell the story at all, just jumps scene to scene. There are so many more puzzle games with a good story I would recommend you do the Try before you consider buying it. I personally wouldn't buy it because I play for fun not frustration. Not the regular Big Fish quality of games.
April 9, 2014
How do you play this?
Couldn't get past the beginning...had no idea what to do and there weren't any hints. Stupid way to create a game.
April 9, 2014
No thanks!
No clear instructions, wasted time trying to figure out even basic moves. Not for me!
April 9, 2014