Agency 33
Exclusive
You're a new recruit for a secret organization known only as Agency 33. The clock is ticking – is there time to save the world?


Explore the mystery for:
NEW! TOOLS FOR STATUES
DAILY QUEST FEATURES
HELP THE AGENCY!
Game System Requirements:
OS:

Windows XP/Windows Vista/Windows 7

CPU:

1.6 GHz

RAM:

1024 MB

DirectX:

8.0

Hard Drive:

1728 MB
Game Manager System Requirements:
Browser:

Internet Explorer 7 or later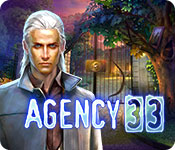 Top In-Game Purchases
1.

250 Coins

$ 0.99

2.

1000 Coins

$ 2.99

3.

3500 Coins

$ 9.99

4.

8500 Coins

$ 24.99

5.

18500 Coins

$ 49.99
Game Club members
SAVE 30% on
in-game items.
The Big Fish Guarantee:
Quality tested and virus free.
No ads, no adware, no spyware.

Reviews at a Glance

Agency 33
0
out of
5 (
0
Reviews
Review
)
Customer Reviews
Play The Role Of An Agent With Amnesia!
You are an agent working for Agency 33 driving along on the freeway when the Curator of the agency, Iris calls you, "get off the freeway and return to the agency, NOW, you're not safe"! Too late, whomever was after you runs you off the freeway and into the river, you're trapped and about to drown! Luckily you have a hammer in the glovebox and you're able to break the windshield and swim safely back to shore, Iris is helping you out but who's Iris? Even worse, who are you? Iris explains that you have been working for Agency 33 for over a year, the bad news is that you have amnesia, the good news, everyone thinks you are dead so the agency burned your file. You no longer exist, but you're school loans are wiped out. (I thought that part was hilarious) You are given the Orpheus Cube, which allows you to instantly travel to any of the safehouses. The safehouses are actually Hidden Object Scenes. You have learned that before the accident you were on route to see the Keeper whose mission is to "keep" very important secrets. Every Keeper must sacrifice himself, he must enter Hades in a ritual which happens every 33 years and sometimes they try to escape, which is exactly what this Keeper was trying to do. This is your mission, to find the Keeper and find out what secrets he posses. If the Keeper doesn't fulfil the ritual, Titan and other creatures will enter our world and destroy everything. There is a character board in the main office (Agency 33) and this is helpful because it shows a picture of every character you come across in the game, with a brief description of that person. There is also a room there where you will "learn" to create objects from the Inventor, that you will need to progress. Every creation needs instructions first and then the materials or elements, which you will find along the road to the safehouses, in order to create that item such as a fleur-de-lis. First you click on the Formula tab and choose which item you want to create. After you find all the elements shown by visiting different HOS, you click on create item, if you still need an element then you choose which hidden object scene to visit and then return to the Inventor room. There will be an option to Boost the amount of time it takes to create this item as shown on the timer, at first it's a free boost and eventually it will cost you gems, energy or coins. You start out as a Recruit on level one, and as you progress levels, you will eventually increase your ranks, at the present time there are 150 levels. There are achievements to earn as well. Some items you need to create are locked and only available on higher levels so some items may take a while to achieve a mission. A mission is given in the form of an icon with the picture of the person requesting your service, you click on the mission icon and the mission tab shows you what the mission is about, the requirements needed and the amount and types of rewards that you will receive, click accept. You then click on the Orpheus Cube (which is a map) and decide which available locations to travel to in order to complete the mission. This scene is a HOS with 6 items to locate, you will earn more points for finding items back to back before the green meter bar drains. There is an available magnifying glass but I didn't find any of the items too small to identify. You may need to buy an item from the shop to give you energy such as coffee, cake or fruit but most of the time your energy is refilled each time you level up. There are bonus items to buy at the shop as well. The mission icons will show you if the mission is still in progress and if the mission has been fulfilled then you click on the reward button to get rewarded for your services with gems, energy and tokens. This is one of the best F2P (free to play) games I have played in a while, there are a ton of things to do and it doesn't seem to get boring if you manage the time well, enjoy!
June 9, 2014
If you hang in at the beginning you will like this
This is a confusing game at first and requires you to explore and read to find out how things work. It is challenging. I like the HOP's. They change at times and I find that fun and makes you stay on your toes. I play several FTP games and I know how frustrating they can be. I know others have complained about the short play time at the beginning but as with most of these types of games the more you play the more time you earn. Once I figured out how to find and use the tools you receive for playing HOP's you will level up fairly fast. Yes creating some items takes time. If you find where the time increments you can cut down that time considerably. If I know I'm going to have to wait awhile I either play before bed or switch games. Since I'm trying to spend less money for these type of games I have figured out how to earn diamonds and cash fairly well. I know we are in an instant, I want it now kind of world now but learning patience can save you money.
July 16, 2014
Stick with it... Definitely a grower
It starts of slow, and doesn't seem to make sense at first. I was going to delete it but don't have the money to buy a game so continued and I'm really glad I did. Others have described the storyline so I won't repeat it, but I encourage you to stick at it until at least level 10. Enjoy!
August 14, 2014
Awesome!!!
Just love the game. Play every day.
August 18, 2014
The best game of its kind!
I myself certainly do not play, but my children love the game, they asked me to leave the nicest review, the game is great! With love from Serbia
September 9, 2014
Love it!
I look forward to this game every morning when I wake up and every evening after I get home from work (when my energy is refilled). There were some glitches that they fixed and now my favorite game is back!
September 22, 2014
Love it.
Love this game, it's my go to game when I want to kill some time.
August 31, 2014
Agency 33 is a great game....
This is one of the best F2P (free to play) games I have played in a while, there are a ton of things to do and it doesn't seem to get boring if you manage the time well, enjoy
June 17, 2014
Fun Stategy Game
It is a awesome game I like it
August 14, 2014
AGENCY 33
Great game! Challenging and fun. Everything works no crashes, etc. Keep games like this coming!
June 17, 2014