Emberwing: Lost Legacy
Exclusive
Dragons have not been seen for hundreds of years and were just a bedtime story for your young son Tevin. Suddenly, a real dragon attacks your house in the dead of night and takes Tevin, believing he has a special power that will help their kind. But elves and other magical races, hidden in the unexplored Dark Forest, are after him as well. Can you save your son from the dragon's clutches before it's too late?
Game System Requirements:
OS:

Windows XP/Windows Vista/Windows 7/Windows 8

CPU:

1.0 GHz

RAM:

1024 MB

DirectX:

9.0

Hard Drive:

519 MB
Game Manager System Requirements:
Browser:

Internet Explorer 7 or later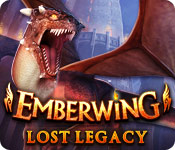 NEW299
The Big Fish Guarantee:
Quality tested and virus free.
No ads, no adware, no spyware.

Reviews at a Glance

Emberwing: Lost Legacy
0
out of
5 (
0
Reviews
Review
)
Customer Reviews
Emberwing: Lost Legacy
17
17
GRIMTOOTH
It's hard to review a game after yesterday's epic game but if you compare apples to apples, this game is still a 5 star game with or without the bells and whistles of the Collectors Edition. The Dragon has risen from a 100 year slumber, and the huge, scaly, fire breathing beast has snatched young Tevin through the roof! Everything's ablaze as you quickly scurry down a rope and follow the dragon into the Elvin forest. That's where you meet Eridan and are introduced to the Elf community and the King himself. Legend has foretold of a human child that is able to speak the dragon tongue, an Emberwing, that legend is Tevin, he's safe for now! This is a beautifully crafted fantasy themed Hidden Object Adventure Game with clever mini games and entertaining and interactive HOS. I really enjoyed the mini games and I'm pleased that that puzzles are true to the theme of the game. There are simple puzzles with different shapes to assemble. puzzles with rings that are controlled with different buttons and even puzzles that require you to swap discs by turning a maze located in the center to allow the discs to swap positions with the disc at the end of the maze path. Then there are more complicated puzzles such as reading a short description and moving the correct character on a diorama stage. When you correctly place the character or prop, that action will expose a gem, and you keep interacting with the story until all gems have been exposed. The Hidden Object Scenes are mostly interactive list finds where you might have to rotate shelves to expose more items. The HOS I enjoyed the most was a wall of paintings. A story is told in sections with a single word in the paragraph highlighted in yellow, such as the word dragon or star. You need to zoom into each painting to find a certain amount of this item like 3 dragons and 9 stars. Some of the items are on the wall themselves so don't forget to look there too. This story explains that at one point in time there was a pact between the Dragons and Elves, but the Dragons were greedy and the pact would forever be broken, it's up to the Emberwing to help us now, enjoy!
April 13, 2014
Excellent - get the SE, in my opinion!
I originally purchased the CE edition of this game, but I'll mention straightaway that I think the SE version is the better value. I rarely buy CE editions, but I did it for this one because I was impressed and really wanted to keep playing. It IS a really, really good game, so you can't lose with either the SE or CE, but I have to say that the CE "bling" didn't make up for the doubled price tag. For instance, the music wasn't downloadable - a real bummer because it was good. The Bonus gameplay was not up to par with the quality of the main game and did not seem to have as much thought put into it...especially the mini-games, which were truly excellent in the main game but not the bonus. Also, regarding the fairytaleness/cutesiness of this game: I get bored easily with some of the fluffy fairytales with no "drive" to the story or depth to the characters #e.g., like some of Boomzap's previous games#, but I feel like this is one of the exceptions. Yes, it is absolutely a fairytale, but it is very much about the story and not too silly. What made this a great game in my opinion: 1# The devs do a good job of drawing you into the story and making you care about the outcome; it feels more personal than the average HOPA, which is important to me. 2) Attention to DETAIL! For example, I tried using a screwdriver in instances where I was unsure if it might work, and instead of just saying "that didn't work", it would say things like "no, it will break if I try to pry it out with a screwdriver" or something else that indicates that they foresaw that you might try that #which for some reason makes me feel less stupid about trying it, haha#. 3) They don't hand-feed everything!!! Without making it overly difficult, the game also has nicely SUBTLE HINTS. For instance, when speaking with someone, it won't necessarily be obvious that you should "bring them something" like most HOPA games. I have to think about what might please them or influence them to help me. In some cases, you won't realize it until you find whatever it is - then it hits you - "Oh, I bet they would like this!" This makes the gameplay feel so much more interactive and realistic, like you actually came up with the idea yourself. :) It's a very nice touch that is much-appreciated by those of us who prefer less hand-holding #without wanting excessive frustration#. You can tell that the DEVs put a lot more work and thought into this than some of the "bigger name" DEVs who produce more games but with less attention to detail, or - importantly - respect for your powers of deduction.
April 13, 2014
It's not fair
It was a great game, the interactive map is brilliant, all games should have one, you have to help the dragon defeat this guy, matching rune icons, and finding objects along the way, the story was brilliant, my only objection is, there were still allot of padlocks you had to unlock, but I'm guessing you did that in the C/E, which for me seems unfair, the S/E should take you further, don't get me wrong, I loved the game, but you know, there's more to find
April 20, 2014
Great game
loved this game and would recommend it to all the only thing that disappointed me was the ending I thought could have been done with a little more thought not just stopped when she caught the egg but it is still a great game and I played the SE version just could not get enough
May 12, 2014
Challencing game, Fun, interesting story line
I totally recommend this game. really a great game. hours of interesting puzzles, story will not boar you, I promise.some HOG, and other puzzles.
April 26, 2014
Brilliant!!
Thoroughly enjoyable game..hos are varied, puzzles are fun, the characters are Fab, all in all I really enjoyed playing..a good fantasy game for everyone :)
August 1, 2014
Another Winner!
Really liked this one! Excellent graphics, good voice overs (why are the children always the best actors?), fun puzzles, not an overabundance of HOS's (which is fine with me), and the music, which wasn't especially memorable, also wasn't annoying. Had to use the hint button twice while playing in the most difficult mode, so the challenge was just right. Map was very good, and so were the hints.
June 5, 2014
Pure fantasy.
This game was so much fun! There were dragons, Elves, Trolls and many other creatures. There are two levels of difficulty. I play casual so if you want increased difficulty you can have it. There is a really good map that indicates action needed and you can teleport with it. This game is graphically stunning, and the hidden objects are very easy to see once found. There are no sparkles but I am not the brightest bulb but was able to finish without a walkthrough. The only downside was in using some items, you have to click it in very specific spots. Those are annoying but just keep trying. Excellent!
June 2, 2014
love dragons
read the reviews after i bought and played the game. i was so surprised to see some low ratings i thought this game was awesome. not a lot of hos but had a story to it and kept you wondering what was going to happen next. i wasn't going to review this game..been a bit behind lately. but felt i had to to defend it..loved it.
July 17, 2014
ANOTHER WINNER
Locations were beautiful. Interesting story as you try to save your son from the dark forest after he was abducted by a dragon and it has its twists and turns. Good proportion of HOS to mini-games, both of which were nicely done. Mini-games were moderately challenging but you could figure them out with enough thought. Good production values and thoughtful, well-written story.
June 25, 2014
The Apple logo is a trademark of Apple Computer, Inc.