Tales of the Orient: The Rising Sun
Travel to the Edo period in Japan and help Satsu and Miyamoto in an epic adventure to preserve ancient Japan. Prove your skills in Challenge mode with limited moves. Experience the excitement of building an ancient Japanese village in this engaging Match 3 game. See the beautiful scenery while listening to relaxing music inspired by this period in Japanese history. Dive into an epic story of honor and courage and help a Geisha and a Samurai save the day in Tales of the Orient: The Rising Sun!
Three game play modes: swap, pop, chain
Can you win in challenge mode?
Rotate the board make the best matches
Game System Requirements:
OS:

Windows XP/Windows Vista/Windows 7/Windows 8

CPU:

1.0 GHz

RAM:

1024 MB

DirectX:

9.0

Hard Drive:

87 MB
Game Manager System Requirements:
Browser:

Internet Explorer 7 or later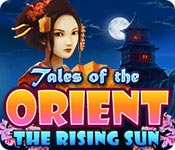 NEW299
The Big Fish Guarantee:
Quality tested and virus free.
No ads, no adware, no spyware.

Reviews at a Glance

Tales of the Orient: The Rising Sun
0
out of
5 (
0
Reviews
Review
)
Customer Reviews
Tales of the Orient: The Rising Sun
24
24
GREAT GAME
no story line jus match 3 game it was pretty cool kept the kids quite for awhile and they were having fun while I did some work around the house. I play for about 5 minutes then they wanted back on
April 15, 2014
Unique Match Three
This is one of the best Match-3 games I have played in a long time. You have two challenge levels, I played relaxed and it was awesome. Before each level you can choose which match mode you prefer, swap, click, or you can trace the matching tiles. I thought one of the best features was the ability to be able to flip the board in either direction as needed. This is also a build a village game, as you earn coins and power-ups, the graphics are simply breathtaking, I can't speak for the sound as I don't listen to games. The storyline albeit pretty basic, I did manage to learn a thing or two. Overall I recommend this game for the whole family, I loved it, and it is so on my growing "gonna get" list. LOL
May 2, 2014
A very polished M3 game
This is a highly enjoyable game with smooth movement and attractive building graphics. The levels have goals to achieve and numerous obstacles to overcome. There are four special bonuses to charge, an on-board bonus and a shuffle. The board can be rotated, which helps to fill blank areas. The game can be played in relaxed or challenge mode, and you can choose from swap, group and chain modes at the beginning of each level. I am playing in challenge mode. It is untimed, but you need to finish the level within a certain amount of moves. Being untimed, you can sit back and study the board for strategic moves. As you build up the village, each building gives you extra moves. If you fail to finish the level, you can choose to use five more moves or replay. I particularly enjoyed replaying!! The challenge mode is highly satisfying. Overall, this is a very sophisticated game.
April 23, 2014
It's about time
This is the best match-3 game I've seen in a while. It's challenging. It's not just making matches; it makes you think. You have to best determine what moves to make because success is based on the number of moves, not on a time limit. Different goals are required to pass each level. The supporting interface elements are good. If you play it right, you can use the rotation feature to your advantage. Memory management is good. I could care less about building a village, or empire, or whatever. I just want match-3 fun that holds my interest, and this game definitely delivers. Well done.
April 22, 2014
Seems pretty good
I have a video review of this game in the forum section. I'm not allowed to post url's here, but you can visit the forum for a link. I'm about 5 or 6 from the top I think. Enjoy!
April 15, 2014
Solid Match 3 - Fun Features
I use Match 3 to unwind and this one does the job. It was some neat features (moveable screen, neat bonuses), but wears itself out with no challenge. Pros: Game sounds are fun and graphics are beautiful (except for some icons which are hard to distinguish - the little giesha's sorta look like pink race cars). Bonus bombs fill up fast, and the little cartoony village is cute - though not interactive. Shuffle also refills fast. It's nice there is a male and a female character to speak to you. Cons: The game is to controlled and offers not reward for creative or skill. The gold is ONLY collected by breaking gold tiles. There are a certain number of gold tiles per screen. So you get x amount of gold per tile. There's no extra bonuses to earn, or anything by being creative or fast with your time. It's just Gold box = gold. Some icons are indistinct. Music gets annoying quickly. It says it's based on ancient music - but sounds more like basic electro-pop. Overall - its a great game for a few screens each day of "Shut up, Brain".
July 24, 2014
Fun match 3 with a good story
I do enjoy match 3 when I want a relaxed gaming moment. You can play the challenge version which gives you limited moves if you want more of a thinking game. There are 3 modes which you can change for each stage if you choose, and you can spin the board. Power-ups to earn and extra moves to earn. All in all a nice game for all the family.
June 3, 2014
BUILD A COLORFUL VILLAGE
You earn money in 100 levels to build a Japanese city. You can play challenge or relaxed; swap, chain or group. I suggest relaxed as the challenge allows you so many moves per board and the higher you go, of course, the harder the boards. A unique feature are the two top arrows that allow you to rotate the boards so you can clear all the corners. There are also four powerups that you earn my clearing certain tokens and a shuffle key. Great game.
April 23, 2014
An ok M3...
This game is beautifully put together, and runs smoothly. I played relax mode, although devs recommend you start in challenge mode. Can choose between 3 different game play modes, and can turn the board to rearrange the tiles. Also a 'shuffle' button. It's very similar to another M3 with similar tiles and game play, and if by same devs, it's not been changed much. You build your town for the starving people, but don't need to do any more than click on a button. Was hoping it would get a bit more exciting, but after an hour it didn't. There are power ups etc, but I like M3s with whizz bangs! I'm sure some will like it, if they just want to while away a few hours without much of a challenge.
April 15, 2014
Nothing Really Special
I practice daily meditation and find that it helps to rid my mind and body of unnecessary stress and helps me to focus better during the day. I find that at times a Match 3 game is also a good way to meditate. After everyone has retired, if I am too tired to retreat into a good HOPA game, I will elect to unload my brain and what better way than to zone out with a great Match 3 game. What I do look for in a Match 3 game is simplicity, swap challenge and soothing zen music in the background. I do also enjoy the occasional building or planting or decorating which is why Fishdom series are amongst my favorite. In tales of the Orient: The Rising Sun you have most of these elements, plus option to play timed or relax mode, three types of M3 games, swap, chain or pop challenges, all put together with clear graphics and soothing music in the background. Albeit artwork could have been a bit better as tokens are somewhat small and animations are blurry, but at least I was able to differentiate tiles and tokens. Our storyline is simple, your quest takes you to the Edo period in Japan where your quest is to help Satsu and Miyamoto rebuild and preserve ancient Japan. You have the option to play in Challenge mode with limited moves or Relax mode where there is no pressure. Each level has goals which involve purchasing a group of buildings with coins collected and there are a set of tasks to achieve in order to progress. Once the Task bar is filled, you move toward the next board. If you opt to play the Challenge Mode, there is limited number of moves for every board and if you are unable to clear all the tokens, you can get a power-up bonus that allows for 5 extra moves. Also you can rotate the board with arrows to avoid empty tiles and make the best matches which makes for a more challenging game that requires a bit of strategic thinking on your part. This game is not exactly a game I would choose to zone out with because it does require some concentration on your part. As you progress, the boards do get more challenging and bonus power-ups become very useful. I enjoyed the demo but to be honest, I have played better and I don?t think that hard core players of M3 games will find this game overtly challenging. This really wasn?t a game that I would rush out to buy but nevertheless, I do recommend that if you are a lover of M3 games try the demo and decide for yourself. The music is relaxing, game-play is easy to comprehend and there are no bombs or flashing lights or lasers to distract you. I am a bit on the fence on this and will probably use a credit or buy it at a very good sale price. Nothing really special here!
April 15, 2014