Fall of the New Age
In the dark times of the Medieval a baleful society of the Cult and its adherers strived to seize the rule over the city, control its inhabitants and destroy all sources of knowledge and culture. Help Marla uncover the secret conspiracy, release her kidnapped brother and save the city! Solve numerous quests and puzzles, display courage and wit, and don't let the Cult take control over the Kingdom!
Original medieval world
40 exciting locations
Dozens of tricky mini-games
Amazing cut scenes and 3D reels
Game System Requirements:
OS:

10.9/10.8/10.7/10.6

CPU:

2.5 GHz (INTEL ONLY)

RAM:

2048 MB

Hard Drive:

1457 MB
Game Manager System Requirements:
Browser:

Safari 4.0 or later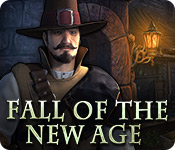 NEW299
The Big Fish Guarantee:
Quality tested and virus free.
No ads, no adware, no spyware.

Reviews at a Glance

Fall of the New Age
0
out of
5 (
0
Reviews
Review
)
Customer Reviews
Fall of the New Age
45
45
A Simply Fantastic Adventure!
This is an under the radar adventure game, don't let this one slip past you! I was hooked right from the get go watching the introduction trailer of a small time thief breaking and entering to steal all the silver she could carry. Her accomplice and brother is nabbed by somebody while she climbs back down a rope, only to find herself caught as well. In a lonely cold dark dungeon of a cell she is surprised to receive some much needed help from a total stranger. This stranger explains that he worked with her father and is willing to help her and her brother in exchange for stealing some documents. There is nobody else to help so why not. As a thief you are able to pick ton's of locks and use your street wise skills to your advantage. HOS fans may be a wee bit disappointed, but be patient, they are unusual and although far and few between they are worth the wait! The HOS are mostly silhouetted shapes and some are locked until you figure out the necessary interaction to unlock that shape. Most of the mini games are picking locks, don't worry, they are simple locks, and there are other mini games as well. You will also collect disguises along your adventure, when all items to a costume are found and the time to don this disguise nears you will open up your kit and start to fabricate this ingenious outfit. Each item of the outfit requires you to interact with it until it's just right, and when complete you try it out! As I said earlier, don't let this one go unnoticed because it's certainly an unusual adventure, enjoy!
January 3, 2014
Fantastic adventure game....
This is a 'casual' adventure game with a mix of so many and various opportunities for we game lovers to dabble in adventure, puzzle, hybrid role play... plus more and ultimately to just get totally immersed in an exciting and mysterious tale in the process. The graphics are wonderfully well rounded, cut scenes are fabulous, sound and music great... I thoroughly enjoyed the demo and will definitely purchase. At a SE price, it is a real steal! IF you are not familiar with adventure gameplay, remember to take your time and 'look' around as much as you can for 'clues' in each scene. Ultimately, you should find that will be part of the fun... figuring out what can work with various items and how to move forward in your quest. Give it a try... adventure gaming is SO much fun and very rewarding; in addition, this game offers more to appeal to just about everyone that loves to play casual games.
January 3, 2014
Dark Medieval Times to be sure!!
What an absolute treasure and a crying shame it was a 'soft release' meaning many gamers will probably miss this. From the opening sequence, you could be forgiven for thinking that this game was occult and had scene after scene of human/animal sacrifices. That's not the case. Yes, this is a dark and eerie game set in Medieval times (dark times to be sure - I wouldn't have wished to need surgery back then!), but it doesn't continue in that vein. Yes, it's about a cult but there's nothing really sinister in it. The cutscenes are spectacular inasmuch as they flow seamlessly with lip sync voiceovers that are very realistic, given that games are translated into many languages. To me, it was like getting immersed in a movie. I happen to like Medieval stories so the scenery/buildings/atmosphere was also spot on for me as was the musical score. This is not your average hand-holding game. Don't get me wrong - I love a good relaxing 'all bells and whistles' CE. Life is too stressful as it is. But this one dumps you in a jail and with virtually no instructions you are left to fend for yourself. There is a map (if you can call it that) and a journal a little way into the game though that's not clear as neither are labelled, but the only help you really have is in the form of a madly jigging ferret type creature as your hint. Don't worry, he's only a hint, not a furry helper that retrieves things for you. There's the whole thing about making disguises for Marla. At first I thought that the lack of instructions was terrible and then the light dawned. This is what Playrix wanted to create with this game. They want you to think straight out of the box with little to no help at all. You know what? It worked! There are times we need to relax and times we need to think. This is definitely one of the latter times. Fantastic SE with which I hope many of us will have a lot of hours using our noodles!!
January 4, 2014
This is a Good One !!
Oh how I love these soft releases recently. I find them better than the "big" game makers releases. You and your brother are thieves and while you are loading up on the silver, your brother is captured and taken away. Unfortunately he was your lookout, so as you make your way down the rope with your goods, you are also captured and thrown in a cell. A total stranger comes to your rescue saying he is an old friend of your father and he will help you in exchange for you stealing a document for him. Since you are an accomplished lock picking thief, you agree. This is more of an adventure game. I came across 2 HOS in the demo, one a list type, the other, a silhouette. This game flows so perfectly, it drew me in from the very beginning. There are puzzles here and there.,.. mostly lock picking puzzles. I enjoyed that because the game wasn't interrupted by puzzles and HOS. I do love adventure games. There are 3 modes of play. If you do not want directional help, I would suggest playing in the hardest mode, as there is a lot of hand holding in the easier modes. You do have a journal and sort of a map. It is not a jump map or really a map that tells you what needs to be done. More of a clue map that will help your through mazes, etc. You also get a box with costume changes, which if you play the demo, you will see are kind of mini puzzles in itself. You also have a box of gems that you will collect along the way (these gems are not hidden objects to find), however, I do not know what the purpose of the gems are yet. You do find a cute raccoon? ferret? but he is the hint button. He, thankfully, is not a helper. This appears to be a long intriguing game, very different than the standard cookie cutter games we are seeing of late. I absolutely loved it and will buy. Attempting to keep warm in the arctic cold..... happy gaming !!!!
January 3, 2014
What a game!!!
(Based on finished game - written by a non-native) I liked the game so much! After the trial I immediately bought it, and I just couldn't stop playing. The HOS are so much fun! You have to find the objects (silhouettes), then in the box right below to put together the disguise. The story is very interesting, the "hint-pet" is helpful and fast. One of the best games in my collection. Thank you so much BFG and Playrix/Shaman Games!
January 3, 2014
Adore this Epic Midevil Masterpiece!!!
Thank you so much Bigh Fish, this is fantastic. Scenes that pan with cursor and incredible graphics. Story/Plot is different too. You are a theif named Marla with a knack for lockpicking and using slingshot. When you are detaned in the cell, after being caught stealing the silverware, it all begins to draw you in. Witnessing a ritual sacrifice of a cult called the brotherhood, who kidnaps your brother, is where your quest starts. I have never played such an adventure!!! Lots to do with inventory, puzzles, and HO's which are not typical. I think the object is a rescue but I am stuck at the symbols part of the game. I continue to play hours..HOURS! I love it. xox
January 8, 2014
This game is unbelievably great!!
This must be the best game that I have seen in ages! Wonderful graphics, beautiful cutscenes, impressing music. Gameplay is incredibly smooth. Storyline is enormously captivating and pulls you in from the first second. The 'soft' release is a great shame, this is an absolute must-have game and should be in everyone's collection. Try it and be prepared for a n unbelievable gaming-experience! Have fun!
January 4, 2014
A hidden gem
I have been looking at this game on the Devs website. Playrix. I'm so happy BFG has released it finally. Hard to believe it is a soft release. Good thing I always check on those. Although it was released as a CE on Playrix. Does not matter. The SE is well worth buying. Graphics are a bit dark but considering it is a medieval time frame it fits just right. I also enjoy the humor in this game and there is plenty to do. You have a journal and a map, map is not very helpful, but the game makes sense, so you really do not have to rely on the map too much. You also collect gems of some sort that go in a box, since I am just starting this game I have not figured out yet what this is all about. But it looks like fun. There is also another little box where you have to create disguises for yourself that you need in certain situations. Anyway, I really enjoy playing this game, there is just something about it that keeps my interest
January 4, 2014
Improve your lock picking skills!
This is a great little game that appeared with no fanfare as an SE. But it truly delivers. You and your brother Ray are thieves who are caught stealing silver from a house where some type of weird ceremony involving sacrifice seems to be occurring. You are thrown in prison, but a bearded man who was a friend of your father helps you escape. You don't know where your brother is. The man needs your help to steal something, and your skill with locks and lockpicks is required. There was only one HOS in the demo, but it was interesting. You have to find silhouetted pieces, and some are locked until you perform the right actions. A new puzzle type is the "dress the part" puzzle, where you find a picture and then find the pieces you need to dress yourself like the picture so you can sneak past a guard dressed appropriately. Pretty cool! The dress-up is not easy and requires a bit of patience to get the item just right. I spent a lot of time wandering through a maze, because although there was a map in my journal, it made no sense to me no matter how a turned it. So using the process of elimination...........I finally came out the other side! I cannot remember having a maze in any recent game I've played! Anyway, this is a challenging little game -- try it, you will like it!
January 4, 2014
Thief
Loved it from the very beginning. Wide screen (which is a must for me nowadays). Acting is excellent. Puzzles haven't been too hard so far...actually I like it that way because I won't spend too much time on a puzzle. It is CE quality. It's a buy for me! =)
January 3, 2014
The Apple logo is a trademark of Apple Computer, Inc.
The Windows logo is a trademark of Microsoft, Inc.