New York Mysteries: Secrets of the Mafia Collector's Edition
Exclusive
New York, 1955. It's become dangerous in the city. The mafia is trying to seize power. But recently, a new force appeared. A far more terrible force. Over the last few days, five mafia bosses have disappeared in mysterious circumstances. A strange liquid and a butterfly were found at the scenes of the disappearances. But this isn't what scared the citizens... Children started to disappear in the city. All of them drew exactly the same butterflies before they disappeared. This forced detectives and journalists alike to start their investigations.

This is a special Collector's Edition release full of exclusive extras you won't find in the standard version. As a bonus, Collector's Edition purchases count toward three stamps on your Monthly Game Club Punch Card!

The Collector's Edition includes:
A bonus chapter in the underground city
An integrated strategy guide
Collections, morphing objects, trophies, and bonus puzzles
Wallpapers, concept art, soundtracks and much more
Game System Requirements:
OS:

10.9/10.8/10.7

CPU:

1.6 GHz (INTEL ONLY)

RAM:

512 MB

Hard Drive:

863 MB
Game Manager System Requirements:
Browser:

Safari 4.0 or later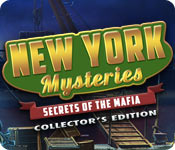 The Big Fish Guarantee:
Quality tested and virus free.
No ads, no adware, no spyware.

Reviews at a Glance

New York Mysteries: Secrets of the Mafia Collector's Edition
0
out of
5 (
0
Reviews
Review
)
Customer Reviews
New York Mysteries: Secrets of the Mafia Collector's Edition
83
83
Interesting
It reminds me of another game. But this is more interesting than most but of course no mafia would ever be caught unless he wanted to! But try it first I love games that are unbelievable Is't that the reason we play It keeps your mind alert!!
April 19, 2014
Give me a glass of water, cigar, and a tommy gun
Okay love this game. Goes on my to buy list. I do like a mixture of different HO's in my game but this one did well enough for what it had. I was stuck on a HO trying to play water glasses and doing horribly. So give me a Tommy gun while I smoke this cigar and play a different toon on those water glass. hehe, heh he. Nice atmosphere and lots to do, Lots of collectables, and some critter action. Game played out very well and think it will get tons of great reviews.
April 24, 2014
wait for se
i must be tired today.. thought the game was okay but im not into all those collectables etc. just like a good story and puzzles. kept my interest to a point but was rather slow moving I thought. don't know how big this game is but I was getting bored after the complete trial just wasn't tweaking me to move on. I wasn't thinking omg what's next. maybe its me. try the trial other reviewers were way up there with this, I don't see it but a nice game ,maybe it was the music? put me to sleep.
April 19, 2014
Very nice game, some details are off
Overall I liked this game a lot. The storyline is interesting, graphics and sound/music are OK, minigames are challenging, but not overly difficult. The HOS were not really my cup of tea, I do not particularly like this kind of HOS, What I liked a lot, is that certain objects (like a knife) stay in the inventory, so that you can use it again and again. I always hate it when you have to find a new knife whenever you need to cut something, because the knife you already had, is vanished, while it seems so much more logical that the detective (or other main character) would keep it for future use. Another thing I liked is that the story plays in (nearly) the present day. Very refreshing after all Victorian mansions, 18th century entourages, people in old-fashioned clothes, etc. However, some (minor) details were not quite right. For example: the year is 1955. So, how can there be a book about President J.F. Kennedy in the study? Cars: 1955 is in the middle of the golden era of American automobiles. But nearly all the cars in the game seem to date from the 30s or early 40s - except for the pick-up truck near the lake, which is a 60s model (in 1955?!). What also seemed a little bit odd, is that the NY Police drove a vintage Jaguar - as far as I know, NY Police have never used English cars and most certainly no Jaguars. But apart from those minor details (which did not bother me too much, as they were in itself not important for the gameplay), it is a very nice game and I am looking forward to more of the same.
April 25, 2014
Not sure. !!!!
Played the trial. I liked what I saw. It was over before I could see if my favorite HO'S. I hate so far finding when they do shapes. I don't want to purchase for this way to do the hidden object. A few no problem I did not have time to see.
April 19, 2014
LAURA REMINDED ME OF MARILYN MONROE
Review based on completed game in casual mode. Animation - Good. Characters were realistically drawn. VOS - Good but not for player throughout the game. IHOS - Silhouettes. Would have preferred lists. Small objects, some dark areas. Hint - Fast charge. Gives clues and directions. Map - Does transport. Works with hint button. Journal - Contains story and photos. Inventory - Locks in place. So much better than the popping up and down. :-D Items used fairly quickly in other scenes. Clipboard - Contains tasks to complete. There were phantom objects to collect but I don't get too involved in the bells and whistles of a CE. Probably did pick up a few. Bonus Chapter - Got about half way through it. More backtracking than anything else so I don't know how it ended. Still a good game. Enjoy!!
May 31, 2014
Not As Great As I Thought It Would Be - Review Of Completed Game
Well I'm going to start by saying that any TV show, movie, book and in this case game that has to do with the Mafia is usually a go for me and right up my alley as I'm a die hard fan of The Godfather and Scar Face just to name a couple of things. I wish I could say that about this game but sorry I can't. This started out great for me but after the demo quickly went down the hill for me. I had to actually force myself to complete this since I bought it and so glad it was on sale this weekend. VISUAL/SOUND QUALITY: I really liked the 2D graphics which made this game have a realism to it. What keeps visual from being excellent for me is some scenes are way too dark to try and locate some items that need to be found. The voice overs were excellent for me. I had no problem with them. The music I started out really liking this but then went into a loop and got repetitious and on my last nerve. LEVEL OF CHALLENGE:While there is a custom mode for hint/skip (thank you) however this game is still overloaded with black bar tips stating what needs to be done Please have the developer turn this off for the people who don't want this in their next game offering. GAME PLAY: Emphasis is definitely on the puzzles/mini games which was way too many for me. I'm not a fan of these. Less the better though I will admit to enjoying a few from some games but this isn't one of them. I skipped most of these. I just found them boring, tedious and downright annoying as most of them have to remember where you saw the clue and most times not even in the same scene. It only records a few in the journal. Oh and some are those rotate the rings - excuse me while I YAWN here. The HOS are few and far between. All are found by progressive silhouette. There are no (interactive) word list which is my preference. I don't mind a few silhouette but I think the developer could of put some variety here in the ways to find the objects.I did have to use a few hints here because some scenes were so dark and some objects so small. The "adventure" part there is some back.forth to this game that is if you don't use the map which I didn't. I did like using the punch card to travel through the subway. The only time I used the hint was for the HOS. I didn't use the strategy guide. STORYLINE: Well this started out to be very intriguing especially having to do with the Mafia as I said but this for me got ran over by the puzzles/mini games and seemed to move too slow and finally build up past the demo. Also I usually don't say too much about "era" appropriate if a few things aren't as I can usually over look some things but I must agree with a review that I read in Big Fish forum after I completed this game but I had the same thought before I even read it and that is: This game here is suppose to be 1955. Granted now I wasn't born until 1971 but even I know that JFK wasn't elected president until 1960 and assassinated in 1963. Why set something in a particular time and place, if you can't bother to get some of the basic facts right? Now the Duracell battery that review mentions I can overlook that even though that didn't come to be until the 1960's - 1964 to be exact but a United States President that is an icon to many American people in the wrong era I have to agree is just downright sloppy! NOW FOR THE ENDING: The main game was 5 hours for me even skipping most of the puzzles/mini games and does come to a satisfactory conclusion. The bonus chapter definitely not needed in my opinion. I did find this story interesting that is until the VERY abrupt ending however does come to conclusion. I spent about an hour here. Most locations are from the main game. Only a couple of new ones. Bonus chapter should be all new locations and again my opinion. CE EXTRAS: No longer a fan of this fluff and having said this... There is 36 Morphing objects , 9 suitcases, 9 Statues of Liberty, 9 Ties,.20 Achievements 26 replay mini games. 9 wallpapers 19 concept art drawings in black and white, 10 cut scenes, 6 music, bonus chapter and strategy guide. FUN FACTOR: Overall I didn't find this game very fun and 3 stars is the best I can do cause there were some things I liked about this game. The only reason I recommend it is I know most on here love puzzles/mini games and this game is overloaded with them. I'm very disappointed especially being a fan of Mafia type things as I said.
April 19, 2014
Cant really get the 5 star ratings
The New York Secrets of the Mafia video clip certainly enticed me to purchase the collectors edition! But there was ongoing issues with the game manager app after the initial download. If you stopped and saved your progress to return later? The game manager wasnot able to restart the game (tech issue?) I got to the point after many back to back HOS puzzles and object collections When will this story end! This game has been an improvement on some of BF'S games of late. Game itself was "ok" But seemed not to have the "wow' factor. That alot of the BF games have! (o:
April 25, 2014
A Bit Boring
I loved the graphics, especially the wintry New York scenes. The music and voice overs were ok, but nothing to write home about. The storyline itself was a bit boring. You figure out pretty quickly what's going on. I kept waiting for something to happen, some sort of twist, that never came. When I started the bonus game I thought, "ah, this is more like it", but as one reviewer said, it fizzled out to an abrupt end. I think the idea of the bonus game was to explain something that happened in the main game, but by then, I didn't really care. I spent most of the bonus game clicking on the hint button,just to get it over quicker. Sorry, I can't be more positive, but I felt the game had so much potential, gangsters, hidden underground cities, mysterious organizations, New York in winter etc. Unfortunately, all this potential resulted in a bit of a yawn.
May 19, 2014
Not Scarey Enough ...
Not an easy Game to play. Very nice Graphics, the Music was not that good and rather monotonous. Way too many Puzzles and many of them were very hard. Skipped most of them. Morphing objects GREAT! The Storyline was not that good and had no "Wow" quality for me.
April 21, 2014
The Apple logo is a trademark of Apple Computer, Inc.
The Windows logo is a trademark of Microsoft, Inc.