New York Mysteries: Secrets of the Mafia Collector's Edition
Exclusive
New York, 1955. It's become dangerous in the city. The mafia is trying to seize power. But recently, a new force appeared. A far more terrible force. Over the last few days, five mafia bosses have disappeared in mysterious circumstances. A strange liquid and a butterfly were found at the scenes of the disappearances. But this isn't what scared the citizens... Children started to disappear in the city. All of them drew exactly the same butterflies before they disappeared. This forced detectives and journalists alike to start their investigations.

This is a special Collector's Edition release full of exclusive extras you won't find in the standard version. As a bonus, Collector's Edition purchases count toward three stamps on your Monthly Game Club Punch Card!

The Collector's Edition includes:
A bonus chapter in the underground city
An integrated strategy guide
Collections, morphing objects, trophies, and bonus puzzles
Wallpapers, concept art, soundtracks and much more
Game System Requirements:
OS:

Windows XP/Windows Vista/Windows 7/Windows 8

CPU:

1.6 GHz

RAM:

512 MB

DirectX:

9.0

Hard Drive:

922 MB
Game Manager System Requirements:
Browser:

Internet Explorer 7 or later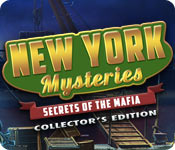 The Big Fish Guarantee:
Quality tested and virus free.
No ads, no adware, no spyware.

Reviews at a Glance

New York Mysteries: Secrets of the Mafia Collector's Edition
0
out of
5 (
0
Reviews
Review
)
Customer Reviews
New York Mysteries: Secrets of the Mafia Collector's Edition
83
83
Welcome To ?The Family?!
BASED ON DEMO FIRST IMPRESSIONS Nice roller coaster ride to the main menu page, but a little basic I thought. Still, the game has momentum. It is, finally, a story that is quite different from the norm. Not a relative in sight. The mafia, while known to many as ?the family?, aren?t ours. *wink* Disappearing mafia bosses might not, admittedly, bring out much sympathy, but there are kids involved too. And, strangely, butterflies! SIGHTS & SOUNDS The graphics are good. Clear, well drawn, fairly realistic. Detailed and mostly well lit. Although this game does have some very dark locations. The acting is realistic too, with good voiceovers and almost spot on lip synch. The music is original and good, although it got a bit repetitious. The background sounds and special effects are competent, but nothing exceptional. WHAT?S HAPPENING? It is 1955. Mafia bosses and small children are disappearing. Odd combination, but true. The bosses are leaving behind icky green liquid and a butterfly and the children are leaving behind a drawing of the exact same butterfly. You become involved as an accomplished investigative journalist, called in by the curator of the last crime scene, the Museum of Natural History. I am sorry to say that what follows is a direct lift off another very successful game, but I won?t name it, because, for many, it may go unnoticed. Still, we are in this investigation by whatever means, and we must track down the source of this strange evil that is terrorising the city. GAMEPLAY A good balance of HOPs and puzzles/mini-games, held together well in an adventure format. The adventuring is assisted by a map that is customisable (the game has 3 preset levels of difficulty, plus customisation). You can choose to indicate on the map ? or not ? active areas, collectibles and morphing objects. It is also a teleport device. Hint is directional. Black bar comments are a little too helpful at times, but you can control them too. The HOPs are progressive silhouettes, and there are only 2 so far as I have got in the demo. I have not finished it in the hour I played. The mini-games are a bit tricky. One I felt was not properly explained at all (even in the Strategy Guide ? which is top left, btw, took me ages to find it!), a couple were very time-consuming and one was just too hard for me. There are no fancy gadgets, cute companions or nifty special abilities. You are expected to solve this one using your wits. *smile* CE BLING! Lots of collectibles! Morphing objects (36), suitcases (9), statues of liberty (9), ties (9), casino chips (9). Achievements (20) that seem mostly performance. There are mini-games to replay (26), but also new puzzles unlocked by getting each category of collectible. For instance, you might need all of the ties to access the first puzzle of 5. The usual gallery items ? 9 wallpapers (good ones, not just screenshots), 19 saveable concept art drawings in black and white, 10 cut scenes, 6 music. Bonus chapter and Strategy Guide. COMBINED IMPACT I liked this game. I enjoyed the different story, the puzzles (mostly) and the adventure gameplay. But it is not a world beater. A good solid game with a lot of collectibles as incentive to buy the CE. I?m on the fence about that, but I will certainly be buying this game.
April 19, 2014
Butterflies and the subway and the mob in NYC?
So the name of the game is secrets of the Mafia, but there's not a mob boss in sight in the demo -- they've all been "melted" by a green liquid and a butterfly is left behind. Unfortunately, a child who draws a similar butterfly also disappears at the same time. It is 1955 in NYC, but there is no real atmosphere that suggests 1955. You are reporter Laura Jones who is summoned to the American Museum of Natural History by Lucas Bishop to write a story. It turns out Mr. Bishop is actually a member of the order of the White Stone, who needs you to assist him in researching supernatural occurrences, of which the disappearing mafia bosses is one. The story is a bit convoluted, and the demo ends before you ever see a mob boss or a missing child. So it is hard to figure out just where the story line is going. There are lots of cool things about this game, however, including the opening subway ride. The voiceovers are quite good -- the lips even move. You have 35 "Phantom" morphing objects to collect, plus 36 different collection objects -- 9 each of briefcases, ties, poker chips, or statues. The nice thing is, the excellent map not only shows you where you can do an activity, but it also tells you if you've collected all the items in that scene or not. Very helpful for me, as I always forget to look for the extra items! Another nice touch is a "back button" right on the inventory -- no more random clicking to go back! The HOS are few and far between, but very nice -- silhouettes that require you to find and use items and even mini-puzzles within the HOS. The mini-games are interesting, but not very hard. Recreating the NY subway system so it works easily is one of the highlights of the game -- you get a subway pass that you use at the station that takes you where you need to go. This is a good game, but the connection to the mob does not occur in the demo, nor do the children or the butterflies. So I have to only give this 4 stars as the story line is not as strong or as clear as other games, and the atmosphere does not reflect the era.
April 19, 2014
Mafia + Green Goop + Butterflies = ?
Based on Demo: The darkness in some of the HOPs made the thing very difficult at times. In fact, the whole thing is somewhat dark. The puzzles were challenging - for me :) - and the "to and fro" was more than I like. The premise of the game is interesting: 5 Mafia bosses go "poof" in green smoke and nothing is left but a green goop. OK - not that big a deal, right - it's Mafia :). But, CHILDREN are also vanishing and THAT is not OK. Only clue seems to be butterflies. Reporter (our character) receives a message from a Mr. Bishop to meet him at the museum to help solve this. The music was non-intrusive, graphics were very well done, albeit too dark in some places, and the game play was interesting and fun. Some of the play was very challenging for me as a beginner, but, I imagine those who are expert will have no difficulty. Now, off to purchase :).
April 19, 2014
Different
Well am i glad i bought this, i hate hidden object games as a rule, but not this one! i choose adventure with minimum ho scenes, but they are scarce these days. It is very interactive, with shadow outlines of objects to find and use, so much less tedious than finding useles hidden objects, i loved that. Puzzles are very nice also. Liked the atmosphere very much. Not a hard game to play i just ambled through, mind you i did rely on my hint button though, which is not usual, but i reckon you'll forgive me that as i am 73, lol great game
April 20, 2014
ADVENTURE GALORE
Good adventure game. You have: * Easy, Normal and Hard modes (you can turn off hint and skip puzzles mode as well to make it harder); * Voiceovers; * Journal; * Interactive map; * Achievements board. You also have to find: ~ 9 briefcases; ~ 9 casino chips; ~ 9 tie collection; ~ 9 Statue of Liberty figures ~ 35 morphing objects. Most of these are easy to spot, however as you look around for clues, a "hand" will come over them and you can grab these then. In case you miss any, then you can look in the interactive map to grab them later. The graphics are very good - clear and precise. Once again, the music is very good - adventure style. In case you get really stuck, the interactive map lets you know if you still have tasks to do in that particular area. Therefore, I didn't need to look in the Strategy Guide at all. The hidden objects games are interactive - find one item to locate another item and so on. These are very easy and don't take long to do. The mini-games are easy to medium. Some take a while to do to get in the right order, etc. I enjoyed them all and was determined not to skip any. There are a wide range of games to play and I'm sure you'll find your favourites in there. I played a few new ones too. I played for quite a long time - about 7 hours I think and about 1 hour with the Bonus. However, because I played on Hard [with turned off hint and skip puzzles], then it took me a lot longer to get to the end. I love this sort of challenge. So overall a gun toting adventure game. Its not too hard or too easy and definitely no hand-holding. Well worth putting in your collection. I'll definitely play this game again.
May 3, 2014
Advanced puzzle-meister's dream
I've been replaying old games and decided I deserved a new one. This game was well-reviewed on this and other site. The story line is good?a little anachronistic, but I have no complaints about that. Our heroine's quests made sense. Graphics were good, and got too dark in only a few spots. The animation was not distracting, except for one scene where the ghost?s speech had little to do with lip movements. Noted the finicky pointer placement that others have in a couple of spots...It wasn?t too bad. I hate most HO scenes, but these were so cool! The objects made sense for what was needed in the story; and you have to find/use/assemble to get to the item of interest. The inventory never got too crazy; in one place there was a comment about not carrying around a barrel unless I needed it. Our heroine even kept a knife for more than one use (Seriously! If we?re going to be cutting, deconstructing equipment and making fire, you think our player characters would have a tool belt where knives, screwdrivers, hacksaws, and matches were permanent fixtures!). The main draw for me: This was supposed to be a puzzle lover?s dream. I love puzzles! I like to keep working on a complex puzzle for a long while before I go to the Strategy Guide or a Walkthrough to see what moves/logic I was missing. I'd I did not realize how much I depended on being able to reset what I?ve done. In this game I remember only one mini-game/puzzle that had a Reset button. Even the Strategy Guide won?t help if you?ve already been working on a puzzle and are too far from the starting position. I was almost able to replicate the starting position for one puzzle, but must have gotten something wrong. After awhile, it wasn?t a matter of persistence; I didn?t care. I don?t remember ever skipping so many puzzles. Even the cool HO scenes palled. I was so ready to be done I left one phantom object unfound in the very last scene. That was on the wonderful map, and I just rushed to the end. By the end of the Bonus Game I just wanted it to be over. It was a good to great game, but I'm feeling a little stupid right now.
May 10, 2014
Like the setting...
Hi all. Well, another nice game today. Graphics and game play are well done. Colors are clear, and animation is very good. Voice overs are appropriate for the time and setting, and can be "clicked" through for those of use who read faster than they speak. However, there isn't a lot of "human" contact in this one, so it is rather quiet. Music is okay and changes with what is happening at the time, but could have been a little more sinister. What sound FX there are, were well done as well. The story is not new, except that the mafia has been added, but I did find it intriguing. Story was laid out well and easy to follow, so I didn't find the need to use the SG, which is the usual set up and easy to follow. The jump map is set up a little differently and is tied in with the hint system, which is quite helpful. If you need to jump elsewhere in a hint, it opens the map and shows you where you are going. I have seen this in a couple of other games and is a very nice addition. As I said, the hint system is quite helpful and fills very quickly. There are a lot for achievements in this game, with the addition of the "impatient" achievement if you click to much...shame on me. Lots of collectibles, e.g. 35 morphing objects #you really have to look for some of them#; 9 suitcases #easy to find#; 9 Statue of Liberty #I only found one in the demo#; 9 ties #haven't found any yet# and 10 very small casino chips. This is not an extremely challenging game, except for the collectibles, which make it a CE. I'm not really sure why, but I did like it and find the need to play it through. Oh well, here I go with another CE! I think this game will appeal to all level of players and is a definite buy for me. As always, try it for yourself and see what you think. We all have different tastes in games and you may not care for this one at all. Thanks for the reviews.
April 19, 2014
Fun and Games in the Real World!
I do like Fantasy and, obviously, people disappearing and leaving green goo and butterflies behind is not the real world. But New York is a real place and the game is interesting for bringing us into more realistic settings than we've been getting lately. There are a few dark corners, but the dark corners are not everywhere and add to the challenge. There are LOTS of pluses to this game, the biggest being the variety of settings, HOPs, and mini-games. Yes, the music is not great, but there is an easy fix for that. Most everything else is top drawer, most especially the storyline. Everything is not what it seems. Yes the bad guys are disappearing, but so are small children, and that is only the beginning of what promises to be a really great mystery. Where is this adventure leading us? I am definitely going to purchase this game and find out. Try the trial and see if you don't want to find out too!
April 19, 2014
Great Puzzles, Lots of Places, Addicting and Fun
I loved this game. The graphics were very impressive, and the cut scenes were very well done. I enjoyed the hidden object puzzles because they were more unique then the standard click and find, more of a puzzle adventure in itself. My only complaint would be the story lie itself was a bit silly. I recommend this game if you enjoy challenging puzzles, great looking scenes, and plenty to find and explore along the way. I love all the special achievements options too!
May 9, 2014
Interesting game
This game is really interesting. It has sharp graphics (which I love), many collectables, interactive map, and interesting plot. However, the camera was too "shaky" in some parts, and it makes me sea sick. And it really breaks the immersion, you know... I can not play the game while feeling headaches and sea sickness. Some animations (in game object animations) could have been done better, but I believe that developer will learn quickly what to change in order to lift the quality of the game. I must say, some objects in hidden object scenes were so tiny, I got really tired while looking for them. Don't put tiny objects in HO scenes, please, many of our lovely players have poor eyesight. Also, I didn't like the fact that I have to use map to sometimes reveal where to go. It makes me feel like I'm jumping from scene to scene. Although the interactive map is a big plus. Overall, nice game, give it a try.
June 18, 2014
The Apple logo is a trademark of Apple Computer, Inc.