New York Mysteries: Secrets of the Mafia Collector's Edition
Exclusive
New York, 1955. It's become dangerous in the city. The mafia is trying to seize power. But recently, a new force appeared. A far more terrible force. Over the last few days, five mafia bosses have disappeared in mysterious circumstances. A strange liquid and a butterfly were found at the scenes of the disappearances. But this isn't what scared the citizens... Children started to disappear in the city. All of them drew exactly the same butterflies before they disappeared. This forced detectives and journalists alike to start their investigations.

This is a special Collector's Edition release full of exclusive extras you won't find in the standard version. As a bonus, Collector's Edition purchases count toward three stamps on your Monthly Game Club Punch Card!

The Collector's Edition includes:
A bonus chapter in the underground city
An integrated strategy guide
Collections, morphing objects, trophies, and bonus puzzles
Wallpapers, concept art, soundtracks and much more
Game System Requirements:
OS:

Windows XP/Windows Vista/Windows 7/Windows 8

CPU:

1.6 GHz

RAM:

512 MB

DirectX:

9.0

Hard Drive:

922 MB
Game Manager System Requirements:
Browser:

Internet Explorer 7 or later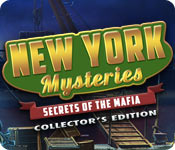 The Big Fish Guarantee:
Quality tested and virus free.
No ads, no adware, no spyware.

Reviews at a Glance

New York Mysteries: Secrets of the Mafia Collector's Edition
0
out of
5 (
0
Reviews
Review
)
Customer Reviews
New York Mysteries: Secrets of the Mafia Collector's Edition
79
79
Like the setting...
Hi all. Well, another nice game today. Graphics and game play are well done. Colors are clear, and animation is very good. Voice overs are appropriate for the time and setting, and can be "clicked" through for those of use who read faster than they speak. However, there isn't a lot of "human" contact in this one, so it is rather quiet. Music is okay and changes with what is happening at the time, but could have been a little more sinister. What sound FX there are, were well done as well. The story is not new, except that the mafia has been added, but I did find it intriguing. Story was laid out well and easy to follow, so I didn't find the need to use the SG, which is the usual set up and easy to follow. The jump map is set up a little differently and is tied in with the hint system, which is quite helpful. If you need to jump elsewhere in a hint, it opens the map and shows you where you are going. I have seen this in a couple of other games and is a very nice addition. As I said, the hint system is quite helpful and fills very quickly. There are a lot for achievements in this game, with the addition of the "impatient" achievement if you click to much...shame on me. Lots of collectibles, e.g. 35 morphing objects #you really have to look for some of them#; 9 suitcases #easy to find#; 9 Statue of Liberty #I only found one in the demo#; 9 ties #haven't found any yet# and 10 very small casino chips. This is not an extremely challenging game, except for the collectibles, which make it a CE. I'm not really sure why, but I did like it and find the need to play it through. Oh well, here I go with another CE! I think this game will appeal to all level of players and is a definite buy for me. As always, try it for yourself and see what you think. We all have different tastes in games and you may not care for this one at all. Thanks for the reviews.
April 19, 2014
ADVENTURE GALORE
Good adventure game. You have: * Easy, Normal and Hard modes (you can turn off hint and skip puzzles mode as well to make it harder); * Voiceovers; * Journal; * Interactive map; * Achievements board. You also have to find: ~ 9 briefcases; ~ 9 casino chips; ~ 9 tie collection; ~ 9 Statue of Liberty figures ~ 35 morphing objects. Most of these are easy to spot, however as you look around for clues, a "hand" will come over them and you can grab these then. In case you miss any, then you can look in the interactive map to grab them later. The graphics are very good - clear and precise. Once again, the music is very good - adventure style. In case you get really stuck, the interactive map lets you know if you still have tasks to do in that particular area. Therefore, I didn't need to look in the Strategy Guide at all. The hidden objects games are interactive - find one item to locate another item and so on. These are very easy and don't take long to do. The mini-games are easy to medium. Some take a while to do to get in the right order, etc. I enjoyed them all and was determined not to skip any. There are a wide range of games to play and I'm sure you'll find your favourites in there. I played a few new ones too. I played for quite a long time - about 7 hours I think and about 1 hour with the Bonus. However, because I played on Hard [with turned off hint and skip puzzles], then it took me a lot longer to get to the end. I love this sort of challenge. So overall a gun toting adventure game. Its not too hard or too easy and definitely no hand-holding. Well worth putting in your collection. I'll definitely play this game again.
May 3, 2014
Advanced puzzle-meister's dream
I've been replaying old games and decided I deserved a new one. This game was well-reviewed on this and other site. The story line is good?a little anachronistic, but I have no complaints about that. Our heroine's quests made sense. Graphics were good, and got too dark in only a few spots. The animation was not distracting, except for one scene where the ghost?s speech had little to do with lip movements. Noted the finicky pointer placement that others have in a couple of spots...It wasn?t too bad. I hate most HO scenes, but these were so cool! The objects made sense for what was needed in the story; and you have to find/use/assemble to get to the item of interest. The inventory never got too crazy; in one place there was a comment about not carrying around a barrel unless I needed it. Our heroine even kept a knife for more than one use (Seriously! If we?re going to be cutting, deconstructing equipment and making fire, you think our player characters would have a tool belt where knives, screwdrivers, hacksaws, and matches were permanent fixtures!). The main draw for me: This was supposed to be a puzzle lover?s dream. I love puzzles! I like to keep working on a complex puzzle for a long while before I go to the Strategy Guide or a Walkthrough to see what moves/logic I was missing. I'd I did not realize how much I depended on being able to reset what I?ve done. In this game I remember only one mini-game/puzzle that had a Reset button. Even the Strategy Guide won?t help if you?ve already been working on a puzzle and are too far from the starting position. I was almost able to replicate the starting position for one puzzle, but must have gotten something wrong. After awhile, it wasn?t a matter of persistence; I didn?t care. I don?t remember ever skipping so many puzzles. Even the cool HO scenes palled. I was so ready to be done I left one phantom object unfound in the very last scene. That was on the wonderful map, and I just rushed to the end. By the end of the Bonus Game I just wanted it to be over. It was a good to great game, but I'm feeling a little stupid right now.
May 10, 2014
Fun and Games in the Real World!
I do like Fantasy and, obviously, people disappearing and leaving green goo and butterflies behind is not the real world. But New York is a real place and the game is interesting for bringing us into more realistic settings than we've been getting lately. There are a few dark corners, but the dark corners are not everywhere and add to the challenge. There are LOTS of pluses to this game, the biggest being the variety of settings, HOPs, and mini-games. Yes, the music is not great, but there is an easy fix for that. Most everything else is top drawer, most especially the storyline. Everything is not what it seems. Yes the bad guys are disappearing, but so are small children, and that is only the beginning of what promises to be a really great mystery. Where is this adventure leading us? I am definitely going to purchase this game and find out. Try the trial and see if you don't want to find out too!
April 19, 2014
Great Puzzles, Lots of Places, Addicting and Fun
I loved this game. The graphics were very impressive, and the cut scenes were very well done. I enjoyed the hidden object puzzles because they were more unique then the standard click and find, more of a puzzle adventure in itself. My only complaint would be the story lie itself was a bit silly. I recommend this game if you enjoy challenging puzzles, great looking scenes, and plenty to find and explore along the way. I love all the special achievements options too!
May 9, 2014
Interesting game
This game is really interesting. It has sharp graphics (which I love), many collectables, interactive map, and interesting plot. However, the camera was too "shaky" in some parts, and it makes me sea sick. And it really breaks the immersion, you know... I can not play the game while feeling headaches and sea sickness. Some animations (in game object animations) could have been done better, but I believe that developer will learn quickly what to change in order to lift the quality of the game. I must say, some objects in hidden object scenes were so tiny, I got really tired while looking for them. Don't put tiny objects in HO scenes, please, many of our lovely players have poor eyesight. Also, I didn't like the fact that I have to use map to sometimes reveal where to go. It makes me feel like I'm jumping from scene to scene. Although the interactive map is a big plus. Overall, nice game, give it a try.
June 18, 2014
Interesting
It reminds me of another game. But this is more interesting than most but of course no mafia would ever be caught unless he wanted to! But try it first I love games that are unbelievable Is't that the reason we play It keeps your mind alert!!
April 19, 2014
Give me a glass of water, cigar, and a tommy gun
Okay love this game. Goes on my to buy list. I do like a mixture of different HO's in my game but this one did well enough for what it had. I was stuck on a HO trying to play water glasses and doing horribly. So give me a Tommy gun while I smoke this cigar and play a different toon on those water glass. hehe, heh he. Nice atmosphere and lots to do, Lots of collectables, and some critter action. Game played out very well and think it will get tons of great reviews.
April 24, 2014
wait for se
i must be tired today.. thought the game was okay but im not into all those collectables etc. just like a good story and puzzles. kept my interest to a point but was rather slow moving I thought. don't know how big this game is but I was getting bored after the complete trial just wasn't tweaking me to move on. I wasn't thinking omg what's next. maybe its me. try the trial other reviewers were way up there with this, I don't see it but a nice game ,maybe it was the music? put me to sleep.
April 19, 2014
Very nice game, some details are off
Overall I liked this game a lot. The storyline is interesting, graphics and sound/music are OK, minigames are challenging, but not overly difficult. The HOS were not really my cup of tea, I do not particularly like this kind of HOS, What I liked a lot, is that certain objects (like a knife) stay in the inventory, so that you can use it again and again. I always hate it when you have to find a new knife whenever you need to cut something, because the knife you already had, is vanished, while it seems so much more logical that the detective (or other main character) would keep it for future use. Another thing I liked is that the story plays in (nearly) the present day. Very refreshing after all Victorian mansions, 18th century entourages, people in old-fashioned clothes, etc. However, some (minor) details were not quite right. For example: the year is 1955. So, how can there be a book about President J.F. Kennedy in the study? Cars: 1955 is in the middle of the golden era of American automobiles. But nearly all the cars in the game seem to date from the 30s or early 40s - except for the pick-up truck near the lake, which is a 60s model (in 1955?!). What also seemed a little bit odd, is that the NY Police drove a vintage Jaguar - as far as I know, NY Police have never used English cars and most certainly no Jaguars. But apart from those minor details (which did not bother me too much, as they were in itself not important for the gameplay), it is a very nice game and I am looking forward to more of the same.
April 25, 2014
The Apple logo is a trademark of Apple Computer, Inc.