Dark Tales: Edgar Allan Poe's The Fall of the House of Usher
Exclusive
You and your colleague, Detective Dupin, have accepted an odd case at the ancient House of Usher – to find the twin sister of Roderick, who has vanished without a trace. As you delve deeper into the mystery, the connection between the twin's malady and the old estate appears even more entwined. Why are townspeople disappearing? What secret is locked in the forbidden library? And can you and Dupin find the answers before more innocent victims are claimed?
Game System Requirements:
OS:

10.9/10.8/10.7/10.6

CPU:

1.6 GHz (INTEL ONLY)

RAM:

1024 MB

Hard Drive:

451 MB
Game Manager System Requirements:
Browser:

Safari 4.0 or later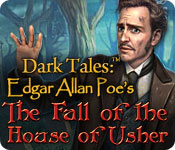 NEW299
The Big Fish Guarantee:
Quality tested and virus free.
No ads, no adware, no spyware.

Reviews at a Glance

Dark Tales: Edgar Allan Poe's The Fall of the House of Usher
0
out of
5 (
0
Reviews
Review
)
Customer Reviews
Dark Tales: Edgar Allan Poe's The Fall of the House of Usher
16
16
The House That Makes You Homesick!
I don't like to brag, but Detective Dupin has once again asked for my services to help solve the case of the Usher Twins! Madeleine Usher is nowhere to be found and because of this, Roderick is becoming ill. Dr. Morris has filled us in a bit, it would seem that the Usher twins, Madelein and Roderick, share a physical bond, when one of the twins is injured the other will feel this same pain, to the point of physical impossibility, if one is given a vaccination they both bleed! As we investigate further we learn that both twins have a rare illness, even stranger is the fact that whenever they leave the estate they become deathly ill, and must return immediately. Estelle has been caring for the twins since their mother died giving birth, but she doesn't even seem upset that Madeleine is missing so for now we must keep a suspicious eye on this mysterious lady. A few things have changed with this latest edition of Dark Tales, the graphics are still beautiful, but it seems a bit on the cartoonish side to me, it's not bad just different. There is a new addition of a rat on a perch to the left of the screen. I must admit I found it entertaining when he fell off the perch or drug a huge sunflower seed up to nibble on, but, the purpose of this rat is an unsolved mystery to both Detective Dupin and myself Detective pennmom36! The journal and map are located just behind the rat so perhaps he is standing guard. Roderick has given us a code handed down from his Grandfather and naturally we know how to solve this ancient riddle and find "the Reborn One" who is able to turn anything made of stone into reality. I'm pretty sure the reborn one isn't in Edgars version, and again why didn't anyone freak out when the stone crows came to life and took over the foyer? The hidden object games were fantastic and genuinely fun. The first HOS was actually in riddle form. Every item to be found was put in the form of a riddle one at a time such as what has several arms and only one leg with the answer being a fork. There were also regular list items, slightly interactive such as putting a sugar cube into a cup of tea to make sweet tea, and there were HOS that required you to find 12 feathers for example. The mini games are very easy such as matching up alike doves on a gate but the one I liked the best was training the mouse in a series of mazes. The first maze was simple just guiding the mouse from the starting point to the end and the second maze added keys of different colors so you had to guide the mouse to the green key and through the green door then get the blue key and exit out of the blue door and the third and final maze added some swinging doors that would trap you into a gridlock with the key behind a shut door. You have to tinker with it a bit by opening certain paths that would allow you to keep the door to the key open. There is also a series of photos that you discover with a partial message on the back and you need to place these photos into their natural place to reveal something not seen before. This is a great Edgar Allen Poe adaptation into a great Hidden Object Adventure, enjoy!
April 18, 2014
Curiously Creepy Case
BASED ON COMPLETED GAME FIRST IMPRESSIONS One of the lovely things about this series is that each story stands alone, and is sufficient in itself, while they also linked by the illustrious career of the famous detective M. Dupin, and of course, ourselves. With each new mystery our role has grown, and now we have a fully fledged detective agency. SIGHTS & SOUNDS Beautiful hand painted graphics, clear and colourful, with excellent cut scenes. The acting is very good, in particular the melancholy twins are very convincing. The locations are richly detailed and varied, a delight to the eye. The soundtrack is great. The series signature tune is played, at times, by piano solo at first, and sounds wonderful. It is joined by mysterious but mild music, that is relaxing as well as atmospheric. The voiceovers are nicely done, although some of the accents were a little too broadly American for my taste. In some locations, there are the creepiest whispers and giggles. Enough to curdle the blood. *grin* WHAT?S HAPPENING? We have been called to the estate home of the Usher family by their doctor. The last survivors of the family are twins who have been ailing all their lives with a mysterious illness. As well, each suffers whatever befalls the other, and they are both continually weakened by it. Now, Roderick is deathly ill, and Madeline has disappeared! It is up to us to find answers before the twins bring about the Fall Of The House Of Usher. The back story is delivered to us in various ways, some character reminiscences, combined with sepia animated sketching. I feel the explanation for all this, when it comes, is unclear and somehow unsatisfying. I think there should have been more evidence pointing in that direction. GAMEPLAY Fun stuff here! There are a lot of things to do and to find. The HOPs (12) come in several flavours: interactive word list, riddles, silhouettes, fragmented objects, matching pairs and multiples of, also dioramas . Some scenes are visited twice, but when you return to a scene, it will be with a different search method. If you wish, you can play a very intriguing and original Match-3 game that is easy to learn but fun to master. Definitely good. There are mostly easy puzzles (13), some with a new twist, and a few hard ones. You can make some of them more difficult by choosing that option within the puzzle itself. As with all the Dark Tales, this game is not particularly hard, but we can customise the difficulty levels. And there is plenty of help for those who want it. We have an interactive map and directional hint. There's the journal, which was left behind by a previous investigator. He took photos, so matching them to the scene, gives us valuable pointers about where to go next. Parts of a message appear on the back of each photo and the message is compiled in the journal. At one point, even the Usher?s black cat gives us a nudge in the right direction. Early in the game we come upon a ?Reborn One?, who takes the role of the normally cute companion (but we already have M. Dupin!). Certainly not cute, it is interesting and visually striking. Its particular skill is to ?create life?. The Reborn One is an interesting character visually, but has nothing to say for itself. There is a helpful mouse with us for part of the investigation, and the weirdest thing. A very amusing and active but ugly rat, who sits to the left of the (lockable) inventory bar for the entire game, without making any contribution whatsoever other than comic relief. COMBINED IMPACT I?m officially hooked on the remarkable M. Dupin, and am sure it is only a matter of time before the detective agency becomes a family business. So I am necessarily biased. But this is an exceptional game regardless, and delightfully dark. Although all of Edgar Allan Poe?s stories are creepy, Dark Tales games usually haven?t been so much creepy as mysterious. This one is the creepiest of the series, sometimes scary, often startlingly unexpected. Also lovely, involving and intriguing. And most of all, fun.
April 18, 2014
SUPERB
This is a superb game with outstanding voice overs, crisp graphics, sound and logical but complex nonlinear gameplay, plenty to do and see. Compelling music and cutscenes. HOS are only mildly crowded - I like the clue-driven object finds. There are alternative games to play in lieu of the HOS. Puzzles are many and vary widely in difficulty. This is one Poe book I didn't read - it's mysterious, fascinating and a little scary of what comes next. Visual and sound effects are easily award winners. This may well be the best Edgar Allan Poe game from ERS to date, which says a lot. They outdid themselves.
April 18, 2014
An Excellent SE GAME
I wrote a 5 star review for CE version of this game and decided to play the demo for the Standard version as well. Unfortunately the RAT is back, perched right there in the left side of my screen, squirming around and occasionally nibbling on a seed. I know that graphics, sounds and visuals remain a constant with these developers, almost becoming a signature trade mark, but to tell you the truth, I don?t mind as much as I did. I have come to expect the same type of artwork, voice-overs and music and I have to admit, their games continue to entertain me and thrill me. I have missed Dupin and his adventures and at last, I find myself assisting him in what is one of my favorite Poe tales: The Fall of the House of Usher. I recall reading this novel when I was very young and couldn?t sleep alone in my bed for two nights. I also remember Vincent Price?s version of the House of Usher and recommend it to fans of the classic Horror film. In this game, our story begins with a new case which involves the disappearance of Madeleine, twin sister of Roderick. We learn of the strange disease shared by the twins that is rather unsettling and soon discover that there is a link between the illness and the old estate. You also come across a mysterious power that is called the Reborn One that has the ability to bring stone to life and what that has to do with all that is going on is a mystery in itself. More people begin to disappear on your watch and so it is up to you and your colleague, Detective Dupin, find Madeleine and unlock the secret that plagues the House of Usher and all who are connected to it. Once again, main menu offers you three game modes along with customized settings which is much appreciated. Game tools include your inventory bar that can be locked, a journal and a map that will allow for travel which now seems to be a given with most games. You have you also have the bottle with the Reborn One that has the power to being life to stone. What is missing is the FG and to tell you the truth, I enjoy playing a game without having easy access to help. The game offers challenging puzzles along with interesting HO scenes that come in variations with the option to switch to a very cool and rather difficult M3 game instead. There are no extras which sometimes I do prefer if the game holds enough challenge which this game does. There are no coins to collect like in the CE which actually did not bother me. I loved the mini-games that come in hard or casual mode to choose when solving. Adventure game play was interesting and surprisingly challenging and somewhat confusing if you opt to disable your blackbar tips. As always, you have dark corners to explore and items to find in order to unlock doors and solve puzzles. You and Dupin occasionally exchange quips and in this version, there is no camera to take photos instead you come across them and no lab to buy equipment. Mini-games were interesting and as customary with these developers, some were even challenging and required some time and effort to solve and I think that is what these developers excel in. What can I say, I love Dupin, I love Poe and I love these developers, and despite the RAT on my screen, I loved this game as a CE and for those who wish to try a simpler version without any distraction, they may find the game play a bit more challenging and interesting. Once again a five star game from our five star group and from our five star game site, BFG
April 18, 2014
Much Better Than "Gold Bug"
This game was much longer and much better than Dark Tales, the Gold Bug. Really had fun with this one. Not a huge number of HOS's, which is fine with me. Puzzles were fairly good, but some were a little too easy. I always like the music in ERS games, and this is no exception. The game was quite long. I got my money's worth. ERS is still right up there with Eipix for my favorite developers.
May 26, 2014
Great Game !
I love all the Dark Tales series and this one does not disappoint.
May 11, 2014
Stunning graphics!
Like all of the Edgar Allan Poe's.....this is terrific! Might treat myself to this one over the weekend x
April 18, 2014
House of Usher Is Definitely A Fixer-Upper
You and Detective Dupin have been summoned by a Dr. Morris to the House of Usher. Your task is to investigate the disappearance of a young girl, Madeleine. Madeleine and her brother Roderick are twins who share a special bond in which they experience each other's painful experiences. Dr. Morris had been treating them both until Madeleine disappeared. I?ve played five previous Dark Tales games, all of them either good or very good. The strength of this series has always been the stories. So how does this one measure up? As you would expect, the House is creepy looking and contains all sorts of weird objects, doors and locks. The exterior of the house bears an eerie resemblance to the house from the movie ?Psycho.? The drawing style is consistent with the others in the Dark Tales series, with very saturated colors and a slightly grainy and flat look. Game play is characterized by variety. The type of hidden object play varies from scene to scene, beginning with a riddle type, then find 12 of something, and so on. Objects are mostly correct for the period. There is a match-3 option not explored by this review. Mini games were not too challenging, but all were well animated. Along the way, you also collect a spirit who can bring certain objects to life, and a pet mouse to get to those hard-to-reach places. There is a camera, too but it seemed like an afterthought. Voices are not up to the usual high standards. The developers re-used the same person?s voice for at least three different characters. They tried to disguise it, but were not successful. I found the voice of Roderick the brother to be the weakest, and also the sound of his voice did not fit the look of the character. Options are highly customizable for whichever level you choose to play, including a switch to simply turn off the sparkles. The Collector?s Edition includes a lab that you can purchase equipment for. Coins are found by searching model buildings found throughout the game. You search them by using an x-ray lens. The pseudo-extras include wallpapers (6), concept art (15), screen savers (5), hidden object (17), mini games (17), and movies (14). There are also the usual achievements. Other extras are a strategy guide and bonus chapter. There are no collectible items (other than the coins). Unless there is a sale, the SE would seem to be the better value. This will not ?usher? in a new era in gaming, but is still worth a house call.
April 18, 2014
I Keep Seeing Vincent Price!
This is posted after playing the entire game. This is another that is difficult for me to review. It might have been my expectations being set way to high, but this just wasn't as much fun as I expected. I waited what seemed like an eternity for the SE to come forth from the vaults of Big Fish and when it finally arrived I was excited, because I really enjoyed the other games in this series. This one I'm afraid fell short. It wasn't near as much fun as the others. The graphics were extremely good. Easy to see hidden object scenes and the voice overs were fantastic. The music was about the same as the others in the series, but I expected that. Hidden object games were fun. They were relatively easy and if you wanted you could switch to a different kind of match 3. I hate to admit it, but it did take me a while before I caught on. I guess that's why they put instructions in there. I am such a dope. Mini games were somewhat different. There were the standard ones, but a few threw me. I could not figure out, even after reading the instructions, what I was suppose to do. There was something in the options I had not seen before. You can not only set the level at which you wish to play, but you can set times for the hint refill and the skip button. I thought that was an excellent idea. I hate nothing more than to be stuck and sit there for a couple of minutes waiting. This was an excellent concept. You have an interactive map and a journal of sorts which is kind of helpful, but even with that, I found myself lost and could not figure out what or where to go next. Maybe I'm just losing it, but that was a big part of my disappointment in the game. The hint button came in mighty handy in this respect. The story got me a bit confused along the way. Some of the things you had to do or go, just didn't make sense. The line was fairly easy to follow, but it is confusing at times. It did NOT leave you stranded and there is an ending. After sounding so negative about this game, I want to tell you it is a good game. I bought it and I'm glad I did. I can't wait to play it again. Give it a shot. I'm sure you will enjoy the Fall.
April 21, 2014
Beautiful game!
Very clever and well designed game! This game is rich in detail and a very wide variety of tasks and puzzles, some hidden object games with tasks embedded in those puzzles. Not one I would buy, but I enjoyed the free hour trial. One of the better "run around" games I've encountered!
April 19, 2014
The Apple logo is a trademark of Apple Computer, Inc.
The Windows logo is a trademark of Microsoft, Inc.