Dark Tales: Edgar Allan Poe's The Fall of the House of Usher
Exclusive
You and your colleague, Detective Dupin, have accepted an odd case at the ancient House of Usher – to find the twin sister of Roderick, who has vanished without a trace. As you delve deeper into the mystery, the connection between the twin's malady and the old estate appears even more entwined. Why are townspeople disappearing? What secret is locked in the forbidden library? And can you and Dupin find the answers before more innocent victims are claimed?
Game System Requirements:
OS:

10.9/10.8/10.7/10.6

CPU:

1.6 GHz (INTEL ONLY)

RAM:

1024 MB

Hard Drive:

451 MB
Game Manager System Requirements:
Browser:

Safari 4.0 or later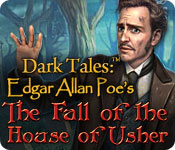 NEW299
The Big Fish Guarantee:
Quality tested and virus free.
No ads, no adware, no spyware.

Reviews at a Glance

Dark Tales: Edgar Allan Poe's The Fall of the House of Usher
0
out of
5 (
0
Reviews
Review
)
Customer Reviews
Dark Tales: Edgar Allan Poe's The Fall of the House of Usher
16
16
Mayzy's Review: Dark Tales: Edgar Allen Poe's The Fall of the House of Usher
I love the Dark Tales Poe series. They are always beautiful and fun to play. I adore the repeating character of M. Dupin, detective extraordinaire. Unfortunately, I found this one a tad confusing. I feel like a little more narrative to the story would have really helped and the ending was extremely abrupt. Maybe it would have been more satisfying if I'd played the collectors edition, but I feel like you should be able to have a decent ending with the standard as well. Don't get me wrong, it's definitely worth a play, but it won't be at the top of my list for favorite Poe games.
April 24, 2014
This is More Like It!
BASED ON COMPLETED STANDARD EDITION GAME The previous Dark Tales game is one of my favourite games of all time, so the sequel had some huge shoes to fill. While those shoes weren't quite filled, this is still a very good game in its own right and I really enjoyed playing it. The story was fantastic. While I admit I wasn't as drawn to it as its predecessor, it was still a very solid. The concept was intriguing and was executed very well. The basic story goes like this: You have been called to investigate the disappearance of Madeleine Usher and soon discover that something far more sinister is going on in the house. What I loved about this story was that it kept my interest for the entire time. Unlike most stories, which start off well and then drop off towards the middle of the game, there was never a dull moment. Every plot twist that there was was an unexpected delight. As the game built up, I was getting more and more eager for the ending. The ending was fantastic, ended conclusively, and delivered justice to the game. From a technical side of things, this story was great. I was intrigued by the villain, and discovering their motives was partially what kept me going. I was also impressed with how the developers decided to get Dupin involved a lot more. He had a lot more dialogue and was actually attacked in the game. It was quite good to see that, this time, he wasn't just an observer. What I was most impressed by though, was that this had all the elements of a mystery and was done extremely well. This is one of ERS's best games, story wise, in a long time. I have mixed feelings about the gameplay. It was good in some parts, but problematic in others. The HOS was a prime example of this. A few of them were very confusing and unclear. One of the scenes asked me to find ?shovel x 12?. I went around looking for 12 shovels, only to discover it was 12 PARTS of the ONE shovel. ERS should have made this a lot clearer, as it took enjoyment out of the game. Even worse, these HOS made 2 more appearances. Other than that, though, the HOS were awesome. They were nothing new, but were very fun to play. I enjoyed them quite a lot, especially the riddles one at the beginning. The HOS were spaced out evenly and there were a decent number of them in the game. This part of the game was done very well by ERS. The puzzles were good for the most part. I enjoyed attempting and solving them. They were quite easy, given they were nothing we haven't seen before, but were still enjoyable. However, like the HOS, the puzzles were also problematic. I ran in to this clump of about 3 at the end of the game that was very confusing and poorly explained. The one I really hated was the one in Estelle's room. There was no skip button and no info, and the hint did not work at all, so I was just left dumbstruck. I had absolutely no idea how to complete the puzzle. ERS, please never ever do this again! It will turn many a player off your games! I nearly quit out of sheer frustration, which would not have earned a positive review. Like the HOS, the puzzles were spaced out evenly and there were a decent number of them. There are a couple of nice extra gameplay features here, both of which are quite unique. One of these features was the photos. There would be various photos of locations scattered around the game, and each time you picked one up, part of the background story would be told. Each time you used a photo on the location, it would turn in to a zoom scene. These were a great feature, and there were quite a lot of photos. My only criticism is it made the background story a little hard to track. I found myself struggling to remember bits of the story at times. That being said, still a wonderful feature that I hope makes its return in future games. The other new feature here is ?The Reborn One?, which we pick up at the beginning of the game. The Reborn One can bring to life any stone creature with golden veins. It turned out to be very useful. This was an incredibly fun feature and was used quite a lot of times. I enjoyed every time I got to use it. I hope this makes its return in future games. ERS have done a wonderful job of additional gameplay features here. One other thing that I need to comment on, although it wasn't a gameplay feature, is the rat. The rat serves no purpose; it is just a little thing to entertain you while you play. Well, it worked! I enjoyed having the rat there. It was so cute when he fell of the perch a couple of times! Great move on making a darker game a little light-hearted, ERS! For the most part, the basic features are done well. There are four modes of difficulty (including a custom mode, which was great). There is a diary, which keeps track of events and stores important findings so you can read them later. There is a map, but it wasn't very helpful. Overall, the gameplay is decent, but problematic. That being said, still a solid effort from ERS. The graphics are pretty good; just the classic ERS we see time and time again. I appreciate what they're doing here- everyone has loved the graphics for so long and they haven't made an effort to change them. As the old saying goes ?if it's not broke, don't fix it.? The graphics are drawn with some good detail, and the character designs are quite life-like. The colours matched the feel of the game, so it felt more realistic. The voice-overs are standard. One thing I will comment on is that Dupin's voice has changed since the last installment. It was very strange at first, but I feel the character's dialogue in this game suited the new voice actor better. I can't imagine the old one getting angry! FEATURES 4 modes of difficulty: Casual, Advanced, Hard and Custom. Differences in the difficulties are standard. Custom lets you set the game settings as you desire. I played Casual. Hint/Skip- Both recharged at a decent speed for the difficulty I selected, so it wasn't super-long, but it wasn't so quick that the game could hold my hand either. Diary- The diary is good for keeping track of important events. Map- The map is not as helpful as I would have liked. I had some difficulty getting to certain locations. There is a red exclamation mark which indicates to you that there is a task to perform in that area. Photos- A great feature. This told you the background story of the game, as well as unlocking zoom locations when you placed the photo on the area. Reborn One- Again, this was an awesome feature. It's kind of similar to an animal helper. It was used many times in this game and I enjoyed using it. WHAT DO I MISS OUT ON IF I BUY THE CE? Bonus Chapter- The bonus chapter is not needed; the game ends conclusively. Built-in Strategy Guide. Coin minigame- In the CE, there were small houses placed at random points in the game. When you clicked on it, you played a minigame where you had to find all the hidden coins with a magnifying glass. I loved this feature and was disappointed it wasn't in the SE, but can understand why it wasn't. Lab- The coins you collect from the minigame can be used to buy stuff for here. Similar to the office in Dark Tales 5. Achievements Replay HOS & Puzzles Re-watch cutscenes Concept Art Screensaver Story- I've got no idea what this is. WHICH IS THE BETTER BUY? I went for the SE and was extremely happy. There was nothing in the CE to excite me. Lack of collectibles swayed my decision. I would definitely recommend the SE. Overall, this was a very, very enjoyable game. I'm giving it what I call a ?strong four?. It was extremely good, but I don't feel it was good enough to give a five star rating. This is due to the problematic HOS & Puzzles. If that had been fixed, it would be a five star rating for sure. This is more like a four and half. This game took me back to the old-school ERS that I knew and loved. I hope this is the beginning of a new trend... I would love more games like this!
August 7, 2014
second time around
i played the ce when it came out knew id wait for the se version. the fact the voice was different was no biggie for me, he didn't do much talking anyways . kind of a strange story and really not pushed open like it could have been. like the place the photo idea broke the monotony of last few games. try the trial as I always suggest but I'm a fan of edger so I knew it would be a buy. not as exciting as the other past poes look forward to more.
April 19, 2014
A good buy!
I'm not much for words, but if you like the Demo then you'll enjoy the whole thing.
June 18, 2014
Fine game - but with unnecessary extras
As usual, this Edgar Allan Poe game is just fine. There are enough scenes to discover and explore, the story unfolds during the game, and the ending is something you already thought so (which is not a bad thing in this case). I liked the extra feature of photographs you found, having to find the location it was taken - only then something extra appeared to be explored. These were always spots in a scene of which I already thought something should be done or found there - but at first, there wasn't, until I found the photograph. I was less taken by this story than by the previous ones, somehow. Events following each other were not always logical, and in the gameplay I sometimes had to go somewhere for a HOG when there was no reason whatsoever else to go there. Another thing that puzzled me was the extra feature of these miniature houses in which you have to search for coins. It's quite silly, really, and there seems to be something I can do with those coins in a completely different game area (something like the achievement room), which did not interest me at all - I just wanted to continue the story and the gameplay. That is why I give this game 3 stars - would be 3 and a half if possible. Fine game though.
April 21, 2014
dislike it
I didn't care for it the list is small to see and every time you think you found an item it was wrong yet hit the hint button and it was the right one. stupid game have a 3-d glasses with you ,so you can see. A lot of dark items to look for no light BIG FISH ONLY PLEASES THE HIDDEN OBJECT PEOPLE OH WELL
April 19, 2014
The Apple logo is a trademark of Apple Computer, Inc.
The Windows logo is a trademark of Microsoft, Inc.