Final Cut: Homage
Exclusive
From the developers who brought you Hidden Expedition: Smithsonian® The Hope Diamond…

…Eipix's dramatic continuation of the Final Cut story line! A serial killer calling himself "the Director" has targeted your father's movie legacy for his magnum opus, and he's cast you in the starring role.

Your father's projector appears again as a game-play feature, allowing you to switch between real-life scenes and the Director's movie sets. Save your family from certain death as the Director tries to immortalize them as works of "art." Beat him at his game of cat-and-mouse. And uncover the Director's true identity before the final credits roll!


Game System Requirements:
OS:

Windows XP/Windows Vista/Windows 7/Windows 8

CPU:

2.0 GHz

RAM:

1024 MB

DirectX:

9.0

Hard Drive:

945 MB
Game Manager System Requirements:
Browser:

Internet Explorer 7 or later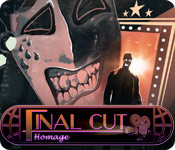 NEW299
The Big Fish Guarantee:
Quality tested and virus free.
No ads, no adware, no spyware.

Reviews at a Glance

Final Cut: Homage
0
out of
5 (
0
Reviews
Review
)
Customer Reviews
Lights, Camera, Action, Death!
Morton Wolf was the greatest filmmaker of all time, but he was also a great inventor, the inventor of the projector that blurs the line between reality and fantasy. Once again the projector is in corrupt hands, a stagehand that longs for a legacy of recognition, a serial killer who calls himself "The Director". With this game you switch between the real world and the stage world the director has prepared from a scene in Morton Wolfs original film. You need to figure out how to find items when the camera is turned off and use those items to save the person who is in danger in the fantasy scene, which can be confusing. The hidden object games are progressive silhouettes, however they usually have a zoom in area with a smaller section and list finds. You can choose to play a match 3 game instead. There aren't many puzzles but the first one was pretty cool. You needed to guide the bunny with arrows on a maze and as he gets to the edge the other side of the maze rotates and you have to go through all 4 sides to get to the carrot. This is the third Final Cut and quite possible the best story of them all, enjoy!
April 20, 2014
Final Cut Is The Deepest!
BASED ON COMPLETED GAME FIRST IMPRESSIONS Definitely the best yet of the Final Cut series, this game has a new twist that has it playing inside the world of another game. There?s also a new ever-present bad guy, reminiscent of ?Dorian Grey Syndrome?. The mansion has changed yet again, this time we see it during the holiday season. (What?s with this Xmas obsession recently, developers? Yeah, I know it was Xmas just a little while ago, but that normally doesn't affect subject matter.) SIGHTS & SOUNDS The opening scenes are in sepia, movie quality graphics. Not my cup of tea, but they add authenticity to the game?s atmosphere of the art deco era, which has been faithfully portrayed in both the other Final Cut games as well. Someone on the team must be a real fan! The graphics in the locations are as superb as you could want them to be. The integrated people are always a buzz. The HOPs are crystal clear, with large well lit objects. I love the cursor. The music is annoying. It is a ?revving up? tune, which is fine, but it just goes on and on. The voiceovers are good, but seem a little bit off. But I?m quibbling. A great touch is the ominous voice of our bad guy coming to us while we are doing an HOP! Creepy! Early on, there is a lot of monologue diatribes by the bad guy. Perhaps too much for some, but it didn?t bother me. WHAT?S HAPPENING? We meet with a journalist who says he is convinced there is a serial killer on the loose who is staging his murders like scenes from our father?s greatest movies. I really love this story. What a great idea! Anyway, before we can get really into it, a package arrives for us that is from the killer, and we are ?invited? to return to our mansion and prevent another murder. It is our old gardener Frank who?s in danger, and where we find him is astonishing! We are on the deck of the ship from Dear Old Dad?s favourite movie ?Sea Of Lies?! Brilliant! And don?t forget the humour and artistic talent doesn?t end with the game ? check out the credits! (Although, Eipix, please slow them down, I have trouble reading that fast!) I was disappointed that we didn?t do any more of the developer?s games from other series, but we did find ourselves on sets related to those we saw in the previous Final Cut games. Those of you who have not played the first two games of this series may well want to play them first, because it really does make it easier to appreciate the story and to better enjoy the joke. GAMEPLAY Varied HOP styles along with new and sometimes challenging puzzles keeps your attention in this game. There is every conceivable combination of HOPs, including interactive word lists, silhouettes, and HOPs within another, nested in much the same way as the game stories are. Plus matched pairs, multiples of, and ones I can?t give a name to. There is also a fun Match-3 alternative. The puzzles vary from ludicrously easy to "SOS where?s the walkthrough?" One puzzle I particularly love is a 3D maze. Really cleverly done and fun to play. I?ve been spoiled by having played every Eipix game, so I am used to their imaginative flair, but they manage to astonish me yet again with the variety of ways to progress through this game. Getting around is tricky because the signature feature of this game is the film projector which alters our perceptions of reality. So a given place may swap between two interpretations by the flip of a switch, and you must achieve your goals by travelling between them. There is a directional hint, but if you are in the wrong ?view?, you will have to refill it. There is also an interactive jump map which is unusual in the way it displays the various locations, but again does not allow you to jump between views. The journal has objectives and a diary. There is one thing that could be better. The loading between locations is a bit slow. For the first time in ages, I saw a black screen between. COMBINED IMPACT Wonderful! I was not a big fan of the first Final Cut, but I could see its quality and artistic merit. This game, though, is five stars all the way for me. It is entertaining and beautiful from start to finish, and I just loved wondering what was coming around the next imaginative corner!
April 20, 2014
5 Stars!
I never give a game 5 stars and it has to be pretty outstanding to earn them from me, but this game does. This is your typical detective story, who-dun-it but it's so much more than that. The graphics, music, voice-overs and sound are exquisite, making this game and it's Art-deco styling a feast for the senses. If you only buy one game this year, make this it. I am having so much fun with it and bought it after about 5 minutes of the demo - it's that good. The hidden objects scenes are not your usual, boring, comb through tons of junk to find what you're looking for. They are interactive! Use your common sense and you'll never need a hint in this game. I love this game.
April 21, 2014
Excellent Game, Recommend the CE
Today I will keep this short, sweet and simple; if you havent played the Collector's Edition or purchased it, take advantage of today's Easter sale because this game is better with the extras. I also recommend that you check out the other games in the series of Final Cut as you will be revisiting some scenes from them. As it is a HOMAGE to the Father and his previous works, some scenes and characters are featured. Hidden Expedition: Smithsonian : The Hope Diamond is by far one of my favorite games and now one of my favorite developers has returned with the continuation of the Final Cut storyline. Once again your family is in peril, this time from a twisted serial killer who calls himself ?The Director? and is now targeting people connected to your Father, the famous film director, Morton Wolf. After a string of murders over the past six months, a reporter called Michael Harris contacts you with a mission, reveal the identity of the madman who is on a killing spree and stop him before he comes after you. ?The Director? has a mission, to pay homage to your father by creating a magnum opus that involves staging each murder to look like one of your father?s films. Your father?s projector appears again as a game-play feature, allowing you to switch between real-life scenes and the Director?s movie sets as the fun begins in this brilliant Hidden Object, Puzzle Adventure game. You still have the M3 games instead as an alternative for the Hidden object scenes but no collectables or souvenir rooms or trophies to be had. Ithink the CE was well balance and not over-produced also I enjoyed the Bonus game immensely. So if I had a choice, I personally would choose the Collector's version over the SE . Happy Easter
April 20, 2014
Film-tastic Addition to the Series
For quality, fun and good story - nothing beats the Final Cut series. Make sure to start with the first one and work your way to this one. As the #3 entry - the storyline is NOT as strong as the others (to me #2 had the best story), but the game play, grahics and pace will keep you hooked. Pros: Graphics beautiful, puzzles Easy to Low-Medium, HOS interactive and fun, Clues interactive. Story interesting and varied with the film projector changing the environment for each section into something exotic. Clue objects intuitive. Cons: Not anything big. Story not as touching/involved as #2, but interesting. There was so much potential in the sets that seemed to go unchallenged. For example the lights could have done more, or the sets. Particularly in the later scenes. Overall, though - nothing really "wrong". Fun, amazing series. Highly recommend - but start with the first once so you get the story.
May 24, 2014
i enjoyed this game!!!!! lights, camera, action!!!!!
i played the custom level where you can decide on different factors in the game. there is an interactive map that will teleport you where you need to go. that helped me a lot because you are using projectors that switch back and forth between the present and the past. i would have gotten confused if not for the map. already is another game in the series so i feel sure there will be more. i have liked all them so far.
April 25, 2014
Just An Excellent Game!
Loved this one! Eipix is quickly becoming a favorite of mine. The graphics were excellent, except in the HOS's, where they were a little grainy. I loved the way the music changed with each movie scene, and most of the music was very enjoyable. Voice overs couldn't get much better. Puzzles were good, and ranged from easy to somewhat challenging. The entire game presented just enough challenge to make it fun but not too frustrating. (I always play on the most difficult level.) Recommend this to everyone!
May 23, 2014
Great job
There is a video review of this in the forum section -Big Momma PS-I still can't post urls in this review section. Feel free to subscribe to my youtube channel in order to get the latest reviews more readily.
April 21, 2014
Another Winner!!
This is the third and newest of the Final Cut series and I love the entire series. If there is a down side, it's that so far there are only three, but there is plenty of room for more stories, so I am hopeful that there will be more. Like its predecessors, Death on the Silver Screen and Encore, Homage boasts a gripping story, terrific graphics and non-stop action. It has multiple parts so saving the day isn't necessarily the end but a prelude to the next step in the mystery. I love the camera giving us different scenes rather like another favorite series, Secrets of the Dark. Like its predecessor, it has a lot of puzzles but even though I generally dislike puzzles, they were so well done, that I enjoyed most of them. The hidden object scenes took a variety of forms and did not become tedious. The only thing I didn't like about this game was that it is over and now I have to watch and wait for another installment in the series. I do recommend playing this series in order, Death on the Silver Screen followed by Encore then Homage. They can be done and still enjoyed out of order, but it would mess up the continuity.
October 11, 2014
Perfect Game!
I'm sure I'll be repeating so won't. An awesome game, top 5 of the year for me. Long, interesting and great storyline, which you'd expect in a game about filmmaking.
June 24, 2014
The Apple logo is a trademark of Apple Computer, Inc.