Shtriga: Summer Camp
Summer camp has always been about good memories, new experiences and making friends. But when children begin to vanish one at a time, campfire ghost stories go from urban legend to real life! Search the ghoulish grounds for the spirit of the dead witch responsible for these disappearances and uncover her horrifying truth before it's too late! With bone-chilling locations to explore, blood-curdling clues to discover and spine-tingling puzzles to solve, Shtriga: Summer Camp will stop you dead in your tracks!
Mind-blowing cinematics
Captivating storyline and atmospheric locations
Clever puzzles and challenging HOG scenes
Game System Requirements:
OS:

Windows XP/Windows Vista/Windows 7/Windows 8

CPU:

1.0 GHz

RAM:

512 MB

DirectX:

9.0

Hard Drive:

812 MB
Game Manager System Requirements:
Browser:

Internet Explorer 7 or later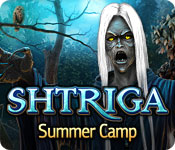 NEW299
The Big Fish Guarantee:
Quality tested and virus free.
No ads, no adware, no spyware.

Reviews at a Glance

Shtriga: Summer Camp
0
out of
5 (
0
Reviews
Review
)
Customer Reviews
Shtriga: Summer Camp
23
23
CREEPY
I'm a big fan of this dev and the clever creepiness they are able to achieve. I love the feel of the creepy abandoned summer camp, you truly do feel alone and a bit creeped out, as if someone is watching you. There is only a brief introduction video that shows a distraught mother pleading for help from a detective named Brenda Livingston. Several children have gone missing from summer camp and adults and children as well have become deathly ill from this unknown disease. This is a hoggers game for sure, nearly every scene will have a hidden object scene, and they are simply list finds, no interaction, no frills, just well done hidden object scenes. This is a fairly simple game that has no bells and no whistles, no collectibles, there are plenty of inventory items to find in each scene and plenty of thing to fix and unlock, but mostly there are plenty of puzzles and mini games that seem to get a little more difficult or complicated as you progress. There are simple puzzles that require you to swap tiles until you complete the picture, there are buttons that need pushed in the correct order by trial and error. There are even games such as blocks where you must adjust fuses up down left and right in order too allow the blue fuse to pass through by unblocking it. Some puzzles were more complicated such as connecting wires of different lengths and angles with the goal of getting the pressure gauge to 32. You don't use all the wires just the correct ones and I will admit this game frustrated me a wee bit! Another mini game involved flipping coins over so that only the engraved side shows and of course when you flip one coin over it would flip others you didn't want flipped. A hardcore adventure gamer will probably blow this game out of the water due to it's simplicity, but don't overlook this one. The graphics are clear and realistic, though the story has been done before and in different variations, it's still a good story. What this game does have to offer are tons of hidden object scenes and tons of mini games with a nice story and relaxing pace, so let's go find Peter, Johnny, Thomas and Kenan, enjoy!
April 22, 2014
SHTRIGA - Albanian Legend HOG
Shtriga is actually a vampire witch from a very old, very real and very scary Albanian Legend. It's up there in notoriety with Dracula in terms of folks core beliefs. Here we have an investigator who is hired to find a missing child. Other children are missing as well. Straight and to the point HOG with no voice overs. Graphics are quite good with a spooky story line and dreary back drop. This one is dreadful looking enough to give gamers a fright. Overall, a good game especially if BFG members are horror fans and may have a free credit to use before it expires. Enjoy! -Mama Mia-
April 22, 2014
Basic but fun game
I really enjoyed this one. I am a huge fan of stand alone SE releases and this one is no exception. I love the games by this developer. This is a bare bones game. You will not get any extras so to speak. However, it is basically a HOP driven game with some very easy puzzles and some adventure. A beginner would be very comfortable with this one. What pulled me in was the great story line. I love great spooky tales. The atmosphere is just right, dark, deserted camp, etc. This one gets the 4th star from me for the story itself. As far as graphics, visuals, voice overs (there are none), it would be a 3 star game. It is quite lengthy also. Give it a try, you may enjoy it.
April 22, 2014
ALMOST THERE
The reason I titled my review as ALMOST THERE is because this game had almost all things done well. The two main things I had trouble with was the hidden object scenes were a little 'foggy' and when I was constructing something by a well, the written comments, when I made the wrong move, were in a different language. I didn't mind that there was no voice overs and the help hints were really good! The graphics were well done and the colours suited the atmosphere. Enjoyable to play.
April 26, 2014
No Bells Or Whistles Here Just A Good Game - Review Of Completed Game
STORYLINE: Well I was hooked to this game immediately. The opening scene with the distraught mother pleading for help from a detective (Brenda Livingston) to find her son that has gone missing from summer camp. Several other children have gone missing as well. The story is also mainly told through the journal reading that. VISUAL/SOUND QUALITY: The graphics will definitely be "too dated" or "too old school" for some people however for me quite good. I had no problem with them. There are no voice overs to this game which I do think would of added so much more to this game along with more character interaction. The music did give me a bit of the creepy/eerie feeling but I do think this could of been bumped up just a notch more. GAME PLAY: While I don't much care for puzzles/mini games for the most part as I prefer adventure/HOS however for me this was well balanced. LEVEL OF CHALLENGE There are 2 play modes and I played the harder of the two.: While there were sparkles on a couple of the HOS as I'm not sure what happened here as there weren't suppose to be any and there is also black bar tips which I wish there wouldn't of been any of those either however level of challenge for me was still good. The "adventure" part made up for this for me since there is no map HOS: These are all found by standard word list. There is no interaction The scenes are also visited twice.. Most I located with no difficulty at all however a few very small/tiny so had to use a few hints here. Hint is directional outside of HOS however have to wait for it to charge up again as most games you can keep pressing the hint until you get to where you have something to do. This is also slow on charge up and so is the skip. PUZZLES/MINI GAMES: These are the usual run of the mill found in many games. A few have to refer to the journal to solve them. I did most of them but skipped a couple. FUN FACTOR: Overall even though this has a few flaws I still enjoyed the 3 1/2 hours I spent playing this but I must say seemed longer than that. I'm quite satisfied with the game length. This was well worth the use of my punch card coupon code. This for me had a lot to do and places to go. Also while the ending definitely does come to conclusion and isn't necessary however looks to be open for a sequel. Whether or not there will be one time will tell. Thanks Big Fish and Developer for an overall good game. Truth be told I found this to be better than most of the CE games you've released here lately. A 4 stars from me. It's nice to see a stand alone SE with no bells or whistles that being achievements/collectibles and especially them animal helpers. A HUGE KUDOS here for NO animal helpers. More SE releases like this one Big Fish... PLEASE!
April 23, 2014
Not Going To This Camp!!!
Based only on the trial, yet good enough for me to buy! First of all I am a fan of the Devs, they do turn out quality game after game and yet not always a blockbuster at that. There just seems to be a certain subtlety about the way they do things that deviates from the norm. I like that, it makes for individuality versus competition. Now on to the game itself. Wonderful full screen attraction, graphics good for the most part but in spots seemed grainy. I was not put off by that because combining it with the music seemed to create the atmosphere the Devs wanted to impart. Lots of HOS and Puzzles but a variety in the challenges for both. Storyline not new particularly but presented in a way that captures your attention and wants you to go forward. To me just a wonderful SE game without the bells & whistles and yet has the ability to pull you in. Don't pass this one by.
April 22, 2014
Fun Hidden Objects Game
Good time passer. Hope I am able to finish this before to long. Graphics are good but sometimes it takes a while to find the objects that you are looking for. A little more light on the locations would be a help.
April 24, 2014
Decent
I am more of a TM girl, but I figured I would give this hidden objects game a go, not bad. I don't play Hidden Object games because I have the tendency of getting bored with them very quickly, but this game is pretty decent, there isn't a lot of dialogue which I like, it wastes a lot of time sometimes.
April 23, 2014
Great game!
There's some areas of the game that needs some fine tuning such as in the begining when you are trying to locate the 'plane' in the back of the ute, it took me five minutes to be able to click on it before the game realised I had the right object. Otherwise, the game is pretty good, great storyline!
April 22, 2014
Good game
This is a fairly simple and fun game. It is long, too, with many locations. The story is good and is well-told with a journal. The HOS are simple and the puzzles are mostly the usual. There isn't a map, but you really don't need one. The HINT button works well, but it is a slow charger. There aren't any bells and whistles, but the game is well-designed and fun to play.
May 14, 2014
The Apple logo is a trademark of Apple Computer, Inc.