Royal Detective: Queen of Shadows Collector's Edition
Exclusive
Princess made some mistakes in the past, not always using her magic for good. But she's made amends, and that's all forgiven now. She has finally found her mother after five long years. But just as Princess runs to embrace her, a band of thuggish trees kidnap her mother!

You're the royal detective she came to know so well, and you're Princess' only hope. She's still just a girl, and her magic isn't quite strong enough to defeat the villain who's taken her mother. Help reunite them – and uncover a devious plot by an evil king and his brothers!

This is a special Collector's Edition release full of exclusive extras you won't find in the standard version. As a bonus, Collector's Edition purchases count toward three stamps on your Monthly Game Club Punch Card!

The Collector's Edition includes:
Capture the sacred water and bring Razillion back to life.
Win awards for your greatest achievements.
Collect all 22 trading cards for extra prizes.
Get elegant music, screen savers, wallpapers, and concept art.
Game System Requirements:
OS:

Windows XP/Windows Vista/Windows 7/Windows 8

CPU:

2.5 GHz

RAM:

1024 MB

DirectX:

9.0

Hard Drive:

1209 MB
Game Manager System Requirements:
Browser:

Internet Explorer 7 or later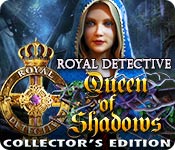 The Big Fish Guarantee:
Quality tested and virus free.
No ads, no adware, no spyware.

Reviews at a Glance

Royal Detective: Queen of Shadows Collector's Edition
0
out of
5 (
0
Reviews
Review
)
Customer Reviews
Royal Detective: Queen of Shadows Collector's Edition
50
50
nice
niiiiiiiiiiiiiiiiice game i hope more games
May 10, 2014
Extremely Short and Sweet
I thought the game was very mediocre. The story has a lot to do with liking or disliking a game for me. This story seemed to have many loose ends and the ending, both game and bonus were abrupt. For the price, and I paid the full price to play the entire game, was over within two hours max, and that was with a few interruptions on my part. It was as though the developers were in a rush to hurry everything along. There are Collection Editions that are worth the 13.99...this should have been a 6.99 game since the length and breath of it was of a very short duration. I was amazed when it ended and regret that I expected more out of a CE. You do not get a little more.
May 1, 2014
What is going on?
1. Yes, I am probably in the minority about my opinion of this game but I wouldn't be doing my 'job' as a reviewer if I didn't give an honest reporting of this game. 2. There are no spoilers - everything I mention took place during the hour demo. So, please don't shoot the messenger. I understand this is a sequel to "Royal Detective" which I did not play and maybe that's where my confusion lies. The gist of the story is that you are a detective summoned by "Princess" who states she finally found her mother and when she hugged her, the mother was ripped away from her. Please help. I would recommend this game for beginners - really. Someone who has never played a game in their lives. WAY too much handholding. You have a map that can transport you from one site to the next and indicates where you need to do something - but why? If you click the hint button you also get transported to the next site - no brain waves involved. Redundancy in the extreme. And what is the point of your being there really? Obviously the Princess or ":Princess" (is she a Princess or is that just her name?) has loads of magic, so why can't she find dear mom herself. She's everywhere - magicing up the whole game. Confusing - why am I here again? And what's the point of the willow-the-wisps that you collect with a soul catcher but all you do is collect them in this magic bottle and put it on a shelf, the statues are brought to life but that ended rather quickly as they got dashed apart by tree creatures within seconds. There are also 18 dragons you have to find which, again, are easy to spot because they morph. Just look for the BIG morphing object and when it turns into a dragon, there you have it! I wonder at the length of the game because I collected half of the dragons during the demo - so I'm thinking this is a short game. Definitely not a length worthy of a CE price. The game lacked cohesion. Everything happened so quickly in that short little hour - half the dragons found, willow the wisps collected - statues brought to life - and on and on and on. As I mentioned above, there is too much hand holding and redundancy. It just wasn't fun at all and I was glad when the demo was over because I'm not sure I could take any more confusion - and the rapidity of the game play was enough to make a person dizzy. Maybe I needed to play the first game (which came out a whopping 2 years ago) to better understand this sequel. But based on all the above I can't in all honesty say I like anything about this game. This Glam-ma says you actually might regret the hour you lose playing the demo but it's free, you should try it. However, I don't recommend it at all.
May 1, 2014
Absolutely ZERO challenge level
I played through the entire demo, although I wanted to quit within the first ten minutes. I thought the first Royal Detective was wonderful. This game leaves me shaking my head in wonderment. I'm not sure who this game is geared towards. It is SO easy, even on the most difficult mode, it's ridiculous. The mini games are pathetic. C'mon... a paint by number (that you don't even have to do anything but click to change the color?). The HOS were massive junk piles with a few interactive items thrown in. The character being named "Princess" was plain annoying (I know, picky, picky, but true). Not only do you get a jump map, your yawning skeleton hint button also transports you. No brain cells required. There are quite a few scenes that I felt I was looking at the same scene from the prequel to this game. The collectibles and achievements are not enough to warrant this game as a CE. It appears to be a very short game also. This is a no purchase for me in CE or SE form. I will support smaller developers who can at least put out a game with some challenge to it.
May 1, 2014
Royal Detective: Queen of Shadows Collectors Edition
Was so excited when I saw this game, as I really loved the first Royal Detective. It was a disappointment from the beginning. The graphics and sound were nothing like the first game. No rooster! Princess is not likeable. The games were poor, and it was so short. Why spoil such a good idea Elephant Games. I used to love all your games but lately they have been a rip off. This isn't worth a collectors edition, don't waste your hard earned money.
May 2, 2014
Same Old, Same Old, Rehashed Game
Based On Demo: Another abandoned child who finally finds her mother only to have mom snatched away again. Bring on the dragons, fairies & statues that need to be brought to life. Y A W N & B O R I N G. Graphics: BLUE is the only way to describe them. Usual murky colorization & not realistic at all. VO: Princess sounds like a over the top drama queen. HOGS: Usual messy junk piles with minimal interaction. I never did find any of the morphing dragons. Subpar & not distinct game play. At least you can teleport with the hint button since there is so much back & forth & the SKULL yawns when the hint button is recharged. My recurring question is always, when or when are the devs going to come up with some new ideas for games? Not soon enough from what I am seeing.
May 1, 2014
what a disappointment !
After waiting years for a new Royal Detective game I couldn't even finish the demo. I had to go back and replay some of the original to put my finger on what was so special about the first game...... Missing in this game was..... a wonderful storyteller with the most wonderful narration and voice, the humor ! with the statues coming to life, and I think the original was the first time I was ever presented with a helper (in the form of a rooster also come to life from a weather vane). Have to agree with a reviewer who said it looked like the developer took a step backward instead of presenting us with something new in the form of gameplay (especially the BORING HOs..when will they become creative??) This is a no buy for me... not even as an SE..... yawn !!
May 3, 2014
same old same old
time for bed this game puts you to sleep . Maybe we can play police for big fish to fine out why it's giving us a lot of reruns and nothing new from the beginning to the end of the game. this game freezes the hint button takes to long and its kind of dark(the back ground)
May 2, 2014
One too many
I liked the other games in this series, but this one is a real stinker. There is absolutely nothing good about this game. The artwork is OK but not above average for games these days. VOs are poor. The story is dumb. Gamer play is the same-old. I could not even stand to compete the demo.
May 3, 2014
just so-so
This game was a few hours entertainment but definitely not their best effort, and really not worthy of CE status. The good: Interactive map Music sound effects Number of achievements The notsogood: Both regular and bonus play MUCH TOO SHORT - about 3 hours to complete both Collectibles very easy to find Gameplay too simplistic (I'm not an "expert" gamer. I usually play in casual mode.) Maybe it's just me, but the female characters in the cut scenes seemed kind of odd/yucky looking. Not the worst, but not among the best. I you like the demo, recommend SE. The CE is really not worth it.
May 18, 2014
The Apple logo is a trademark of Apple Computer, Inc.