Royal Detective: Queen of Shadows Collector's Edition
Exclusive
Princess made some mistakes in the past, not always using her magic for good. But she's made amends, and that's all forgiven now. She has finally found her mother after five long years. But just as Princess runs to embrace her, a band of thuggish trees kidnap her mother!

You're the royal detective she came to know so well, and you're Princess' only hope. She's still just a girl, and her magic isn't quite strong enough to defeat the villain who's taken her mother. Help reunite them – and uncover a devious plot by an evil king and his brothers!

This is a special Collector's Edition release full of exclusive extras you won't find in the standard version. As a bonus, Collector's Edition purchases count toward three stamps on your Monthly Game Club Punch Card!

The Collector's Edition includes:
Capture the sacred water and bring Razillion back to life.
Win awards for your greatest achievements.
Collect all 22 trading cards for extra prizes.
Get elegant music, screen savers, wallpapers, and concept art.
Game System Requirements:
OS:

Windows XP/Windows Vista/Windows 7/Windows 8

CPU:

2.5 GHz

RAM:

1024 MB

DirectX:

9.0

Hard Drive:

1209 MB
Game Manager System Requirements:
Browser:

Internet Explorer 7 or later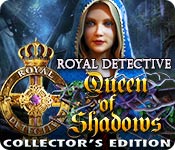 The Big Fish Guarantee:
Quality tested and virus free.
No ads, no adware, no spyware.

Reviews at a Glance

Royal Detective: Queen of Shadows Collector's Edition
0
out of
5 (
0
Reviews
Review
)
Customer Reviews
Royal Detective: Queen of Shadows Collector's Edition
50
50
Let's Get These Statues Up And Running Again!
Selena knew that her daughter was doomed to die at birth so she asked Rizallion, an elf and sorcerer, how to find the Tree of wishes. Rizallion agrees but she must give him one thing in return, and that one thing may be a price she cannot repay! This is a wonderful sequel to The lord of Statues which I loved, there are 22 trading cards to earn, achievements and my personal favorite, 18 morphing little dragons of all shapes and sizes. There are several modes of difficulty from Casual to Detective mode which gives you nothing, really nothing, no hints, skips, sparkles, and the cursor doesn't even change! I will say though that this game is pretty easy to play, everything seems logical. Not only do you have giant statues coming to life, but you get a skull who has to chomp his wandering eyes as a hint icon, he claims to be the former City Keeper, but that's a long story. Selena's daughter Princess (obviously she made that deal) has been searching for for her mother for 5 years, now that she has found her she has asked for the Royal Detectives help in freeing her mother, but this task cannot be done until the statues have been awoken! There are interactive list hidden object scenes and a ton of interactive areas in each scene such as catching whispy wisps and freeing trapped souls but it does mean a lot of back and forthing, there is a good map that can be used to teleport you if that bothers you. I really enjoyed the mini games, in my opinion there could have been more, but the one I liked the best was guiding a character around a map of sorts and figuring out what stops he need to make in order to complete the tasks at hand such as giving a beer to a guard but the brewery needs grain and there are wolves everywhere and I found this game quite fun. I really don't think it matters if you haven't played the Lord of Statues but you might want to revisit that game as well, enjoy!
May 1, 2014
Become The New Lord Of Statues!
BASED ON DEMO FIRST IMPRESSIONS It?s a good opening. Young girl running through the dark woods. Stops, stares, ?Mother!?, reaches for the woman she has been searching for, for 5 years... and she is snatched away. This sequel to the fabulous Lord Of Statues promises to be as least as good. SIGHTS & SOUNDS I have run out of words to describe the awe-inspiring artwork we are seeing these days, especially from this developer. So I won?t try to say more than it is truly magnificent, as you?d expect, and there is no down side. The music is also breathtakingly lovely. In particular, one track with a piano lead that sounds like a love song waiting for lyrics. The background sounds are wonderful too. Voiceovers, superb. I am particularly fond of the skull?s echoing and resonating tones. WHAT?S HAPPENING? You don?t have to have played the first game of the Royal Detective series, Lord Of Statues, but the game assumes you have. You have received a cry for help from Princess, who you last saw in that game, then aged maybe 7 or 8 years old. It is 5 years later, and the teenager has finally found her mother, who has now been kidnapped. You meet her at a strange and magical city, and are greeted by a skull. He is the spirit of the city?s keeper, and your new hint. Princess herself has a good grasp of magic these days, and a fair idea where her mother might have been taken, so you follow her lead. Then some.. thing... attacks her in the forest. This is shaping up to be a dangerous case. It is also a much darker story than the first, where skeletons and war and evil magic abound. Back story is delivered in mini-game format. The first requires you to paint (by code) an image. The second is a panorama-style game where you must get your hero from home to the castle past many obstacles. The third has you playing a series of align the parts of the image game ? usually used to define star constellations. Each time you progress, another piece of the story is revealed. GAMEPLAY The gameplay is the familiar: HOPs searched by interactive list, and an array of puzzles both known and unknown, varying degrees of difficulty. There is no journal but there is an interactive jump map that gives you active tasks, and a hint system that tells you your next move and takes you there. There are 4 levels of difficulty, and 6 chapters, of which the demo covers 2. There are also some differences. For example, we get a fire dagger early on, which so far we?ve been able to keep. Likewise, we receive a magic book, and a magic gauntlet, both of which will be used many times during the game. (I believe, based on the evidence of the demo). We receive magic items that can gather hidden objects within the locations that have been previously indicated (I feel a ghostly presence here), but invisible. These mini-collections are small, 5-7 objects, and the vessel disappears once it?s been used. There is a significant amount of this sort of activity. CE BLING! The gallery items include: wallpapers (good, not just screenshots) x12, concept art (saveable and some really fine looking samples) x14, music x 5, screensavers x3. There are roughly 20 achievements, all performance based. There are also 25 collectible ?little dragons?. In the collectibles room, there is also an album with 12 spots for something I didn?t identify in the course of the demo. No replayable mini-games or HOPs. Bonus chapter and Strategy Guide. COMBINED IMPACT Wonderful! Magical! Loved it! A worthy successor to "Lord Of Statues", though darker.
May 1, 2014
Help the Princess find her mom!
You are a detective who's been summoned by the Princess you helped 5 years ago. She's finally found her mother, but unfortunately, mom has been kidnapped by some rogue trees that seem to be everywhere in this story. Good thing you have your trusty fire knife that burns up trees and roots and things! Somehow, this is connected to Selena, a woman who foresaw her daughter was doomed to die at birth, and decided to get help from the Tree of Wishes. And then there's the evil sorcerer Rizallion, an elf who killed his brothers so he could be elf king by himself, who is also connected to the Tree of Wishes. The story is a bit complicated, I think! Anyway, the art is beautiful. The voice-overs could be better and the lips don't move, but the kingdom and its inhabitants are great. You get a magical glove that lets you overcome magical force fields, just in time to outfit a skeleton warrior. And a magic Book of Life that lets you bring statues to life, after you find all the missing body parts and weapons. The HOS are all lists with minor interactions. But the mini-games are quite clever, fitting in gracefully with the storyline. My favorite is the storybook one that requires you to walk the prince to the castle, visiting the tavern and the mill and finding a sword to kill the wolves on the way. And once you get to the castle, you still have to figure out how to get onto the throne. Then there is the will o' wisps challenge, that makes you align parts of a puzzle in order to tell the story of Rizallion in greater detail. The teleporting map is a great help. The hint button is a skeleton's head that yawns when he gets bored. There are little dragons to collect, and morphing creatures, and achievements, plus 4 modes of play. This is a clever game that makes you want to find out the rest of the story! Try it and see!
May 1, 2014
Just beautiful
Gorgeous game, I was so looking forward to it after having played the 1st one Lord of Statues 4 times. It surely does not disappoint. Wonderful graphics, the depth of the lighting and shading, especially on the little root guy, you can see every detail of the bark, is just beautiful. I really love this game so far. HOGs and Minigames are also fun to play. You have your collectables and morphs. Once the skull spoke to me which will be your hint button I had to have this game no matter what. Too funny when as he is speaking one of his "eyes" floats out of the socket and he snatches it back up with his mouth. It is the little extras, like this, that makes it want me to buy it and play forever. Lot of thought and imagination went into this game. Characters are very well done and the story must go on......I have to find out. Great job again Elephant
May 1, 2014
I absolutely loved it!!!
Your mission is to save Princess (Selena's daughter) from the sinister Razallion, an Evil Elf. You will encounter tons of challenges during the quest. Help button from a skull with a detached eye, a Golem who digs treasure, a magic book of life, and Statues who battle evil. Gorgeous graphics, puzzles, ho's and collectables. 18 dragons and 22 cards. The story is unique with a shocking revelation Razallion has. This CE is a must buy. The story ends abruptly and answers are only revealed in the bonus game play. 5 1/2 stars. Thank you Bigfish.
May 5, 2014
Top Game
I absolutely loved playing this game.The first Royal Detective was great but I love this one better. Its one of those games that has everything. I highly recommend it!
May 16, 2014
I went right back in and I'm playing it Again... loved it
Great story, graphics etc. Oh, and if you were to play again. I did not get all the morfing dragons the first time and went in again and played and they werent there... I had to DELETE the first profile and start a new one with my name again..... Nothing I can say was lacking in this game...
May 16, 2014
SCARY CUT OH SO CUTE TREES
SUMMARY: A lot of things to do in a slightly muddled story (which is hopefully cleared up by the end of the game). Gorgeous graphics and creative characters. Nice voice overs. Good use of animation. I'll get the SE because I think the CE just misses. If there were more collections or morphing objects, I'd be tempted to go that way. STORY: You are a detective who wants to help Princess once again recover her mother. Princess and Mom met for a few second when Mom was suddenly whisked away by the trees. You have to get to the Tree of Wishes in the forest and only Rizallion, a powerful sorcerer, can get you there but only in return for a promise. I sometimes found the storyline a little befuddling, but not enough for it to lose its shine. GAMEPLAY: Lots to do and challenges to be met. You encounter numerous force fields which require magical weapons to penetrate. You also encounter several tree manifestations who try to impede your progress. There are plenty of the usual tasks/puzzles to solve as you move forward to find the Tree of Wishes. HOS and PUZZLES: Largely an adventure game, so there are not a large number of HOS. They are crowded, but detailed and list-based. Puzzles to continue on your way are plentiful. A fair number of interesting mini-games that are fun to play. OTHER STUFF: 4 volume and gamma control; 4 difficulty modes; skeleton head who is the keeper of the city is your hint system, which shows you were to go and teleports you if you choose. Animation is wonderful and the color palettes used in the artistic design are really good. Artists were very creative in building various characters composed of entire (or parts of) trees. Ex: tree log with spider legs. Very cute, though you knew they were sinister. CE has morphing dragons and achievements (most of which are gained through normal gameplay). Also has the bonus game and the usual extras of wallpapers, et al. I really like morphing objects, but I didn't there were enough to make me want to buy the CE.
June 4, 2014
Just my style. !!!!!
It was a short game for me. I give it a lot of time to pass the time. Some are so good like this one. Boy is it hard to leave the game. I don't know if is possible for a longer game. Enjoy everyone like I did.
May 2, 2014
Couldn't Be Better!
I really enjoyed this game. I see that other commenters have pretty well described the characters and story line, so I won't go into that. The art work in this game is awesome, loved the music (I don't always listen to game music), I liked all the sound effects, and it's not all dark and gloomy like so many games are these days. What darkness there is isn't so dark that one can't see, so that's a plus. The HO's are interactive, and not too hard to find, but I did wonder at the fact that one of the objects was a phone, which were not around in that day and age. I like the objects to fit the time period, but that was no biggy. It has a good map, which is a big plus for me, you can jump from place to place and it shows where there is action to do. I don't mind the going back and forth if there's a good map. Some of the mini games are new, I did skip some that were old hat, so to speak, but I especially liked the one where the person has to travel to the palace, and the one that you had to paint; I like these types of mini games more than the usual ones, like, having to move objects to a particular place but when you move one the others move as well; I have no patience with those types so I usually skip those. The length of the game was just right, but I was taken aback by the ending; it ended rather abruptly, but the bonus game ironed that out. I did like the characters, and was glad to see the direction they ended up in. All in all, a very good game and I look forward to another with these same main characters. Enjoy!
May 27, 2014
The Apple logo is a trademark of Apple Computer, Inc.