Royal Detective: Queen of Shadows Collector's Edition
Exclusive
Princess made some mistakes in the past, not always using her magic for good. But she's made amends, and that's all forgiven now. She has finally found her mother after five long years. But just as Princess runs to embrace her, a band of thuggish trees kidnap her mother!

You're the royal detective she came to know so well, and you're Princess' only hope. She's still just a girl, and her magic isn't quite strong enough to defeat the villain who's taken her mother. Help reunite them – and uncover a devious plot by an evil king and his brothers!

This is a special Collector's Edition release full of exclusive extras you won't find in the standard version. As a bonus, Collector's Edition purchases count toward three stamps on your Monthly Game Club Punch Card!

The Collector's Edition includes:
Capture the sacred water and bring Razillion back to life.
Win awards for your greatest achievements.
Collect all 22 trading cards for extra prizes.
Get elegant music, screen savers, wallpapers, and concept art.
Game System Requirements:
OS:

10.9/10.8/10.7/10.6

CPU:

2.5 GHz (INTEL ONLY)

RAM:

1024 MB

Hard Drive:

1182 MB
Game Manager System Requirements:
Browser:

Safari 4.0 or later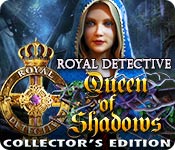 The Big Fish Guarantee:
Quality tested and virus free.
No ads, no adware, no spyware.

Reviews at a Glance

Royal Detective: Queen of Shadows Collector's Edition
0
out of
5 (
0
Reviews
Review
)
Customer Reviews
Royal Detective: Queen of Shadows Collector's Edition
49
49
Again?
Once again it's all here: artwork, music, HOS, mini-games and a story. And I'm just not in to it. Yes, Princess is back. And this game plays much as the original Royal Detective: The Lord of Statues did: little logic and lots of running around. Four levels of difficulty, morphing objects, and the usual imaginary storybook kingdom, this time with lots of skulls and skeletons. The Map is interactive, thankfully and there is a cliff hanger to the game trial. There is nothing new, innovative, or cutting edge here. You start out with decent animation and loose it quickly. The music is fine in very tiny doses. There is a lot more story included in this trial, for which I am dually grateful. I would have been more grateful if it was not dark, depressing, and did not look like things would get worse. I won't be paying CE prices for this one, so I can't recommend it. The game was interesting enough that I may try again with the SE. I did like the original game, Royal Detective: The Lord of Statues, much more as an SE. Please: try before you buy.
May 1, 2014
The Royal Detective Should Have Stayed at Home
It has been five years since you found out the truth about Princess in the first Royal Detective game, and now Princess is back in quest to save her mother once again. Since you are the only one who can help her, Princess calls on you in her time of need. Wonderful detective that you are, how can you resist helping a damsel in distress? So off you go on what soon becomes a less than exciting adventure to help Princess save her mother. The graphics are very good as is typical with Elephant Games. The artwork is stunning if somewhat dark at times. In fact the whole game seems graphically much darker than in the first Royal Detective Lord of Statues. There are also excellent voiceovers and live actors. What is odd with this game is that in the beginning cutscene we have lip-synced voiceovers and then the game reverts to the usual no lip movement dialogue. I know this game has been in development a long time and it seems like the artistic team only added the lip-syncing in the initial cutscene after the first beta was released and that it was too much trouble to go back and change all of the programming in the entire game. My comment makes it sound as if I am obsessed with lip-syncing but lip-syncing is included in almost all of the more recent games, and it seems lazy that a leading developer such as Elephant would not add this extra touch to their games. Along with the voiceovers the overall soundtrack is excellent and that includes a terrific musical score. As you begin the game and arrive at your destination, you will receive a talking skull, whose voice is so resonant and deep that I was thrilled, and he soon becomes our hint button. Again in a move that seems a bit lazy, we do not have a journal, which I miss in a game because I often use it to keep track of some important detail that I might miss. Even though there is no journal we do have a transporter type map that in allows you to teleport to locations of interest. At the beginning of the game we also receive a magic knife that helps us in certain situations. The HOPS are the traditional list type that the Elephant includes in its games. Nothing too different but I did find some items extremely difficult to find. The puzzles in the game are the ones this developer includes in in all of its games so there was nothing different or new that I saw. This developer has joined with BFG on most of its F2P games and thus their attention has been diverted so it doesn?t surprise me that the quality of this CE is so much less than former ones from this team. It seems like the game has been sitting around for quite some time and the developer finally got some time to finish it and just threw it together at the end and as a result it is a game that is really not up to the standards of the previous game in the series. Given my previous comments you will not be surprised that I think there is very little worthwhile CE content in the game aside from the included SG. We do have achievements to earn and the some collectible morphing little dragons to find that will earn you an additional achievement. Overall the game is good but really gets off to a slow start and I reached the end of the demo before it started to grab my attention and even then it wasn?t a game that I felt I had to have. I was amazed by the first Royal Detective Lord of Statues but this second game in the series is much darker in graphics and seems to lack pizazz. I would have to say that in fact I found it boring. As always, I recommend that you at least try the game demo because you might have an entirely different experience than I did with the game.
May 1, 2014
Dissapointed with Elephant games for the first time !
I always have very high expectations when Elephant Games come out, but for the very first time I wasn't impressed - I was bored. Yes the Visuals are eyeteasing, and there are some nice mini-games and morphing collectibels, but the gameplay was ridiculous; Pick up some items, do a task and run back for six souls (one in each location# and put them back where you found the "soul-pot". Then pick up a few items, do a task and run back to pick up some wasps #one in each location)..... It was boring and even though the statues were well thought out they didn't really add anything exiting to the gameplay itself. The demo ended after 38 mins and I had already found half the morphs - very dissapointing as Elephant usually are good for at least 5-6 hours of gameplay in the maingame. Elephant games have been my favourites for a long time now, but I won' t be bying this one. Maybe as a DD I'll recommend this game to beginners
May 1, 2014
Disappointing...
Hello all. We have another line in the Royal Detective series. Yes, I have the other two games listed today already. I'm not sure what is happening with Elephant, but the quality of the games is going down for some reason. The graphics in this one is okay, but a little dark and fuzzy in some areas. Colors are bright for the most part. Game play was good, no problems at all. Voice overs were good when you had them. This is a very quiet game, with not much in the way of sound FX or dialog...even the music is very quiet and sparse in most areas. There is a jump map, but not a very good one. When will the devs listen and make a map easier to follow? There is no area on the map that is identified by name, so you better remember what an area looked like if you plan on getting back there. Yes, it does show that something can be done in a particular area, but that isn't the point. The SG is the usual and is helpful, but some instructions are a bit cryptic. Again, it does not tell you what location to go back to, just to go back 5 steps. Guess it is because the map areas are not identified by name either. Instead of a helpful little animal, you have a helpful fire dagger that burns through certain things blocking your way, e.g. ropes, trees, vines., etc. HOPs are a little junky and very cluttered, with some items being very small, and some of the colors were more monochrome, which makes items more difficult to make out. I found my eyes getting tired very quickly. Puzzles were not difficult and as you played them, they gave you more insight into the story. This was nicely done. The game seemed to pick up more when I started putting the statues together. There was more action, so hopefully it continues throughout the rest of the game. There are a lot of achievements, same old same old and collectibles. The only one I found was the 18 morphing dragons. They do not stand out and you can only grab them when they are in morph mode, so be on the lookout in every scene. I only found 8 during the demo. I'm on the fence with this one, so I will put it in my puddle and think about it for awhile. The game is not particularly challenging and needs some real clean up, but I did like the story and I have hope that it will continue to pick up as you play. I would, however, recommend this for a beginner. As always, try it for yourself and see what you think. We all have different tastes in games and you may find this one to be exactly what you are looking for. Thanks for the reviews.
May 2, 2014
Ho Hum.... Another mediocre detective game
I have to say that I was really disappointed in the overall quality of this game. The graphics were OK, but I found the 3-D aspect of the characters to be clunky and the facial proportion of the supposedly beautiful women made them rather masculine in appearance. I also found the characters to be completely unsympathetic. It was really hard to care what happened to them. The puzzles were very good and there were some new puzzle concepts. Unfortunately, the directions for the puzzles were not at all clear. In addition, the Strategy Guide was not very helpful. Add to that a story which really makes no sense at all and I really cannot recommend spending the money for the CE of this game
May 2, 2014
Slapdash Sequel with Unfinished Ending
I really enjoyed the first RD: The Lord of Statues. Unfortunately, this sequel was less thoughtfully designed and easier to play. I'm glad I bought this with a coupon instead of paying full price. I thought the storyline had a lot of potential, but wasn't fleshed out properly. There should've been a few seconds spent on catching the player up on who the girl is (referring to the first game). I found her to be annoying after a while too. The other character's histories are revealed a little at a time, which is nice, but in such a way as to be able to guess some things about them which kind of ruins the fun. It also features my number one pet peeve with game design....an unfinished ending!!!! In this case, my irritation is two fold. First, the ending is very abrupt. At least the designers could've panned out for 2 or 3 extra seconds to process what happened. Second, players won't see the real end of the story unless they buy the CE and play the bonus game. That tactic makes my blood boil! Then we circle back to my first issue because the ending of the bonus game is just as abrupt as the first!!! Pros: 1. Nice graphics for game play. 2. Interesting storyline, if a little problematic. 3. Collector items. There are morphing dragons during the main game and collector cards during the bonus game. 4. Interactive map. The map shows areas for actions needed, and lets you jump to different locations....which helps a lot later. 5. Several difficulty levels to choose from. Cons: 1. Movie graphics. I thought the animation looked a little like we were under water. The clothing didn't flow right and the characters moved oddly. Worse than that, the animation didn't match the graphics in the game. It felt a little disjointed. 2. Voice overs. I'm not a fan of voice overs, and this one has a lot. 3. The statues were used in the game, but lacked the intrigue from the first game. IMO, this is what makes this series unique and fun. 4. Instructions for a couple of the minigames were too vague. It took a while to figure out how to play. 5. Abrupt endings! 6. Short game play. I finished this one in about an hour and a half, with interruptions. I recommend this one, with reservations. Don't bother with the SE, and only get the CE with a coupon. It isn't worth paying full price, but it is a nice down time diversion.
May 8, 2014
ehh
I usually play all the new Hidden Object games, especially the Collector Editions because I love the extra play and bonus features. This game though, not a huge fan. I didn't especially like the storyline, the mini-games were somewhat confusing as I wasn't sure how to solve them, and the HOS were sometimes sluggish. I always achieve the 10 items in 10 seconds but for some reason, my mouse icon would not move fast enough. I'm fairly certain the sluggish-ness (is that a word?) wasn't due to my computer. Overall, the game was OK.
May 16, 2014
good, but with some annoyances
Nice graphics, decent puzzles, HOs were fine, but what's with no names for the characters? "Princess"? No name? And somewhere in the dialog over a video, Rizallion was just called "Elf" instead of his name. It was as if someone didn't finish checking the text after the translation to make sure they finished it. I don't think it was a good move from a story-telling point, as it's easier to engage with characters with names than just "elf," "goblin," "Princess." What really did annoy me, though, was the magic grille-work on the gates after we woke Princess. The grille looked waaaay too much like Tolkien's drawing for the Doors of Durin, and I didn't like it. I know, imitation is the sincerest form of flattery, but some things just shouldn't be "borrowed" like that.
May 6, 2014
nice
niiiiiiiiiiiiiiiiice game i hope more games
May 10, 2014
Failed to succeed the first game
The second game in the Royal Detectives series by Elephant Games ------------------------------------------------------------------------------------------------ It's been so long since the very first Royal Detective was released, and the second one returns with a vengeance, or does it? The story apparently continues from the first game (it's been years since the Lord of Statues that I forgot already what the story is about), and this time you are supposed to save the princess mother and in the end you also have to save princess herself. I think the princess is whiny and spoilt, kind of annoying.. There are 4 levels of difficulties. Map and hint is useful, but I don't really use the map because the hint itself can transport us to places. HOG games are easy finding objects on the list and puzzles are moderate. Your collectibles are dragons, they may not be visible first time but when you return back on a scene, it will be there. There is almost no VO, not much background music. The scenery is still wintery, not as heavily like the first game, but still a good to be played on a hot summer day. Bonus contents unfortunately have nothing special on it so you can skip it. I like Elephant Games so this game is still a buy for me, but this game overall a bit failed to succeed the first game. I will suggest you buying the SE instead,as there's no much CE worthy in this one except the main game itself. This is the very first time I don't recommend a CE from Elephant Games, but I suggest you also to try the demo and see whether you like the extras..
June 22, 2014
The Apple logo is a trademark of Apple Computer, Inc.
The Windows logo is a trademark of Microsoft, Inc.