The Beardless Wizard
An evil scientist has kidnapped a kind, old wizard! As the magician's young apprentice, you might not have a beard, but don't let that stop you from defeating the wicked Oyzo and rescuing your master! Time will be of the essence as you travel through a magical land completing quests for the many amusing characters you meet along the way. The faster you work, the greater your reward will be! The challenges you face won't be easy, but your ability to morph into a giant stone golem, a dragon, or a ghost will give you the edge you need! Level up each character and assign them special skills, allowing you to build, harvest, and repair more efficiently. The journey will be fraught with obstacles but also filled with laughs. Begin your next great adventure today!
Collect magic artifacts and brew potions!
Become a golem, a dragon, or a ghost - you choose!
Dozens of achievements to earn and secrets to reveal!
Game System Requirements:
OS:

Windows XP/Windows Vista/Windows 7/Windows 8

CPU:

1.6 GHz

RAM:

512 MB

DirectX:

9.0

Hard Drive:

456 MB
Game Manager System Requirements:
Browser:

Internet Explorer 7 or later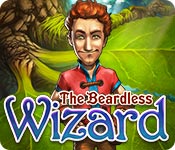 NEW299
The Big Fish Guarantee:
Quality tested and virus free.
No ads, no adware, no spyware.

Reviews at a Glance

The Beardless Wizard
0
out of
5 (
0
Reviews
Review
)
Customer Reviews
The Beardless Wizard
28
28
Fun, Fun and more Fun
I am giddy with delight over a fun TM game. All the resource gathering elements that we have grown to expect with a very fun twist. I am loving this game!!!!
April 24, 2014
Different, and Quite Nice
I was not sure, seemed so child-like... I love it, bought it... You decide..
April 23, 2014
Fun TM game
This is quite a nice, if not busy, TM game. It's very different from the usual just "collect wood and food" games. You can change your character, collect artifacts, make potions, meet new people along the way and help them in their tasks. There IS a lot going on in the game. There is not a relaxed mode, however, you can keep playing after the timer runs out. The characters do NOT speak, thank heavens. This is a possible buy for me as I do love TM games and this one is quite refreshing.
April 23, 2014
I liked it
I like TM games, although this is not really my favorite style, I would be happy to add this to my collection. The colors are bright and clear. The music is pleasant enough. No VOs which is a plus, since this type of game really doesn't need it. You have a choice of characters to switch back in forth between as you progress, because certain tasks demand you to switch. You are able to level up your character, to better their performance with little perks. There are also alternate levels that can be unlocked. It is timed and I have found it challenging to get gold and silver stars for the level. You can still play to the end of the level even if the timer runs out. You even get a little bit of crafting, though not really that part I found to be less engaging as the actual game play itself. Overall I like it well enough to purchase. And would recommend giving the demo a whirl and I would most likely recommend purchasing, but definitely do the demo first.
April 24, 2014
Timing constraints but otherwise a wizardly good game!
Why do wizards need to conform to stereotypes? This game has two levels of difficulties hard and relaxed, hard is for the seasoned gamer, but even though I enjoy these types of games and have quite a few in my collection, this is tough, even on the earlier levels to master in the ?gold? time limit. I would suggest therefore that it might be an idea to start in the relaxed setting and ?settle in? as it were to the game and all the different tasks and targets needed in order to complete each of the levels. I suggest this as it can be a bit confusing when you first play the game exactly what to do, yes it is along the same genre as other resource collecting games, but there is slightly more to this which whilst good as it adds strategy and a bit more ?excitement? it can initially be slightly confusing as to exactly what tasks need to be completed and by which character. The game does have a storyline but as usual unlike the HO games which are story-driven, this is just the usual, ?boy needs to become good? type of story-line, there is cut-scene interaction and slight occasions whereby the writers have tried to attempt humour, but it doesn?t really fully hit the spot as it were, that said there is nothing inherently bad about the storyline, just nothing out of the ordinary. In the above paragraph I alluded to the fact that it could be confusing with regards for which character to carry out which duties. The main protagonist, the ?beardless wizard?, has an alter ego, in the guise of a ?strongman? this is the character that can mend ?potholes? and do the tasks that require the muscle, other games have emulated this and in my mind it somehow seemed to work better in the other games than this and there wasn?t as much confusion. In this game because on the hard difficulty setting the timings are tight you have to remember exactly which character is to be used in which part of the game. In order to get your ?standard? top-ups with regards to regeneration of trees, food etc quicker you had to collect flowers, which you then gave to the witch who would convert the flowers to potions which would then help you get aforementioned power-ups, again because the flowers were usually blocked of at the start of the game and you had to clear the path to get to them, if you were then playing on the hard difficultly level, it was neigh on impossible to get the three identical flowers that you needed to create a potion in order for you to get the power-ups to complete the level in the ?gold-time?, thus in my mind?s eye a slight flaw within the game. Oddly though if you have collected a potion within that level and you wanted to replay the same level in order to get a better time, you could use the potion gained in that level and use it in the same level, this was a nice ?quirk? but timings were still tight. With regards to the resources this was a game whereby you didn?t have to roll your mouse over in order to garner the goods, but you could thus you would have the goods quicker, but if you didn?t roll the mouse you didn?t lose the resources as does happen in some games. As long as you had enough resources you could ?stack the tasks? which was useful as this meant that your workers were not ?idling? their time away, idol hands are unprofitable hands! There were different tasks within the game which involved combing different resources with different characters in the game in order to drive the game forward, for example in one of the earlier levels you had to place hay for a cow to eat in order for the cow to go to the alter, this was of course after you had cleared all obstacles in its way and ?daisy? could see clearly now! So whilst they were some positives to the game and I will carry on playing (though will have to restart to change to relaxed), there was not really enough incentive for me to try and complete the hard version as even in the earlier levels the timings were tight, thus unusually I couldn?t finish the first few levels with gold time on the hard settings. I will complete in relaxed and will probably enjoy the game as I feel that there was a lot to offer and that the different potions would have elicited different things within the game and I think there would be other characters to unlock, so whilst the game has depth over and above the standard resource collection game, I wouldn?t unless you are very seasoned player of this genre start out in the hard mode, as it may put you off the game for good. Graphics, sound, music are all standard for this genre and bring nothing new, the graphics are not blocky and load times were not too long, another positive for me being left-handed is that this game kept my system settings in that I have configured the mouse to a left-handed person (changed buttons round), and these settings were ?honoured? within the game, you would be amazed how many games don?t do this, it is frustrating to say the least as well as sloppy gamer development. Overall then I know I have been harping on a bit about the timings and whilst I felt they were tight (not that you would have got that impression from this review), the overall game was good and whilst perhaps not bringing anything new or innovative to the genre, what it does do it brings in the better elements of other games in the genre, such as collecting ?manna? to help build gain power-ups, being able to ?stack the tasks?, and having to change characters in order to complete the levels, all good qualities to have in this genre of game as in my opinion it keeps the player interested and ?on their toes? as they have to plan ahead and think about what they need to do in order to complete the level, not as in some of this genre just clear the paths and that is virtually all you have to do. I would defiantly consider purchasing if you are buying as part of a special BF promotion, but if you like this genre then it defiantly worth considering spending a Bonus Punch Credit or Game Credit on, if you are looking for another challenge in this genre I would say that it is worth paying with money the price of the game.
June 8, 2014
Graphics too small. Needs developing further.Enjoyable !
Was put off initially by tiny graphics. LOVED the idea of wizard changing! Needs working on -it could be great. Overall though, enjoyable. Would love more TM games please Big Fish.
April 26, 2014
more intricate than you think at first glance
Your character must build his experience and collect skills in order to get gold at higher levels. As you progress, early levels that you already completed show a new version. I like that each level eventually has 3 versions you can complete. However, I did find bugs in the game.
December 12, 2014
Breadrless Wizard Challenge
I am not usually on the fence with a game but this one rides in the middle for me. I find my self trying to figure out what I am suppose to do. You have to change characters constantly to preform tasks. The tasks to preform are given but the steps in which to achieve them are not (to me). Trying to get through the trial and I was banging my head against the wall. I will finish the trial but I do not think my opinion will change. If the game was more like the Adelantado Trilogy series (which is what I expected.... shame on me) I think I would enjoy it more. Some will love it... some will hate it. Try it and see for your self. Swim on fishes.
April 23, 2014
old time type click and play
This is a fun game ,but the graphics are pretty old tymey. The change of the hero to the golem is okay. The timer runs out, but the game goes on and it is easy to replay the level.
April 23, 2014
Overly complicated but basically OK
This game is one with impossibly short times to accomplish levels, not humanly possible, but fortunately the times mean absolutely nothing. Best bet is to ignore the times and play any way you want because the times mean nothing. I confess that initially I hated the game but I bought it just to write a fair assessment of it. It turned out to be better than my initial assessment, although I ran out of time an every single level after the first two, which I replayed several times each. The Good: Excellent graphics Interesting story and play The Bad: Overly complicated play Times are at least 2 to 15 minutes too short on most levels One collects mana in the game but it has almost no function and simply sits at 100 units all game Spells are short lived and relatively meaningless One is asked to make potions after each level which accumulate into the teens and are useless So I am forced to ask why mana, potions, and spells which seem to do nothing and why can you finish the game without any chance to try more than about 5 spells? Overly complex play spoils an otherwise OK game.
April 26, 2014