The Beardless Wizard
An evil scientist has kidnapped a kind, old wizard! As the magician's young apprentice, you might not have a beard, but don't let that stop you from defeating the wicked Oyzo and rescuing your master! Time will be of the essence as you travel through a magical land completing quests for the many amusing characters you meet along the way. The faster you work, the greater your reward will be! The challenges you face won't be easy, but your ability to morph into a giant stone golem, a dragon, or a ghost will give you the edge you need! Level up each character and assign them special skills, allowing you to build, harvest, and repair more efficiently. The journey will be fraught with obstacles but also filled with laughs. Begin your next great adventure today!
Collect magic artifacts and brew potions!
Become a golem, a dragon, or a ghost - you choose!
Dozens of achievements to earn and secrets to reveal!
Game System Requirements:
OS:

Windows XP/Windows Vista/Windows 7/Windows 8

CPU:

1.6 GHz

RAM:

512 MB

DirectX:

9.0

Hard Drive:

456 MB
Game Manager System Requirements:
Browser:

Internet Explorer 7 or later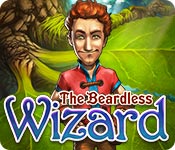 NEW299
The Big Fish Guarantee:
Quality tested and virus free.
No ads, no adware, no spyware.

Reviews at a Glance

The Beardless Wizard
0
out of
5 (
0
Reviews
Review
)
Customer Reviews
The Beardless Wizard
28
28
He Sure Can Get Into Some Hairy Situations!
After Oyzo kidnaps the Wizard (with the beard) Eugene, the wizards apprentice, sets out on a journey to rescue him. This is a Time Management game with some new and unique features. Whenever you see an exclamation point it's time for Eugene to visit the Wizards Nook to learn new skills and improve those skills. These are skills that will help you finish the game faster such as Eugene's ability to run faster, to produce food or resources instantly, and even adding an extra worker for 20 seconds. You will free the Stone Golem, the Dragon and a Ghost as you progress and you can switch between characters, if you need heavy thing lifted or crushed, Stone Golem is the man for the job. Another cool feature is that some of the levels have an alternate that you can choose to play which is the same level you just played but with different goals and tasks. There are still the usual tasks of gathering food, chopping down trees, repairing bridges, and collecting mana etc. but it's really nice to see something new in the TM games, enjoy!
April 23, 2014
Another Resource Management Game
This game is another "collect wood, collect stone, etc" sort of game, but as far as those games go, this is a good one. The timer isn't ridiculously short but there is a good level of challenge, and there's variation in creating potions and casting spells to make your job easier. It also has the unique aspect of letting you change your main character into another creature to do certain tasks, like breaking down heavy stones or moving trolls. The storyline is good and makes you want to continue on to meet the new characters. Although I'm tired of these wood and stone collecting time management games, I liked this one enough to maybe use a credit on it.
April 23, 2014
a fun TM game
Almost missed on buying an excellent game. I didn't look inviting at first but I had a go and after demo I bought the game. Yes, it is an old fashion thing, you collect food,mana etc, but you need to think what you doing and what you collecting etc. After you finish a level you get an alternative level, basically same level but different tasks, and when you finish a chapter you get another surprise. It seems this game lasts forever. it is nothing new in this game but done really lovely and if you like this type of games then this game is for you. I am glad that I gave this game a chance as I am having hours of fun
April 25, 2014
It grew on me!
This is based on the demo, but I plan to purchase this game. At first I didn't really like this game. About 10 mins in and I was tossing up whether to just delete or not. But I made myself go on and boy, am I glad I did! This game is fun! It's a TM/resource gathering/strategy game. If you don't like these types of games then don't both trying it. It starts of simple enough, but you soon have to upgrade your character's skills and then, surprise, you have a whole new character to use (and another one comes up later in the game). As a con, the tutorial is more than slightly useless, which can be frustrating when you just don't know why a character won't do something. BUT then you experiment, and Eureka! you've worked it out. It's actually quite fun to have to experiment for yourself. If you enjoy this type of game, give the demo a go, but make sure you play for the full hour to get a good feel of it. It certainly gets better as you go along.
April 27, 2014
5 STARS FROM ME BECAUSE I'M HAVING FUN !!!!!!!!!
Firstly I wish other players would respect that everyone has a different opinion of the games we play and yes I gave it 5 stars because I am enjoying myself and having fun, however one reviewer didn't enjoy it and couldn't understand why this was a 5 star game. Quite simple really, some players really like it and others like yourself don't. SIMPLE REALLY, DON'T YOU THINK? Now for the game, loving it and having so much fun. First couple of levels was a little confused however doesn't take long to work it all out and I feel the instructions are sufficient unless you're really not too bright. A pleasant, magical theme for a nice change with potions to mix, witches, changing characters when needed and beautiful, colourful graphics. I'm only on level 8 and have bought the game and already the challenge is starting to become slightly harder and looking forward to challenge myself as the game progresses. Definitely has a great fun factor as Eugene the apprentice and friends go of to save his magic teacher and I can't wait for the adventure that lies ahead. So for me personally I am having fun, fun, fun and the music isn't too bad either. Just turn it down if it is a bother. As I always say in my reviews, try, buy and enjoy :) I'm off now for more FUN !!!!!!!!!!!!!!
April 28, 2014
SO MUCH FUN! 5 STAR TM GAME!
Had soo much fun playing it! First couple of levels look like your typical tm game, but then game start to really really grab your attention with it bright and quality visual style, humorous story and mind-blowing gameplay. I think it's quite unique game, you can take a different approach to walkthrough, thanks to abilities of hero. Seriously, guys, where else you can see shapeshifting main hero, who is doing various crazy things? Also it brought to me a lot of joy to play extra levels, which there are plenty of. So, what I want to say is that you definitely shoud play it!
May 2, 2014
This game is so much fun!
I play time-management and strategy games almost exclusively. I have tried hidden object games but lose interest quickly. So I have played many time management games.... I was a bit skeptical at first with this game, but now I LOVE it! The story line is humorous, and the play is very challenging. You have to really think about your strategy on each level. So glad I tried and bought this game!
May 1, 2014
Lovely time management game
I can't wait to get the full version of this one. The story is amusing for adults and children (no worries about content here), I found it challenging without being frustrating and impossible to finish the levels.
May 12, 2014
Fun!
Different from other games in this genre, and that's why I liked it!
April 30, 2014
Best Time Management Game Ever!!!
My favourite type of game is Time Management. Prior to this game my favourite was the My Kingdom for the Princess series. This one is soooo much better! You get to make potions and create objects that help you along the way. I am totally addicted, I Looooove it!
May 30, 2014