Nightmares from the Deep: Davy Jones
Brought to you by Artifex Mundi, the creators of the Enigmatis series and Grim Legends: The Forsaken Bride.

Nightmares from the Deep: Davy Jones is the final chapter in the pirate trilogy Nightmares from the Deep, and tells the story of fearless museum custodian Sarah Black and her daughter, Cory.

After discovering mysterious notes confirming the truth of the Davy Jones legend, Sarah calls a press conference to reveal to the whole world that the old sea-devil and his mythical treasure are real, hidden away on a mysterious island.

Suddenly, the galleon of the infamous pirate appears on the horizon, and Davy Jones himself breaks into the museum to kidnap Sarah and her daughter.

Both Sarah and her daughter are thrown into the brig of Jones' ship. They manage to escape, and while searching for a way back to shore, they discover dark secrets about the ship's otherworldly origins. But before they can escape on one of the lifeboats, they are caught, and to save her mother, Cory agrees to a sign a dark pact with Davy Jones...
Game System Requirements:
OS:

Windows XP/Windows Vista/Windows 7/Windows 8

CPU:

2.0 GHz

RAM:

1024 MB

DirectX:

9.0

Hard Drive:

1038 MB
Game Manager System Requirements:
Browser:

Internet Explorer 7 or later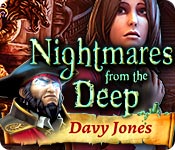 NEW299
The Big Fish Guarantee:
Quality tested and virus free.
No ads, no adware, no spyware.

Reviews at a Glance

Nightmares from the Deep: Davy Jones
0
out of
5 (
0
Reviews
Review
)
Customer Reviews
Nightmares from the Deep: Davy Jones
17
17
Salty Sea Devil
The Sea Devil, Davy Jones has returned, riding a giant tidal wave into the museum and hauling you and Cory back to his ship. You escape the brig only to be captured on deck by a bunch of skeleton pirates and here comes Davy Jones again. Unfortunately Cory is tricked into signing a pact and now we're on a rescue mission. After being thrown overboard you manage to make it to shore where the biggest treasure known to mankind is buried. You've been told by pirates who have signed the pact as well that there is no way off the island until your pact has been fulfilled, but then you find a glimmer of hope. You find one of the 12 guardians of Davy Jones memory, there is a way to break the pact, but he doesn't remember, perhaps the other 11 will! Now I will admit that I'm a fan of the Collectors Edition because I happen to love collectibles and morphs, but for the Standard Edition price this is a great value if you can do without the bells and whistles. The graphics are bright and vibrant and there's a ton of skeleton pirates and even a ghost, the cinematics are very professional. There are a mixture of hidden object scenes from interactive list finds, fragmented objects and progressive interactive scenes with mini games built in. You can opt for a nautical themed game of Mahjong as well. There are a bunch of unusual mini games that I haven't seen done before. My favorite one was talking to a pirate first mate's head where he agrees to help you if you get rid of the pirate skulls annoying him directly below him. To accomplish this you must exchange their hats to start a chain reaction of cannons firing, gems directing beams, lightning etc. until all pirated are destroyed and the entire time the first mate is cheering you on. This entire series is so entertaining that it's hard to stop playing so if you have the time, start with the first Nightmares from the Deep and enjoy!
April 25, 2014
Mum Walks The Plank!
BASED ON COMPLETED GAME FIRST IMPRESSIONS Delightful! We are immediately immersed in the continuing story of Davy Jones and the woman who has been determined to dig up the evidence of his existence as a true historical figure. It is her presentation on the subject that Davy Jones himself interrupts in typically overwhelming fashion. The early cut scenes are splendid! I started to get vertigo, swooping like that! If you?ve not played the previous Nightmares Of The Deep games, you?ll have no reason to know why this particular woman is making this particular speech, but it matters not at all. Our battle with Davy this time is direct and immediate. Of course, if you have played those games, you?ll know this is not the first time we have interfered in Davy?s business. SIGHTS & SOUNDS Amazing colours, sounds and special effects characterise this game. I love how colourful everything is, despite the darkness of many locations. Sea urchins that are almost iridescent. Glowing seahorses. Flowers of such rich and vibrant shades you?d never be able to name them all. Heck, even the skeletons looked cute! And very clearly detailed HOP scenes. Which is important because some of the scenes are quite dark. The music is wonderfully ominous and foreboding. Mostly quiet, it is subtle and often consists of single, wide-spaced notes. There is a piano track that is particularly nice. The background noises are what you?d expect, wind and rain, sounds of the waves and the creaking of wood when on board. The voiceovers are tremendous, very appropriate, excellent acting, and lip synched! WHAT?S HAPPENING? We are the museum?s expert on Davy Jones, a reputation earned in the first two Nightmares of the Deep games, through our adventures. Still, no one living has set eyes on him, and many still say he is mere myth and legend. You are about to make your speech, in which you present the evidence of his historical existence, when what do you know?! The legend himself arrives in a high dudgeon, demanding that we keep silent about his personal business. Guess that is a pretty persuasive piece of evidence for our theory! Unfortunately, our ?theory? kidnaps us (and our daughter), throws us in the brig, and starts for home. Despite an ingenious escape, we are soon recaptured and Davy Jones tricks our daughter into signing the fateful pact, like thousands of others before her, and now she cannot escape him unless the contract is fulfilled. But even Davy has long since forgotten what it was that fulfilled the contract! We learn the somewhat confused and confusing story of David Jones? good luck and dire curses through the means of ancient ?guardians of Davy?s memories?. What they will reveal to you, through a sepia toned cartoon, is the true reason for the rampage and evil that Davy has wrought across the centuries. This gets more convoluted as the game progresses and I wish it had been better told. GAMEPLAY Plenty of variety here. There are several types of HOP, including progressive silhouettes, interactive word lists, and fragmented object searches. Some scenes are visited twice, but using a different search pattern. Also, there is a straightforward mahjong game that you can use as an alternative. The mahjong annoyed me a bit, because in order to get the last item on the list, you had to find the golden pair of tiles that are chained up until all other tiles are used. That would be fine, except, if you swap partway through the list, you must start from the first tiles. Consequently, you really can?t, from an efficiency point of view, find that last object that is always the hardest to find. You know the one I mean, there?s always one. There are a bunch of mini-games and puzzles. They range in difficulty from delightfully easy to frustratingly hard. I was unhappy that I had to skip a couple of them, because I just couldn?t make head nor tail of them The adventure component is the focus of the gameplay, and I had a lot of fun with it. You have an interactive jump map, a directional hint, a journal I found basically useless, and a task list. COMBINED IMPACT I loved this game. The colours and the characters in particular impressed me. This is my favourite of all the Nightmares of the Deep games. Although, you couldn?t go wrong with any or all of them.
April 25, 2014
Fun Fun Fun!
The storyline, the voice overs, awesome!!! I had so much fun playing this game! I re played the game twice to find all of the hidden objects and challenges. The voice overs made me think of Pirates of the Carribean, my favorite ride! Thank you for this one BigFish!
April 27, 2014
Beautiful Scenes.
This review is based on finishing the SE in the casual mode. I really loved playing this game. The scenes were beautiful - kind of Cinderella looking. At least one reviewer highly disagrees but I like looking at beautiful things and this game has it. I did turn down the volume, usually do, but what I heard of the music was nice and voiceovers good. This is a very easy game, where objects you find are generally used within a few scenes. There is a terrific map which shows where things can be done and it transports you there. The hint button gives free directional arrows and recharges quickly. It, of course, points to something to find or do. There are a lot of HOS consisting of lists and fragmented items. In these 2 types of HOS you also have the option of play Mahjong instead. There is another type of HOS where you find an object, then use it in the scene which leads to another object until finished -- these do not have the option of playing Mahjong. I don't particularly like fragmented HOS so I played Mahjong instead with the exception of 2. I do, however, like lists and found them not too easy, but certainly everything is clearly depicted. There are no cloudy scenes. There are lots of puzzles which were nothing I hadn't seen before. Used the BF walk through several times as I was unclear what to do. I also skipped a few which weren't my cup of tea. All in all this was very entertaining. As I always suggest, play the demo and read some of the reviews. I hope you read mine and it's helpful.
May 3, 2014
Another winner for this series
Another game that takes your breath away. Nice story, with good storytelling techniques, no meandering, and always knowing what to do next (except in a couple of occasions - but that's just me). Nice visuals, and nice flow. Again, if you do not like HOS, you have the option to play Mahjong instead. That's VERY considerate.
June 3, 2014
as good as siren's calls
The game play, animations and other aspects are of the same quality as the siren's calls.
November 2, 2014
Beautiful ending to one of the best series I've played.
This review is based on complete playthrough of the game (and bonus content). I'm copying most of this over from my review of the CE. My profile tells me I've reviewed 75 games now. This is the 3rd I'm giving straight 5's for (Fate's Carnival and Catch Me When You Can are the other two). This ties up everything from the first two games, with a solid story in a challenging game that doesn't forget to be fun. First off, the CE stuff,so you'll know what you're missing: The bonus chapter took me a solid hour playing mahjong over HOS. Unlike the last game, this time the 'ending' isn't obvious (I expected something very different), but everything is still tied up at the end of the main game. The bonus is just that: a bonus. Three types of collectibles, some achievements, and the typical "swag". THE GOOD: The game took me a solid six hours, playing mahjong for most of the HOS rather than doing the item finds (love that choice), on the highest difficulty: almost no sparkles (some puzzles), no map markers, click penalty (the main reason I did mahjong), but you still had hint and skip available, just slow charging. The map is a jump map, and on all but expert difficulty show where there are tasks to do. You can change difficulty level in game Not the fanciest maps in a game, but they get the job done. They fit the style of game pretty well. Cutscenes are beautiful - the only ding's I could give here would be one scene where an animal is too realistic, and one character that is more 'cartoony' than almost everyone else. Minor stuff. The voice overs were spot on and well delivered. The story though, is where this game shines. Why did Davy Jones REALLY go through the trouble of kidnapping you and your daughter? While the game never gives a 2nd answer, you might find one yourself before the game is over. Very well developed characters: taking from the previous two games and going even deeper. THE BAD: Almost nothing. The mahjong is about as easy as it was in Siren's Song, but I still love the choice. The 'wavy' motion sickness inducing click penalty I could do without. THE UGLY: The series is over. Wonderful ending though. I'm going to be keeping my eyes out for titles from these guys. BOTTOM LINE: If you're not going to get the CE, then get this. You should play the other two games first though, as the story really does build on what happened in those, and the title character's "arc" won't have nearly the impact without having seen him twice before.
August 7, 2014
EXCELLENT ADVENTURE!
I enjoyed this game very much! It was long enough for my taste and enjoyment. Colorful graphics and a lovely story. I definitely recommend it. I would have preferred more hidden objects rather than hidden parts, however, I still liked it. I had no technical issues; it played smoothly. Thank you Big Fish for this one!
June 29, 2014
Excellent Game!
Really enjoyed this game. Interesting story and mini games.
May 21, 2014
best game around
my thoughts are this game is the best game thier is
May 20, 2014
The Apple logo is a trademark of Apple Computer, Inc.