Phenomenon: Outcome Collector's Edition
Exclusive
Save the world from an alien substance in Phenomenon: Outcome! When a medallion you've had your whole life suddenly starts acting strange, you follow its trail to a mysterious island. There, you discover a deadly Cyan Plasma that threatens not only the island, but the entire world! You must seek out a missing research team to uncover the secrets of the plasma before it spreads across the globe. But time is running out... Can you find their base before it's too late? The power is in your hands in this thrilling Hidden Object Adventure game!

This is a special Collector's Edition release full of exclusive extras you won't find in the standard version. As a bonus, Collector's Edition purchases count toward three stamps on your Monthly Game Club Punch Card!

The Collector's Edition includes:
Lead a daring evacuation in the bonus game
Gorgeous wallpapers and concept art
Music tracks from the game
Available Strategy Guide
Game System Requirements:
OS:

Windows XP/Windows Vista/Windows 7/Windows 8

CPU:

600 Mhz

RAM:

512 MB

DirectX:

9.0

Hard Drive:

748 MB
Game Manager System Requirements:
Browser:

Internet Explorer 7 or later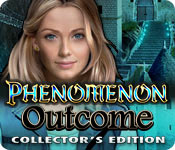 The Big Fish Guarantee:
Quality tested and virus free.
No ads, no adware, no spyware.

Reviews at a Glance

Phenomenon: Outcome Collector's Edition
0
out of
5 (
0
Reviews
Review
)
Customer Reviews
Phenomenon: Outcome Collector's Edition
49
49
A great game with some nice twists.
This is a truly great game. What makes this a great game is that there is a lot to do (CE quality) but the tasks are part of the game not an add on that distracts one. With so many CE's I like the fun of the achievements but feel faced with choosing between getting totally absorbed in the story or finding all the achievements. The HOPs are of good quality as they are not too busy but objects are nicely blended into the scene (ie the green feather in the fern). Music is a big factor for me and this game delivers. The music adds to the ambience but doesn't drive one mad by the end of the game! Only flaw is one noted in other reviews. It would be nice if Sasha and the other characters were not quite so wooden so one could identify with them and feel drawn to complete the mission. Other than that, an outstanding game and a must buy for me.
May 3, 2014
I loved everything about this game
The artwork and music are beautiful and the game was fun to play. The HOGs were fun too. Just the thing to unwind after a stressful day at work.
May 6, 2014
What a great game!!
I just loved thi game, from the storyline to the way the game was setup, my only down fall to the game is I enjoy puzzles in a game so I would have liked to have had more puzzles. But overall it was just a great game with a different kinda twist. Would loved to seemore games like this !!! Recommend For Everyone
May 5, 2014
Outstanding, and I swear, Hagrid is in there =)
I love this game. Engaging, challenging, everything this type of game should be. Couldn't wait to move on to new areas, but had to remember where I had been, and whether everything had been finished in the zones I passed through. Really, really "Fun-to-Play" !!!
May 5, 2014
I'm intrepid?????
Developer: Puzzle Labs Review based on Demo. Lovely graphics, pleasant music, and intriguing game play. In fact, this is the first time I have ever seen a "double" HOP. If you click on a certain area during a HOP, you get sent to another HOP. It's the same area, but, the items are in different places. When you complete both puzzles, you get an item you need. Another intriguing puzzle is the stained glass. First you have to place the lead and then the glass. Fun :). There is a bit more back and forth than I like, but, the map allows you to jump. The story: As a child, walking along with parents, I see an interesting object called a homunculus (a representation of a small human being). I run toward it and WHAM an eerie blue light appears. I end up in the hospital and parents are gone. I keep the homunculus with me and one day after a particularly bad dream, it points the way to South America. I set off on the adventure to try to find some answers. As soon as I finish this review, I will be buying this game. Enjoy :)!
May 3, 2014
Phenomenon: Outcome Collector's Edition
This is the most enjoyable game I have played from your site in a long time. Absolutely wonderful!!!!
May 4, 2014
Phenomenon: Outcome Collector's Edition
I enjoyed this game. It was not very difficult and the puzzles were delightful. I really enjoyed the HOG's and the "double sets" to get to the final item. The graphics were beautiful. Very relaxing game. I would recommend this game to others. RJohn
May 3, 2014
Great game!
I'm a huge fan of this particular series! Thank you for the game!
May 4, 2014
Phenomenal +++++
I loved EVERYTHING about this game. Definitely the best. Really enjoy the style of game to begin with as, all to often, the story lines and settings are to "dark" for my tastes. This game was a delight. The graphics were wonderful, the detail and imagination kept me delighted at every new scene. The puzzles were not to hard but interesting. The HO were just right. Really the best game i've played in years.... and i play alot ! I am going to regret coming to the end of this one and can only hope there will be more as good as this game in the future. The BEST ! and my favorite until now !
May 6, 2014
Still, The Story Disorients Me!
BASED ON DEMO FIRST IMPRESSIONS I thought, after the disappointing story treatment in the 2nd of this series, Meteorite, that at least this (presumably final) game would explain all. So far, I?m just more confused. SIGHTS & SOUNDS Excellent graphics. The cut scenes are particularly good. The intro is laid back because it is telling you the back story rather than introducing this game (and there?s confusion in there right away ? who are we playing?), but it looks great and the voiceover of the narrator is one of the most natural I?ve ever heard. The characters are drawn spectacularly well. Really impressive. Later into the game, the graininess of much of the textures ? an artistic choice, not poor definition ? makes what could be gorgeous become ugly in my eyes. But, HOP scenes are clear and very detailed. Although, some of the items are a bit small, and others are out of perspective. Music is light and pleasant, ambient sounds so far, very pretty. The other characters? voices are all good too, and lip synched. One weird thing. This is first person, so we see out of the eyes of the protagonist, yet in a conversation with other characters, we can see ourselves. WHAT?S HAPPENING? Well, I don?t know if being familiar with the previous games is a help or a hindrance in this one, because I?m not getting it very clearly. In the first game, we played Monica, whose parents left her at age 5, along with an ancient pendant, on the mainland while her mother, Eve, conducted a dangerous experiment that involved a strange substance ? cyan plasma. Twenty years later, she is persuaded to visit the abandoned city where her parents apparently died. She meets a stranger who ?explains? the situation to her. In the second we play Daniel, whose parents dropped him at age 5 on a friend?s doorstep, with a note and map, and he too was induced to return to the island at age 25, where he meets a small girl, Gloria, who ?explains? a totally different backstory that involves cyan plasma. Finally, in this story we play Sasha, whose parents were hit by lightning when she was, you guessed it 5, and again, she had one thing from her parents. A golden homunculus (a kind of cross between a compass and a human figure). Twenty years later, she starts having nightmares about terrifying blue ?stuff? and follows the directions of the homunculus to a ?restricted zone? contaminated by cyan plasma. There she meets Daniel. So, are the stories connected or not, apart from the big bad blue, cyan plasma? And this really annoys me. We have been given no explanation for our nightmare, so how do we know what Daniel is talking about when he mentions cyan plasma? And how do we know to ask about ?a disease that covers skin in a blue net?? That isn?t what we see in our dream! Argh! GAMEPLAY The emphasis in this game is on the quest side of things, and although there are both HOPs and other mini-games, it is mostly about getting around and finding what you need to help you on your way. ?Quest Items? are actually one of the achievements. Unfortunately, I don?t know the difference between a quest item and any other item needed for inventory. There is a well-drawn, though boring, interactive jump map that highlights active zones, a directional hint, a fun to look at journal that keeps a detailed record of the story and replayable videos, and a task list. All the better for you to be upon your way. You also have the homunculus, which protects you from the big bad blue, but needs to be recharged after each use. It clears the way for a HOP scene. These are new and different, although similar to the HOPs in this series. Once the mist has cleared, the homunculus detects activity, and presents you with an interactive word list of items in the scene. There is also a blue ?hot spot?. Clicking on it will take you a different time but the same place (same scene, just looks different), and there you will find a totally different list. Both must be finished to get your inventory piece. There are few puzzles/mini-games, and I found the ones in the demo easy. CE BLING! Achievements, as mentioned. There are performance based, and while there is only 7 of them, they are graded with different levels, and are not all the usual ones. There are 35 collectible blue canisters. Easily recognisable, but not always easy to see. The gallery items include (good) wallpapers (9), concept art (9), and music (5). The SG shows 5 chapters plus the bonus. The demo covered all of one and most of chapter 2, at best guess. COMBINED IMPACT If it wasn?t for the story confusion, this game would almost certainly get a 5 from me. I love the characters, they are just beautiful. I love that there is not so much emphasis on puzzles, because they?re my weak spot. But I?m doing it all in such confusion, it takes a lot of the fun out of it. For those like me who are looking for a story-driven game that looks good and isn?t too, too difficult, this game will present a conundrum. (Well, you gotta admit it sounds like it belongs in an article with homunculus in it! *snigger*)
May 3, 2014
The Apple logo is a trademark of Apple Computer, Inc.