Phenomenon: Outcome Collector's Edition
Exclusive
Save the world from an alien substance in Phenomenon: Outcome! When a medallion you've had your whole life suddenly starts acting strange, you follow its trail to a mysterious island. There, you discover a deadly Cyan Plasma that threatens not only the island, but the entire world! You must seek out a missing research team to uncover the secrets of the plasma before it spreads across the globe. But time is running out... Can you find their base before it's too late? The power is in your hands in this thrilling Hidden Object Adventure game!

This is a special Collector's Edition release full of exclusive extras you won't find in the standard version. As a bonus, Collector's Edition purchases count toward three stamps on your Monthly Game Club Punch Card!

The Collector's Edition includes:
Lead a daring evacuation in the bonus game
Gorgeous wallpapers and concept art
Music tracks from the game
Available Strategy Guide
Game System Requirements:
OS:

Windows XP/Windows Vista/Windows 7/Windows 8

CPU:

600 Mhz

RAM:

512 MB

DirectX:

9.0

Hard Drive:

748 MB
Game Manager System Requirements:
Browser:

Internet Explorer 7 or later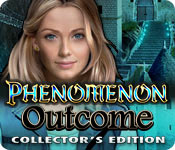 The Big Fish Guarantee:
Quality tested and virus free.
No ads, no adware, no spyware.

Reviews at a Glance

Phenomenon: Outcome Collector's Edition
0
out of
5 (
0
Reviews
Review
)
Customer Reviews
Phenomenon: Outcome Collector's Edition
49
49
PHENOMENAL!
Sasha lost her mother and father when she was only 5 years old in a freak storm. They had given her an amulet, the golden homunculus, which now seems to be leading her on a journey to restricted and toxic areas. (she also runs into Daniel from the last Phenomenon but only briefly?) Sasha must charge and use the amulet to neutralize the Cyan plasma's toxic effects which is making people sick and weak as she desperately tries to find the missing research team and rid the world of the spreading poisons. Once again the graphics are gorgeous, with colorful stonework and glowing lights. There are very few mini games and most of the mini games involve a 10 step process where you have to read and follow the directions by pushing buttons, turning dials and levers until all steps have been completed. I personally don't miss the lack of puzzles simply because there are so many things to do in each scene including finding 35 hidden plasma flasks. Here's my favorite part of the Phenomenon games, the Hidden Object Games, why? Because these games all have a cool feature that allows you to find items in the past and present. You will search for items on the list which include some interactions such as putting scissors back together. When you find all but one item you click on the swirling plasma ball and the scene will transform and another list is available in that scene. After all those items are found, you return to the first scene and the last item that couldn't be found before is now available! (told you it was cool) It isn't necessary to have played the other Phenomenons, but in my opinion they are really entertaining games and you should consider playing all of them, enjoy!
May 3, 2014
Yes! I am a Sci-Fi Geek and Loved this Game!
I have to admit; at first I was really skeptical about this game. I faintly recall playing the first installment so the storyline was unfamiliar and I just smiled every time I read the word Homunculus which incidentally I had to look up. Homunculus: an artificially made dwarf supposedly produced in a flask by an alchemist. After the hour was up and I was still in the first chapter, I knew this game was for me! As for our storyline, a compelling Sci-Fi adventure that begins with you taking on the role of Sasha, who is on route to save a futuristic world from an alien substance called the Cyan Plasma. After the mysterious disappearance of your parents, you begin to have recurring nightmares and discover that your Homunculus is actually an amulet with great powers. It leads you to an island where you meet up with Daniel, who is searching for his lost Mother. Your adventure begins as you take on a multitude of tasks, collect clues and follow a trail that will hopefully lead you to find the missing research team so that you can uncover the secrets of the plasma before it spreads across the globe. The graphics are excellent, sharp with good resolution and very good lighting. I especially loved the artwork although characters were a well drawn but lack a certain degree of realism with their cartoonish effect. Voice-overs are a bit amateurish and animation cut scenes were adequate, nothing outstanding like some games in the past. Nevertheless, being a Sci-fi fan, I found the storyline to be intriguing and I was very surprised and pleased to discover that the game has more complexities that meet the eyes. It comes with a fair amount of challenge that requires you to have a good memory, some logic and patience as you are required to do a lot of back-tracking. At one point, I had collected around 15 inventory items and had to figure out or better yet remember where I needed to use them. There are many tasks to fulfill, and every scene has several areas of interests to visit. The developers did an excellent job with the adventure aspect of the game and as a HOPA, it ranks high on my meter. Hidden Object scenes were somewhat challenging and actually had two dimensions within one scene. Once you trigger the plasma ball, you are transported to another point of time or origin and are required to play the same scene with different sets of items to locate. In short, each HO scenes is played twice at the same time and some items were difficult to spot. There is slight interaction involved but basically you have a standard Hidden object scene that are slightly junk-piled but nevertheless, I enjoyed them. Puzzles are plenty and there are a lot of them to solve in every scene. Mini-games were unique; I especially loved the first one I came across: moving a bug with 35 actions to be taken. KUDOS to the developers for creating some very interesting mini-games, something we rarely see these days. In addition to the standard puzzles and games, you have collectables, thirty-five plasma flasks hidden throughout the game. There are also a set of achievments to be earned which really was not necessary. Actually I think this game really is a standard edition game and the only thing that qualifies it to be a CE is the strategy guide which I think I may need. There are no extras that we see in many of the CE games, but to be honest, you don?t need them here; the adventure in Phenomenon: Outcome is good enough without a set of belles and whistles. Besides, there is a MAY DAY sale today and I for one will not hesitate in the least in making this game my own. Have a good week-end everyone.
May 3, 2014
Enthralling story, HOS and mini-games!
All I can say is WOW! This third entry into the Phenomenon series is even better than the two previous ones, and they were great! You don't need to know about the previous games, as each one stands on its own. You are Sasha who lost your parents to a mysterious phenomenon when you were 5, the same time you found a "golden homunculus" - which is a medallion. You are all grown up and your medallion starts acting up and takes you to an island full of Cyan Plasma. You meet Daniel from a previous Phenomenon who is searching for his mother, but is now unhealthy due to the plasma. He gives you some advice, and off you go, to find and neutralize the plasma. You still have your medallion, which keeps you safe from the plasma, but must be recharged after every use. You meet an old wisewoman - who used to be young when she had her medallion - who uses words like "curative" and "harmonium." You almost need your own dictionary here to translate! She wants you to make a potion to cure her and tells you the recipe, which is nicely recorded in your diary, should you forget. But the BEST part of this game - and the series - are the HOS within the HOS, and the clever mini-games. When you encounter a HOS, there is an item to click to take you to a different HOS using the same basic scene. You don't get your "reward" item until you finish both. They are not too hard - a little dark on a large screen monitor, however. Didn't even use the Hint button on the HOS! And the mini-games -- WOW! There is a picture of a stone face with many dials and levers and buttons to push. Meanwhile, you get 13 steps to follow -- you can use the hint button without skipping the mini-game. Another game requires you to assemble a stained glass window -- first with the the lead outlines, second with the glass added in. The map is fantastic -- kind of a blueprint of the island and its structures. It shows where you can do an activity -- which I prefer using rather than the hint button. The graphics are stunning and the voiceovers realistic and gorgeous as well. There are 35 plasma containers for you to find -- well hidden as I only found about 5 in the demo. There are 3 modes, a bonus scenario, and the normal CE bling. Gotta have it!
May 3, 2014
This Outcome Is Favorable
The back story is definitely different that the run-of-the-mill stories we've been subjected to before so I'll try a brief summary. Your name is Sasha, you are a blonde blue-eyed beauty, and your parents were killed by a strange unearthly lightning when you were five years old. At that same time you discovered a golden medallion called a homunculus. Now that you are a grown woman, the homunculus has directed you to an island jungle in South America where you discover a cyan plasma that threatens to destroy anyone who does not have a neutralizer (he homunculus medallion). You must discover the secret of the cyan plasma at the research base before... well, you get the idea. Technically speaking, this game passes all the tests: beautiful drawings, wonderful ambient sounds, and a light and flowing musical score. The music is worth noting; the melody goes up and down the scales repeatedly while an ethereal flute plays gently in the background. It is nice and soothing while giving a sense of both awe and wonder. Voices are also well acted and are somewhat synched with the character's lips. The hidden object scenes are slightly more difficult than average owing to two factors. First, you play the same scene simultaneously with subtle differences. There is an active area within the scene to switch back and forth between the two. Second, the developers have a penchant for hiding objects at the extreme edges of the scenes, so keep a sharp eye out. There is also some interaction required to locate the objects. Puzzles? I recall only two puzzles during the trial; one was piecing together a stained glass design and the other was completing a disc, which had to be done in an exact order. Neither puzzle was too challenging. That's not to say that there aren't many things to do in the game, but most involved merely placing the correct object from your inventory in the proper place. The drawing style is semi-realistic; you're dealing with lots of statues, animal figures, stone buildings and natural objects. So although it is a sci-fi theme, don't expect futuristic settings, and you'll still be using the usual skeleton keys. There are 35 collectible flasks as well as achievements, i.e. for not using hints. There are three levels of difficulty, two of which will turn off the sparkles. There are also the usual pseudo-extras of concept art, wallpapers and so on. And of course a bonus chapter and strategy guide. The jump map also indicates areas where there is still some action to complete. The odd story line, good characters, voices, music, drawings and effects mean this ?Outcome? will no doubt bring a lot of ?Income? for the devs. It's deserved, and we can hope for more games of this phenomenal quality.
May 3, 2014
So many things to do in each scene... loved it!
The only 2 negatives for me were the horrible "acting" of Sasha who voice was almost monotone and the so so tiny hidden objects but luckily there was no click penalty. I swear I played on casual mode but never saw a sparkle which turned out to be great for me...I actually enjoyed it more because I had to carefully search each scene for a magnifying glass to show up and there were so many in each scene! (unlike some developers who go to all the trouble of creating fantastic scenes only to find one or two interactions in each) I know I counted 8 interactions in one scene to either do or come back to. I should have begun my review by saying that when I saw the name of the developer I thought "uh oh" this is going to be jam packed with puzzles but much to my delight they were more like mini games to me and I loved them all ! Since I don't care for morphing objs, and other "extras" the bonus game was enough for me to purchase this game on sale and it took me a few days to finish it, taking some long breaks. The bonus game was probably only 45 mins long for me but it seemed to end the series? I HOPE not! For ME it was FUN and a long game.
May 6, 2014
A Beautiful Phenomenon With an Abundance of Challenge
Let me state right away that I was not a big fan of the first two games in the Phenomenon series. In this most recent game, Phenomenon Outcome, doesn?t seem to be more than a minor connection to the previous stories except that in each of them we begin with a supposedly orphaned child who in early adulthood is drawn to seek the mystery of her/his parent?s disappearance. In this game Sasha, age five, is on a picnic with her parents when they see a glowing orb that seemingly explodes with lightning as Sasha approaches it. When Sasha awakens her parents are gone and the only thing remaining is a golden Homunculus. Now years later, Sasha is having nightmares that are leading her to a strange location and this is where the adventure begins. The graphics in Phenomenon Outcome are beautiful and even better than they were in the previous Phenomenon games. The characters are drawn to perfection and with the addition of the voiceovers they come to life. One of the things I noticed is that the artists have added a lot of facial expressions to the characters in the game and that seems to make them much more realistic when they speak. In general the voiceovers are quite good but at times the dialogue seems a bit ?corny? or vague. Overall, the entire soundtrack is really very good and suits the game perfectly, but I will mention that you may need to fiddle with the volume button since at times the music is quite loud and overwhelming. I happen to love the hint of Celtic undertones that are present in some parts of the soundtrack and I find they are quite mystical and very beautiful. Your Homunculus amulet will become one of the most important tools in the game, and eventually you learn that it is called a neutralizer. Your other tools include a scroll that is updated with information as you travel through your adventure. Next to your inventory box and right below the scroll is the task button that I found very helpful. There is also a color-coded transporter type map to indicate areas of interest. The map however is very general and really doesn?t hone in on the exact locations where you need to find or do something in order to progress in the game. In a departure from the norm, the HOPS in this game are presented a bit differently and I don?t want to elaborate on how they work because you will find out soon enough. Once you understand the mechanics of the HOPS, you will see that there is only minor interaction required to find some items. Although I think the developer was quite creative in setting up the HOPS, I found them at times to be jaw-clenching tedious with some objects being extremely difficult to find. Because progress in the game is slow, I didn?t encounter a lot of puzzles in fact I think I found only one that I could do anything with because each one requires missing pieces to activate. I wish the developer had provided a bit more upfront action and in the long-run the slow action might have an effect on the overall sales for the game. A lot of people, myself included, like a bit more movement in the demo hour of a game so they have a far better idea of what the game is like. There are only seven achievements to be earned and all of them are gameplay related. We do have collectibles to find but other than that the CE content is the standard with wallpapers, artwork and music. Of course we have the SG that, IMHO, might be needed for this game. Since the scenes are so beautiful in Phenomenon Outcome, I may well use one or two of the wallpapers so I?m glad they are included. IMHO, I found progress in the game to be very slow, which some of you might like, but I prefer a game with a bit more upfront action. Although every scene was lovely to look at and beautifully created, I found it a bit frustrating that when I encountered an object it was almost always missing something and I needed to do or find something else to make it work, which made progress in the game seem exceedingly slow. I might be having an off day, and overall I know I will love the challenge of this game, but feel like it might be better suited to those who love more of the adventure type of game. Again, and this is just my opinion, those who are taking a first dip into this type of game might find it very confusing and frustrating but I would encourage you to give it a chance. Overall the game is visually beautiful and a feast for the senses. Although the game moves slowly, I think it is very well put together and the developer provided us with a lot of challenge that eventually holds out a lot of promise to being and excellent game. As always, I recommend that you at least try the demo to see if this is a game you will like.
May 3, 2014
More 'mainstream' than the first
The first game took me 3 tries before it hooked me, so thought this might be the same. However, it wasn't. Flowed evenly right from the start, but didn't have the same originality or challenge the first one had. Graphics were generally good, cut-scenes were well done (if you can ignore her bouncing eyebrows when speaking, which were a bit annoying). Music varied from okay to boring. Hidden object games were done in pairs each time, with one slightly brighter than the other. They were very marginally interactive. Graphics were dull which made objects hard to see unless you had your nose on the screen. Puzzles were short and not very challenging, with some variety. You had bonus flasks to collect on the way (I missed one - sob), and a few achievements to earn (including one for no errors, which i didn't receive even though at least two lots i played had no misclicks). Story flowed well, but was somewhat weak. The first game had us wondering what was going on through most of it, where as this one was more mainstream where she comes along, performs a few simple tasks, and solves what professors and scientists couldn't. Didn't sit well with me. The game was a lot shorter than the first, but still a passable length. Bonus chapter followed on from the game, and whilst not essential to the story, tied everything off in a nice neat bow. But......despite the game having so many downfalls, for some reason i really enjoyed it. It managed to keep the same pace from start to finish, and was enjoyable to play. Definitely recommend this game, but as to SE or CE I couldn't really say. Strategy Guide wasn't really needed, and the game only had minimal extras. The bonus game wasn't long, but finished the story completely.
May 4, 2014
Best game I have played in a while!
Loved everything about it. Different storyline, good puzzles and interesting double HOs. Need more like this one!
May 13, 2014
Stick with it, it will slowly but surely suck you in!
I began to play this game with quite a negative mindset. The resume reminded me of another game which was just awful, the main character's voice was flat and unengaging and the opening dialogue seemed quite pointless. BUT... as I played on it just got better and better! As a child, you are in the park when strange lightening strikes. You awake alone in the hospital clutching a strange golden homunculus. Years later, after a strange dream, the homunculus begins to glow and through it, you are transported to a strange place where cyan plasma is affecting the population. With the protection of this strange artefact, you set off on your adventure. At first, all you seem to do is inspect a number of shrines, statues and fountains, gradually filling up your inventory but then, suddenly, things begin to drop into place and the challenges begin. Some are simply finding the places to drop your items and receive another, but then you find your first HOS, and what a refreshing change. OK, at first it seems like just another list with a couple of interactions. Objects are camouflaged and very tricky to find but, on pressing the glowing blue object, the scene transforms and you have another list! I encountered 2 of these in the trial so don't be put off if HOSs are not to your taste. There were 2 puzzles also and these were just brilliant, very unique! No rotating rings or water pipes here (yet!) Your homunculus has become a neutraliser and can disperse cyan plasma which pops up and blocks your progress every now and then, but you need to keep it charged. There are only 3 levels of challenge and we have become used to more these days, so experienced gamers may be disappointed by this. I played on casual and found I only needed the hint in one HO. Any sparkles were not really noticible, except for the collectible plasma flasks (35 to find) There are achievements to earn and nothing annoying like "Complete the game in Hard Mode" and "Complete the tutorial" so that you cannot earn them all. Other standard extras are Concept Art/Wallpapers/Music There is a "bonus area" which perhaps has more than just the bonus chapter. I do hope so! So, after a shaky start, I am hooked and will be taking advantage of this weekend's sale (thanks BF!) to add this to my collection. I cannot wait to see where this intriguing story is going. Do try it and stick with it, you may find it is well worth it!
May 3, 2014
OPTING FOR THE SE
Mostly adventure with lots to do and plenty of challenges. You will have a homunculus amulet which you will need to recharge whenever you come to recharging station on your search for the plasma to cure a skin disease. You'll be searching in a restricted area. I didn't think the CE has enough bling to warrant its purchase, so I'm opting for the SE. - Interesting story - 3 modes of difficulty - Teleport map shows active scenes and where you will need to return - Task button - HOS -- find the list of hidden objects; then transport to the same scene in a different hue and find a different list. Found it sometimes difficult to find objects because the color palette was rather monotone. - Puzzles: plenty - there are a lot of things happening at once and it takes brainpower (or a pen) to remember where to use an object you just found. Some puzzles required several objects to complete. - Mini-games: none that I saw - Graphics: simply awesome. - Music: fast-paced; gets your blood flowing
June 4, 2014
The Apple logo is a trademark of Apple Computer, Inc.