Sparkle Unleashed
A hidden world of mystery has succumbed to an ominous darkness. Now you must make your way through the fallen lands, light magical braziers and discover a way to banish the darkness once and for all.

Unlock potent powerups and use them to overcome Chained Orbs, Rock Orbs, Survival levels and other exciting challenges. Can you carve a path of light through the darkness?

Sparkle Unleashed introduces floating Orb Slinger gameplay never before seen in a Sparkle series game. The unleashed Orb Slinger floats along the bottom of the screen providing a new kind of action puzzle experience.
108 challenging levels
An arsenal of 18 potent powerups to choose from
Play survival mode and two additional difficulty settings
Game System Requirements:
OS:

Windows XP/Windows Vista/Windows 7/Windows 8

CPU:

800 Mhz

RAM:

256 MB

DirectX:

8.0

Hard Drive:

124 MB
Game Manager System Requirements:
Browser:

Internet Explorer 7 or later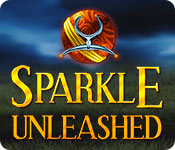 NEW299
The Big Fish Guarantee:
Quality tested and virus free.
No ads, no adware, no spyware.

Reviews at a Glance

Sparkle Unleashed
0
out of
5 (
0
Reviews
Review
)
Customer Reviews
FANTASTIC HD GRAPHICS SPARKLE HAS BEEN UNLEASHED!
The original Sparkle was already a wonderful marble popping game, but this Sparkle is definitely loose and unleashed with superb high quality graphics and a fast paced moving chain of colorful balls/marbles! This game also comes with a setting to assist with color blindness, having two son's that are color blind I know how frustrating games can be when you can't tell the difference between blue/green and red/orange, so thank you devs, much appreciated. The goal of this game it to match at least three marbles of the same color, and if possible strategically place the marbles so that when you match a set in the middle the marbles on the left and right will then come together and match as well. That sounds confusing so to clarify, if there are two gold marbles in between a red marble on the left and a red marble on the right try to shoot the next two reds, 1 on the left and one on the right so that when you shoot a gold marble in the middle the 4 reds will join together for a chain reaction. Chain reactions give you a bonus icon which will remain on the board temporarily and you need to shoot the icon before it disappears. A new bonus icon will be awarded each time you level up which is usually every 3-4 games. You earn a key to unlock these bonuses such as Frost, which freezes the paths and slows the marbles down to a snails pace for a few seconds. There is a Fireball icon which is used on the next shot and destroys a small group of marbles and Sparks which start at 4 sparks that shoot out and when you get the next power up it gets stronger with 9 sparks and so forth. Each new level throws out multiple marble chains which makes it more difficult to shoot because as the chains wind around the paths they block each other and sometimes the ball hits the wrong chain thus making the chain longer. If the marble chain makes it to the hole at the end it's game over, lights out. I have a game similar to this game, Tumblebugs, on my ipad and play that game on long road trips so I can tell you without a doubt this type of game is 100% addicting. I really can't get over how crisp and colorful the graphics are on this game, you really do need to check it out, enjoy!
April 25, 2014
What a great surprise for today!
While I think it's waaaaay too good to be a mere soft release, I'm just happy to see a new marble popper, since they are few and far between! What a marble popper it is, too! I think this is definitely the best of the Sparkle series, and here's why... The shooter is not a rotating (Zuma style) one, but a sliding one, ala Luxor! This I personally much prefer, though it is definitely a personal preference. In addition, there are new powerups, and you get to upgrade them to increasingly powerful levels. I am not going to rate the storyline, as it is weak, but so what? These games are not story-driven. But the narrator from Sparkle 2 is back, with the "Shakespearean" intonation of the story, which is charming. The music is Sparkle, but is fine at low volume. Graphics are the most colorful yet, and very sharp. The game features braziers to light this time, similar to the checkpoints in the other games. The levels grow harder as you go, of course, and there are survival levels to play as a side quest. I have to admit, I never finished Sparkle. Like Zuma, the last levels were simply too fast and I couldn't do them, especially with the rotating shooter. I loved Sparkle 2, which was challenging but doable. This one is much the same. I'm looking forward to many hours of pleasurable play here, because it is absolutely a buy!
April 25, 2014
Superb Third Sparkle!
I have spent a lot of time playing Sparkle 2, and thought it a game impossible to be improved on. 'Sparkle Unleashed' is the third instalment of this fine marble popper clone, and players who enjoyed Sparkle 2 will surely want this one as well. Whilst gameplay and layout is rather similar to Sparkle 2, the theme is a bit different. You are tasked with unlocking a pathway of light through the darkness, by lighting up a brazier every four or five levels. At each brazier position, you also unlock a new power up. And this is where some new innovation comes into play. The power-ups in this game are more exciting and powerful than in Sparkle 2. e.g. the 'Spectral Butterfly' totally destroys much of the orbs in play. There are two modes of play - Adventure and Challenge. If Sparkle 2 is anything to go by, both will be very worthwhile and keep you playing for a very long time. Beware, if you are a person with slower reaction time, this will most likely not be a game for you. Superb graphics, very responsive gameplay, fine sound effects and background music, all add up to a brilliant playing experience. I thoroughly recommend!
April 25, 2014
"Sparkle" does it again!
My first reaction was, "Hmm, maybe not." The first few levels seemed slow and really kind of boring. But I kept playing until I got to about Level 17 or so, and it's getting better. So far, it's not as difficult as Sparkle 1. I think Sparkle 2 might be my favorite; I'll reserve judgment until I get to the end of this game. Even so, it's still very fun with interesting new challenges. There seem to be more double track levels at an earlier stage. The music is more upbeat, perhaps less mysterious than the first two games. The backgrounds are still lovely, with soft colors that add to the visual appeal but don't distract. Give this one a try if you're a Sparkle fan, and don't make too hasty a decision if it seems not so great at first. I'm going to buy this one even though I haven't yet finished my free hour, on the basis of the first two being so much fun and the (slowly) increasing level of difficulty of this installment.
May 25, 2014
another fantastic sparkle game!!
this is the third release in the sparkle-series, and it's fantastic!! I think it's the best one yet. Loads of different power-ups, chained balls, achievements. I absolutely love it, try it, I'm sure you'll have a lot of fun too!
April 25, 2014
The whole game "sparkles"!
What a delightful surprise to find another addition to the Sparkle line of marble popping games. The normal difficulty level is the training ground...I'm almost halfway through the hard difficulty level...I cannot imagine what the Nightmare level will have to offer. Completion of one difficulty opens the next, so 'peeking' isn't possible that I have found. The largest motivating factor, for this player, is the music - the composer, Jonathan Geer, has again created the perfect score to drive the game forward with a relentless agitation - almost sounding victorious when a level is completed, yet empty and desolate should failure be the result. Graphics are crisp and sharp... the larger marbles from Sparkle 2 are back, making the game relatively easy on the eyes ( after 4-5 hours, though, I finally felt some eye strain) The normal level Quest is a pleasant and fun way to get familiar with the game...the challenge increases through the 107 levels of play. In working the hard difficulty, it can be just that - WORK...level 25 comes to mind...many repeats, but it DOES play though. For a real challenge at any point, try the survival mode...wow! I have managed 3 stars and a couple of 4 star levels, that's it...so many, many more hours ahead of me to get the 5 star achievement. As with any game, give it a try...it's enough different from the previous offerings to know that you are on a different journey. Enjoy your quest; I'm loving mine.
May 17, 2014
Great Game!
I am totally addicted to this super fun game! It is tricky and challenging. I recommend this game including the wonderful graphics!
December 19, 2014
Review based on first 10 levels of the game
I have played the first two Sparkle games; if you haven't played those, I highly recommend them, particularly if you are looking for a real challenge. I have played 10 levels of this new entry in the series and based on this, I can tell you that the graphics are pretty much up to the standards of the first two games. The voice over is pleasant and tells a fairly interesting story. You can also accumulate power-ups to help you along the way. Along with the base game, there is also a survivor mode where you just tough it out for as long as you can. I'm having fun with the game, but the shooter orb seems slow at this point (in fact, everything seems somewhat slow). I am going to continue playing, thinking that perhaps after the first dozen levels or so that the speed will increase. Not being sure of that, though, is why I am awarding the game four stars rather than five. It is also possible that it is because I am playing on a lower level of difficulty, but I haven't been able to find where you can change the level of difficulty, even though the description of the game states that this is offered - maybe that option opens up later on. By the way, in the Options menu, there is a "Colorblind Assist" feature which can be enabled. I'm not sure I have ever seen this option in a game before, and I think it's pretty cool that this was included. Give the demo a try and see what you think. :-)
April 25, 2014
Don't be fooled by the first half of Normal. This gets really hard.
[review based on completed normal difficulty] Pros: Multiple difficulty levels, nice graphics/soundtrack, unlimited lives, new twist on marbles Cons: Alternate ball swapping method, limited tracks, base game relatively easy but everything else is really hard If you enjoyed the challenge of the original Sparkle and like the graphics in Sparkle 2, you'll want to check out Sparkle Unleashed. The base game starts out baby easy, but gets considerably harder as the marbles gradually start moving faster and new marbles that are unmatchable and/or chained begin to appear. There is a challenge mode that unlocks after you've played a few levels of the regular game which is a fusion of the survival/challenge modes in the previous two Sparkles. What appear to be checkpoints in the game map at first glance-the braziers-are actually spots in which new powerups will unlock. Although the plethora of powerups from Sparkle 2 is back, you can now only have a limited number of these powerups at any time which you pick from the powerup selection screen. Once the 107 days (levels# are completed in the default normal difficulty, Hard difficulty unlocks, and if you can go through the entire game in Hard, Nightmare will unlock. As of this writing I've gotten through 30 levels in Hard and it's definitely hard! At least the player never has to worry about running out of lives and can restart from the level they left off at. Winning 5 stars in challenge mode is also no easy feat. Even the trophies are much more difficult to win than they were in Sparkle 2, so game completists will be working for quite a while. I've noticed that Sparkle Unleashed is a bit less forgiving about marbles touching the hole...you can have a marble or 2 go into the hole but not for as long a period of time as in the earlier games, and trying to pull marbles out of the hole before they all go down the drain is considerably harder since the game doesn't seem to want to help you out with ball colors if marbles are too close to the hole. The devs left in the alternate method of ball swapping from Sparkle 2, which is to click on the shooter itself to toggle the next marble in the queue. This is something I wish they'd omitted and just used the typical right clicking #which also works#, because it's possible for the shooter to "stop working" if the cursor is too close to the shooter itself or the wrong color marble will be fired due to an unexpected swap. And unfortunately these situations tend to occur at the worst possible moments when the marbles are close to the holes, as the holes are often near the bottom of the screen where the shooter is. Despite the length of the game, there are only 21 actual tracks to play #at least in normal), and some of them don't reappear that often while others recur 6-7 times, which makes the game get a bit monotonous. There seem to be no secrets to discover in the game screens as there were in previous Sparkle games, and the storyline is extremely weak and could have been done away with altogether. You'll probably love to hate those chains too, but if you enjoy harder MPs you'll get many hours of gameplay from this one.
May 1, 2014
Good Game for a Beginner
I found the game very slow and not challenging. Graphics were nice and game play was smooth. Power-ups were interesting, but I had to avoid using them in the first 10 levels. I think if you have never played a marble-popper game it would be a great start, but for an experience player it was boring. I was disappointed and will not buy it.
April 25, 2014
The Apple logo is a trademark of Apple Computer, Inc.