Lost Souls: Timeless Fables Collector's Edition
Exclusive
After Bella's brother Stan mysteriously disappeared, she's been haunted by a single dream. Every night she sees her brother vanishing into a glaring portal opened by a strange, ancient book, and every night she wakes up in a cold shiver. She feels certain that it's not a mere coincidence or a trick of the mind, but something to do with a recent find Stan made - an ancient artifact. Set out in search of Stan through the pages of well-known novels and true stories on an exciting adventure - meet spectacular characters, visit eye-catching locations and engage in a twisted plot!

This is a special Collector's Edition release full of exclusive extras you won't find in the standard version. As a bonus, Collector's Edition purchases count toward three stamps on your Monthly Game Club Punch Card!

The Collector's Edition includes:
Additional bonus chapter
Integrated Strategy Guide
Brilliant soundtrack
Stunning wallpapers and screensavers
Game System Requirements:
OS:

Windows XP/Windows Vista/Windows 7/Windows 8

CPU:

1.0 GHz

RAM:

512 MB

DirectX:

9.0

Hard Drive:

1899 MB
Game Manager System Requirements:
Browser:

Internet Explorer 7 or later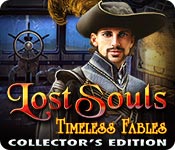 The Big Fish Guarantee:
Quality tested and virus free.
No ads, no adware, no spyware.

Reviews at a Glance

Lost Souls: Timeless Fables Collector's Edition
0
out of
5 (
0
Reviews
Review
)
Customer Reviews
Lost Souls: Timeless Fables Collector's Edition
46
46
A little Bored with this one. Felt like an old school game.
You travel through different books to get what is needed to save your brother. Good premise, but it just was tiring and felt very old school to me - specially the graphics and even the story. Not my fav, but I did finish it.
May 31, 2014
Didn't like this one, sorry.
It got frustrating that a player had to go to the map to move around to each scene as opposed to walking between sites. It was also frustrating that (when looking at the map) it wasn't easy to determine which site you needed to go to next - no noticeable sparkles/glowing or blinking. Once you got to a scene it was pretty good with some nice secondary games to complete.
May 10, 2014
Strange Pages
There were some things about the game I found irritating. Such as the continually tutorial that tells you when to touch the map to leave an area instead of allowing you to figure it out on your own. Even though I really did not lean toward liking the game it did enough to keep me semi interested. Everything was just okay for me.
May 15, 2014
Review of a finished game...
If you buy this game, buy the regular version, not the CE, as I did. I couldn't stop playing once I started. BUT... It was not very long. Although the first "Lost souls" was much better, this one @ least kept you going w/ the smooth game-play, music and quality of graphics and because of those pluses for this game, I zipped right threw it. Therefore I cannot recommend this game for the very short time you play.
June 12, 2014
This Fable Should Be Forgotten
In this game you play as Bella, and as the story begins (and I say story because this is definitely a HO game and not a true HOPA game) you are having nightmares about your brother Stan who is missing and you see that he has disappeared into and ancient book. Of course, you now know where to find him and off you go. Although the graphics are very good they are rather old school and not exceptional. In fact there is nothing exceptional about the entire game only an old school HO game where we visit locations and complete scene, after scene, after scene. You get the idea ? and unfortunately there is nothing exciting here. If you happen to like games that are HOS heavy, then this game may just be your cup of tea. You have a diary or journal but I didn?t find it very helpful, it mainly just recaps your progress. What I did use all of the time, and that is because it is necessary to move around in the game, is the map. The HOS are standard list or the type where you locate the object pictured in the bar somewhere in the scene. Very minimal interaction is required. You will find coins scattered throughout the game and they are in the HOS as well. There are mini puzzles but nothing exceptional. I have no idea why this game was released as a CE because, IMHO, there is nothing CE worthy about it. The included SG is really unnecessary for gamers who are familiar with the genre. Although I did purchase the game because I was bored today and had a good sale coupon, I would say don?t bother. I think the big disappointment may come when those of you who wait for the SE do not get the final chapter of the game that is included as the bonus chapter for this game. All in all, I cannot honestly say that this is more than a game to fill some time when there is nothing better to do. I can only recommend this game for beginners who might love it but for those of us who have seen and played some exceptional CE games, I would say don?t waste your time or money. I'm not going to rate the game as a 5-star game just to have my review posted first! As always, I recommend that you at least try the demo to see if this is a game you will like.
May 8, 2014
Gave me a massive headache..
I was looking forwards to this game, but everything is so small that it really made me feel nauseous. There are two game modes only, and if you don't want sparkles you get a click penalty in HOPs. This is really stupid as items so difficult to find. The mouths of the VOs don't move, and there's more HOPs and cut scenes than game play. The HOPs aren't really interactive, and just junk pile. The first time you play the HOP, theres a list in words. Second time you play there's pictures of items you need to find. The items are really small and with added lights and shadows it made the HOPs unpleasant. Wish some devs would remember some of us are older, and our eyes not what they were. During the trial the puzzles were pretty bog standard, and are in a small window so once again straining your eyes to play them. You collect gold coins in each scene (whoopy do). The biggest irritant is that when there's nothing to do in a scene, you're directed to the map which keeps appearing with an arrow and glowing! Back and forth you go, but mainly to place one item and replay a HOP (they couldn't even be bothered to remove the items you'd found first time round)! The hand holding is extreme, and the items you need to interact with glow as you put your cursor over them. The game feels 5 years out of date, and I don't see what makes this a CE. I wouldn't even waste a free voucher on this game. The devs seem to think we're all too stupid to work out the simplest things, and I feel I was being treated as though I'm a 5 year old!
May 8, 2014
Doesn't hit the spot for me!
Well, guess what! You are having a dream! Your brother (from whom you have apparently been inseparable) has disappeared into a book. You vow to find him. When you touch the book, it separates into 5 story books (one is locked and forms part of the bonus), the artefact your brother used to open it shatters into 5 pieces and your quest is to visit each book and solve someone's problem to get a part of the shattered artefact, presumably put it back together and recover your brother. I got towards the end of the first book in the hour so you can reckon on 5+ hours of play. Just don't play on 'Easy' though unless you want the (refused) tutorial popping up and a message telling you when to move on. The only other option is 'Expert'. The 'Sequel' to Enchanted Paintings, though there is no story connection that I can see apart from Bella being the main character, this follows the same format of individual, self-contained chapters (the books), instead of pictures. You start off at the Professor's house where you learn that he has released Cthulhu (a sort of Kraken) and you must close the portal to lock it away again. Gradually other locations open up on your map with a specified number of actions to do at each one until your quest is achieved. What the challenges will be in Jack the Ripper, Robinson Crusoe, Titanic and The Three Musketeers, who knows! Graphics were decidedly patchy, particularly in the introductory scenes. Some very good, then a short sequence which was just awful, then back to quite good etc etc. Music, can't have been that good as, although I was on headphones, I have no recollection of it. Characters' voices are really awful, particularly the museum curator who sounds like Bert (I did try to write the actor's name here, but was reprimanded for inappropriate language so you will have to look it up! ROFL) in Mary Poppins first time round, then the accent changes! Gameplay is very simple, puzzles also and HOSs either lists with 2x simple interaction or pictures of objects to find. (I came across 5 in the demo).During the first HOS I managed to earn 4 achievements! Talking of 'bling' (this is a CE after all): * Achievements to earn * Coins to collect (in scenes and HOSs) with which you can apparently buy trophies (but why would you want to?) * Map * Strategy Guide (but this is so simple, why would you need it?) If you could be certain that the game will be concluded before Book 5 then I would recommend getting the SE. There is nothing to recommend this game as a CE in my view. But, as I always say, try it. You may love it. I will not be purchasing, however.
May 8, 2014
Should not be offered as a CE
My rating and review is based on the CE of this game. If this were offered as an SE, I'd probably give it one extra star. This is an extremely easy game. You only have 2 choices of play and with the harder one also comes the click penalty. The game is very child like and a non thinking game. It also, by no means, warrants being a CE. I will NOT buy a game for $7 more just to receive an ending to the game. The graphics did not bother me, as I have applauded games with worth graphics than this one. All in all I found it to be a flat game, maybe good for a beginner. As always, demo for yourself. You may enjoy it
May 8, 2014
Poorly put together
The graphics are not very good. The sound was ok but not impressive. The storyline was non-existent. I had absolutely no idea why my character was looking for her brother to start with and why she was performing this search by diving into books. Right from the start you're plunged into a book but there is no explanation for why this is happening. There is quite a bit of cut-scene material involved with all this but it was uninteresting and uninformative. The puzzles have glimmers on them that usually indicate a HOS in most games. I didn't care for this feature at all. The interface with some of the puzzles is very picky and difficult although the puzzles themselves are pretty average in type and level of challenge. The HOS are very easy except for one last thing you need to find which isn't even visible until you click click click through the whole scene. Example, I finished the whole list in one HOS except for a caterpillar but then needed to click around to eventually stumble upon a gramophone cone that was obscuring it. I'm fine with having part of the item hidden...but the entire thing? Not so much. There are collectible coins throughout and those were fun to find but that's about the only thing about this game I found enjoyable. Overall this is a game featuring a confused storyline, mediocre graphics, a picky user-interface, and puzzles/HOS that weren't fun.
June 27, 2014
Not Worth the Cost!
Same game, different title. Wait for the SE! This CE is WAY too short for the cost. Most SE games are longer than this one, feeling incredibly ripped off by Big Fish this time.
May 8, 2014
The Apple logo is a trademark of Apple Computer, Inc.