Forgotten Books: The Enchanted Crown Collector's Edition
Exclusive
Your curiosity is piqued when your librarian friend shows you an ancient book that seems to have no ending. As you open the book's pages, a character in the story begs for your help! All at once, you're swept into his magical kingdom - where a monstrous threat is bent on destruction, but your path is blocked by a mysterious pen re-writing the story. Can you find a way to free the king from his chains, and rid the land of Eldor from danger before the final hourglass runs out?

This is a special Collector's Edition release full of exclusive extras you won't find in the standard version. As a bonus, Collector's Edition purchases count toward three stamps on your Monthly Game Club Punch Card!

The Collector's Edition includes:
Explore four new story worlds and earn new achievements
Complete your set of collectibles
Complete a picture with the paints you've collected
Use the available Strategy Guide
Wallpapers, screensavers, music, movies, and concept art
Game System Requirements:
OS:

Windows XP/Windows Vista/Windows 7/Windows 8

CPU:

1.6 GHz

RAM:

1024 MB

DirectX:

9.0

Hard Drive:

937 MB
Game Manager System Requirements:
Browser:

Internet Explorer 7 or later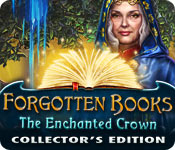 The Big Fish Guarantee:
Quality tested and virus free.
No ads, no adware, no spyware.

Reviews at a Glance

Forgotten Books: The Enchanted Crown Collector's Edition
0
out of
5 (
0
Reviews
Review
)
Customer Reviews
Forgotten Books: The Enchanted Crown Collector's Edition
76
76
Forgotten Books: The Enchanted Crown Collector's Edition
Great game. Would recommend to game to friends
May 29, 2014
Good All rounder
Not the best game I've ever played, so I could only rate it as 'good'.
May 26, 2014
SOLID FOUR STARS
enjoyed this one ... gameplay is smooth ... lots of adventure ... storyline is straightforward ... puzzles are unique and interesting ... hos are pretty good ... couldn't go to five stars, but a good game!
May 17, 2014
You'll love this game.
Played the Demo and was thoroughly absorbed in the story. The game is very good and holds your interest throughout. Its a keeper.
May 15, 2014
Very Cartoonish, not worth a CE
The game functioned well, but was not as cool as some of the other ERS games. Minigames were simple, and would be great for a beginner. The characters (other than the rabbit) did not move much and the dialog, well, . . . One thing I liked that seems to be a trademark with ERS games is the background sound that come across as "Help me Eugene!" Did not need to use the strategy guide at all.
May 18, 2014
Pretty nice, decent game
A game by ERS Game Studios ERS games is back with another fairytale story. This time it's like being transported inside a book and met witches and warriors and white rabbit. The only problem I have with this game is the long loading time per scene, especially on the beginning part of the game. The game story is actually not bad, but I dislike little creativity is used here, saving (a guy this time) from bad person who is hungry of power. HOs are mostly finding objects in silhouette or combining them. Puzzles are of moderate variety. There are 4 levels of difficulties. VO is fine but some are a bit too much, although it's better than some games whose VO is expression-less. Graphic is usual ERS but sharper, but background music is recycled, I am pretty sure I have heard of that music before in one of their previous games. Bonus contents are all the same, but in this game there's Workshop tab where you can see the people behind the ERS company, it's pretty neat to see the people who work behind many series, although honestly not all I like. You don't have to buy the CE to see it though, simply use the demo and check out the photos. Overall a pretty neat game but I'd rather wait for the SE to come out and purchase.
July 1, 2014
I Guess It Was Just......Ok?
The gist of the storyline is that you must go into a magic book and save the magic world from Eldor, the evil King wannabe. Flitting around is a Rabbit much like the "I'm Late, I'm Late" Rabbit in Alice in Wonderland. You see him from time to time but I'm not sure he's much help to you. He just seems to pop up now and again. What really drives me nuts is during the opening scenes you not only get fire and brimstone and crashing and, well, you get it, but you also get lip syncing to the words but in the game - NOT - what is up with that? Pure laziness on the parts of the devs? The graphics are extremely well done. The colors bright and very attractive to the scenes. Music? Sorry, I'm a grandma - I learned to tune out a long time ago - lol. There are 4 difficulties, the last being "custom" so you can change things as you please. The hint button recharges very quickly and is fairly helpful. You get a diary to keep all your notes and clues and a jumpable map to take you from one area to the next and shows you not only where objectives are still needed to be done but when that particular area is completed. In order to help the lands, you must find the royal crown (I think). You are directed by the king's mother to repair the broken shield and save the town of Torelion. The shield disappears when you face-off with Eldor - seriously, you just show him the shield to move on. Eldor and the shield both disappear. Can it be that easy to move on to the next area? You grow peas, heal a tree and get feathers for a bird - there has to be more, huh? There are 5 areas in total that you have to "help save" - Lilliput, Caramel, Slavic, Jungle Book and Torelion. CE BLING: Lots and lots: Bonus Game Strategy Guide (which I did not need to use) Wallpapers Concept Art Screensavers 14 movies 4 tracks of music 16 hidden object games 15 mini games 28 workshop photos (of the devs) There are also achievements you collect along the way; and 18 jars of paint (once collected you will use them to paint a picture). I also don't know if there is a jar in every scene (like most collectibles in games) because I only found 2 during the demo and I was pretty much led to those 2. So, lots of stuff BUT my concern was that I seemed to have finished the demo (saving Torelion?) with 15 minutes to spare - and that was after spending a good 5+ minutes checking out the extras and more games, etc. If indeed showing the shield to Eldor and the shield and Eldor disappearing from Torelion was the end of that particular area. So, how long is this game anyway? If each of the 5 areas takes less than 40 minutes to save - this is going to be a very short game indeed. Not sure I want to spend my money on a CE that is that short Or even an SE for that matter. I'm going to hold out until I read the review of someone who has played the entire game - which I have NEVER done before - and even then maybe wait for the SE, even with the CE bling. I don't really replay the HOGs and mini games, nor am I interested in wallpapers, etc. So, basically, it's the game, collectibles and bonus game that attracts me. BF what is going on this week? Lots of new games that are way below par. This Glam-ma says give it a whirl - I'd like to read what you think. All you lose is an hour. But for me - maybe not so much. Happy Gaming and Happy Mother's Day.
May 10, 2014
Disappointed
I did find it difficult to work out the logics of the story, it jumped about a fair bit and often it didn't make a lot of sense, so I found I had to use the hints far more often than I usually do. To top it all off I missed out on the griffin key, the one that unlocks the leg cuff. There was no way of finding it or returning to see if I'd miss something. I went over and over the area and the story at that point, but no key and so, even so close to the end of the game I had to give up. This shouldn't have happened. Usually if one misses something you can go back and find it, but not this time, hence only the three stars.
May 22, 2014
A Lot Of Fun!
BASED ON DEMO This latest offering from ERS is what I'd call an average game. It's far from bad, but it's also quite far from great. That being said, I think people who are interested in these types of stories will find this one good. The story is not that interesting for me, but then again, I'm not a fan of this story genre. What I will say, though, is that this story has a lot of potential. I quite liked the idea of being sucked in to a book and saving the book characters from evil. I especially liked how random things would be drawn by whoever it is to prevent you from completing your quest. As others have been saying, I absolutely loved the little bunny character! His lines were awesome and made the story a little bit more fun. I get this is a light-hearted kind of story, and the character of the bunny made what probably would have been an unbearable story in to an okay one. Where this story is lacking for me is the content and excitement. There was absolutely nothing even remotely exciting that happens in the demo. The closest I even got to exciting was the opening cutscene. In fact, I'd say that was the best part of the demo. The story just rolled along as I expected, and the demo ended on a poor note. I wasn't even left wondering what was going to happen next. Again, the review of the story may be partially biased because of my personal interests. I reckon that people who like this sort of story will like this one. This game was full of the cutesy stuff (from talking trees to evil pumpkins), which is classic ERS. The strongpoint of this game is definitely the gameplay. Yes, it's not overly challenging, but it's quite fun! The HOS, although nothing we haven't seen before, are awesome to play. There are a couple of them in the demo; the types are silhouette and junkpile. Again, both are really easy, but they were a lot of fun! There were about three in the demo, I think, which proves to me that they will be spaced out fairly evenly. If you don't like HOS, you also have the option of switching over to a puzzle, which has two difficulty choices; Casual and Hard. I was kind of shocked at how hard this one was! This was a very challenging aspect of an otherwise un-challenging game. The puzzles were very fun too, and quite unique (for ERS at least). I only came across two in the demo, but both were awesome and very easy. The puzzles were tracking the movements of objects to collect them, and clicking on beavers without gas masks to put them to sleep. Again, both were EXTREMELY easy. Expert players may not like this, This game also has + objects. These are items you have to join together with another one to complete. There aren't a lot of them in the demo, but they're still a great feature in my opinion. They're becoming more and more standard, but each game with + objects makes the game more fun in my opinion. I would have liked to see a couple more of them. Other than that, this is your standard HOPA. There's no fancy new features, animal helpers or anything of the kind. I reckon this would be a good game to start off with if you're a beginner. Expert players, however, might not enjoy this one as much. With an ERS game comes the great ERS graphics. These graphics are the usual; hand drawn, detailed and colourful. I absolutely loved the colours in this one. There were a lot more colours than usual. The scenes are also clear and the character designs are good. A very good job by ERS on their graphics. The only issue I really have is that the characters' lips do not move as they used to. This makes the game less realistic. I do have a slight issue with the voice-overs. I did not like the voice of Amelia. I thought her voice was over-acted and awful. It's just my personal opinion though. I don't have a problem with any other voices. FEATURES 4 modes of difficulty: Casual, Advanced, Hard and Custom. Custom lets you set the game the way you want it; the other difficulties have differences that are the usual. I played Custom, set hint to 30 and Skip to 40 (seconds). Hint/Skip- The hint is useful outside HOS. Diary- keeps track of events. Good for remembering story details. Map- The map is interactive and helpful to an extent. It lets you know where there are current objectives, but it doesn't let you know exactly where your next one is. + objects- These are items you have to combine with another to make one inventory item. These are a great feature. CE EXCLUSIVES Bonus Chapter- unsure if needed. You can never tell with this developer. Some games are conclusive, some aren't. Built in Strategy Guide Achievements- All gameplay based and all were for helping citizens. None were HOS based that I could see. A bit of a disappointment. There aren't many of them either. Collectible paint jars- only found 2 in the demo. Wallpapers Concept Art Screensavers Music Replay Movies Replay HOS & Puzzles Workshop- pictures of the team developing the game Overall, this isn't actually a bad game. I enjoyed the demo, but I'm going to pass, as I wasn't a fan of the story. I think a lot of people will like this game. If you're going to buy this one, I strongly recommend you wait for the SE as there's nothing in the CE that makes it worth buying. This is one of the most fun games I've played in a while. I highly recommend the trial!
May 12, 2014
Will be easily 'forgetten" ~ sorry, I wasn't much enchanted....
Though the premise of being enveloped into a storybook is potential for adventure, I'm afraid Forgotten Books: The Enchanted Crown just doesn't offer more than an 'index' or perhaps a book with mixed up pages slapped together in a binding. Basically, I didn't find much in the way of a true 'story' that wasn't broken to bits with easy and unrelated mini-games and puzzles. The graphics were also a mish-mash in that respect; as an example, we have the polished/rounded animated Alice In Wonderland-ish washed out [in color] rabbit intermittently popping in and incoherent with the overly garish, over the top ugly-evil entity/adventure at hand theme... they just do not complement each other in the game at all and make playing non immersive IMHO. [I do get that it is ERS; ie. rabbit, yet why throw an industry/company identifier so blatantly and repeatedly into the gameplay, err]. Plot overall, is... here we go again with what is, bottom-line, yet another similar scenario, 'save the world through magic, blah blah bla...'; frankly speaking, I am just plain tired of these themes and am 'hungry' for a story-driven, immersive game with true character, one that is engrossing and not superficial and picture/graphic-driven. So, the graphics were in the realm of ok-ish to good; a mixed bag [slightly distorted sketchy, yet colorful scenes that were a bit lacking in polish and 'omph' mixed with nice action ut scenes illustrating pencil art], and nothing outstanding to my eye. IF the graphics had been combined with an exciting plot, "Forgotten Books The Enchanted Crown" perhaps both would have complemented the other and resulted in a more impressive, if not outstanding game; yet, as it is presented, it just didn't have much original substance to engage me and, therefore, to 'pull' me into the game. 'Sound' [SFX/music] was average/nice and some of the voice just borderline ok with much of the initial voice acting seemingly geared toward a younger audience in terms of how it was narrated [very haltingly spoken], yet the theme I would say 'not'! Needless to say, I wasn't much taken with this game overall and although there were some nice features, I wasn't impressed enough for a purchase... of course I encourage you to give it a whirl; as for me, I will put it on my 'maybe check it out again later for when I'm desperate' list. Have fun ~ happy gaming!
May 14, 2014
The Apple logo is a trademark of Apple Computer, Inc.