Bridge to Another World: Burnt Dreams
Exclusive
You'll never forget the day the monstrous mist rose up and snatched away your little brother – while you watched helplessly from the bridge. But now, after twenty years, the mist has returned – and so has your determination to free him. But first you must confront the evil Countess, who keeps him painting creatures she has learned to burn into reality! Can you face your fears and help your brother finally escape the mysterious island where his dreams come to life - or will the whole world enter the mist? Enter a world where art and reality join hands, in this heart-stopping, hidden-object adventure!
Game System Requirements:
OS:

Windows XP/Windows Vista/Windows 7/Windows 8

CPU:

1.0 GHz

RAM:

1024 MB

DirectX:

8.1

Hard Drive:

662 MB
Game Manager System Requirements:
Browser:

Internet Explorer 7 or later
Alcohol Reference
Mild Fantasy Violence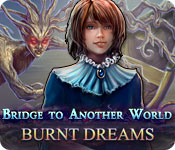 NEW299
The Big Fish Guarantee:
Quality tested and virus free.
No ads, no adware, no spyware.

Reviews at a Glance

Bridge to Another World: Burnt Dreams
0
out of
5 (
0
Reviews
Review
)
Customer Reviews
Bridge to Another World: Burnt Dreams
20
20
Those Without Talent Perish In This World!
Dorian had such a vivid imagination, always painting pictures of fairies and dragons, so when he tried to convince his older brother that a strange mist has taken over the bridge, this was dismissed as mere fantasy. This would turn out to be the most regretful decision he could ever make for you see the mist was real and the mist pulled Dorian into it's world never to be found! Even worse, nobody believed him, until he meets a scientist, Victor Haig, who specializes in the paranormal. Together they would build a fairy trap and find out what happened to Dorian. If you love those fantasy themed games then you're in for a treat, the fairy you capture will be sitting in a vat of mist as your hint icon and soon after entering the misty world you will adopt Drako, a cute and tiny dragon who loves catching things on fire! The hidden object scenes are a mixture of interactive list finds, and progressive interactive silhouettes where you have to find the first item that matches the silhouetted shape, then use that item back in the scene, such as finding a paperclip and using the paperclip on a broken zipper and the next item will be uncovered. You will find scraps of paintings that will be stored in a tube next to the mystic fairy and when all the pieces are collected you will put them back together in the form of a tile swap puzzle. The mini games in my opinion were easy but entertaining. My favorite puzzle was guiding a firefly from the first flower to the last flower which is blue, you had to follow set paths and all flowers needed visited with the blue flower being the last one traveled to. It's certainly nothing new but I still enjoyed it. Some games I truly believe need the features of the Collectors Edition to be fun but in this case I didn't find the game boring without the extras. When I review each game the first thing I go by is whether or not I played the entire demo. If I did play the entire demo, was I so involved that when the demo ended it kind of surprises me that an hour has already passed. And then I decide if I liked the demo so much that this would be a game I would purchase. The answer I came up with on this Standard Edition is yes to all three. Then I will critique the quality of the game itself, what I like or dislike, and in my opinion, I am able to give each game a review individually, apples to apples, not game A is so much better than game B. I remember when I first started playing HOS games, how hard it was to decipher the good games from the bad ones and reading reviews that had so many abbreviations that I needed a key to decode the message. That's when I decided to write reviews and share my opinions as simply as possible, opinions with a dash of sarcasm to lighten the day, enjoy!
April 27, 2014
FRESH and UNIQUE
STORY: Fresh and unique story. 20 years ago, a mist captured your brother. Any pictures he draws are burned and become reality. Now you must try to retrieve him. GAMEPLAY: Somewhat linear, although there is some leeway. Mostly adventure. Many more puzzles and mini-games than HOS. The puzzles are unique and fun to play; many take trial and error. The HOS are quite crowded and interactive. Some may be list-based; others are silhouettes. The silhouettes may need you to gather clues within the scene to solve some of the inherent puzzles to gather all items. There is some back and forth as you need to gather components to solve puzzles in another location. OTHER STUFF: Graphics are a little on the hazy side, but the color palettes are very good indeed. Map shows where there are pending activities. Music is nothing to write home about. Very good production values.
April 27, 2014
Beware the Mist!
In Bridge to Another World Burnt Dreams we play the game as a man whose brother, Dorian, disappeared into a strange mist twenty years ago, and now our main purpose in life is to investigate strange phenomena in hopes of one day finding out what happened and hopefully to reunite with our brother. The graphics are terrific and I think very crisp, although sometimes they do appear less than sharp although that may have been intentional for some scenes. It has been a long time since I have heard such wonderful voice overs in a game. Not only are the voice overs excellent but they are lip-synced as well, which is something that all the top developers are now including in their games. The soundtrack is very good and creates just the right atmosphere for the game. There is a diary that contains objectives as well as notes that will help us as we travel through this mystical and entertaining adventure to find our missing brother. We also have an interactive transporter map that indicates where we tasks to accomplish. I love my dragon that I found shortly into the game and even though some hate their animal helpers, I think that little Drako is extremely cute and useful. As is the case with the more recent games, we have a variety of HOPs with some being the standard interactive list as well as the silhouette type. I am sure that as I get further into the game there will be other types of HOPs. One thing that is missing though is the option to switch to an alternate to locating the objects in the HOPs. I know that in more recent games we do have match 3 or other types of mini games included in the HOPs if we don't want to find objects. The puzzles are scattered throughout the game and seem to be what we would expect. After all, how many different types of puzzles can game developers think up to keep us entertained. I know there will be moans and groans from those who think games are always the same old, same old but my response to them is that they don?t have to play a game if they don?t like it! I happen to love the HOPA genre and always find something to entertain me even if it is the same old thing - lol. Needless to say, I find Bridge to Another World a beautiful and entertaining game. I purchased the CE version of the game and found that it was quite a long game; however, I take my time when playing and look at everything. I found the game to be quite beautiful in many scenes and really enjoyed the creativity of 4 Friends and commend them on their efforts. As always, I recommend that you at least try the demo to see if this is a game you will like.
April 27, 2014
Great Game. Has It All.
This game has it all.Beautifully done graphics, strong storytelling, attractive interactive HO scenes, stylish puzzles. Even moody music that enhances but doesn't distract. You get pages to assemble throughout the game and a helping baby dragon which stays on the palatable side of cute. All the elements of this game are integrated really well. The creative team should be really proud of this game. Modern, transporting map comes to the rescue now and again as it shows areas needing action. No strategy guide but on casual with a bit of time and care, it's doable. Neither the scenes nor the inventory are so cluttered that you can't eventually figure out what needs to be done. Highly recommended. Immediate buy for me.
April 27, 2014
Brilliant Game
Overall the fun factor is greatly appreciated as the storyline fits perfectly with this HOG game. The graphics are very vibrant and very nicely done. Finding things is this game can be described as to a beginners level. If you love fairy games I would recommend this one. I love it and after playing for only 5 minutes I knew this had to be part of my collection.
April 27, 2014
Loved this game!
I had a lot of fun with this game. I played the standard version which was just fine. It's long playing, and the mini-games are not your run-of-the-mill HO, often fairly challenging. I enjoyed the storyline, too. The graphics were very good, and the map is a great resource since there are so many areas to cover. I'm impressed with the way the games are just getting better and better here in Big Fish.
May 26, 2014
great adventure game
enthisiastic game when u start playing this u never want to leave.
September 15, 2014
Passed on CE because I thought I wouldn't like it......
I had already decided to pass on the CE because I didn't like the demo..... noticed some really good reviews and when the SE came out and I had a cc to use before the month ran out I decided to take a chance. Not EXPECTING to like I actually really started enjoying myself after I got across the bridge. Not a big fan of cute helpers this one kinda grew on me and was sad to have to leave it at the end of the game. Actually quite a long game and I'm REALLY glad I got it. It was fun (except for the puzzles.. not a puzzle person). So if you passed on the CE based on the demo don't despair.. you might find yourself enjoying it afterall... fantastic map!
May 1, 2014
Dark Fantasy ? Imaginative Critter Sightings!
BASED ON DEMO FIRST IMPRESSIONS From the start this game pulls at the heart strings. Our adorably cute little brother is sketching fairies, when an evil mist grabs him and takes him away. The intro graphics are great, and the tension and sense of adventure is immediate. You also get a good taste, even in those few minutes, of what the game will be like. There are large dollops of both cute and creepy right from the start. SIGHTS & SOUNDS The graphics are excellent. Darkish, but still easily seen, nice artwork, and imaginative rendering of the many critters and creations in the world of the mist. The sounds are also good. I enjoyed the early voiceovers, but they do not extend much past the introduction. They crop up again near the end of the demo. For cinematic effect. The ambient noise is good too, although dominated by the ceaseless rain. I also liked the music. WHAT?S HAPPENING? It?s 20 years since Bro was dragged into the mist, and you now work on solving inexplicable phenomena, while you await your chance to enter the mist. Yes, it was long ago, but if you can just find a way in, maybe you can save him from whatever fate has kept him away for so long. The time comes, the omens and augers or whatever say that now is the time to enter the mist?s world. With the help of a fairy and a scientist, you finally get inside. There you meet many cute critters, and a lot of not-so-cute creatures. In this world, ?drawings burnt in the mist become real?. And it is for his artistic talent that your brother has been imprisoned and enslaved in this world. Obviously, you must rescue him. But how? GAMEPLAY There is a good mix of HOPs, puzzles and adventure gameplay. The HOPs are interactive lists, or progressive silhouettes. The puzzles are original and charming, and not really difficult. There is also a journal with objectives, notes and replayable movies with any clues on them. I had no problems getting around and figuring out what to do next, but I did have the benefit of an interactive jump map that indicates available tasks (on lowest of 3 difficulty levels plus a custom level). The map shows 5 localities, and the demo covered only the first, which is a promising indicator of a long game ? hopefully! An added feature is a cardboard-like picture tube where rolled up pictures are carried. You find pieces of the drawings that make up the world around you, and piece them together using jigsaw-like puzzles. At which point you can burn them to replace the twisted image/creation with the original. A feature I kinda like, just for the info it provides, is a game timer. Not a timed game, you understand, just a keeping track of how long it takes to play the game. COMBINED IMPACT Quite a pleasant game. Dark, combined with so much cuteness, may not appeal to everyone. And I don?t think it?s an award-winning production, but it is an enjoyable and involving game ? and I love the critters!
April 27, 2014
bridge to another world
well I don't have 30 words to say - I liked it
April 27, 2014
The Apple logo is a trademark of Apple Computer, Inc.