Nightfall: An Edgar Allan Poe Mystery
Exclusive
Travel to Paris and work with Monsieur Dupin! Investigate lots of cases, discover the places of old Paris, and meet unforgettable personalities!


Jump into the Dark Tales series for:
BRAND NEW QUESTS & QUIZ QUESTIONS!
NEW!AVATARS AND CHARACTERS ADDED!
CHECK OUT THE GAMBLING HOUSE!
LARGER THAN LIFE MAP OF OLD PARIS!
Game System Requirements:
OS:

Windows XP/Windows Vista/Windows 7

CPU:

1.0 GHz

RAM:

1024 MB

DirectX:

9.0

Hard Drive:

480 MB
Game Manager System Requirements:
Browser:

Internet Explorer 7 or later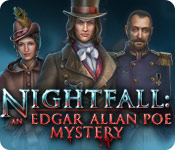 Top In-Game Purchases
1.

30000 Gold

$ 24.99

2.

64000 Gold

$ 49.99

3.

150000 Gold

$ 99.99

4.

35 Crystals

$ 1.99

5.

1090 Crystals

$ 49.99
Game Club members
SAVE 30% on
in-game items.
The Big Fish Guarantee:
Quality tested and virus free.
No ads, no adware, no spyware.

Reviews at a Glance

Nightfall: An Edgar Allan Poe Mystery
0
out of
5 (
0
Reviews
Review
)
Customer Reviews
Nightfall: An Edgar Allan Poe Mystery
43
43
Fun Murder Mystery
This is a very well-made game with beautiful graphics. The mystery of the murder is what draws me to the game. I've really enjoyed the HOS and story line. You play an assistant to Monsieur Dupin and are tasked in investigating a murder. Make sure to read and know the story line, as there is a newspaper interview later that will pay out 125 gems. I have only purchased the initial special offer, and with my BFG membership it was only a few dollars. It gave me some amulets and HOS helps and gems, etc. Well worth the cost. You actually start out wearing your underwear, and I was wondering how the society of Paris was viewing me without skepticism, considering I was also new at investigations.... but I finally saved the 320 gems for the entire outfit. There are 2 to choose from, one will allow you a better percentage to receive the items from the HOS, the other will give you a better increase in energy. Both outfits are rather stunning, especially since you've been running around in your undies the whole time, it's refreshing to be dressed to the nines. I've been playing for a while now, and I really enjoy the game. The story is ever evolving and interesting. There are several HOS and you travel between them depending on what is needed in the story. The HOS locations vary in type and amount of objects. I am up to 18 items in most, and it switches between silhouettes, word list, and compare, which is my favorite. You have to discern what is missing when you compare the two scenes. You earn items you are searching for, coins and experience for visiting each, and each visit helps in leveling up in the HOS. There are also airships which fly by and they need items, like a sandbag to be able to land, or a muffler to help with the cold air... There are also funny mini quests, like capturing werewolves, mummies or escaped prisoners. At first I was purchasing the items needed to capture them, until I realized that the HOS will also give you the cage or tombstone or whatever is needed to capture them. The game is very involved, and intriguing. You continue to find items that are requested of you, assist Monsieur Dupin, and the citizens of Paris, while trying to solve the murder. If you play the game just right, you can level up after playing twice, which will give you full energy. You also have amulets that you can use to increase your coins, experience, finding items, and energy replenishment time. You also build collections which also give you gems and help items. All of the airship/balloon requests give you a gem upon completion, and most of M. Dupins quests also give a gem, so they add up. You also receive a daily gift of energy or amulet. There is also a future enhancement of being able to friend and gift collection items. I hope this is enabled soon. It is a fun game.
July 29, 2014
I enjoy it!
I have played many types of free to play games and this one is not bad. I have read complains about keeping your energy up, but it's really not that hard. This game has kept my attention for a few days now, so in my book that makes it a good game.
August 3, 2014
no rats or plague in this one, its simply old pariee...
storyline is a bit involved with multiple charactors who help develop a intertwined adventure where finding evedence is crutial to solving a serious murder scene. The goal is to find the killer and to put him/her behind bars. Instead it involves more than one crime in the city of Paris, about one hundred years ago. The information is good and it goes on for hours, im only half way through and ive played about 5 hours. Shadow the cat isnt there, just a sad crying of him, too sad as the tale goes, and the gears between scenes is grewling to the brain. Its more of a theatre show than like his other games, as this one takes time to get use to. All in all, i like the way Dupin dosnt mess around and likes to point out things that the ordinary male would neglect to see. Hes young and well defined as he has his own taste, with his top hat and fancy cane. i hope to see him again in a future game, yet fear the nitty gritty it involves.
August 9, 2014
Nightfall: An Edgar Allan Poe Mystery
This game is great I love it. It's the kind of game I love to play, it's not too hard and it's keeping me interested for a while.
July 10, 2014
great game
I really like this game , this is one I would by for my self when Im not hooked to the net. YOU all should make more like this this one of the best games ive played in a while ...........I love love love it
October 23, 2014
I Never Knew Detective Dupin Had A First Name, Did You?
Yep, apparently it's C. Auguste Dupin (okay so the C parts still a bit vague) I never liked the F2P games at first, I fear change, but the more I play them the more addictive they become. I still like Midnight Castle the best, but this one's pretty good. You are Detective Dupin's newest recruit in his agency and his assistant, Anna Flers is his secretary and will also show you the ropes to get you started, these games seem complicated at first but are actually quite easy to navigate. You will be given quests which are tasks or objectives, and to finish that task you will need to go to that specific location, such as Dupins house, a cafe or a hotel corridor and even a dungeon. Each location is a Hidden Object Scene with either a list find or a silhouetted shape find, sometimes you have to search that location with a flashlight. The faster you find items back to back, the more points you gain which will progress you in levels. There are bonuses you can earn or purchase to help you such as a more powerful lantern, a tuning fork to cause items to shake or even a flare. You will need to purchase energy (food) to investigate, the coins are easy to earn, the crystals far and few between so be conservative with those. There are achievements to earn and you can purchase and receive gifts from other players. There are amulets to earn, and you can store items you earn and purchase in your office. The office has an achievements case, a diary to store important information, a furnishings store to decorate your office, and a wardrobe closet where you can buy, store and change your wardrobe, enjoy!
July 29, 2014
Long wait for updates WORTH IT!!!
I love this game! The latest updates are FABULOUS and FUN! The characters are fleshed out, the scenes are beautiful, and the narratives are well-written and thoughtful. It's both enjoyable and relaxing to play! (I love capital letters and bangs!!! aka exclamation points.)
January 19, 2015
For a Free To Play It's Not Bad...
This was surprisingly a fun game for being a F2P...I'm actually hooked. The game is still a beta so this is solely based on that and what I have gotten through so far...glitches and other changes may be/will be brought out by the time some of you read this review. I gave this game 4/5 for the fun factor: This game launches you back into the Murder at Rue Morgue but from the perspective of a detective trying to get a start with Dupin and slowly building their way up. To do this you have to do hidden object games to complete tasks for different characters. This takes energy, and while it does recharge over time, and you can gain powerups to help speed this up or renew your energy, after so long you have to spend the coins and/or the crystals you have earned to get enough energy to play. This factor can get rather annoying, as can the fact that if you exit the game your time continues. While this is a good thing when it comes to recharging your energy, if you have an active powerup you will ultimately lose it since the time on how long you have it also continues to go down (a big waste unless you can manage to keep going for as long as your powerups are active#. I gave this game 5/5 on visual and sound quality: The HOS are the places you went in the original game, only now they are HOS rather than places you simply pass through. The characters were drawn well, more like the original game, and the details are stunning. The music is the original track so if you enjoyed it before you'll love it now. I gave the game 4/5 for level of challenge: Like the DT series the HOS are rather simple. That said, there are challenges that pop up as you play, and the number of items you have to find also increases. When you start you have a short list of 6 items and no hazards. As you progress and increase your rank the number of items increases to 8 and then to 12 #this is as high as my game has gotten so far...but I wouldn't be surprised to find 18 or 24 items in the future#. The HOS style is either a list of items, silhouettes, or a spot the difference that requires you to slid the screen to find all the objects #basically a zoom in of the room but the entire room#. For the most part the items are easy to see, but I have had to use hints a few times...The objects constantly change locations so that adds to the intrigue since you have to look for them rather than just clicking. The hazards I have gotten so far are a hurricane #gives you a limited time to complete HOS#, night #you search in the dark with a small circle of light#, fog #clouds of fog cover the scene - only had this once so far#, and snow storm #freezes your hints so you cannot use them - only had this once so far#. I gave the game a 5/5 for the storyline: The story is an interesting one with many subparts thrown in. The general story is solving the murder, the substories are characters solving crimes around Paris and asking for your assistance to do so. You have a journal that keeps track of events and clues as well as messages that fly in via bottles and envelopes with wings so you can keep what is going on straight. The journal is also sorted by character and provides info on that character #ie all the Bank related crimes can be viewed under the Bank manager and the police crimes can be found under the chief of police#. There is also a tab at the bottom of the journal with notes on the murder. Overall I give this game 4 stars. For me it's actually fun and doesn't require you to purchase anything with real money unless you absolutely want to. Everything you need to find can be obtained in the HOS, and if you are patient #or lucky with gems and can buy furniture or clothes to boost your luck and success# your energy will recharge and you can keep playing. There is also a bonus for playing every day #or at least going into the game each day). I'm not sure what will happen after the case is solved and I get the final bonus, but I do hope it will continue so I will be able to use the gained bonuses.
July 18, 2014
An Excellent Addition
I have quite enjoyed the Edgar Allen Poe mysteries and their characters, but I haven't always had a lot of luck with FTP games. Mostly, I find them somewhat repetitive and severely lacking in story line, but this games finds a way to incorporate story rather well and makes a great effort to balance challenge with visual skill. I've only been playing for about an hour at this point, but I could easily see myself playing this game daily, especially now that I am waiting for a content update with Agency 33. A lot of the things I'm noticing is that many of the complaints that face other FTPs seem to have been addressed early on, like: - the drop rates seems to be a lot more tolerable - the hidden object scenes are quite challenging - the energy recharge is 1:30 Overall, my first impressions are positive and here's hoping it will continue to be a pleasure to play.
July 29, 2014
Nightfall, Edgar Allen Poe
Fun game, a lot of ins and outs. Keeps you guessing.
August 4, 2014