Fear For Sale: Phantom Tide
Exclusive
Paranormal journalist Emma Roberts is called in to help a grieving family being haunted by forces that can manipulate water, threatening to kick them out of their home. Emma will soon discover that ghosts aren't the only thing lurking around Greenville. There's something very suspicious about Julia White's death. Julia witnessed something at the hydro-electric plant – something someone would kill to keep a secret. Search the town, investigate suspects, and solve puzzles in Fear for Sale: Phantom Tide, a thrilling hidden-object puzzle adventure game!
Game System Requirements:
OS:

10.9/10.8/10.7/10.6

CPU:

1.6 GHz (INTEL ONLY)

RAM:

1024 MB

Hard Drive:

808 MB
Game Manager System Requirements:
Browser:

Safari 4.0 or later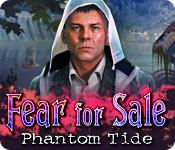 NEW299
The Big Fish Guarantee:
Quality tested and virus free.
No ads, no adware, no spyware.

Reviews at a Glance

Fear For Sale: Phantom Tide
0
out of
5 (
0
Reviews
Review
)
Customer Reviews
Fear For Sale: Phantom Tide
13
13
What Did Julia White See?
Emma Roberts the famous paranormal investigator has been called in to investigate strange water phenomena after the mysterious death of Julia White. Julia was an engineer working on the town dam when she saw something, but never made it back to report her findings! The fantastic water manipulations that the devs have accomplished in this game is incredible period. You will receive a shell that can be used to manipulate water, such as putting out fires or soaking it up. Although there are no bells and whistles in this edition it's still a really entertaining game. The hidden object scenes are interactive list finds where you may have to pick up different colored bouquets of flowers and place them into the gnome planters. You can opt for a jigsaw puzzle instead of the HOS. The mini games are pretty simple such as scrolling through wooden boats until you find the correct and matching boats for the slotted silhouettes. In my opinion the Collectors Edition is more entertaining, but for the price difference this one's top notch, enjoy!
May 2, 2014
FUN ADVENTURE GAME
SUMMARY: Love the Fear for Sale games. I privately grade my games and they are always in the top 10%. They are fun to play, well thought-out, flow effortlessly, colorful and have excellent sound/special effects. STORY: You play Emma Roberts, called to investigate paranormal water-based anomalies in Greenville. Water is everywhere, even flowing up the walls in the White household. GAMEPLAY: Mostly adventure game. You have a shell which is used to manipulate the water; realistic sound effects; fantastic visual effects; pleasing bright color palettes; and music to help push you suspensefully along in the appropriate places. Good voice overs. You can customize your level of difficulty (4 total modes). HOS are fairly crowded, but colorful and distinct. Objects are easy to find and some are interactive, requiring more than one action. You can play a jigsaw puzzle if you don't want the HOS; but the HOS are so nice, I can't imagine not wanting to play them. Puzzles are plentiful as you try to figure out what to do and where to go. One improvement could be the hint system. It is just not very helpful. Example: fairly early in the game, you come across a raining door which needs 3 objects to open it. If you need help to find one of them, the hint will point out the door. Well duh! I already know I have to put something there - the question is what and how can I find it? CE or SE? -- CE has 12 collections of 5 pieces each, a number of achievements, and the usual extras. No morphs, but it has enough collections that I will buy the CE instead of the SE.
June 4, 2014
WONDERFUL ADVENTURE!!
Review based on completed game in casual mode. Animation/VOS - Excellent even for player. IHOS - Lists. Fairly clearer than most I've played lately. Of course you can depend on small objects. Repeated scenes. You have the option to switch to a jigsaw puzzle. Hint - Fast charge. Gives clues and directions. Misclick Penalty - None Diary - Contains story info and photos. Map - Does transport. I actually used it a few times. Shell - Assists you with, what else, water problems. :-D Inventory - Locks in place. Getting spoiled by this feature, by the way. Objects used quickly in other areas. Puzzles/Mini-Games - Challenging and unique. I skipped most of them. Didn't have the patience. Fast skip. Another goodie in the Fear for Sale series so throw the line in and reel it in. Enjoy!!!
May 23, 2014
BLUB BLUB
I ALMOST DIDN'T GET THIS. THE REVIEWS WERE SO-SO BUT I TOOK THE CHANCE. very ENJOYABLE GAME. LOVE THE SUSPENSE ALMOST TO THE END OF THE REASON FOR IT ALL HAPPENING TO THEM . I LOVED IT. HAD FUN JUST CLICKING ON THE MOVING WATER AND THE SHELL WAS COOL.
July 15, 2014
I give it a A
I love it and i would recommend it to all my friends and my family.
May 4, 2014
Overall Good Game Just A Bit Of Mixed Feelings 3.5 Stars Completed Game
I purchased the CE when that was released so my review here is based on this and I have listed the CE extras at very bottom. VISUAL/SOUND QUALITY: I really liked the graphics and the cut scenes. I thought the developer did just fine here. The voice overs I thought were really good. The music started out really good for me however getting more into the game and even into the bonus ended up being pretty much the same music so I ended up turning that down. I do think this could of been worked on just a bit more to give more of a creepy/eerie feeling. LEVEL OF CHALLENGE:I played custom mode and though I didn't use the hint/skip or even the map or strategy guide I did like having these available with quick charge up just in case needed. There were no sparkles for me (thank you) however still had black bar tips stating what needed to be done so I deducted one star here. HOS: These are found by interactive word list. I'm a fan of these. I had no problem here locating anything. PUZZLES: I'm not a fan of this. Less the better. Having said this I had no problem completing any of them but just too many for me. I prefer games more on the adventure/HOS side. (more adventure though). ADVENTURE: While I found some back/forth to this game the "adventure" side was pretty light not having to travel too far. I never got lost in the game. STORYLINE: I did enjoy this story. It kept my interest from beginning to end. As for the main story ending I do have mixed feelings here meaning if I had just played the main game only this does come to conclusion and I was quite satisfied with the ending so without playing the bonus chapter this would be a 4 star game for me. However since I have played the bonus chapter this is really where the true ultimate final ending to this game is. I also thought the bonus chapter should of been all new locations. There were a couple of new ones however most from main game. I did however enjoy the story here. Actually I found this a bit more interesting than the main game. I deducted 1/2 star here for the way the developer here chose to "ultimately" end the game. If the main game wouldn't of had a conclusion I would of deducted 1 whole star and not be recommending this. MY PLAY TIME: 5 hours for main game. 1 1/2 hours for bonus chapter. While it wasn't very challenging I think I tend to be a slow game player compared to most on here. FUN FACTOR: Overall I enjoyed this game.but has a few flaws that I've already mentioned keeping it from being 5 stars. I was and still am as my opinion hasn't changed right in between a 3 and 4 star rating and since Big Fish doesn't have a 1/2 star well I decided to bump it up to 4. I did find this to be better than some of the games Big Fish has released to their site lately. Thanks Big Fish and Developer. Overall a good game. P.S.I'm no longer a fan of this fluff. Having said this... As for the CE Extras: 10 achievements based on performance and story line, 35 collectibles, 36 morphing 'beyond' objects which I didn't find too difficult to locate and these do carry over to the bonus play.
May 2, 2014
An Very Good Game in the Fear For Sale Series.
We play the game as Emma Roberts who investigates paranormal activity and now we have been called upon by Adrian White whose wife Julia was recently killed in a tragic boating accident to help him find out what is happening in and around his home. The water at Adrian?s home seems to have a life of its own and is out of control with water dripping from the walls and pictures in his home. He implores us to help him find out what is causing this terrifying activity. Shortly after we meet with Adrian he is swept away by a wall of water and locked in his basement, now this is where our investigation and the fun begin. Will we be able to solve the mystery of Julia?s death and discover what she is trying to tell us? The graphics are generally very good but appear slightly grainy and lack the crisp clarity of some other games by this developer. The previous Fear for Sale Nightmare Cinema was a game with excellent crisp graphics but unfortunately that graphics quality seems to be missing from the current game. In this installment of Fear for Sale, the game uses live actors as well as animated or computerized characters so there are lip-synced voice overs which I always like in a game. The sound package is excellent and I didn?t find the music to be intrusive or annoying. As far as tools we have a diary that contains our objectives as well as notes that will help us as we progress on our adventure. We also have an interactive transporter map that indicates where we have tasks to accomplish. Another unique tool is acquired shortly into the game and I have found it to be quite helpful when confronted by a soggy situation. I find the seashell adds a new dimension to what we usually do with our ?helpers?. Most of the HOPs are the standard interactive list type and I must say that they were generally piles of junk and that made it difficult to discern the objects to find. If we choose not to look through the piles of stuff, we do have the option to complete a jigsaw puzzle instead ? one of my favorite options. As far as the puzzles in the game are concerned none of them are too difficult and some are downright simple. Alas, I guess the new trend in HOPA games is for overly simple puzzles so that the developer doesn?t frustrate those gamers who like easy and don?t want the challenge of solving a difficult puzzle. I wish the devs would include more challenging puzzles in their games because there is always the ?skip? option for those who just can?t handle difficult puzzles. In conclusion, Fear for Sale Phantom Tide is a solid four-star game and is very entertaining. I purchased the CE version of the game and loved it. It basically took me a whole day of playing to get through the game and then the bonus game. I recommend the game but as always, suggest that you try the demo to see what you think. If we happen to have a good sale, I would suggest purchasing the CE version since it is a great value as far as CE content is concerned. Happy gaming - no matter which version you choose it is an excellent game.
May 2, 2014
Phantom Tide Washes Little Ashore
You play a detective who is investigating the apparent death of a woman who saw something strange near a dam, but then seemed to die suspiciously before she could report it. Her husband and daughter have since been tormented by strangely-acting water, which spews out of all sorts of places like walls. They live in a house that is literally in the shadow of the dam. Other than the water, which is well-animated and seems to truly have a life of its own, there is nothing else which stands out about this game. The voices are done well enough, but the drawing is only average at best. It is really not up to the highest standards of premium games. Everything appears almost flat - although colorful. It gives the game an older feel, despite the animated water effects. Game play is also pretty standard with the exception that you get a special shell that is able to control the water's behavior at times. Other than that, there is the usual array of puzzles and hidden object scenes. This is an average, at best, game. I cannot fathom (heh) the good reviews for this game unless there is something I am not "sea-ing" (groan).
May 2, 2014
so-so
Too Short!!! I'm still not sure why the water was defying gravity....? There wasn't too back and forth in the game but it was too short. boo for that! 2014
May 16, 2014
Nice suspence but otherwise boring
Based on demo version. Like the suspense and the storyline, but I do not like the graphics, sorry to say. I was drawn by the storyline and wanted to continue playing to learn more about it, and puzzles were OK. However, the HOs were boring, and again, the graphics made things worse. One can switch to puzzle mode during HO scenes, although it has its challenge, I prefer match-3 games. Due to its interesting plots, I may consider buying when it has $2.99 offer, but at full price or even half price....mm... probably no...
May 13, 2014
The Apple logo is a trademark of Apple Computer, Inc.
The Windows logo is a trademark of Microsoft, Inc.