Jane Angel 2: Fallen Heaven
In the next exciting chapter in the Jane Angel series, Jane has mysteriously vanished and it's up to her sister, Nancy to solve the case. However, as Nancy delves deeper into a world of ancient conspiracies and the supernatural, she finds that this mystery isn't so easily solved. Can you help Nancy navigate through history in order to find her sister? Explore a sprawling and vivid world in Jane Angel 2: Fallen Heaven!
139 unique game screens
Meet 24 animated characters on your adventure
Enjoy a detailed and supernatural atmosphere
Game System Requirements:
OS:

Windows XP/Windows Vista/Windows 7/Windows 8

CPU:

1.0 GHz

RAM:

512 MB

DirectX:

9.0

Hard Drive:

475 MB
Game Manager System Requirements:
Browser:

Internet Explorer 7 or later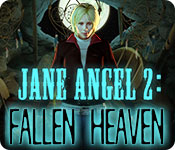 NEW299
The Big Fish Guarantee:
Quality tested and virus free.
No ads, no adware, no spyware.

Reviews at a Glance

Jane Angel 2: Fallen Heaven
0
out of
5 (
0
Reviews
Review
)
Customer Reviews
Jane Angel 2: Fallen Heaven
21
21
IN BRIEF
BASED ON SHORT DEMO (30 mins) Brief notes of my impressions. Very much an adventure lite rather than a HOG. There are HOPs, a significant amount of them, but more important are the dialogues with people you meet, the quests they send you on, and the strategic decisions you must make. Your step-sister, Jane, calls on your mobile phone, with a simple message ?Save me?. Um, then it gets weird. You are drawn into a world on the other side of the phone somehow. Anyway, you end up shackled to a cannon on a cursed ship in 1536. Your sister speaks to you in her ghost form (I have no idea if any of this conforms to the first game), but you discover she is being held as a witch, and is blamed for the evil demon that is destroying everyone. None of it means much yet. Your tasks are listed as you go. You have a hint that refills in just a few seconds (thank goodness), a compass that reveals the exits (yeah, I thought that was weird too, but I couldn?t get it to do anything else), and an artifact from your sister whose powers had not been disclosed in the time I played. You also have a book that looks like a journal, but in fact, holds documents, the purpose of which is also not clear. This was on the easier of two difficulty levels. The HOPs are interesting. You will find a list to match a HO scene, but not all of the items will be visible there. Some, you will find in a connected HO scene off to one side or the other, where there is a HOP word list which also has most of its items in the HO scene it first appears in, but a few will be in the earlier scene. Confused? Yeah, me too. The one thing that really bugs me, is that the close up windows do not close automatically when you are finished with a zoomed in scene. You must use the ?x?. Also, what I saw of the game was very dark and images were not always as clear as I?d have liked. COMBINED IMPACT Can?t say I was enthusiastic about this at all. As a HOPA it fails. There?s just too much dialogue and oddness about it for the HOPA crowd. For adventurers, well, it would be pretty easy I would think, and not especially intriguing. But you might find it a bit of fun on a lazy day.
May 5, 2014
Needed too much Help to Enjoy the Game
I found the story very interesting. I saw one reviewer said that this game was for beginners. I don't consider myself a beginner, but I found it really hard to just play the game w/out following the errors and using hints. A game that requires (for me) too many hints..is not fun for me. Give the game for yourself. I won't be buying it. Not for me!!
May 6, 2014
The story just wasn't great.
Based off of Demo Play: I thought I'd give this game a try because I've basically beat all my other games at the moment. The game play is okay, pretty easy to navigate throughout, the overall look is good as well. The one thing that I didn't like and is a big thing for me is the story. It just isn't good, and didn't grab me at all. The storyline was just so slow and honestly I basically pushed myself to see it through to the end of the trial play. I would still recommend you try this game for yourself because no two gamers are created equal. For me this is not one that I'll be owning even if I have an extra credit.
May 6, 2014
An Enjoyable Game ...
Good Graphics, Sounds & Voice Bits ... A Basic Game With A Nice Story Line. Sadly No Wide Screen Support ... Worth A Voucher To Kill Some Time ...
May 17, 2014
UNINSPIRATIONAL
The game wasn't bad; I just found it mediocre and uninspired. Story was okay, but wasn't clear exactly on why you are trying to save your sister and from what. Eventually a mystery starts to develop about demons and witches. Two modes of play: casual walks you through everything - no thinking required. Hard mode was a little better. Tasks are given. Voice overs showed either no emotion or overacting. Average graphics. No map; it would have been helpful once you discovered several active locations. I'm going to pass on this one.
June 4, 2014
don't bother
Very confusing game. Graphics are very good but game is very hard to understand and instructions for actions are nil. Help really doesn't help at all. I had to skip the main parts of the game just because there were no instruction as what to do at these points. Lots of reading conversations of the characters. I didn't complete the one hour free time. I don't recommend this game. sorry.
May 5, 2014
Jane Angel 2: Confusing Mess
Sad to say, and this is based on the demo which very quickly grew boring, this sequel to Jane Angel is a confusing mess with little direction. I played on the expert level but found that the game forced a tutorial on me, which was annoying. Secondly, using the hint button really did not give an accurate hint. It only sent me in circles. i am not going to rehash the plot here since it has been given in an earlier review. This is more of an adventure game than HOG, but I would advise strongly that you try the demo before purchasing to avoid wasted time and money. It would probably be a good game for a beginner but not for a pro.
May 5, 2014
Sorry, did I fall asleep!
Hi all. Well, I guess we were due for one like this...been a while. The graphics weren't anything special, but fairly clear and bright in most areas. Game play seemed to be good, no problems. Voice overs were okay, but little "emotion," with dialog being a bit over the top and boring. There was also way too much unnecessary dialog in this one...too much reading. The hint system was helpful and filled at the usual rate. HOPs, which were few, were fairly clean. Some items were difficult to see due to size (mostly) or lack of light, but otherwise easy to find items. Almost every area had something to pick up or find that was outside a HOP, so you need to click around to be sure you get everything. I found the story line a little hard to follow. No real lead into anything. Why are you suddenly in the 1500's and then back to 2012? It was too difficult to get into the story. There is no real rhyme or reason to what is happening or what you are doing. This is an extremely simple game, with no real challenge, that is geared more toward the beginner than anyone else. Sometimes, I like games like that, but this one just didn't have anything that made me want to keep playing, so no buy for me. As always, try it for yourself and see what you think. We all have different tastes in games and you may find this one to be exactly what you are looking for. Thanks for the reviews.
May 5, 2014
Replace the staff, and start with the translator!
Demo review: Storyline is confusing at best. I suspect two programers arguing over how much info to give out in the demo and we all lost. Sister Jane has disappeared. You suddenly find yourself on a ship in the 1500's in shackles and surrounded by really dumb sailors, with apparently a demon on the loose. Good news: the HOPs are not junk piles. Bad news: They cover two or more scenes of controlled chaos with occasionally badly translated items to find. (For instance: A lily, a flower, is not a fleur de li, a stylized symbol, which is what you are meant to find.) The only diary you have is a collection of papers and maps you find on the ship and in other scenes. Sometimes your directions are deceptive, possibly due to the unfortunate abilities, or lack thereof, of that translator. There is no map, which makes sense, as you are apparently in a ship that changes around you continuously. The only mini-games were repetitious and unimaginative. The minimal animation is stilted and characters so bad they were almost funny. The dialogue sound level seemed to waver between loud for one character and barely a whisper for another during the same conversation. Someday when this is on special and I am really bored, I may give it another whack,but it's doubtful. There is very little to recommend this game, unless you want a throw-back to ten years ago!
May 5, 2014
Don't waste your time
A game that ignores no music and no voice. Clumsy to move around and generally boring
May 25, 2014