Grim Tales: The Vengeance Collector's Edition
Exclusive
You've been summoned to court to provide testimony in a trial against your nephew James, who stands accused of murdering his sister. By using your power to learn an object's history simply by touching it, you must examine evidence from the crime scene to determine what really happened to Elizabeth. Can you prove James innocent and find the real killer? As you explore the family mansion, a dark force is trying to cover up the truth! Watch your step, or you could be next! Follow the trail and crack the case in this thrilling hidden-object puzzle adventure game!

This is a special Collector's Edition release full of exclusive extras you won't find in the standard version. As a bonus, Collector's Edition purchases count toward three stamps on your Monthly Game Club Punch Card!

The Collector's Edition includes:
Bonus chapter featuring a new story!
Gather evidence to present at court!
Collect figures for more story info
Use the available Strategy Guide
Get soundtracks, concept art, and wallpapers
Game System Requirements:
OS:

Windows XP/Windows Vista/Windows 7/Windows 8

CPU:

2.5 GHz

RAM:

1280 MB

DirectX:

9.0

Hard Drive:

1171 MB
Game Manager System Requirements:
Browser:

Internet Explorer 7 or later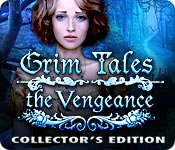 The Big Fish Guarantee:
Quality tested and virus free.
No ads, no adware, no spyware.

Reviews at a Glance

Grim Tales: The Vengeance Collector's Edition
0
out of
5 (
0
Reviews
Review
)
Customer Reviews
Grim Tales: The Vengeance Collector's Edition
72
72
Grim Tales The Vengance ROCKS
this game is excellent all around. held my interst the entire way through
May 21, 2014
Loved it!!!!!
Loved everything about this game! Was such fun. Loved the storyline, really very good! Had problems keeping up with the relationships, though. Someone changed the family name from McCray to McCrew??!! Neat way to have story end positively! Loved the gathering of evidence, as well. Did I miss out on 7 achievements bc I played 'Hardcore'?? Just asking, bc I don't see how I missed any!! Loved this one!!!
October 3, 2014
Untangle a Family Mystery
One of the most enjoyable games I've played. You are Aunt Grey and are tasked with proving your nephew, James, did not murder his sister, Elizabeth. Using your paranormal abilities, you "see" past events and help unravel a malevolence seeking to destroy your family. The art in this game was stunning. Every scene was wonderful, full of life. Likewise the music was some of the most beautiful and haunting I have ever heard during game play. The games were well thought out. The storyline progressed at an understandable pace. And the interactive map kept progress moving forward. This is a game I will probably play again and again.
August 22, 2014
Just LOVED it!
Wow I thought the other Grim Tales were good, but this one is the best so far. So many new and interesting puzzles. Perfect for the experienced player. You will not be disappointed if you buy this one!
August 18, 2014
Grim Tales: The Vengeance Collector's Edition
"Fun Hidden Object Game!" Loved this game!
July 7, 2014
YOU MUST PLAY THIS GAME
This is a visually stunning adventure game with beautiful breathtaking scenes that could qualify as fine works of art in themselves. The impact of the artwork is astounding as it draws you into the scenes. There are many hidden object scenes throughout the game and they are all mesmerizing for the detail of artwork and care that went into designing them. Every hidden object scene is laden with beautifully rendered objects and animated items and mood lighting. I have not seen any other hidden object adventure game that comes close to this. Not too easy or too hard, this was exciting and entertaining to play. I really have to admire the artists who crafted the detailed scenery in this game. It's just fantastic. But it's more than just visually intoxicating, the storyline is exciting and dramatic, you are trying to rescue your nephew who has been arrested and accused of murdering his sister for their father's inheritance. Using a supernatural power that you posses to teleport yourself psychically into the past, you step back in time to the day of the murder and investigate room after room in the mansion and surrounding grounds of the the family home as you try to gather evidence that will prove your nephew is innocent. There are multitudes of unusual boxes , chests and secret panels that need to be unlocked and investigated, indoor and outdoor scenes, and all the while you are being stalked by a supernatural evil that is following you and wants to stop you from succeeding. There are many puzzles in the game that are highly original, and some that are more standard. Some are a little too easy and others have just the right balance of difficulty without being frustrating to complete. There is a diary that logs key events as you come across them in the game, and there are "morphing" objects that you can collect if you want but it's not necessary for completion of the game. There is an interactive map that allows you to jump from one location to any other location you have been to. And the map also points out where there are tasks awaiting that you can accomplish and this helps you to see where you should be going to move forward in the game. If you look at the map and see no ( ! ) tasks on it, then it means there is something in your inventory that you need to construct in order to advance the game. Some items that you find in the game are incomplete, for example the glass cutter. You find the handle first, and then in another area you find the base and a diamond to use with it, and all of this can be put together to fully construct the glass cutter within your inventory. I hope to see and play more brilliantly crafted games like this one.
July 6, 2014
There?s Just No Excuse...
BASED ON BETA FIRST IMPRESSIONS For what Elephant have done to the beset Gray family this time. They?ve gratuitously changed the names in utterly ridiculous ways! And without any cause I can fathom. It really is quite unforgivable. Luckily, they have introduced a new dimension to the story ? now we are not the only one who can travel back in time to significant events in a person?s lifetime. SIGHTS & SOUNDS As you?d expect from Elephant, the artwork in this game is brilliant. The style is beautiful, colourful, detailed. The Dobermans are way scary, and the creep behind them is ominous too. The voiceovers and acting are both excellent. Ambient sounds of a courtroom are pretty unnerving ? all this shuffling and coughing, everything waiting on my ability to ?read? personal objects. Much of the music, though, really bugs me. Too loud and jarring. I am normally a person who finds music essential to the gaming experience, but in this case I think I?d rather silence. It is not for the whole game, though, and the rest of the quieter music is actually soothing and pleasant. There are 4 sliders for altering sound, plus gamma, and the usual mix. WHAT?S HAPPENING? Well, see, here?s where I get cranky. The ?McGray? (previously known as the Gray) family is now minus my sister and her husband (remember, the first game, all those years ago, started with their wedding), who have died unceremoniously and left a will that leaves the entire estate to Elizabeth ? reasons unknown. Even worse, Elizabeth is now also dead and our dear nephew James is accused of her murder! We, as Aunt Gray (what? My sis married into the Gray family, not me), are subpoenaed to give evidence to the court, based on our ability to use important objects as a kind of doorway to significant events in the past. After finding an old photograph of the Black Rock (wasn?t it Black Lock?) mansion, we are transported back to a moment sometime before our niece?s death, to find James looking exceedingly angry and threatening Elizabeth. While they remain suspended in time, we must seek evidence of James? innocence to show the judge. But we are not alone. Impossibly, something or someone is moving it this normally frozen environment. And it is getting nasty. One thing I dislike about this game is that there is a confusing and contradictory back story to go with all this, with family trees and so forth, all delivered in an amazing assortment of media, that could have made the backstory interesting and involving. Again, why couldn?t they just stick to what we know and build from there? GAMEPLAY Standard Grim Tales fare. Each location has an interactive word list HOP, as well as a puzzle/mini-game here and there. Nothing too demanding, and usually nicely integrated and imaginative. The adventure component is also not too difficult, and there is a teleporting hint system, as well as the interactive jump map. The map shows where they are active objectives, but also where there are none. The action flows nicely, but there is a lot of to and fro even this early into the game, so that map really is necessary. There is no notebook. The demo lasts for 2 out of 6 chapters. The inventory is lockable, and there are items which can be combined in it. There is no journal, and there are only 3 levels of difficulty. The unique elements in the game play are the evidence items you must bring back from each excursion into the past. There are 5 items that must be found, and each has a story attached to it that may affect the judgement on James. These are indicated along the right side of the monitor and are separate from any other searches. That doesn?t explain how different this method of investigating is ? you really need to have a go at it. CE BLING! There are two types of collectible (I think). There are 13 figurines, each with a story attached, and in groups of two or three, a film reel is played, giving further information. I played the beta for this game, where there are also 10 (in the beta) morphing objects. I found 6, so I am thinking there will be more than that in this, the full game, but I didn?t find any. There are 10 achievements, based on performance. The gallery has 9 wallpapers, including the Dobermans, 8 saveable concept art, 5 music tracks, and a screensaver of the beautiful waterfall. COMBINED IMPACT Grim Tales has always been a simpler series of games than most of the other Elephant games, and this one ought to be too. The mechanism of testifying in court as a method of structuring the flashbacks is great, but all the changes, differences and contradictions that are to be found in this game spoilt it quite a bit for me. Certainly not one of their best games, not a world beater, but a good and beautiful game, if you can ignore these story-related issues.
May 15, 2014
Not worth paying for CE...
I love Elephant games, and this game was no exception. Three modes (I played advanced), and hint and skip system excellent and fast. Map and hint took you to the locations that had tasks to do, and it was such a good system didn't need SG at all. No cute critters but morphing objects to find, statues to find, achievement awards and a collectables gallery. The game ran smoothly on my Mac. Modern day games are getting larger and larger. It takes an hour or so to d/l full game on my Mac just to try trial. I enjoyed the trial hour, and it whizzed by so bought game based on first 60 mins. The shortcomings were the HOPs (although not that many of them) which were just junk pile with minimal interaction. Puzzles nicely done but nothing new really. They were really easy, and I only skipped one. The main game took me 4 hours, but the CE was barely 30 minutes worth...and I don't consider that value for the extra money! Few locations, couple of junk pile HOPs...and the game was finished. Think the bonus chapter about the worst value for money ever. I buy the CEs for the extra gameplay. Not interested in concept art and/ or screen savers and rarely need the SG these days as hint system so effective. Just get the feeling that once the devs have finished making the main game, the bonus chapter is just a nuisance and thrown together without much thought. Certainly not worth paying double for. Had the bonus game been better value for money, and more entertaining would have given game 5 *****.
May 15, 2014
Love Game No 6 In This Series
Fortunately I won't have to buy the bundle pack as I already did that when the last Grim Tales game came out. I absolutely loved each and every free trial so it's a no-brainer for me to play the demo this time. I just haven't played any of the earlier games yet (my Game Manager groans with the weight of all my unplayed games - lol). Storyline: James, your beloved nephew, has been accused of murdering his sister, Elizabeth and it's up to you to prove his innocence. And off you (Aunt Gray) go. Graphics - Amazing. Seems very HD to me (not a pro - sometimes can't tell the difference between HD and Regular D). Colors are crisp, bright, lovely to look at. Sound: Enjoyed hearing the actors' voices. Everyone was spot on with tonal quality for the incident they happened to be speaking about. Very lifelife. Music: Sorry, I'm a grandma and learned to tune things out a very long time ago - lol. Gameplay: You have received a phone call from James and also a subpoena from the Court insisting you attend the Hearing on the Court's behalf. Of course, you had intended to go anyway. BUT, the reason you were subpoenaed is because you have a special gift the Court wants you to use in this case. You can touch items and get information from them. The courtroom is amazing. It reminded me very much of Harry Potter. The Judge/Magistrate was wearing a long, white (powdered?) wig and his position was raised far and away above everyone else . He points out Mr. Alderly, the Prosecuting attorney and Mr. Johnson, the Defense attorney. After explaining why you are there he indicates someone holding a silver platter with several items on it. You gravitate to a picture of a mansion/castle. You go back to a desk (Defense table?) and put the picture in a frame. Then, you place your hand on the frame and are transported to the mansion/castle where the game really begins. There are several modes of play. You have a diary for note keeping but you can also view your collectibles and achievements here. There is a map and a hint button that does take a bit to recharge. There is no custom mode. CE Bling: 13 collectible statues 10 achievements (hm - not so much, huh?) 9 Wallpapers 8 Concept Art pictures 5 Something or Others (sorry, it was late and sometimes I can't read my shorthand. Just go to "extras" and you'll figure it out. SORRY.) 1 Screensaver Bonus Game Strategy Guide (which I didn't use) I love all the Grim Tales games and I anticipate loving this one as well. Unfortunately, due to a new med change I have been sleeping a LOT and fell asleep halfway through the demo - Geez I HATE that. Anyway, the part of the demo I played I enjoyed and hope you do as well. This Glam-ma thinks this is a definite buy. Please try the free trial. I hope you enjoy it as much as I did. Happy Gaming.
May 15, 2014
The Highlight Of A Bad Series!
BASED ON DEMO Out of all game series from Elephant, Grim Tales would probably have to be my least favourite. I'd say this is a big improvement for the series! This is my favourite one from this particular set of games. I loved the story and will be purchasing the SE to see how it ends! The story was extremely fun and interesting. It was one of a kind. I don't think we've seen a courtroom story before. The story goes that your nephew has been charged with the murder of his sister for her inheritance, and you've been called to testify using your power to sense the history of objects by touching them. This is a good plot for a story and was executed quite well, in my opinion. What I enjoyed the most about this story were two things: Firstly, I liked how dark this story was in comparison to others around here. I especially liked the opening cutscene. It shocked me and had me completely sucked in to the story. One reviewer said it was too violent, but I disagree. It goes to show that developers are going all out to impress us, and it's paid off (for me at least). What I really enjoyed about the story was the cutscenes to do with the evidence. I enjoyed how each piece of evidence either went for or against his case. I liked the little backstory of how this piece of evidence came to be, and liked that it was from your murdered niece's point of view. The story was good in the sense that it had quite a few twists and turns. The only criticism I would make is that I really did not like the whole idea of a ghost villain. I thought it was quite stupid and didn't make much sense. Another reviewer noted that they changed the names of the family from Gray to McGray. This will annoy some people, but I didn't care much (I just think McGray is a weird last name). All in all, a decent story that ended well, making me want to play on. The gameplay is good. I liked the HOS, which were just standard junkpile with a few extra-step objects. The scenes were spaced out well, so I enjoyed playing them. The one thing I cannot stand in a game is having HOS one after the other, pretty much one in every scene, so I was glad that the HOS were spaced out in this one. There were quite a good amount in there, about three in the demo time, I think. I found the HOS quite easy, but enjoyable. The puzzles are your standard fare, but I quite enjoyed attempting them, even though I had to skip all but one. Like the HOS, the puzzles are spaced out, and there are a decent amount of them in the demo. This game contains + objects, a feature that is becoming somewhat of a standard now. Even so, I still enjoy any game that has them, including this one. The good thing here is that there aren't many + objects. Nothing ruins a feature more than over-using it, so I'm glad this developer was helpful here. Other than that, in gameplay terms, this is your standard HOPA. There are no helpers, fancy new features or anything of the kind. It includes all the basic features (such as diary, map, etc.). The diary is good and the map is interactive and quite helpful. One thing I didn't like, though, is that the map and the diary are in the same section. You have to click on the map to gain access to gain access to the diary. It is my opinion that the two should always be separate. Lucky I actually used the map, or I would have marked this game down for not having a diary. This game had very clear, easy to follow instructions for both the tutorial and puzzles. Because of this, it will be good for beginners. The graphics are quite good, but are not the best I've seen from Elephant. They have some good detail in the scenes, but are a bit cartoony, especially in the cutscenes. I thought the character designs could be a little better. Even so, everything is clear and has some good colours. The voice-overs are standard. I have no issue. FEATURES 3 modes of difficulty: Casual, Advanced and Hardcore. Differences are the usual. I played Casual. Hint/Skip- both recharge at a reasonable rate for the difficulty I selected. Hint is helpful outside HOS. Diary- The diary contains information about the case as well as keeping track of important story events, which is good for remembering the early events of the story later on in the game. I was disappointed to find that it was in the same area as the map though. Map- The map is interactive and very helpful. It lets you know where your next task is. + objects- These are items you have to interact with to complete. I feel this is becoming a standard feature now, but all the same, it was a good one. CE EXCLUSIVES Bonus Chapter- I highly doubt it will be needed. Every game I own from this developer has a conclusive ending, and I don't think this one will be different. Built-in Strategy Guide- useful for puzzles. Achievements Collectibles- There are collectible McGray family figures. I'm not sure how many there are. They are relatively easy to spot. I didn't like them. Concept Art (8) Wallpapers (9) Screensaver This game is 100% story driven. As stated before, I really enjoyed the story and will be waiting for the SE to purchase. I highly advise you to do the same. There is absolutely NOTHING in here that would make me even consider buying the CE. There aren't even replayable HOS & Puzzles. All in all, this is a really enjoyable game and I can't wait to see how it ends. Do I recommend this for... BEGINNERS? Yes ADVANCED PLAYERS? Yes EXPERT PLAYERS? Maybe for the story, but the gameplay is a little on the easy side.
May 17, 2014
The Apple logo is a trademark of Apple Computer, Inc.