Grim Tales: The Vengeance Collector's Edition
Exclusive
You've been summoned to court to provide testimony in a trial against your nephew James, who stands accused of murdering his sister. By using your power to learn an object's history simply by touching it, you must examine evidence from the crime scene to determine what really happened to Elizabeth. Can you prove James innocent and find the real killer? As you explore the family mansion, a dark force is trying to cover up the truth! Watch your step, or you could be next! Follow the trail and crack the case in this thrilling hidden-object puzzle adventure game!

This is a special Collector's Edition release full of exclusive extras you won't find in the standard version. As a bonus, Collector's Edition purchases count toward three stamps on your Monthly Game Club Punch Card!

The Collector's Edition includes:
Bonus chapter featuring a new story!
Gather evidence to present at court!
Collect figures for more story info
Use the available Strategy Guide
Get soundtracks, concept art, and wallpapers
Game System Requirements:
OS:

Windows XP/Windows Vista/Windows 7/Windows 8

CPU:

2.5 GHz

RAM:

1280 MB

DirectX:

9.0

Hard Drive:

1171 MB
Game Manager System Requirements:
Browser:

Internet Explorer 7 or later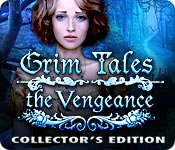 The Big Fish Guarantee:
Quality tested and virus free.
No ads, no adware, no spyware.

Reviews at a Glance

Grim Tales: The Vengeance Collector's Edition
0
out of
5 (
0
Reviews
Review
)
Customer Reviews
Grim Tales: The Vengeance Collector's Edition
73
73
Too much handholding (the scratched drawings) but still a good game.
Grim Tales: The Vengeance Review based on Completed Game + Bonus Chapter PREFACE? Other than Bloody Mary, which was truly frightening, Grim Tales hasn't been on my list of the best series from the Pachyderm. Having played The Vengeance, I maintain that Bloody Mary is the best of the lot. While I liked the storyline in The Vengeance, with its crime-solving drama and time-traveling, I felt that it became somewhat convoluted with the annoying amount of backstory that was thrown at me unnecessarily through the collectible statuettes. Obviously, the SE would eliminate this issue. ONCE UPON A TIME... Your nephew, James, stands accused of murdering his sister, Elizabeth, sole heir to the family estate. The judge requests your assistance in the case, because you have a unique power: you're able to learn the history of an object by touching it. He presents to you all the evidence in the case. Is James guilty or innocent? If he's innocent, who's the killer? And what's behind the mysterious dark force obstructing your investigation? PLAY THE GAME... With each object you examine, you travel back in time to a pivotal moment in the case, and must explore the castle and its grounds for clues to solving the murder mystery. HO scenes are interactive, but easy. There are some unique puzzles, some rehashes, and some that barely qualify as puzzles. The hand-holding in the form of drawings scratched into the surface near every action was insulting, I felt. And we're still seeing a plethora of shaped insets requiring medallions, bas reliefs, etc. SIGHTSEEING? The graphics are beautiful, as is typical of this dev, realistically rendered yet artistic. In the time-traveling parts, perspective is somewhat skewed from reality?a nice touch. Characters are well-drawn. In-game animation is gorgeously lifelike. SOUND WAVES? I often don't care for the music in the Pachyderm's games, but this time I felt it was appropriately ambient, swelling to a crescendo when the action stepped up. Voiceovers were professional. TOOLBOX? The map indicates current objectives, transports, and is itself a work of art. There is a journal, and inventory is lockable. EXTRA, EXTRA? In the bonus chapter, you finally lay to rest the curse on the Gray/McGray family. There are morphing objects and collectible statuettes of family members, as well as performance achievements. Lastly, there is the SG and the developer's portfolio of sights and sounds. THE LAST WORD? While there's nothing technically wrong with The Vengeance, it falls short of being a five-star game for me because it wasn't all that challenging. However, I'd put it in second place in this series, after Bloody Mary.
May 30, 2014
Not Quite
I didn't have as much character inner action as I liked but I did enjoy the game. There are 2 facts that bothered me one, the map would point out active when the areas where done ( or I couldn't have finished the game ) ha! two like a lot of games I get no warning of morphing objects or collectibles till i hit on them. That bugs me because I don't like missing on any part of the game and get to ticked to go back threw. lol
September 5, 2014
Liked it, bought it!
Hi all. Had shoulder surgery on Monday, so this will be a bit short. The usual very bright nice colors from Elephant. Game play was very good and graphics were very nice, eye movement and all. Voice overs were good, but very few and far between, and not much in the way of sound FX which made this game rather quiet. Hopefully this changes as the game progresses. I have the first 5 in this series and really liked them, but this one doesn't seem quite as good. Still, I did like it. Music was a little boring and lifeless, no rise and fall with the action of the game. Didn't use the jump map or the SG, except to look at them. They are the usual. The hint system was quite helpful and took you directly to the location you needed to go to next, rather than just tell you to back up or move forward. Makes for faster travel and this is why I didn't need to use the map or the SG. HOPs are the standard for Elephant and are interactive. Clean and clear and items not difficult to find. Puzzles are simple and easy to figure out and complete. There are a number of achievements and collectibles. The figurines are very easy to spot and give you more insight into the story and history of the family as you find them. There are additional story parts to find, but I'm not quite sure why yet. The morphing objects do not just jump off the page at you, so you better be on the look out for them or you will easily miss them. As with the last few Elephant games, this one was not particularly challenging or exciting, but I like it well enough to add it to my collection of Grim Tales games and there is enough constant movement to keep you interested in the game. Besides, I have the need to see where the story is going and "who-dun-it." I think this will appeal to all levels of players. As always, try it for yourself and see what you think. We all have different tastes in games and you may not care for this one at all. Thanks for the reviews.
May 16, 2014
Better than the last Grim Tales
I liked this game. It was different and kept me busy. Did not find myself getting board during game play. Some of the puzzles were unique and used logic rather than just putting something together. They did not add a pet and there was not too much hand holding. Kudos to Elephant! Thank you for a game that had some challenge and no pets!! Not the hardest game to play, but still a better challenge then some of the games coming out recently.
May 18, 2014
Good Game, Could Have Been Better
Though I enjoy the Grim Tales series, and there is a lot to enjoy here, I feel I can't quite rave about this game like others have done. I found myself tired of the storyline at times, and there were far too many "fit the specially-shaped object into the impression to open the thing" puzzles to solve (it almost became comical by the end). Gathering items to solve puzzles and play games seemed arbitrary at times, too, like I have to go to this room across the entire castle to get one thing, to take it back to the other side of the castle, only to find something that I was looking for on the *other* side of the castle, etc. There is a map so the navigation is fairly easy, but I feel that these games are too good for these kinds of cliches. I like the "investigating the past" angle of the story, and there is certainly a lot to do in the CE (morphing objects, collectibles, multiple tasks in each part of the game, etc.), so you won't be bored! The HO scenes certainly don't overwhelm the action--I get tired of too many in a game, and this had just enough to be interesting. There's a nice lengthy bonus chapter, too. Overall, an enjoyable game.
November 6, 2014
Finally something worthwhile
After loading 4 or 5 demos and immediately uninstalling them I finally stumbled on this game. The graphics are amazing, puzzles fun and not a bad storyline. Well worth the price.
September 9, 2014
Series gets back to basics
This review is based on a complete playthrough of the game and bonus content. After swerving a hard right for Bloody Mary (a most enjoyable excursion, I must add), Grim Tales is back to the basic premise of the first installments of the game. First, as always, the bonus content (or Why should I pay double for this game?): The bonus game took me a good hour. It wasn't what I was expecting, in a good way. It did leave a bit of a feeling of 'series finale' at the end, which I hope isn't the case. The window is certainly still open. Plenty of morphs and achievements as well as the usual swag. The main game does end conclusively, so you won't feel cheated out of an ending if you go the SE route. Now for the game: THE GOOD: Back to the original formula with the family being the center of attention. Remember the castle? It's back. Naturally it's up to you to solve all the problems your family gets itself into, but what are aunts for? Very nice variety of puzzles. Some old favorites, some with new twists. None hair-pulling hard, but they weren't all simplistic either. I'm going to call it a 'grown-up' game. Not that there's anything disturbing for kids (there isn't), but they aren't going to 'get' most of the plot. Then again, if they grew up on procedural crime dramas like my daughter did, maybe they will :) Graphics and voicing were all top-notch. Ambient sounds were ok, but got repetitive quickly. Map and Hint are both teleporting - hint recharged quickly at middle difficulty and didn't get 'used' up by a teleport (or even just showing a specific area - that could be good/bad, fielder's choice). THE BAD: Maybe I went in with too high expectations after their last title, but the story didn't grip me the way others have. It wasn't lackluster, just not edge of my seat stuff for the most part. I had no trouble walking away from it for a while without wondering what was going to happen. THE UGLY: A few mini-games I had to use the map to back out of. That's the only real bug I found. There's also an issue with things you find - papers you can read aren't copied into your diary, so you've got one shot to read them when they're on screen that I could see. Read quickly before they're gone (the substance of them is put in your diary). BOTTOM LINE: Hearty recommendation, as long as you know what to expect. If you enjoyed the first couple titles in this series you'll love this. If you just started with Bloody Mary or even The Stone Queen, this one may seem a bit more laid back to you (none of the 'creep factor' of Bloody Mary). Either way, it's still a good game, well worth your time.
July 9, 2014
Auntie to the rescue! Again! And again!
As many of the other reviews have said, this game has absolutely stunning graphics and cutscenes. The individual locations are also visually gorgeous, although the voiceovers are a bit weak at times. My biggest deciding factor on any game, especially a CE is the length. I played on Expert mode with no hints, and the main game took me about 5 1/2 hours. The bonus chapter took me a surprising 45 minutes, which made the overall length quite satisfying to me. I am not a big fan of the morphing objects but there were also little golden statues to collect that added background to the family history, which I very much enjoyed. The puzzles themselves were nothing mind-bending. Fishing objects out of an aquarium, making a potion, melting metal on a fire, etc have been done to death and were all present in this game. However, the HOs were very clear and well-spaced, the beautiful graphics saved the day, and the story progressed at a fast enough pace that my interest in the game stayed steady. Of course, this series is about an aunt rescuing every single one of her relatives by going into the past and changing the future outcome. It gets a little tiring to have such dense nephews and nieces and sisters that are constantly destroying the family tree and humanity in the process. If you are looking for a new idea in this series, it is not here. It is another Auntie rescue mission. But the fresh twists and plot still hold their own and I definitely enjoyed this latest game in the series. Here's hoping for more! Happy gaming, Big Fishies!
June 24, 2014
Very Enjoyable
Beautiful Graphics. Music was generally unpleasant and monotonous so I had to turn it way down. Morphing Objects and Collectors items were a great touch. The Story line was good but the bit on the end where all the Evil gets undone as if it never happened, that was very bit far-fetched and I think it ruined the common sense of the Game. I didn't like that part of it at all. It was just ridiculous! Otherwise a very enjoyable Game.
May 18, 2014
lots of game here
I liked this one despite the glitch that makes you restart the whole thing all over again when two thirds of the way through you don't use the machete in the order the dev's anticipated and it disappears from your inventory. You then cannot move forward. But I did enjoy this one. I loved how the objectives appeared at the top of the screen, the mini games were quite varied and it had both collectibles and morphing objects. There was a kind of new twist with some objects held vertically on the right hand side of the screen which you occasionally gave to a judge in a courtroom. They also set off a little video that gave you background info about the story. As always with Elephant games the HO's were pretty easy and several of the achievements were tied to them. The locations were beautiful as always. I will say that this game both looked and felt a lot like others in the series. Always taking place in the castle, someone in trouble and needing my help etc etc. It was fun though and I did like it. It had a lot to offer. It was a good length, pretty and with a fair amount to do.
June 2, 2014
The Apple logo is a trademark of Apple Computer, Inc.