Grim Tales: The Vengeance Collector's Edition
Exclusive
You've been summoned to court to provide testimony in a trial against your nephew James, who stands accused of murdering his sister. By using your power to learn an object's history simply by touching it, you must examine evidence from the crime scene to determine what really happened to Elizabeth. Can you prove James innocent and find the real killer? As you explore the family mansion, a dark force is trying to cover up the truth! Watch your step, or you could be next! Follow the trail and crack the case in this thrilling hidden-object puzzle adventure game!

This is a special Collector's Edition release full of exclusive extras you won't find in the standard version. As a bonus, Collector's Edition purchases count toward three stamps on your Monthly Game Club Punch Card!

The Collector's Edition includes:
Bonus chapter featuring a new story!
Gather evidence to present at court!
Collect figures for more story info
Use the available Strategy Guide
Get soundtracks, concept art, and wallpapers
Game System Requirements:
OS:

Windows XP/Windows Vista/Windows 7/Windows 8

CPU:

2.5 GHz

RAM:

1280 MB

DirectX:

9.0

Hard Drive:

1171 MB
Game Manager System Requirements:
Browser:

Internet Explorer 7 or later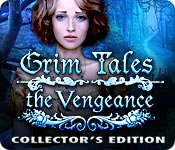 The Big Fish Guarantee:
Quality tested and virus free.
No ads, no adware, no spyware.

Reviews at a Glance

Grim Tales: The Vengeance Collector's Edition
0
out of
5 (
0
Reviews
Review
)
Customer Reviews
Grim Tales: The Vengeance Collector's Edition
73
73
Wonderful
Love this fallow up version. Had some nice changes. Wonderful cut scenes. Love the dramatic court room. Going on my must buy list. Only thing is I do not like how dark the HO's were though I like the arrangement.
May 23, 2014
Please hold my hand Mr Dev
Based on completed game. Once again, what could have been a great game was ruined by all of the hand holding. I couldn't believe when I saw little pictures scratched into the surface of many objects, depicting what action should be taken. For example, you come across several crisscrossed chains and right in the middle there is a drawing of bolt cutters cutting the chains. Glad they did this because I was completely stumped. I had the bolt cutters in my inventory, but had no idea what they were for. This happens over and over during the game. It's just another interactive movie. Seems as though most devs feel that we are so stupid that we can't complete the game, even with a hints and a strategy guide, so they also need to draw pictures for us dumb westerners. The strategy guide along with morphing objects and a handful of statues are all that make this a CE. As for the strategy guide, has anyone ever used one to develop a strategy for playing the game? It's fine to include it for those times when a game makes absolutely no sense, but why don't we call them a walkthrough which is what they are. Once again, they want to give us the answers without making us feel stupid, so they call it a strategy guide, whatever. More and more games are getting dumbed down since they changed the adventure game to a hidden object game. I hope I don't sound negative!
May 17, 2014
A strictly mediocre game as far as CE's are concerned
I have all the Grim Tales games and have loved them all (with the exception of The Stone Queen, which I just found to be odd). With that said, I was rather confused by the story going on here. I seems the family name has changed,the Aunt can now see the past and other things, Elizabeth and her husband are dead, etc. etc. I found this all confusing as the other games always followed the story of the helpless sister needing the aunt to come save the day. Anyway, they're all deceased now and the nephew is being charged with murdering his sister in hopes of inheriting the estate. I'm not quite sure where Brandon went who we met as a baby way back when in previous games. This is one of the easier series that Elephant has put out. The Grim Tale games are predictable. There is much much too-ing and fro-ing and a jump map is included. The HOS are simple and the puzzles are easy also. In this game you can bring back items from the past, to help prove the innocence of James in the courtroom. The graphics I found to be excellent. There are a few achievements and some collectibles. I'm not quite sure this warrants a CE status as the bonus chapter is less than 30 minutes long. Also, the other Grim Tales were all very very long games. This one I see is clocked around 3-4 hours. I didn't love the game, not did I dislike it. I think I spent most of the demo time trying to figure out why the entire family changed. I believe I would get this as an SE, but play for yourself. We all have different tastes.
May 15, 2014
so much to do and so little time
This game is really good, the visuals are beautiful. . . but my complaint is that once again we have a game that is so busy, that I lost track of the story line. How many things do you need to find in each room? Also, I think at this stage of the game, you could improve the hidden object games. They don't always have to be find the object related to the word. Lesser games than this are coming up with new ways to keep are brains from freezing (for us old folks only!)
May 15, 2014
Not very challenging
I am not sure why this is getting rave reviews. Sure, the story is good and the graphics are good but this is a GAME. The puzzles should be challenging and any hidden object scenes should have some objects that are difficult to find. Something. But almost all of the "puzzles" are not puzzles at all, but merely moving objects around. One of them is coloring a set of dolls based on the posted color scheme. Not challenging! To be honest, there are a couple that will keep you going for a few extra minutes but those are few and far between. I think that Elephant spit this game out before it was ready. There are times when the text has poor grammar and looks like someone skipped spell check. BUT the thing that leads me to believe this is on the market before its time is that sometimes the family is called McGray and then other times they are McGrew. Seriously. Look at the family tree. Finally, when you find an area that needs you to move a rock or do some other activity, there is a picture on the screen that "tells" you what to do. This is in advanced mode. I don't need a picture. Let me figure it out. But apparently we are too stupid to figure it out so Elephant put pictures. Sorry, this is not what I expected from Elephant. Play it if you want to be kept busy wandering around but don't play it if you want a challenge.
May 28, 2014
Almost, but Not Quite
This game doesn't venture out into unchartered realms. It is a standard HO game with very little challenge or intrigue. The puzzles were extremely simple and at times underwhelming. Like finding a wreath to serve as a crown so you can get a gadget which would get you another gadget which would get you another gadget...it just wasn't sophisticated enough. The Mini Games lacked direction, which were needed given that some were not very intuitive. There were collectibles which were well intended but really added nothing to the experience. And the morphing objects (which were a direct copy of another, much more successful Franchise) had no real purpose. At least with the Parables Series, it helped to increase your Hint Meter. It was quite lackluster and I regret using 3 CR for the Collector's Edition. I would say, play this on a rainy day with nothing else going on in your life...but I would rather recommend a nice book instead of this mediocre game.
September 26, 2014
As heavy as an elephant ?
A Grim Tale, about vengeance. CE version. This game has got it all: murder, magic, a court with high judge, an aunt with spiritual gift, and high status folk battling about inheritance. And teddybears and toys. Castles with rich halls, gardens and vault with graves. To help one find one?s way in the most elaborate gilded minutely detailed beautiful artwork of the scenes, one has well functioning hint, a map, a diary, morphing bits to find, collectables with info about the folk in the families concerned; an evidence board and scinematic black n? white blasts of the auntie?s flashes of memory from past times. HOS? ok, and include having to knit bits together; Puzzles a bit easy, but some actually rather good. Storyline ok, but I lost track of the story in all the clutter of missing tools, keys, handles, bits n? pieces more or mostly less relevant for the tale itself. Then again, it?s easy to read up on the happenings in the diary. Good sound track underlining the events. So, I can?t really write anything bad about this game, only, it didn?t grab me - never got interesting and exiting ??? But maybe one becomes a bit blasee with having done too games cut over the same pattern - I don?t know . . maybe I?d have to do it a second time to make it all fall into place ? Maybe you?ll love it !
September 15, 2014
Not nearly as good as previous Grim Tales games
Grim Tales: The Vengeance is not nearly as good as the previous ones. I really don't understand why it has such high ratings. Pros: -interactive map (hint works just as good for going to a location) -excellent graphics -some amusing scenes Cons: -Storyline was not good. I dont mind storylines being different in sequels, but this was too far out different. Your nephew is accused of killing his sister and you have to go back into the past somewhat to a specific time/event to find clues leading up to what really happened. -Puzzles way too easy. -HOS way too easy -Too short. Main game took approximately 3 hours to finish. My kind of games take 4-5 or more hours. Bonus chapter was about an hour to 1.5 hrs (average). -Many of the scenes seemed boring -how you defeat the one who did it was really lame. No challenge at all. -Game seemed slow when clicking on things or moving from one area to another....kind of buggy and sluggish. Other games worked fine on my computer so I have concluded it was the game. The developers did not do well with this one in the series. I had high expectations since I have played so many, sadly this one did not really meet them.
August 13, 2014
Played this because of the good reviews
OK we all know the scenario: psychic aunt trying to prove her nephew's innocence of killing his sister by traveling back in time to get the details of what happened. This is accomplished in I believe 4 times. The game play was nothing that I missed since playing any IHOP game. I haven't played this kind of game in over two years b/c of the monotonous of every IHOP game I've played. You get to find morphing items and finding golden statues. You have achievements although some seem impossible to get. For example: find 10 items in 10 seconds. It takes that amount of time to try to find one item unless you randomly click on items which I did. There's only one hidden object game to each room you visit. You can click on the map and it will let you know if you have something to do or not. You can also transport to any location from the map. I only skipped one game b/c I couldn't understand the logistics of it. I used the integrated strategy guide for two mini games b/c I didn't want to be stuck on the same game for days. The locations are drawn wonderfully but there's not much to do which left me scratching my head wondering why all the drawings with only 2-3 tasks out of that room? Not to go on and on but the ending was so rushed! I was like that's it? It made me a bit angry b/c of all the time I spent playing only to have it end real quick. The bonus chapter has a good amount of time play to it. Unfortunately I hit a few snags in the bonus. There are statues and morphing items but it doesn't show up right away. You have to go through a mini clip just to get to it. Right now I'm stuck on the fireplace. I can't get to the grapes b/c there's no active icon to let me get through. I either have two choices. I could reset the bonus game or just plain delete it. I might just choose the latter.
June 24, 2014
Too easy
Game had no challenge. Other games in the series were great, this one was very lacking. Total time to play the game, a little over an hour.
May 29, 2014
The Apple logo is a trademark of Apple Computer, Inc.