Royal Envoy 3 Collector's Edition
Exclusive
The HMS Islandshire is exploring the South Ocean when all of a sudden they see new land! Previously unknown islands contain an immense amount of fish, pearls, and gold... not to mention troves of ancient pirate treasure! Embark on an exciting expedition to crack the intriguing puzzles of the past, while developing these new lands for the kingdom!

This is a special Collector's Edition release full of exclusive extras you won't find in the standard version. As a bonus, Collector's Edition purchases count toward three stamps on your Monthly Game Club Punch Card!

The Collector's Edition includes:
Enjoy over 80 challenging levels on 11 islands
Complete unique quests in record time
Collector's Edition contains 32 bonus levels on 4 islands
Expert and relaxed mode for the ultimate adventure
Game System Requirements:
OS:

Windows XP/Windows Vista/Windows 7/Windows 8

CPU:

1.4 GHz

RAM:

1024 MB

DirectX:

9.0

Hard Drive:

364 MB
Game Manager System Requirements:
Browser:

Internet Explorer 7 or later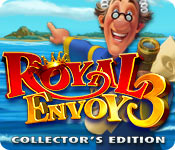 The Big Fish Guarantee:
Quality tested and virus free.
No ads, no adware, no spyware.

Reviews at a Glance

Royal Envoy 3 Collector's Edition
0
out of
5 (
0
Reviews
Review
)
Customer Reviews
Royal Envoy 3 Collector's Edition
61
61
Another Good One!
This is what you get in this collectors edition: Regular levels = 82 Bonus level = 32 It is basically the same as the other Royal Envoys. It seems to me that there are more dark levels in this game. In the Regular levels, you have 8 levels in smoke, 8 in fog and 8 in dark. If, like me, you do not like those "can't see what I am doing" levels, you will be glad to know you can still get to the bonus levels without getting perfect scores. As well, if you run out of time in the dark/smoke/fog levels, you can continue to play without time until you complete the level. In the bonus levels there are no dark levels which was great as far as I am concerned. The other bonuses for the Collector's Edition, other than a walk through you can access at each game level with numbered instructions how to complete it with 3 stars, you also get Wallpapers, Original Soundtrack (you can download to your computer) and an Intro Movie. I think the Collector's Edition is worth it for the Walk Through alone because I cannot get through those dark levels. I hate them! But still on this one they did let me keep playing until I completed it so I could keep advancing in the game. Also 32 extra levels of game play is a pretty good deal.
June 16, 2014
Pretty much the same as RE2
This is a fun game, and I went ahead and bought it because I've enjoyed all the games in this series. However, this is basically a new set of Royal Envoy 2 levels, with not much new stuff introduced. if you're looking for something new and different, this is not it, but if you just enjoy the RE games and want some new levels, it's definitely enjoyable.
June 1, 2014
2 stars off immediately since this is a replica of the previous games.
I have the RE #1 and 2 (not Campaign for the Crown). This game is EXACTLY like the first 2. It does seem to get more difficult in the earlier levels. They claim there is a relaxed mode, however, all that means is that you can continue playing after the timer runs out instead of restarting. A true relaxed mode doesn't have a timer. There is a sort of strategy guide included, but I can't see how this is a collector's edition of any sort. I will be passing on this game as it is a replica of the first two (especially the 2nd one in particular). Also, I was taken right to the developer's site when I entered the game and the price for the game there was drastically lower. Just saying, although I don't intend to purchase it at either place. About the game itself, the graphics are clear and bright, the workers are the same, the kingdom is the same, Cedric is the same, and yes, the workers talk. Personally, if I don't like the music or sound effects of a game, I turn it down or off. So many larger problems this world is facing compared to the talking workers.
May 22, 2014
Do you call that UNTIMED?
I bought this because someone said it had an "Untimed Option" in the reviews, but it really doesn't. You are still TIMED - the only thing is that you can continue to play on after the allotted Time has ended. That is NOT an Untimed Game. That IS TIMED. The Game was cute. I especially loved the Elephants chasing the carrots. The Game could have offered way more Buildings to construct. 3 Houses was hardly a WOW! What happened to the Tax Collectors collecting Rent? They were missing from this Game. The Bonus Game plays were nothing special, no WOW factor, just the same sceneries repeated over again. All in all, an OK Game but I wouldn't play it again. Definitely NOT worth the full price of an Collector's Edition.
June 1, 2014
Yet another Royal Envoy
Don't get me wrong I like playing Royal Envoy and that's why I bought this game. But I'm up to 30 levels and the one and only thing that is new is that it's harder to get 3 stars on every level. You have to work faster and harder to get those three stars. Other than that, there is nothing new here. Tried the demo and almost didn't buy it, but I saw there are 114 levels in this game, so I'm not rushing through it. Some of the levels are actually stupid to be frank. I think each level should have a productivity-based goal. But I finished one recently that had a goal of 8,000 wood. Thus, didn't matter what I built or how much gold I made, it was all about the wood. One last thing- only buy this game if you love Royal Envoy. If not, you're gonna get bored.
June 8, 2014
Much of a muchness!
Royal Envoy 3 based on the trial 60 mins holds no surprises for people who have played previous Royal Envoy Games. If you are playing the "Timed" version then you really have to be quick to gain 3 stars on each level and that is the same with previous games.. Never played any Royal Envoy games? Then buy this one. I only gave this game an "Ok" fun factor because of my comments above. Will I buy this game? Not in the Collector's Edition but if it comes out in "normal" mode then probably yes.
May 22, 2014
Good game..
but seriously, why do all these types of games make it seem we're always in training/learning mode, and that's it for the game? Why can't we have a sandbox mode part at the end once we're done "learning" or in "training"? What's all the learning for anyway if you can't have a sandbox? ..just to rush through the game, to beat a clock and then it's all over? :( This game was okay, but I can't/don't recommend this game because you get the same thing as the last version.
May 24, 2014
Such a disappointment
I have loved the RE games in the past, and have bought each one in turn. This one was a missed opportunity - not enough new or interesting developments to make the purchase worthwhile. Most of the games are reworks of RE2, with only one or two new ideas to make it fun. I want to see more challenge, more houses not just a few, more variety, more characters, more fun, more story. this is too easy and too similar to RE2 - a huge disappointment
June 27, 2014
Not as Good as its Predecessors~
I am huge fan of the Royal Envoy series, so of course there was no doubt I would be purchasing this game. However, I was very disappointed. Graphics are excellent and the story line is okay - helping his Majesty in all his pink gloriness expand his kingdom. However, I was so busy rushing around trying to beat the clock, building then destroying, I realized I wasn't having any fun! People who are looking for a fun game and not a time management game done to the nth degree - do not play this game, I would highly recommend its predecessor - Royal Envoy Campaign for the Crown. Overall, a much better game. I felt like a chicken with its head cut off. Build 8 dovecotes, then destroy 3, but then build four more, then build a sawmill then destroy it 3 minutes later, etc. etc. Suffice it to say, I wasn't having any fun, and found myself getting aggravated way too easily. I was at the point, I didn't even care if I got 3 stars, I just wanted to be done with the level.
May 27, 2014
Enough with the Dovecotes and Sad Leprechauns, already!
BASED ON COMPLETED CE GAME I'd thoroughly enjoyed all of the previous Royal Envoy Collector's Editions and play them often - particularly 'Campaign for the Crown' (CFTC) with its wonderfully imaginative and strategic gameplay. Unfortunately I really disliked this latest addition to the series. There's way too much emphasis on achieving 'Happiness' for the hundreds of Sad Leprechauns sitting around all over the place, and on building multiple Dovecotes at the expense of everything else. Gameplay is essentially a reworking of the best bits from RE 2 and CFTC, so if you haven't played them I'd recommend buying either of those instead. Apologies to fishies for such a long review, but if the developers ever get to read this I'd like them to know why I didn't enjoy this game and don't recommend it. 1. The good things: - Being able to 'swipe' across the screen to pick up resources and gold, rather than having to click on them individually. This was first introduced in CFTC and makes a very welcome return here; - 112 levels, of which 32 are in the Bonus section of the Collector's Edition. As usual the Playrix developers are generous with their content, and I certainly can't complain about the length of any of it; - You can continue on to the Bonus levels in this Collector's Edition even if you've not achieved complete glory in the main game; - The wonderful Rabbit Holes from CFTC are back! I love the challenge of remembering where all my workers are, and whether I've left some of them stuck over on another floating island in the sky; - The darkness and lanterns, and the fog, druids and obelisks from CFTC also make a very welcome return, although I wasn't best pleased to discover that the fog was usually hiding yet another squad of depressed Leprechauns; - A comprehensive Walkthrough of both the main game and bonus, which can be found in 'Extras' on the main menu. Very useful if you want to achieve 3-star ratings on every level. It keeps up with your progress, in that you can't peek ahead to future islands; - The 'Relaxed' mode, which still runs the timer but allows you to continue playing the level once the time's up. 2. The middling things: - There's hardly any Tutorial at all, other than being shown how to build a cabin and hire a worker at the castle. If someone's not played a previous Royal Envoy I suspect some might be floundering pretty quickly; - Many of the levels look very similar to CFTC, though the strategy here is very different (the emphasis on 'Happiness' looms large from early on...); - The workers are still too talkative for me and I wish the devs had changed the 'Desert jazz' and 'Arctic screech' music from CFTC to something less irritating. But at least I know when those soundtracks are coming and can cut the sound for those levels; - No finale to the game if you've failed to achieve a 3-star rating on each and every level. I gave up on some of them, so after I'd completed the final bonus island there was no denouement. Presumably I'm stuck in limbo until I can summon up the enthusiasm to produce a completely stellar performance; - The complete lack of any storyline! I know CFTC went overboard with a terrible mock-political overly-chatty plot, but something's needed to glue the whole game together and keep your interest up. After the opening scene where new lands are discovered there are no more little dramas. You simply finish the levels on one island and immediately sail on to the next. I felt rather cheated out of Cedric's humourous interventions and of any feeling of involvement in a story. 3. The bad things: - Way too much emphasis on achieving high levels of 'Happiness' at the expense of any other strategy. I can understand that the devs want to distance their Royal Envoy games from the 'build fast and build big' scenarios of 'Build-a-Lot' and the like. But after the umpteenth Sad Leprechaun sat around waiting to be cheered up by me building yet another Dovecote, I realised that I simply wasn't enjoying myself. - What's the point (and where's the fun) in being able to build fancy and expensive chalets if the only way to achieve 3-stars is to always build meagre little cabins? I got very fed up at constantly failing to make the grade, consulting the Walkthrough, and realising that - yet again - I should have built cabins plus three Dovecotes... All in all, it's unlikely I'll play Royal Envoy 3 again and reluctantly can't recommend it. Instead I'll return to the three previous Royal Envoy games with the chatty Cedric and his mate Tippy, their strategic challenges, and the imaginative and amusing scenarios that made the earlier games so much fun to play.
June 24, 2014
The Apple logo is a trademark of Apple Computer, Inc.