Royal Envoy 3 Collector's Edition
Exclusive
The HMS Islandshire is exploring the South Ocean when all of a sudden they see new land! Previously unknown islands contain an immense amount of fish, pearls, and gold... not to mention troves of ancient pirate treasure! Embark on an exciting expedition to crack the intriguing puzzles of the past, while developing these new lands for the kingdom!

This is a special Collector's Edition release full of exclusive extras you won't find in the standard version. As a bonus, Collector's Edition purchases count toward three stamps on your Monthly Game Club Punch Card!

The Collector's Edition includes:
Enjoy over 80 challenging levels on 11 islands
Complete unique quests in record time
Collector's Edition contains 32 bonus levels on 4 islands
Expert and relaxed mode for the ultimate adventure
Game System Requirements:
OS:

Windows XP/Windows Vista/Windows 7/Windows 8

CPU:

1.4 GHz

RAM:

1024 MB

DirectX:

9.0

Hard Drive:

364 MB
Game Manager System Requirements:
Browser:

Internet Explorer 7 or later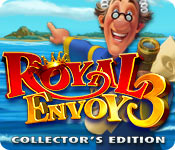 The Big Fish Guarantee:
Quality tested and virus free.
No ads, no adware, no spyware.

Reviews at a Glance

Royal Envoy 3 Collector's Edition
0
out of
5 (
0
Reviews
Review
)
Customer Reviews
Royal Envoy 3 Collector's Edition
60
60
Anything For Gold!
This is one of my favorite TM series, It is reported back to the King that a new island has been found and this island has an abundance of fish, pearls, pirate treasures and of course gold. The natives have forgotten how to build shelters so they agree to be ruled by the king in exchange for new houses for their people. Cedric is back with the Royal Envoy to manage the work being done. This Collectors Edition has 46 achievements to earn, wallpapers, original soundtracks, intro movie and a walkthrough. This should be a lengthy game with 80 levels and another 32 bonus levels. You are given tasks before each game to complete that level such as building houses, collecting gold and hiring 8 workers. You have all the time in the world to plan what you want to do because the game doesn't start until you click the first task. Workers need food from berries and even from the markets that can be built. Houses need wood which can be chopped from trees or you can build a sawmill to produce wood. The houses you build will pay rent and the more upgraded a house is the more rent you receive. There is a really good tutorial for beginners and there is a relaxed setting with no timer for those who love the game without the pressure of a timer, envoy!
May 22, 2014
Love Royal Envoy
This game is very similar to the other Royal Envoy games, you dont have to click on things to pick them up, you have goals, etc, it is a fun TM game I really enjoy, the silliness of it is what I like, The big difference with this game is when you upgrade houses, their appearance changes, and there is a relaxed mode with no timer. No challanges at the end of the game, but there is a strategy guide, which is helpful when you want to get 3 stars.
May 22, 2014
I give it 5 stars
This is a very fun game to play. I would recommend it to anyone who may want to try playing tm games for the first time. You can put the game in relax mode and play instead of playing regular mode. I would recommend this game.
May 23, 2014
So much to love about this game - what a fun!
Charming and familiar characters, improved game play and finally a relaxed mode - they did everything right in this new release of the Royal Envoy series. The free hour was over so fast, that I could not believe it really was an hour. I will definetly buy this CE, as I also prefer it to the crown for the kingdom version. I was not so keen on that election story and the villain. In this one you will explore Islandshire and the islands are more as in previous versions. I played the previous versions over and over again as there is hardly a game as brilliant as this one. The new levels in this game bring a good amount of challenge via strategie and options to play the levels - I found it very interesting to figure out the right strategie. And I was not always able to get the three stars immediately as I was too excited to try the different options. So it is perfect for beginners and for those who thought they knew every strategie on this game. And I also like the new look of the houses and how it improves with the ugrades. And my favourite character - the blue elefant is back as well! I love the happy workers and their comments, which surprisingly dont become annoying (as it often does in other games where they use is too much) A very well constructed and performed game! I would give 10 out of 5 Stars!
May 22, 2014
Don't miss this one if you love the Royal Envoy series!!!
I was looking forward to Big Fish offering this game and here it is, wow what I lovely start of the day! Royal Envoy 3 is a superb game with rich and detailed graphics, fun situations all the way, levels that require both strategy skills and quick thinking if you want those 3 stars. However, with there being both a timed and relaxed mode, you can take it easy should you wish to. There is a walkthrough in the extras section which I admit to consulting here and then in my quest for the 3 stars....lol You have 15 islands to visit with plenty of levels to complete, the tasks are varied, fun and interesting, not to mention surprising at times, I'll say no more. There is also an achievements section. Royal Envoy 3 is a perfect sequel.....don't miss it!
May 22, 2014
Keep the good times coming!
I have bought all the previous Royal Envoy games and re-play them again every so often. This one is very similar to the last 2 (Royal Envoy 2 and Campaign for the Crown) but I believe the developers are listening. This game has the full relaxed mode, be it 1 minute or 1 hour will let you finish and achieve all goals. The normal timed is challenging, though I don't think it is as hard as previous editions. After getting through all the levels, then comes the expert level, Now that is pretty tough. Have to get most things exact or 3 stars is very hard to get. Plenty of achievements to go for, some the same as previous games, but a few new ones tossed in to keep it interesting, and some quite difficult to achieve. All in all, its as you expect from Playrix. Great graphics, good game play, challenging and fun. Some people may want to turn off the music and volume if you don't like the constant talking of the workers. Definitely a keeper for me.
May 22, 2014
Get Your Royal Fix!
Once again, the reviews here are pretty accurate. So I'm gonna make this simple. IF you loved the other Royal Envoys, you're sure to love this one. Anytime a developer releases a sequel I always worry they will mess it up. This game is no such case. Let's start by what I didn't like about the game - oops, there isn't anything. The premise is similar. You are appointed by the king to build houses. Cedric is back as well! The graphics are the same while the houses and castle have been slightly altered in their appearance. There is an untimed option if you so choose. The timed levels do get more difficult as the game progresses. The REs and Island Tribes are generally the only time-managment games I do timed, cause they are completely doable without having to rip your hair out. The voices and music, again - same. Not complaining, as I said don't fix what ain't broken. One of the many things I love most about the RE series is what you get for your money in the CEs. You get a 'walkthrough' (which comes in VERY handy for those endlessly frustrating levels!). You also get a pretty in-depth achievement system, not to mention the 114 levels! A heck of a lot better than the standard 40 levels you see in most time-management games. I would normally say don't waste your time with the demo, just buy it. However, I always try the demos first - just in case. Plus, how can you waste time among royalty!
May 22, 2014
Fantastic time management game!!!!!!!!
I have played AND played every edition of this game, and it never ceases to entertain me, if you are competitive like me you will always want to get the 3 stars, so will keep playing to achieve a better result. This is absolutely my most favourite of the time management games and I wish they could bring out 1 a month then I would really be a happy camper.
May 22, 2014
I am SOOooooOOO loving this game!
As with all the Royal Envoy games, I find this one so much fun! It's a lot like some of the others yes, but it's also adventurous so you want to continue on with the adventure. What a nice change from some of the dark gruesome games we have been offered lately! I appreciate a game that is a challenge and takes me a while to complete, and this really lives up to the task! Thanks so much for this game BF and Playrix!!.. I am at level 109 with a glass of wine! (oh, a poet and didn't even know it!) Enjoying my adventure and looking forward to more from this developer. YOU are going to enjoy this game... relaxed or not, it's a lot of fun!
May 26, 2014
A very nice addition to the Royal Envoy games
It's great to see another Royal Envoy game, as I really enjoy them. This one is much like the previous three, only with a different storyline. This time, new islands have been found, and the king has sent you to help the natives in exchange for them becoming a part of Islandshire. You'll see a lot of the characters from the previous games, as well as some new ones, and the gameplay is basically the same. The graphics are similar to the previous games (though this time, the houses change appearance as they're upgraded, which is neat), and the sound is also basically the same. Much like the other games, you collect resources (wood, food, and gold in these games) to complete goals, which tend to involve building houses, collecting certain amounts of gold, clearing an area, things like that. It has a timed mode for those of us who like it, but there's also a relaxed mode for people who don't enjoy a timed mode. There are various achievements to earn, and lots and lots of levels to play. (The demo stated 114, the description here says 112. One way or the other, it's a goodly amount.) The CE also comes with a walkthrough, wallpapers, and the soundtrack. Ultimately, if you really liked the previous three games, you're likely to enjoy this one. There isn't a huge amount of difference with this one than the previous installments, but that's not necessarily a bad thing. I actually like the fact that it's a lot like the previous ones, since I enjoyed those a lot. I'd definitely recommend it if you're a fan, and you really ought to give it a try if you've never played this series before.
May 22, 2014
The Apple logo is a trademark of Apple Computer, Inc.