My Kingdom for the Princess III
Wait no more! The adventures of My Kingdom for the Princess continue. It's been twenty five years since Arthur and the beautiful Princess Helen last made their way home. They settled down, became a royal couple, and enjoyed their time. But time passed, their children grew up, and now it's time for one of their three sons to succeed them. It's time to defeat traitors and rebuild the kingdom in this fun Strategy game!
Amazing gameplay
Fantastic minigames
Rebuild the kingdom!
Game System Requirements:
OS:

10.9/10.8/10.7/10.6

CPU:

600 Mhz (INTEL ONLY)

RAM:

512 MB

Hard Drive:

138 MB
Game Manager System Requirements:
Browser:

Safari 4.0 or later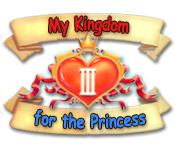 NEW299
The Big Fish Guarantee:
Quality tested and virus free.
No ads, no adware, no spyware.

Reviews at a Glance

My Kingdom for the Princess III
0
out of
5 (
0
Reviews
Review
)
Customer Reviews
My Kingdom for the Princess III
54
54
A rare thing to find a game I can play more than once
I love this game! I've played all three and I wish I could find more like it!
May 12, 2013
Fun Times Three
This is a great sequel to the Kingdom for the Princess set. The only bad thing about this game is when I'm finished I have to wait for number four to come out:( Please hurry BF.
February 11, 2013
Good value game
This game is good value as it takes a long time to get through all the levels. The only slight annoyance was the voice saying Hurry Up you are running out of time - I was aware of that! Otherwise a great game.
January 24, 2013
Still loving this game
This game has the same general game mechanics as the other two. With the addition of a pink pop up bubble that allows you to choose one of any of the resources (food/wood/gold) to prevent you from having to wait forever for the resource I guess. The object is still to clear the road so that you can win the hand of the princess. I didn't find this as challenging as the second one where I had to keep replaying levels for the gold, this time there were only a few I had to replay even on the first go through. It has some interesting new power-ups that I quite enjoyed experimenting with. I really liked the game, but I think the second was the best of the series. It still has the annoying voice telling you that you've won a trophy. It still has the whack-a-mole levels in the middle of each Island. and It still makes you replay if the timer runs out. There's also no way to skip through the dialogue or turn off the hints (which I found to be quite time consuming) and in the beginning building a bridge takes forever but it gets faster later on in the game, so don't let that deter you
November 17, 2011
Similar to the others
I've always liked this series of games. The graphics were better than the others. The game play was simple and the levels almost identical to earlier versions - even if the enviro was different. I found that they were so similiar it felt as though I'd already played it. Finished it relatively quickly.
December 7, 2011
Good, in Doses - A Guy's Review
This is the third installment in this series, and seeing I haven't played the previous two, I can not compare or comment on the progress. On its own it is a good and entertaining game, in doses. What I mean about that is that it does get a bit repetitive in the long run. You are doing much of the same over and over. So I found the best way I like to play it is play it in parts in between other games. That does not mean that the game is in any way boring. It is fun and challenging to figure out how to make it in time, and especially challenging to earn gold on the level. You need that to keep adding to your castle, that you build along the way. It can get stressful however, and a bit frustrating when you have done some wrong choices and end up without resources, and have to sit and wait for them to respawn. The game in itself is about collecting resources, repair roads, fight off enemies, build buildings, clear paths and reaching a selection of objectives to finish the level. Pretty typical for these sort of games in other words. It is broken off with a couple of mini games. A Whack-a-Mole type game and steering some sort of transport through an obstacle course in a classic arcade way. In the latter one I found the controls to be a bit off, or at least taking some time getting used to. Other than that one controls seems to be right on target in all other elements of the game. The graphic quality is quite good. I don't really know how old this game is, but expected the graphics to be much worse. Everything seems bright and crisp and it is never difficult to see what needs to be done where. The characters animated well enough and it all looks smooth. The story in this game is rather typical fairy tale'ish and thin, but I found it OK enough for this game. I don't feel it is a game you play for the storyline anyway. If you are into strategy games similar to this, you will most likely like this as well. It plays similar to most others I've tried so far. It might even be the series that started it all (don't really remember which came first). It offers challenging game play, and has several elements that opens for replay. The castle as already mentioned, but also achievements to earn. However, if you are looking for a game to relax with, this is probably not for you. It is time based, and that time limit gets strict later on in the game. The game is lengthy enough so I think you'll feel you get your money's worth even paying full price. When in doubt try it before buying it. For the guys: It might be fairy-tale'ish fighting to win the princess and half the kingdom like, but the story line has a back seat in this game. Game play suits anyone who likes a bit of challenge. TJ
December 2, 2012
Addictive Time-Management Game!
Fun time-management game with nice story-line. There are similar games, including earlier versions of this one, however this one is quite good and addictive. Ttere are goals and challenges to meet, strategy is involved, and you want your characters to win. Good family game.
November 22, 2011
Familiar story but solid example of genre (where is the women's lib)!
This is the usual ?clear the roads and build? genre of TM games in much the same vain as Royal Envoy and Sweet Kingdom. The basic storyline is 3 princess (brothers), who are after the heart of the Princess (women?s lib not hit game developers then in the fact that the role is never reversed (three princesses for one prince, or the princess has a say in whom she marries)), but saying that I suppose this is the case the world over in games and movies and books so hey ho. The game itself graphically is not the best (though I appreciate it is a slightly older game), the music is never this genre?s strong point so can?t really give that as a positive or negative, though I will say I didn?t need to turn the volume down and it wasn?t overly annoying (thus for this genre therefore the music could be said to be good), even though this was a SE there was a voiceover which drove the cut-scenes on and did I suppose enhance the story slightly (though again for this type of game, the storyline etc. as stated previously is not really a strong point). The gameplay was standard for this genre, in that the first few levels were the learning curve and then it started to get a little bit more of a challenge. The beauty of this genre is if you play a lot of them then the ?skills? learnt in one game can be transferred to another (I suppose this is the case if you play a lot of an genre of games), the one thing I will say though is that like so many of this type of game is that even if a worker is empty-handed after they have finished performing a task then they have to go back to the hut (town hall etc. etc.) before they can perform another, this to me seems to be an inherent fault in this genre as it seems to me that you are wasting precious time, waiting for the worker to go back to the hut before you can action them to do something else (when you had more workers it perhaps was not as noticeable) but certainly for the first few levels it was and it made these levels drag slightly. I suppose having just played Sweet Kingdom where you could give them multiple tasks it was perhaps more noticeable. Other than that though the game is good fun and for each level you have to get the artefact, but there are several other tasks to do as well (such as complete bridges (usually to gain access to get the artefact) and build different work buildings (such as farms and sawmills). If you are fan of this genre, then you will be on familiar territory and this game does not really throw anything new into the mix, but nevertheless is a good solid example of this genre of game. I would certainly recommend this if you like this genre of game.
April 12, 2013
Love it
Once you start playing you can't stop. I love it
December 1, 2011
Enjoyable but not as challenging
I found the levels here much easier to complete in expert time compared to the previous games. Also I wish there was an option to skip all the mini-games because I just find their lack of strategy annoying. The main game is still a lot of fun and quite addictive despite being a little too easy.
June 8, 2014
The Apple logo is a trademark of Apple Computer, Inc.
The Windows logo is a trademark of Microsoft, Inc.