Haunted Hotel: Ancient Bane Collector's Edition
Exclusive
Brought to you by Elephant Games, creators of Haunted Hotel: Eclipse and the best-selling Mystery Trackers series!

Abraham Shadowy bought an abandoned hotel, planning to turn it into a haunted attraction for his guests. But when his guests start actually disappearing, people begin to gossip. Is it all just a publicity stunt for the hotel, or is there something more sinister going on? Join your detective friend James as you search for the truth among Shadowy's mechanical contraptions. It's dark in there, so watch your step in Haunted Hotel: Ancient Bane, a chilling Hidden Object Puzzle Adventure game!

This is a special Collector's Edition release full of exclusive extras you won't find in the standard version. As a bonus, Collector's Edition purchases count toward three stamps on your Monthly Game Club Punch Card!

The Collector's Edition includes:
Save James and help Anabel in the bonus game
Win awards for your achievements in the hotel
Collect 12 Egyptian objects
Music, screen savers, wallpapers, and concept art
An available Strategy Guide
Game System Requirements:
OS:

Windows XP/Windows Vista/Windows 7/Windows 8

CPU:

2.5 GHz

RAM:

1024 MB

DirectX:

9.0

Hard Drive:

1508 MB
Game Manager System Requirements:
Browser:

Internet Explorer 7 or later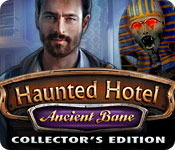 The Big Fish Guarantee:
Quality tested and virus free.
No ads, no adware, no spyware.

Reviews at a Glance

Haunted Hotel: Ancient Bane Collector's Edition
0
out of
5 (
0
Reviews
Review
)
Customer Reviews
Haunted Hotel: Ancient Bane Collector's Edition
42
42
Not the best of the 3 previous games...
Hi all. I have the first 3 Haunted Hotel games and liked them all (Haunted Hotel: Believe the Lies; HH: Charles Dexter Ward and HH: Eclipse). The colors are very bright with very clear graphics. Game play was very good, no problems at all. Music was a little odd to me, in that it would build like something was about to happen, so you get ready for it, but then just drops off with nothing. Voice overs were well done. The "bad guy" had a very sinister voice. There really isn't much in the way of sound FX either. Other than the music and the occasional dialog, it is a pretty quiet game. The jump map areas are marked, so you don't have to guess which is what #thank you!#. Hint system fills very quickly and is quite helpful. Since the hint actually teleports you to the next location, you really don't need to use the SG or the map. There is a lot of back tracking on this one, so grab an extra pair of tennis shoes, you will need them. Usually the lead in scene is what will grab me and pique my interest. This one was lacking in excitement and didn't make much sense to me, with not much of anything leading into the actual story. There are a lot of Egyptian items that you pick up here and there, but the story is not in Egypt and didn't explain why these artifacts are collected. Maybe it does as the game progresses. The HOPs are the usual, fairly clean and items are easy to spot. Puzzles weren't difficult, but as the game progressed, the puzzles took a bit more thought to complete. The only collectibles that I could find were the Egyptian canopic jars. Each jar told you who was interred in the jar...a little history here. I don't really care about achievements and whether or not I get them, but the collectibles make a game more challenging and fun. The jars are either difficult to see, or I'm just missing them, as I only found 2 during the demo. I was surprised at the lack of challenge in this game, after playing the other 3. It seemed that the devs got a bit lazy with this one...again. I liked it well enough to want to add it to my every growing collection of games, but right now I'm not too sure I want to get the CE. I have been known to change my mind. A beginner will find this one challenging, but us old timers might not. I will put this in my puddle and think on it a bit. As always, try it for yourself and see what you think. We all have different tastes in games and you may not care for this one at all. Thanks for the reviews.
May 30, 2014
Haunted Hotel Ancient Bane a bit disappointing...
Elephant developers create wonderful games. The first reviewer of this game gives you enough information about this entire adventure. I liked Haunted Hotel Eclipse better. Play the demo and see if you like it.
May 29, 2014
Great game but seemed to drop off towards the end
The story is very good, the graphics are good and the puzzles are fun and original. I enjoyed this game. I would have given it top ratings, however towards the end I found the story became incoherent and I was simply ?map hopping? to finish the game.
June 18, 2014
Good but not the best
I think this game was fun but quite ordinary. Love Elephant games, but realize that the games are different according to severity. Anyhow, I recommend this game.
May 31, 2014
Familiar gameplay.
Gonna buy this game. It is not unique. It is just what it is, a continuation of the same type game from this dev. don't expect to be wowed.
May 30, 2014
"Servants have no voice" - well it's certainly left me speechless!
OK, so here we have the next version of "Demon possesses character to pursue his nefarious aims". Abraham Shadowy is the luckless victim this time and is inviting people to his hotel, including your ever helpful friend James. Unfortunately, he invited you along to do the 'leg work' (although James does have his uses, bringing you occasional useful objects and making helpful suggestions as to what you might do next)and the Demon is not pleased. This is yet another (in my view) in a recent seemingly long sequence of CEs which have great potential but fall well short of the mark, so I am sorry, fellow players, but be prepared for a rant! We have: * atmospheric music and sounds which tend to go on too long after the 'scary bit'. * pretty decent but dark artwork with some very cluttered scenes * black smoke There are achievements to earn - all puzzle and HOS related BUT (and I have moaned about this SO many times) why would you have "Find 10 objects in 10 seconds" AND "Finish an HOS in MORE than 10 minutes"? I want to be able to check out the achievements and then set myself the challenge of earning them, but I will never just pop off and make a cup of tea before clicking the last item just to earn an achievement. It's pointless! Another one is "Complete the game" - well who is going to buy the CE and then not be bothered to finish it? Aaaarrrggghhh! Now, about puzzles and HOSs... HOSs are lists with a couple of highlighted words - OK got that. All contain a 3x same item or 5x same item - just feels lazy to me. But worse...one of the items is sometimes hidden, but the colour of the word doesn't change! Maybe this is how I can earn that 10 mins+ achievement, but it is just frustrating as you click on everything to see if it moves away. Oh and when items are misnamed...don't get me started. I am looking for a COMB not a BRUSH! Puzzles were either fairly easy or nearly impossible. Not impossible because of the quality of the puzzle but because of the instructions. When it tells me to line some things up, I try to do that and then, discovering by chance that I have to click and find a random order, it becomes a simple trial and error puzzle. In another, I am told to "select and drag" to swap items. Doesn't work! Thinking I have a glitchy game, I try clicking on a pair to swap and hey presto! Gameplay? Well thank goodness there is a jumpable map as, once you are into the hotel, it is a case of 'Do one thing, find an object, go to the other end of the game, use the object, find what you needed at the first location, jump back, use it, etc, etc, etc! The map has player location and active area (yes, only one at a time!) but you don't need it here as you have just come from that location and know you need to go back to light that candle with the matches you have just found or unscrew those bolts with the hex key! One last thing - collectibles. You have egyptian artefacts to find. I found three purely by chance when randomly clicking in desperation for something more to do in a scene when I had found the required item. I hope you like this more than me. Do take the free trial. I cannot recommend this game in its current form so I am off to the dentist to restore my gnashed teeth!
May 29, 2014
The Elephant Is Missing. Maybe It's Lost Somewhere In Haunted Hotel
Our detective friend James from the last Haunted Hotel is back and this time we are off to help a hotel owner solve the mystery of his vanishing guests. The game starts in the same way as almost every other Elephant game with the proverbial suitcase that is missing a key, which when opened leads to a hidden object scene. Once we are in the hotel we meet Mr. Shadowy (now how is that for an ominous name) who is acting rather strange and we are left on our own to investigate. Hmmm, what strange and mysterious things are going on and what will we find within the hidden rooms of Haunted Hotel? The graphics are excellent and I would expect nothing less from this developer. It is interesting that the beginning cutscene had lip-synced voiceovers but then they disappeared as we got into the game itself. The thing is (and this is the bad news) that good graphics are just about the only thing this game has going for it. The gameplay in Haunted Hotel Ancient Bane is very much the same as it is in all games by this developer, so much so that it is quite predictable. The HOS are the same old, same old slightly interactive list type scenes that we find in virtually EVERY game this development team presents and there is nothing new to be found here. I am beginning to think that the well of creative thought has truly dried up at Elephant games. In Haunted Hotel Ancient Bane, we come across HOS scene after scene that I won?t necessarily call junkpiles only because the items are quite nice to look at, but nevertheless they are stuffed with far too many items. Not only are the HOS cluttered, many of them are quite dark as well making it much more difficult to distinguish some items. Then we come to the puzzles or mini games, and again there is nothing new to be found with puzzles that seem very simplistic and easy. There was nothing to challenge my brain and I found the puzzles to be quite ho-hum if not downright boring. Not only were the puzzles quite ho-hum, the developer missed some great opportunities early in the game to integrate puzzles into several areas. Lately, it seems that there must be some simple formula that the Elephant team uses when developing its games, which includes nothing new or creative - only the basics. I might sound a bit harsh but when I see a game from Elephant, who is one of the top developers in casual gaming, I expect more and lately it has been missing. There is no wow factor present in more recent games from this team who in the past brought us a stunning game like The Nutcracker. As we move through the game we find and collect various canopic jars but aside from those there is nothing else that I could find except earning a handful of achievements. The game seems woefully short on collectibles or anything else that warrants the CE designation. In recent months CE games have become no better than the SE games of the past with only the inclusion of the SG to perhaps justify the extra cost. If one needs the SG or a walkthrough then maybe the CE is worthwhile but if you can make it through the game on your own, I would say skip the CE. As I made my way through the demo of the game I tried to find something that was compelling that would hold my interest so that I would want to buy the game but there was nothing that jumped out and caught my attention. The gameplay was just rather mundane and with no challenge in the puzzles, it was quite frankly rather boring. When one plays as many HOPA games as I do, I like to find something in the way of a storyline or some unique factor that stands out to ?ring my bell? but it was not to be found among the crowded rooms of topsy-turvy chairs and floating knives. This Haunted Hotel was lacking in the things that could have made it a great game. The game is not horrible and for many it will be what they are looking for, and if there is a true two-for-one sale I might try it. Overall I will give the game three stars and those because of the graphics which are superb. As always, I recommend that you at least try the demo because the game might just be right for you.
May 29, 2014
Haunted Hotel Ancient Bane CE, NOT CE worthy
Played Casual for 70 minutes. Elephant graphics pretty, Good jump-map with info on where to go (many rooms in house). Scarab helper, ONLY12 collectibles, NO morphs, HO cursor sensitive, HO objects misnamed: pin/pen, comb/brush, shawl/handkerchief. This does NOT meet today's standards of CE quality, ie: Cadenza...CE, Grim Tales: The Vengence CE, NY Mysteries...CE. Storyline weak. If you just want to jump around - wait for the SE and a free punch.
May 29, 2014
Sloppy!
I wanted to like this game, but the overall mediocrity and frankly, sloppy quality makes me think they should send this one back to development. Or at least fire the QC guy. From a developer of this caliber, I would expect them to at least identify the objects in the HO games correctly. They asked for a "pen" when the object they wanted me to find was piece of jewelry -- a pin or brooch, a "comb" that was actually a hairbrush, a "shackle" which turned out to be an earring, and an "angel" which I discovered was a representation of Ra or Horus! The graphics are nothing special and I know that several of the other developers out there are doing much higher quality animation, so it isn't as if it's not possible. Even the individual scenes felt rather shallow and one dimensional. There's no complexity here. I enjoyed the visual quality of Haunted Manor: Painted Beauties much more. I only played the demo, but the "haunts" at this haunted hotel were not even particularly interesting, much less scary. Maybe it gets better if you play the entire game, but I doubt it. Can't make any further judgment about the story, apart from the fact it didn't make me feel compelled to buy it. Sorry James, you're on your own on this one. I'm going back to Dupin.
May 30, 2014
Not CE Worthy
Even though I had tech problems playing the demo, I did play 60 minutes of the trial or thereabout. I love the original Haunted Hotel games, and the last one, Eclipse, was not bad at all. This one, however, looks like the team was on coffee break and the game was thrown together. The graphics are good. There are quite a few HOS and they are standard list. There are misspellings that make finding objects difficult. The mini games were difficult, not because of the nature of them, but because some of the directions were either wrong or impossible to follow. There are only about 10 or less achievements, all game related, and some artifacts to find. The game could have been so much more. There is absolutely no fright factor... such as eerie noises, a spooky ambiance, etc. I found myself slogging through the demo looking for anything at all to grab my attention. It lacked oomph and luster. With the tech issues, the lack of any CE bling, and the absolute dullness of the game, along with a large developer putting out a game with glaring translation errors, I don't recommend this game. Not as a CE, and probably not even as an SE.
May 30, 2014
The Apple logo is a trademark of Apple Computer, Inc.