Haunted Hotel: Ancient Bane Collector's Edition
Exclusive
Brought to you by Elephant Games, creators of Haunted Hotel: Eclipse and the best-selling Mystery Trackers series!

Abraham Shadowy bought an abandoned hotel, planning to turn it into a haunted attraction for his guests. But when his guests start actually disappearing, people begin to gossip. Is it all just a publicity stunt for the hotel, or is there something more sinister going on? Join your detective friend James as you search for the truth among Shadowy's mechanical contraptions. It's dark in there, so watch your step in Haunted Hotel: Ancient Bane, a chilling Hidden Object Puzzle Adventure game!

This is a special Collector's Edition release full of exclusive extras you won't find in the standard version. As a bonus, Collector's Edition purchases count toward three stamps on your Monthly Game Club Punch Card!

The Collector's Edition includes:
Save James and help Anabel in the bonus game
Win awards for your achievements in the hotel
Collect 12 Egyptian objects
Music, screen savers, wallpapers, and concept art
An available Strategy Guide
Game System Requirements:
OS:

Windows XP/Windows Vista/Windows 7/Windows 8

CPU:

2.5 GHz

RAM:

1024 MB

DirectX:

9.0

Hard Drive:

1508 MB
Game Manager System Requirements:
Browser:

Internet Explorer 7 or later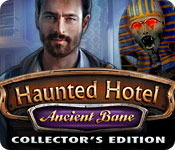 The Big Fish Guarantee:
Quality tested and virus free.
No ads, no adware, no spyware.

Reviews at a Glance

Haunted Hotel: Ancient Bane Collector's Edition
0
out of
5 (
0
Reviews
Review
)
Customer Reviews
Haunted Hotel: Ancient Bane Collector's Edition
43
43
Not CE Worthy
Even though I had tech problems playing the demo, I did play 60 minutes of the trial or thereabout. I love the original Haunted Hotel games, and the last one, Eclipse, was not bad at all. This one, however, looks like the team was on coffee break and the game was thrown together. The graphics are good. There are quite a few HOS and they are standard list. There are misspellings that make finding objects difficult. The mini games were difficult, not because of the nature of them, but because some of the directions were either wrong or impossible to follow. There are only about 10 or less achievements, all game related, and some artifacts to find. The game could have been so much more. There is absolutely no fright factor... such as eerie noises, a spooky ambiance, etc. I found myself slogging through the demo looking for anything at all to grab my attention. It lacked oomph and luster. With the tech issues, the lack of any CE bling, and the absolute dullness of the game, along with a large developer putting out a game with glaring translation errors, I don't recommend this game. Not as a CE, and probably not even as an SE.
May 30, 2014
Not The Greatest
This game is not up to Elephant's usual standard. There are several translation errors; I spent ages looking for a pen - it turned out to be a brooch (I presume they meant pin!) In another scene I was looking for a comb - they meant brush. This is not good enough, especially when there are achievements to aim for. It was nice to be given 90 minutes to trial the game, but after 40 minutes or so I was getting bored and had to take a break. I will wait for the SE - I don't think I could bear to play the full game and then have to wade through a bonus as well. But as always - try it for yourself.
May 29, 2014
LOTS OF LOCATIONS
lots of locations and i like that ... hos were ok though pretty easy; puzzles pretty good, but not spectacular ... not a problem for me, but several of the items you are looking for in the game, not the hos, are mis-named and confusing ... the artwork is great, but there is NO MUSIC ... so i found myself not having the FUN experience that i look for ... it seems like a long game, which i also like, but there's something about the continuity that makes it a bit tedious ... still its a decent game ... i bought it because i have everything else! ... still playing ... will keep this one for my "background" game ... always looking for the 5 star games, but today it's only 3 ... this game is ok, but it needed a bit more attention to GAMEPLAY, speed and connecting the story to the search ... and of course FUN ... i did laugh at the comments "this place is messing with my mind" ... i LOVE those snarky comments ... i want fun! ... give it to me! ... at least there are no technical difficulties ... yaaayhh!
May 30, 2014
Beautiful eye candy, but no meat in the game
You get your usual wonderful graphics here from Elephant games. Apart from that this game is not up to par with what I am accustomed to from this company. Many, many spelling errors, mislabeled objects in the hidden object scenes, grammar mistakes, it just seemed sloppy. I was not drawn into the story line, nor did I care if the heroine stopped the villain or not. I was just bored with it. You are playing the assistant but the detective can't seem to do anything and you end up saving him. Not much challenge but a few if the puzzles made me work the gray matter a bit. Some of the hidden objects scenes were actually quite alive and beautiful. The game ran fine on my PC, no glitches or problems. I do think the game is too short for a CE.
June 5, 2014
A little Haunted on this one.
Like the little eerie scares here and there. Nice touches. Ho's were fairly good. Characters and story were great as well as scenery and scenes. Puzzle not too challenging so makes for a easy breezy game. Like the bugs and such for atmosphere as well as the music. Jump map helped save time for some back and forth type stuff. Lots to do and great game for beginners. But like one not too long ago goes on my bottom of list to buy.
May 29, 2014
One more okay game
Haunted Hotel:Ancient Bane comes to us with three levels, mildly interactive HOPs, okay mini-games, well-done VO's, and an okay storyline. You are the assistant to a detective, who has been called in to investigate the disappearance of guests at a"Haunted" hotel. Is it a publicity stunt or a real haunting? The owner is acting suspiciously, there are strange machines and happenings around every corner and you start out investigating. I think there is potential here and, if the story had drawn me in more, I would have bought it. As it is, I'll wait for an SE. I'll recommend it as an okay game. Please try before you buy.
May 29, 2014
Could have been so good!
I thought I would really like this one, but it was not to be. There were several grammatical errors in the dialog, the word "turpentine" was misspelled, and in one of the hidden object games, I searched a long time for a PEN, when it was actually a PIN. More proofreading, please!
May 30, 2014
HO HUM Boring! Elephant We expect more not less
I am so disappointed in this boring Game. I have bought every Elephant Collectable they set high standards for other Game Developers. I usually buy when demo is 15-30 minutes into demo. Sadly I will be uninstalling after forcing myself to play half an hour! HO HUM BORING! 1st time I complained about Elephant quality! BFG forum has others voicing same opinion. Here is what I do NOT like about the new Game and will NOT be buying it even if it was given for 1 coupon. The Graphics are not up to the standard I am used to in other Games I enjoyed and became accustomed to especially in my collectables. I usually love Elephant Games and expect the Best always going above not below the standard of Games set for others . I expect the best just by the Name of my Favourite Game Developers. It is true the voices are well done, but the main character James just stands there static without any animation or no lip synch.. Sherlock Holmes is example of animated Character that feels life like pulls us in the story. In the demo I only got as far as the Dining Room but there was no zoom to door that I would know to use a key in the door. I have played unknown Game Developers that have beautiful animated Characters, gorgeous graphics, lip synch, fun hidden objects , unique mini games, interesting storyline. I want to buy the Game to find out the ending. In Collection Edition bonus such as Morphing objects , unique achievements based on story line, voices, lip synch should be normal. Elephant I am one of your loyal customers. I can't be silent and not complain because I expect more from one of my Favourite Game Developers not less! I groan when I see the long random list of items with few interactive items, it is ho hum boring! Finding jars for a collectable does not make this worthy for a Collections Edition price in my opinion.. I hate the storyline if it would have been actually haunted maybe story would have been more interested but knives floating are controlled by magnets. In demo what we thought would be scare factors are laughable finding out its just the owners inventions. Maybe the story will change later but I can't stick around to find out, I have many more interesting Games that deserve the attention that are fun! Yes I am going to play other Games the same Dev has released and I am enjoying them. The Hidden object screens are junk piles list of random objects not needed. The mini games I find ho hum boring! I won a few memory test but again it was boring! Cadenza Game is the way I love Hidden objects making it fun, unique, and mini games a joy! I got as far as the dining room with floating knives skipped the boring magnet puzzle. I skipped majority of puzzles. I love Story Puzzles, fun unique puzzles like as been in some of the best collectable Games such as Cadenza among other favourite Game Developers. I love riddle Hidden objects and putting back displaced objects. Long list of random items with a few interactive is taking the easy way out just to fill the Game. . If you think our reviews are harsh the truth is we expect the best because usually we know when we see the name of Game Dev we know we are getting the best entertainment for our money. I made a comment recently all I have to do is see the name of a Game Developer and I know I will be purchasing the Game. I have just made my first exception to that rule. This Game could have been so entertaining with a scare factor if the above had been improved. I did like the morphing of certain creatures that looked normal and suddenly turn evil looking. I also appreciated the animation, like the blowing of the curtains as if wind was blowing. I highly suggest People try before just buying this Game and don't assume it will be like the other releases. I am so grateful I did not hit the buy key.
May 29, 2014
The misogynistic detective is back...no thanks.
Now I remember why I disliked the last episode in this series: the supercilious, condescending detective who let us do all the work, then took all the credit for it. I'll pass. I have no issue when the player character is male. Honestly, there should be more male players; they're so often female. But to make the player character female, then have this patronizing idiot ordering her (us!) around the entire game is more than annoying.
May 31, 2014
Not a good game
I haven't purchased this game, I've just played the free hour. This is another game where I ran around from scene to scene collecting clues and pieces for other scenes. I was so busy I lost track of what I had seen and done and why I had items and for what. The puzzles are not hard, there is no challenge or fun in this game. The graphics and sound are great but the rest is not. I'm bummed.
June 7, 2014
The Apple logo is a trademark of Apple Computer, Inc.