Haunted Hotel: Ancient Bane Collector's Edition
Exclusive
Brought to you by Elephant Games, creators of Haunted Hotel: Eclipse and the best-selling Mystery Trackers series!

Abraham Shadowy bought an abandoned hotel, planning to turn it into a haunted attraction for his guests. But when his guests start actually disappearing, people begin to gossip. Is it all just a publicity stunt for the hotel, or is there something more sinister going on? Join your detective friend James as you search for the truth among Shadowy's mechanical contraptions. It's dark in there, so watch your step in Haunted Hotel: Ancient Bane, a chilling Hidden Object Puzzle Adventure game!

This is a special Collector's Edition release full of exclusive extras you won't find in the standard version. As a bonus, Collector's Edition purchases count toward three stamps on your Monthly Game Club Punch Card!

The Collector's Edition includes:
Save James and help Anabel in the bonus game
Win awards for your achievements in the hotel
Collect 12 Egyptian objects
Music, screen savers, wallpapers, and concept art
An available Strategy Guide
Game System Requirements:
OS:

Windows XP/Windows Vista/Windows 7/Windows 8

CPU:

2.5 GHz

RAM:

1024 MB

DirectX:

9.0

Hard Drive:

1508 MB
Game Manager System Requirements:
Browser:

Internet Explorer 7 or later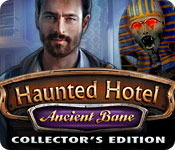 The Big Fish Guarantee:
Quality tested and virus free.
No ads, no adware, no spyware.

Reviews at a Glance

Haunted Hotel: Ancient Bane Collector's Edition
0
out of
5 (
0
Reviews
Review
)
Customer Reviews
Haunted Hotel: Ancient Bane Collector's Edition
43
43
Parlor Tricks Or Evil Entity?
This is a really entertaining game, BUT, Haunted Hotel: Eclipse was much more sinister. Abraham Shadowy, a mechanical engineer has renovated an old house into a theatrical Haunted House full of mechanical parlor tricks. When guests begin to disappear you and your partner James are called in to investigate this strange case, but so far the only thing paranormal is the owners odd behavior. This is a well produced game with good cinematics and because the game is based upon mechanics, there are lot's of mechanical gadgets to repair and tinker with in every scene. In my opinion, this is a very easy game, everything is logical including the mini games. There are 12 Egyptian canopic jars to collect, which will also give you a brief bio about the person whose ashes they contain as well as the usual achievements to earn. There are plus indicators on some items requiring you to fix that item before it will be available such as an Amulet of Light and a mechanical scarab which will assist you in your investigation. The Hidden Object Scenes are well done, interactive list finds and there seems to be a decent amount of them. The mini games are very easy in my opinion, but they do seem to become more complex as you progress. They range anywhere from matching alike lock pics, memorizing a sequence of colored marbles and replicating them after the lid is closed, adjusting mirrors until a beam of light travels from one end to the other, and one of my favorites was swapping top and bottom colored gems so that those two colors would mix to make the colored gem in the middle. This game is fun, somewhat relaxing due to it's simplicity, but at least in the demo, not scary in the least bit. Every scene has several areas of interest and lot's of gadgets to fix with an abundance of doable puzzles and mini games. If you don't compare this game to it's predecessor, if you judge this game solely on it's own merits then you've got yourself a great game, enjoy!
May 29, 2014
Wow! What a Great Game!!!!!
Storyline: Abraham Shadowy, a mechanical engineer, has purchased an old hotel. Little did the townspeople know it would turn into a huge success. Shadowy played upon the hotel's ancient history and promised guests that they would see "real ghosts". But, people started disappearing. And you were called in by your friend, James, to help investigate the cause. Is there something sinister afoot? Or is it all smoke and mirrors? Play the game to find out. Graphics: Although the colors were amazing, everything appropriate to the creepiness of each room, I was a bit disappointed. During the opening scene, we had major lip syncing with ... wait for it.... facial expressions. Always props to the devs when they add facial expressions to the lip syncing. However, during the game play, all lip syncing stopped. Then, you just had the characters standing, sitting, kneeling, whatever, and talking (through their nose? ears? fingers?). I absolutely dislike when a game starts with such promise and then regresses. By this dev and as many games as they've put out, it's greatly disappointing. Sound: Pretty good, I must say. Not great, but pretty good. The appropriate squeaks, crashes, booms, wails, etc. as appropriate for each situation. The music from the gramophone was non-existent as something came out of it. Hmmm. That could have been improved upon. If there was any background music, sorry, I had the volume turned down low (I just got two teeny puppies and they were asleep snuggled up next to me - so no extreme volume). Game Play: It was very interesting that you started out with a "light source" amulet looking thing but by the end of the demo (we had an amazing 90 minutes of demo and I finished with 20 minutes to spare) it was still not completely put together. There was a LOT of back and forthing but very worth it. In every room you c..ame to, you established if the spookiness and hauntedness of the Hotel was real or fake. Not gonna say - you have to play the demo at least. The hint button takes a bit to recharge. It is extremely helpful, however, in that it will also transport you to the room you need to go to next. There is a diary, but as far as I could tell, didn't retain clues, just the same notes, pieces of paper you found. Redundant. There is a map in the form of a compass which is transportable and tells you where an active area is and where there is not. I don't know if it indicates when an area is finished because you do go back and forth a lot. HOGs: Pretty standard stuff. List of items to find with some interaction but not a lot. No going back and revisiting the same ones. Very easy to find the items you need. Had no problems whatsoever. Mini Games: Scattered here and about. I did not have to skip any (which is new for me) and found them all relatively easy, although sometimes it did take a bit to figure out exactly what to do. CE Bling: Pretty standard fare Strategy Guide (I didn't use it) Bonus Game Wallpapers - 9 Concept Art - 9 Music - 4 themes Achievements - not sure how many, it appeared as if there were only 8, but that can't be right, can it? Collection Room: I think the game description said there were 13 collectibles and I think I may have found 1. Not really sure. If I did only find 1 in almost 90 minutes of game play, I'm hoping that signifies a fairly long game. Screensaver - 1 So, there you have it. This Glam-ma enjoyed the game. Didn't use the hint button to transport me about - I thought that was too much like cheating. Although the map made it a little too easy as well. I was intrigued by the game. What will we find out in the end? Is the hotel really haunted? Or is this some ploy with a more sinister end? This Glam-ma is definitely purchasing the game to find out - although I wish it offered more bling. The review of this game is this Glam-ma's unbiased opinion - and only mine. Therefore, if you found this review to be helpful, please click on the "yes" button below. There is also a "no" button. Seriously? You'd give your Glam-ma a "no"? Kidding. Happy Gaming.
May 29, 2014
Who is haunting the hotel?
Guests are disappearing from Abraham Shadowy's haunted hotel, so he summons your friend James to come detect. And of course, James brings you along because you do all the work! He does show up and give you an item every once in a while! Abraham is not so happy James brought you along, however. It seems Abraham has a "Master" who wants James. The Master appears as dark smoke, and he's already captured Henry Spinner, a historian who was an invited guest to help solve the "mystery." This is a nice long demo that gives you a good feel for the game, and ends at a logical place. Like all Elephant games, the graphics are excellent - the opening video shows Henry the historian being chased and dragged away. However, the lips don't move in the voice-overs. One nice option available, is to change the brightness of the screen via the gamma slider -- for those of us who don't like to squint at the dark settings! There are three modes of game play. The map is teleporting, and indicates where an activity exists -- absolutely necessary for me, as I can never remember what room requires what item! This makes the strategy guide rather unnecessary. The hint button either points to a room to teleport to, or to an object within a room that needs action. Because Abraham is an inventor, there are several mechanical objects to fix, including the light amulet, and a mechanical scarab that can fit into small places you cannot reach. The HOS are all lists - a bit too cluttered -- that follow an Egyptian theme. You also can collect 12 Egyptian canopic jars that describe who is buried inside them! The mini-games are unique, but not hard. My favorite was the room with the knives. You had to match up magnets to remove the knives so you could enter the room. Another one was to position mirrors that eventually blew up the skeleton blocking your access to another passage. There are 10 achievements you can win. There is a bonus game, plus the usual CE bling. What is missing is the "Secret Room" that has been showing up in Elephant games lately after the Bonus Game - one of my favorite parts of their CEs. This is a worthy contender, however.
May 29, 2014
Ahh the Elephant team did it once again :)
O.k., who does this hotel owner think he is telling James he shouldn't of bought his assistant? Why, because he probably knows his assistant will get down to business and found out what is going on. Anyhoo, this is one truly awesome game by our friends at Elephant games. The VO's are done fantastically. The hotel had a Ravenhurst feel to it. I love the spooky atmosphere of these games. And no there isn't no cute little animals in this game, but we do have a mechanical scarab helping us out which is a new twist. There is 3 modes, Casual, Expert, and Hard. Story: This Abraham Shadowy (who I don't trust worth a hill or beans), wanted to open up this hotel and turn it into a spooky attraction for his guests when his hotel turned out to be the real deal. Shadowy, not liking what's going on, called on James (that one hunk of a detective) to find out what is actually going on and that the hotel is actually haunted. But for some reason, he didn't want James to bring along his female assistant. That guy is suspicious or possessed from the word 'go'. It's up to us to find out what is actually going on. Graphics: Top grade graphics. The art team did a splendid job. Yep it hit the spooky factor. These are the type of graphics where you are waiting for something to pop out at you. Music: Definitely adds to this game. The music was done superbly. Makes the creep factor go up more. Love it! H0GS: So far only ran into the word lists with the yellow words to do that extra step. Not sure if there will be different ones down the road. Map: Very well done with blue tacks telling you where to go next and the orange flag is the character. It is a jump map. Mini Games: The ones I ran into so far were nice, easy and enjoyable. Don't know what the game has to offer further along in the game. All in all this is a definite 10/10 game IMHO. I am truly enjoying it, and looking forward to the rest of it.
May 29, 2014
i loved it!
well i just love the story and well it's a great story it's just the bonus was a kind of short but in all still good to me it was worth it.
June 2, 2014
WOW!
what a great game, I had a great time playing it, loved everything about it.
June 3, 2014
Smoke and mirrors, here we come!
I say "nay" to the naysayers. This game was well worth the time and money. For those who have to pick it to death, the game is more important if the story keeps your interest and you feel like you are being entertained. The characters had a good fluidity, the graphics were colorful, and the sound track was not annoying nor repetitive. Elephant's reputation in this series is awesome!
June 21, 2014
Better than the original game of Haunted Hotel
When I downloaded the game, I was surprised to see that I had 90 mins to play instead of 60 mins. I really like the game. It is different from the original game. In the original game of Haunted Hotel, all you do is go to the same rooms and look for hidden objects. In this game, you play different games. There are some hidden object games. I would recommend this game.
May 29, 2014
ANOTHER EXCELLENT GAME!
I don't know if anyone has noticed, but there have been a lot of awesome games released in the last few months. I LOVE it!! This game was very cool. Loved the story line, graphics and music. Worth the buy if you crave something unique. Happy Gaming.
June 18, 2014
Brill Game
Played this for the full trial and was disappointed I could not carry on. This is a great game and would definitely buy it when it is released in full. well done to the designers and makers.Loved the storyline of the haunted house and trying to discover who is making the visitors disappear. cannot wait to find out.
May 30, 2014
The Apple logo is a trademark of Apple Computer, Inc.