Fantasy Mosaics
Embark on a fantasy journey to distant lands and experience this new and exciting collection of mosaic puzzles through 100 custom built levels. Brimming with even more challenging puzzles and power-ups, Fantasy Mosaics will take you to new heights on this magical adventure. Enjoy the journey and have fun building your fantasy garden!
100 custom built puzzles
Breathtaking locations
A unique fantasy atmosphere
Game System Requirements:
OS:

Windows XP/Windows Vista/Windows 7/Windows 8

CPU:

1.6 GHz

RAM:

1024 MB

DirectX:

8.0

Hard Drive:

77 MB
Game Manager System Requirements:
Browser:

Internet Explorer 7 or later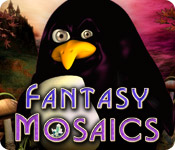 NEW299
The Big Fish Guarantee:
Quality tested and virus free.
No ads, no adware, no spyware.

Reviews at a Glance

Fantasy Mosaics
0
out of
5 (
0
Reviews
Review
)
Customer Reviews
I Never Thought I'd Like This Game!
I have always had the most trouble in the world trying to play games like this. But, the Fantasy Mosaic series really taught me the basic mechanics of the game in a way I totally finally understood. The background music is so soothing you don't even know it's there after a while. Strategy when placing your pieces on the tile and a lot of patience is needed. You do get bonuses in terms of hints and a hammer that fills up and you can use it to check if a single tile gets a "move" or is "empty". I never in a million years thought I would enjoy this type of game. I have no patience and am not really a strategic person but this series of games did a great job teaching me how to play and I hope everyone will take advantage of the free hour and try it. Happy Gaming!
July 20, 2014
SUPER FUN MOSIAC NANOGRAM GAME
LOVE THE LITTLE PENGUIN! I like most of these games but the majority have very little fun factor they are just the game with little story or fun. This one is very cute and fun with bonus power ups. I bought it as soon as my 1 hour trial was up. I'll enjoy it and I'm sure you will too if your looking for a fun game.
May 7, 2014
Good for a casual puzzle game
I am a long-time fan of these types of puzzles. Hanjie, Nonograms, by whatever name they are one of my favorite logic puzzles. This game has lovely graphics, reasonably pleasant background music, and a fun setting for puzzles. My biggest problem with this game stems from my love of logic puzzles in general and this puzzle type in particular. There is too much information given. These puzzles should be able to be solved with pure logic. After a few rounds (I got up to level 4-4 by the time my demo hour was up), I began to notice a few things. Traditionally, you are required to deal with every box on your own - either filled or unfilled. This game automatically fills in the "unfilled" boxes in each row and column if you correctly fill in the needed boxes. This isn't a huge problem - I didn't notice if it's possible to turn it off, but it doesn't actually give you information you were missing. The deal-breaker for me, personally, was when I figured out that if I filled in a set of boxes (say a set of 3 in a row labeled "2 2 3 3"), the game automatically crossed off the appropriate number for me. Unlike my previous comment, this is a huge problem - it gives a lot of information to the person solving the puzzle. In this example, for instance, if the last "3" was crossed out for me, I would potentially know a whole set of boxes to mark as "unfilled". It also tells me, say in a row marked "4,6", if I have 4 boxes filled in but it didn't cross off the "4" - then I am working on the set of 6, and I can deal with the empty boxes to the left with that information. In other words, they give information that would not be available if I were solving this with pencil and paper. I love these puzzles on the computer because filling in all the boxes by hand can get tedious, but I still want to solve them myself. I won't be buying this game, mostly because it feels like cheating to get all the extra details. If I become accustomed to it, I'll start making lots of mistakes the next time I work on these puzzles in a different game. For those who are less OCD about their logic puzzles than I am, this is a good game - without this flaw I would have purchased. If you like puzzles but often find them too difficult, this would be a good choice.
May 9, 2014
Variety At Last!
BASED ON DEMO Well, there?s no way to ignore it, the graphics aren?t perfect, and they are a bit blurry on a large monitor. The backgrounds are that 3D super realistic style I dislike. But they?re good enough, and show nice locations, and let?s face it, it?s not the most important feature of a mosaics (nonogram, pictograph) game anyway, is it? Can?t say I?m all that rapt with the music either, and I definitely would have liked this game more if it had more harmonious and varied tones. What this game does have going for it is its different feel, structure and level of difficulty. Important start: you begin with 1 hint, which you can increase as you score, and 2 allowable mistakes, which are also automatically increased as you reach certain scores. I know that will be on a lot of minds! Hints give you a single intact tile, but you can also expose a pick axe by scoring, and it gives you a single empty space. And automatic completion of a line when all the tiles have been placed is nice too. However, game is not easy for long. In the first 2 levels, I found it easy to score all 3 gold cups (as opposed to silver or bronze). But in level 3, the grids go to 15x20, and while not particularly difficult for that size, it?s a lot easier to make a mistake. I had to redo several of these levels. But then, these games are not something I?m awfully good at. I like that the tiles you use aren?t always the same from grid to grid. Variety is the spice etc. Also, that most of the resulting pictures are recognisable as the name they have been given. There is no serious attempt at a story line, just a bit at the beginning. And no achievements. But at the end of each level, you get an addition to your meditation-style Asian garden. One of which is a friendly hippo! This too is in that shiny hyper realistic style. In all, an improvement on the same ol? same ol? we?ve been getting from those guys I love to nag on the subject of variety. See, guys, it really isn?t that hard! This release is timed perfectly for me. I have been feeling too drained to focus on HOPAs lately and have just this weekend started looking for suitable alternatives, and this is exactly what I had in mind for those days when you just need to lose yourself in the numbers.
May 6, 2014
A 'Not-Too-Much-Pressure' Mosaic
A good, but not exceptional game which is pleasant to play, and fairly leisurely in execution. Game is full screen, graphics are sharp, with bold colour. Sound effects are rather subdued but ok for this type of game. Ambient music is repetitive on a loop, but can be turned off. Left mouse button for 'fill', and right button for 'cross.'. 20 groups of 5 levels make up a total of 100 boards. Each completed group awards you with an addition to your 'fantasy journey'. I encountered boards up to 20 squares across. There may well be larger ones as you advance. There are 3 kinds of power-ups which are earned as you play - these appear to be under random 'fill' squares, rather than being earned for good play as such. In addition, you are allowed a pre-determined number of mistakes for each board. All these make for fairly relaxed game play, compared to some other games of this genre. To make it even more so, once you have completed the 'fill' squares in a line, all the 'cross' squares are automatically filled for you. In the trial hour, I completed all the boards I played and received either a Gold or Silver cup for them all. I presume there is also a Bronze cup if you take a longer time. Boards can be replayed. A pleasant mosaic game, if you are wanting to relax and de-stress.
May 6, 2014
I'd like to give it 3.5 stars.
This is not a bad game, but it surely isn't one of the better griddlers out there, either. It is also not a new game. It's been out for some time - in fact, there is a Fantasy Mosaics 2. So, I'm addicted to griddlers/nonograms/picross - whatever you call them! This is a good basic game, using the usual conventions and I have not seen any ambiguities, so well-constructed. But it is easy, compared to World Mosaics, and good for relaxing when you are not up for much challenge. Graphics are sharp and colorful, you have some animal friends, and a garden to "restore". Music is on a short loop, and gets old fast - I turned it down. The main challenge is that you are allowed few mistakes, so don't be careless! Coming fairly close behind Mystery Riddles is not good for this one, as it suffers by comparison. Mystery Riddles has a truly awesome soundtrack (except for the drumming in the last location), somewhat of a story, and a lot more challenge - though not as much as World Mosaics. If you have a coupon, this isn't a bad game to spend it on. I don't think I'd pay full price, though.
May 6, 2014
Good Game!
I'm a BIG fan of these games and was pleasantly surprised that this is VERY playable! While the puzzles aren't all that difficult, the use of the mouse is accurate and simple to use - FINALLY a game that MAC users can easily play! The only thing I'd change is that you are unable to 'X' out more than one square at one time - makes it tedious to keep clicking each square when there are 15 of them!
January 8, 2015
Enjoyed this game
I really enjoy this puzzle game. Since I'm in my 70s and my hands shake a bit, it's nice to have the puzzle fill in the blank squares after the colored ones have been completed on a line. I don't have to start over again so many times from accidentally hitting those blank squares. Love the colors too. I wish there were more fill/puzzle/mosaic games like this one.
May 10, 2014
Some Variety in this Mosaic game
This release by 8floor is different than the usual cookie cutter games they come out with. I like to have a game like this on my desk top, which can be played just for a little while without getting into a full blown HOPA game. I find this game relaxing and I love the little garden where you can put animals and things you earn. I play these pictogram games for fun. If I don't score gold, etc ., it's ok. It's just a mind relaxer. This one, the pictures when you're done with the puzzle, actually do look like something too!! I recommend this game and will play it on and off when I just need down time.
May 6, 2014
This is fun and challenging...with enough helps
I love these types of puzzles. This is nice, fun, challenging but has enough built in helps (hints) to keep you going. It is hard for me to stop. One tip.. I use my smartphone camera to record my progress. if I fail and the puzzle resets, I have a record of my progress. I have used this for all puzzles like this. Try it, I love them.
January 18, 2015
The Apple logo is a trademark of Apple Computer, Inc.